7️⃣SPLINTERLANDS BATTLE MAGE SECRETS : ODD ONES OUT3️⃣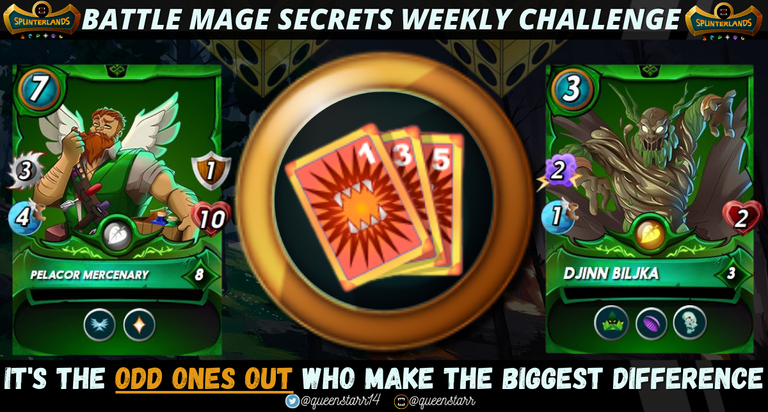 🧙‍♀️Hey Battle Mages!
Here's a warm welcome to this week's battle mage secrets. We are down to 6 DAYS:15 HOURS to the End of Season [EOS], I truly hope you are having fun progressing through the leagues and looting those rewards chest😉.
This post is my continuous attempt to explain how I approach the various kinds of Splinterlands battle rulesets. I have so far shared my approach to Twenty Two (22) Rulesets, here's the last one on

NOXIOUS FUMES and I have come to introduce you to another.
This is an interesting ruleset that's void of conditions, But, before I tell you all about it, there's plenty days left, so if you want to know other battle mages secrets and take part by sharing with us yours, simply visit 👉BATTLE MAGE SECRETS Weekly Challenge!
---
Splinterlands seeks to sharpen player skills by allowing us explore various strategies via rulesets. I have tried to study a few cards especially with the newly introduced rulesets, giving one more reasons to know what cards strongly suits them.
Before the start of any battle, each player is shown what ruleset is allowed in battle and it is extremely beneficial to read and strategize accordingly. The ruleset secret I will be sharing you to in this post is the

ODD ONES OUT

ODD ONES OUT RULESET implies that Only units with odd mana costs may be used.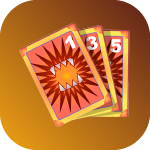 So what happens when only odd mana cards are allowed to battle and you must out of the little option pick the slowest monsters, worst no range monsters allowed? Pheww! Now you have less than 2.5mins to quickly think, eliminate & select. Well worry not because I have the perfect battle to demonstrate this and a possible lineup that works for low mana battles.
📜BROKEN ARROWS + REVERSE SPEED + ODDS ONE OUT DUEL: A DEEP DIVE INTO MY LINEUP📜
---
| RULE SET | |
| --- | --- |
| STANDARD | MODIFICATIONS TO THE RULES AND MECHANICS |
| MANA CAPACITY | 14 |
| AVAILABLE ELEMENT | only Earth🍃 , Death☠️ and Dragon🐲 elements allowed |
This was a Low mana cap battle with the BROKEN ARROWS, REVERSE SPEED and spotlight ruleset of the week MODDS ONE OUT

📌TIPS TO NOTE ABOUT THESE RULESETS:
Odds Ones Out: A unique rule where only monsters with odd Mana costs can step into the fray. It filters the battlefield, bringing in only the strongest and most strategic monsters who can stand tall under such conditions.
Broken Arrows: Archers and sharpshooters take a backseat, as the use of ranged attacks is strictly forbidden. It challenges summoners to rethink their strategy, focusing more on magic and melee
Reverse Speed: Contrary to the usual norm, here, the slowest monsters lead the charge. They strike first and have the highest evasiveness against incoming attacks. Speed is no longer a virtue, but a potential vulnerability.
With Fire, Water, Life splinters off the table, I am forced to think outside the box. The best lineup that came to mind was led by the Mylor Crowling followed closely by Pelacor Mercenary, Djinn Biljka and Mycelic Morphoid from the Earth Splinter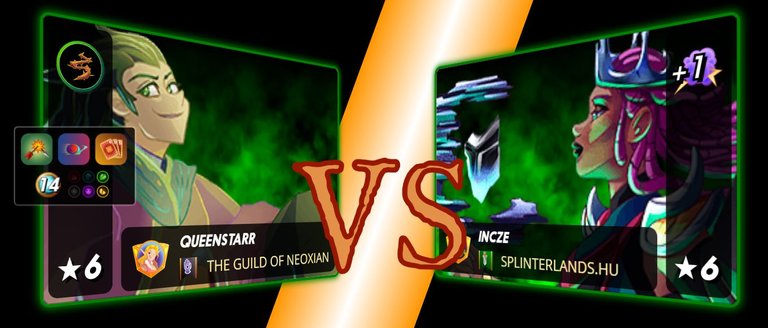 ⚔️ TEAM LINE-UP & REASONS I ENGAGED THEM IN BATTLE ⚔️
A great summoner with the supernatural ability to grant the Thorns

ability. This ability is so deadly that when monsters with it are attacked by melee attackers, it does damage back to the attacker. The awesome fact about this summoner is that, he gives the thorns ability to all monsters on his team, making them even more fierce.
---
👉WHY I PICKED MYLOR CROWLING
MYLOR CROWLING is Anti-Melee, hence, he is particularly effective when you envisage your enemy to come at you with Melee Attack. But, he is also very useful in a Healed out ruleset situation as you will want to also deplete the health of your opponent as fast as you can without them being able to Heal.
---
---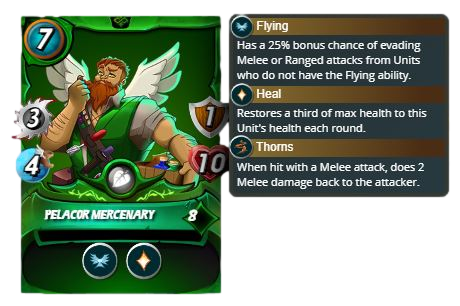 PELACOR MERCENARY offers both offense and defense. With a roaring 7 Mana, this warrior stands tall at the front, ready to soar and restore.

Flying: Increases evasion against melee or ranged attacks from grounded monsters. It's especially beneficial in Melee Mayhem, where every monster's attacking.

Heal: Continuously restores a portion of the monster's health every round, ensuring longer survival against attacks.
This cards attack type is Melee, a Common card and it is part of the Earth unit.
👉WHY I PICKED PELACOR MERCENARY
I picked PELACOR MERCENARY because of his Healing ability which will really prove worthy when peered with Mylor Crowling in this ruleset.
---
---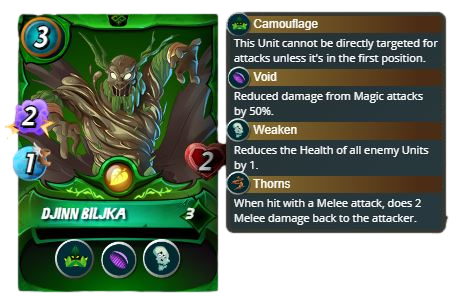 Suddenly a huge monstrous form emerged. It was DJINN BILJKA, the most powerful and oldest of the Belludae clan. It was also a shape shifter and simply impossible to kill. In terrible situations, It simply changes form and escapes.

Camouflage: makes him an elusive entity, Biljka cannot be directly targeted unless leading the pack.

Void: magic attacks do little to faze him, thanks to his inherent resistance.

Weaken: unnerves enemies, diminishing their overall Health.
👉WHY I PICKED DJINN BILJKA
I picked DJINN BILJKA because of his Camouflage and Weaken ability which do his team very well by dealing a max -1 health.
---
---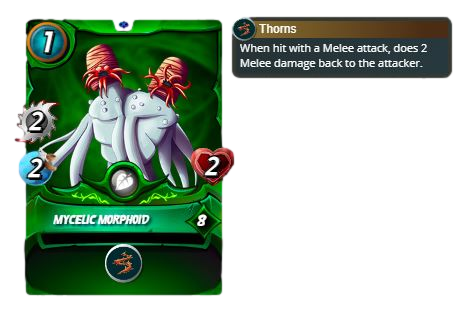 Costing just 1 Mana, this creature is the embodiment of resilience. It's natural


Thorns ability combined with Mylor's blessing makes it a formidable barrier against any melee adversary.
👉WHY I PICKED MYCELIC MORPHOID
I picked MYCELIC MORPHOID because of it's low mana and well, it can do major damage when given the chance.
Without further ado, let us now enter the battleground and see if my lineup works or not.

---
⚔️ THE BATTLE ⚔️
---
The Enemy came at me with the Death element, ENEMY - OBSIDIAN as Summoner. ENEMY-HILL GIANT in first position, ENEMY-MYCELIC MORPHOID in second position, ENEMY-DJINN BILKJA in third position, and finally ENEMY-SPIRIT HOARDER in last position. My enemy came at me with decent set of cards, so Let's see what happened.
LET'S RUMBLE!!!
---
---
As the battle began, the Enemy-Hill Giant charged towards Pelacor Mercenary. The mighty Mercenary, however, was quick to heal any damage and retaliated fiercely. Just as things heated up, Djinn Biljka unleashed a devastating magical blow, turning the Enemy-Hill giant to dust.
But the onslaught continued. The Enemy-Mycelic Morphoid lunged at Pelacor Mercenary, only to be impaled by the Mercenary's natural and bestowed Thorns, sealing its fate. Enemy-Djinn Biljka stepped in, but my monster Djinn Biljka was quicker, decimating the foe with a blast of magic.
Finally, as Pelacor Mercenary regained his strength, he took on the last enemy, Enemy-Spirit Hoarder, ending its reign with a decisive blow.
🎉FLAWLESS VICTORY🎉
▶️CLICK ON THIS TO REPLAY THE BATTLE IN SPLINTERLANDS◀️

---
A RECAP ON THE ODD ONES OUT RULESET IN BATTLE
---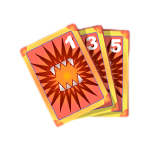 In battles with the ODDS ONE OUT ruleset, Only Monsters with odd Mana costs may be used in battles. There are no special tricks for this ruleset, but having an idea of mana points of a few monsters helps in predicting what your opponent can and cannot use.
From my battle above, the team with its brilliant teamwork, displayed the perfect power of odd Mana monsters. Under Mylor Crowling's leadership and their innate and bestowed abilities, victory was inevitable. This battle proves the worth of Mylor Crowling, Pelacor Mercenary, Djinn Biljka, and Mycelic Morphoid. In the right conditions, with the right strategy, they are unbeatable assets any player would be lucky to possess in their Splinterlands collection. Their performance on the battlefield speaks louder than words. Do you have them in your deck yet?
📌Challenge yourself to think differently, to strategize, and remember: sometimes it's the odd ones out who make the biggest difference.
---
That will be all about my battle with ODD ONES OUT as focus ruleset Thank you for stopping by😊
🍀MAY THE ODDS FOREVER BE IN OUR FAVOUR✊
---
---
Worthy Notes:
✅POST COVER EDITED BY ME IN CANVO PRO WITH ALL IMAGES FROM WWW.SPLINTERLANDS.COM
✅Want to know more about Hive Blockchain? Click to join Hive's House of Help community THE TERMINAL




😊Until my next battle mage secrets, Hive, Vibe & Be Lucky🍀
All content is mine unless otherwise Noted

©2023
Posted using Neoxian City
---
---