⚔️SHARE YOUR BATTLE CHALLENGE⚔️ : 💀SOUL STRANGLER💀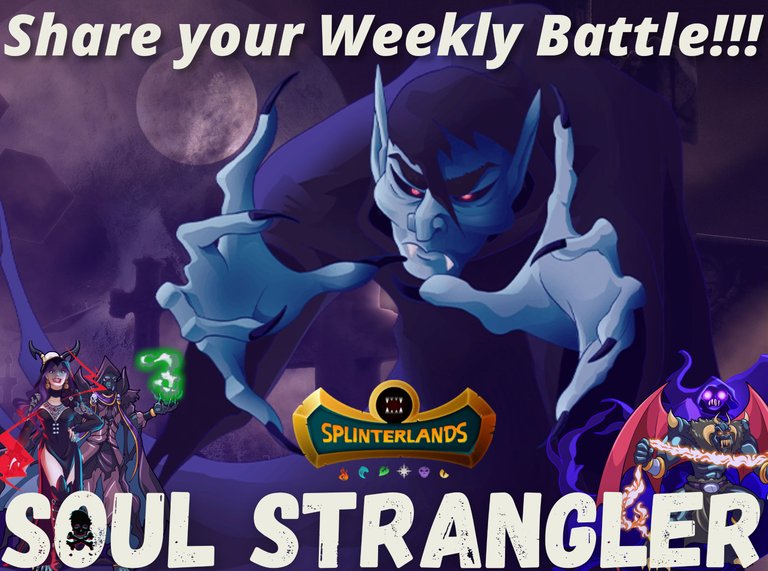 😊Hey There!
A warm welcome to another of my battle challenge with the theme card 💀SOUL STRANGLER💀 of the Death Splinter. This week we've been given a fascinating card that brings back fun memories of Count Dracula plus other soul-sapping movies like mortal combat, and I'll show you why in abit. Before that, there's plenty more days left, so if you want to take part in the Splinterlands' weekly battle challenge, simply go to 👉SHARE YOUR BATTLE Weekly Challenge! SOUL STRANGLER to read up the rules of challenge and subscribe for future battle announcement.

| THEME CARD INFORMATION: 💀SOUL STRANGLER💀 | |
| --- | --- |
| EDITION | CHAOS |
| RARITY | RARE |
| ELEMENT | 💀 DEATH |
| LEVEL | 8️⃣ |
| MANA COST | 3️⃣ - POINT |
| | 4 - RANGE POINTS |
| | 3 - SPEED POINTS |
| | 4 - HEALTH POINTS |
| | POISON ABILITY |
The 💀SOUL STRANGLER💀 attack type is Range, and it is part of the Death unit. It costs just 3-mana to use in battle , as a result, it will be an excellent card on deck for all low mana battles.
Let us now delve deep into this soul strangler to discover what makes him formidable. I am using a level 8 gold foil and he has

4-range,

3-speed, and

4-health.
💀SOUL STRANGLER💀 is a noble creature of vast wealth. He is a kind governor who rules his people with love during the day, and a vampire who loves his people for their taste at night. As a result, the people of Blackworth Mountain are unaware that Baron Kutziq Neculai is a vicious vampire. I'll love to picture him as the cast in Count Dracula, the sexy-hot Luke Evans😍🔥 at day.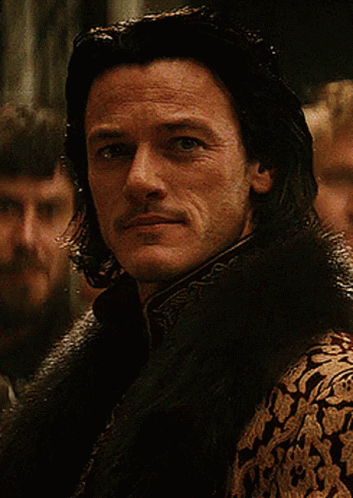 Kutziq Neculai turns to a vampire at night and has an incredible combat ability when confronted by the enemy;
POISON ability- When in battle, His attacks has a chance to apply poison which does automatic damage to the target at the beginning of each round after the poison is applied.
He can cause great damage once engaged with a good backup team and placed in a favourable position, usually back-line except if ruleset says otherwise, like, range monsters can attack from any position.

At level 1 This card has 2-ranged attacks at 2-speeds, and 2-health, without any ability. Even at level one, it has a long range attack, so will be very useful in higher league.
level 4 The range is later increased to 3, with 2-speed, and 2-health. Given his 3-mana cost, 💀SOUL STRANGLER💀 increased attack range makes him a very powerful silver level Vampire.
level 6 The range is increased to 4. While possessing the stats of a level 5.
At Max level 8-MAX, however, This card gains additional power. Along with the 4-range attack, 3-speed and 4-health, He gains the 'Poison ability'. 💀SOUL STRANGLER💀 becomes very useful in battle at this level.
---
✅RULESETS CONDITIONS THAT MAY FAVOUR THE USE OF 💀SOUL STRANGLER💀 IN BATTLE✅

✅CLOSE RANGE:
Range units can
attack from front
position. Ranged
monsters are the
new Melee monsters.✔️
✅TARGET PRACTICE:
All Ranged and Magic
attack Monsters
have the Snipe ability.✔️
✅LITTLE LEAGUE:
You can only use
Monsters and
Summoners with
4 or less mana.✔️
✅EQUAL OPPORTUNITY:
All monsters will attack
from any position
and will target the
enemy Monster with
the lowest health.✔️

---
---
⛔️RULESETS CONDITIONS THAT MAY NOT FAVOUR THE USE OF 💀SOUL STRANGLER💀 IN BATTLE⛔️

⛔️EARTHQUAKE:
All Monsters
take 2 melee damage
at the
end of each round❌
⛔️NOXIOUS FUMES: All
Monsters start
the battle poisoned❌

---

👉💀SOUL STRANGLER💀 MARKET PRICE CHART (REGUALAR FOIL AND GOLD FOIL)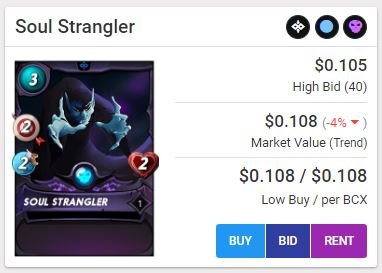 You'll see from the Regular foil, that this card is super affordable to buy now with least price at 0.108$ and all time high at 0.25$.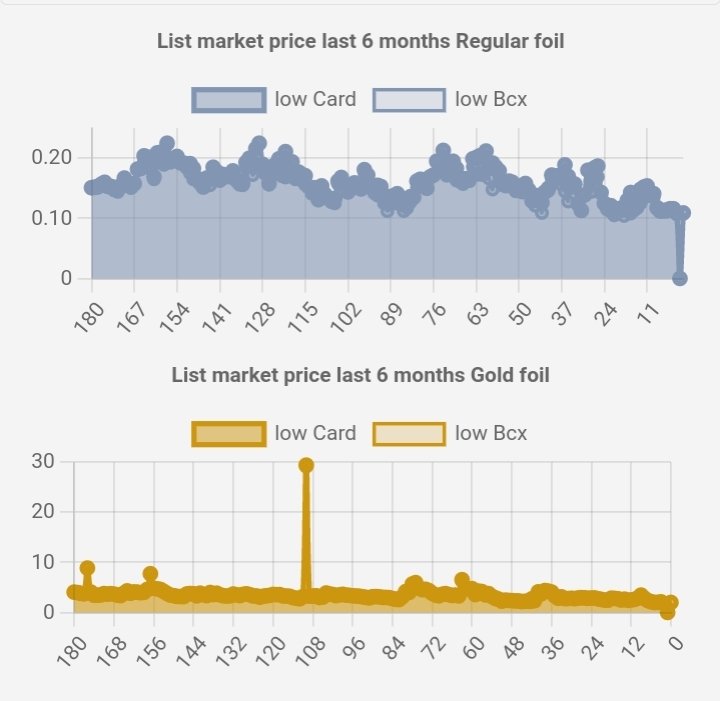 While the Gold foil has been in demand from players in higher leagues, with the least price at 1.989$ and all time high at 30$.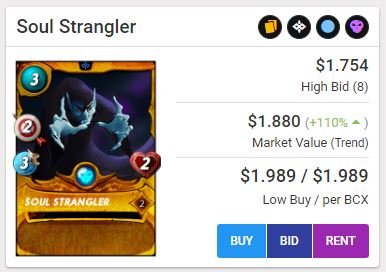 You can buy or rent this card easily in-game SPLINTERLANDS or PEAKMONSTERS. Buying the gold foil now at this prize will be the wise thing for me to do as I am back in Diamond league now and approaching Champion.
You can thoroughly make good use of 💀SOUL STRANGLER💀 at whatever league you are in right now, only that the poison ability which starts from level 8 makes it all the more exciting to have on deck. All that's left is battle your way to experience it's full potential.

⚔️ THE BATTLE ⚔️
---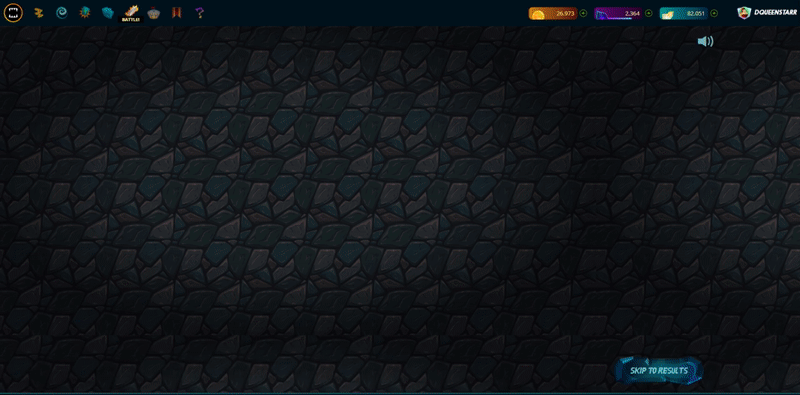 ---
| RULE SET | |
| --- | --- |
| STANDARD | MODIFICATIONS TO THE RULES AND MECHANICS |
| MANA CAPACITY | 25 |
| AVAILABLE ELEMENT | only Fire🔥, Water🌊 and Death☠️ elements allowed |
This was a mid mana cap range battle with the UNPROTECTED and SPREADING FURY rule set. Meaning 'monsters did not have any armor and did not get armor from Abilities or Summoner Buffs', and also 'all Monsters got the Enraged ability. They all had increased Melee attack and Speed when damaged.'

⚔️ TEAM LINE-UP ⚔️
| BUFF | SUMMONER | ELEMENT | LEVEL | RARITY |
| --- | --- | --- | --- | --- |
| -1MELEE, -1SPEED, -1 HEALTH | | DEATH | ⭐️⭐️⭐️⭐️ | LEGENDARY |
STRATEGY:
I employed the great summoner of the death element, the great CRYPT MANCER.. A level 4 summoner with the supernatural ability to take away enemies

MELEE by -1,

SPEED by -1, and

HEALTH by -1. 💀SOUL STRANGLER💀 a range attacker which might not be idle for him but the ruleset made me go with this summoner as I assumed my enemy will come at me with more of the Melee attackers. This is the second best summoner after WAKA SPIRITVLADE, but I don't own him because he's quite expensive (market price 300$-3500$), so I rented. I thought to weaken my enemies melee, speed and health to gain more advantage in battle. Let's attack!!!
| POSITION | CARD | ABILITY | LEVEL | RARITY | STATS |
| --- | --- | --- | --- | --- | --- |
| Front-line | | ENRAGE, STUN, SHIELD, RETALIATE | ⭐️⭐️⭐️⭐️ | LEGENDARY | 4-MELEE, 3-SPEED, 2-DEFENSE, 10-HEALTH |
STRATEGY:
LORD OF DARKNESS is the Lord of battle, and he leads the team to victory with his amazing abilities. When he is injured, his 'ENRAGE

' ability is activated. He 'STUN

' his assailant, leading them to lose control of the situation, losing a turn to strike. A 4-star ⭐️⭐️⭐️⭐️ warrior with the 'SHIELD

' ability, which shields him from melee attacks, and if hit by a melee attack monster, he 'RETALIATES

' immediately. I have employed him solely for this purpose, to absorb hits.
POSITION
CARD
ABILITY
LEVEL
RARITY
STATS
second-line
SNIPE, SILENCE, WEAKEN
⭐️⭐️⭐️⭐️
⭐️⭐️⭐️⭐️
RARE
2-MAGIC,5-SPEED, 3-HEALTH
STRATEGY:
Then next comes DEATH ELEMENTAL, an 8-star⭐️⭐️⭐️⭐️⭐️⭐️⭐️⭐️ magical creature with the 'SNIPE ABILITY

' that targets enemy monsters with ranged or magic attacks, as well as those with no attacks but not front-liners. This creature also has the 'SILENCE ABILITY

' which reduces magic attack of all enemy monsters, and finally the 'WEAKEN ABILITY

' that reduces the health of all enemy monsters.
POSITION
CARD
ABILITY
LEVEL
RARITY
STATS
third-line
POISON
⭐️⭐️⭐️⭐️
⭐️⭐️⭐️⭐️
RARE
4-RANGE,
3-SPEED, 4-HEALTH
STRATEGY:
SOUL STRANGLER is the theme card and used here as an 8-star⭐️⭐️⭐️⭐️⭐️⭐️⭐️⭐️ range attacker. His 'POISON ABILITY

' does automatic damage to his target at the start of each round once applied. He is fully deserving of his position and ability.
POSITION
CARD
ABILITY
LEVEL
RARITY
STATS
fourth-line
SNARE,
SWIFTNESS, OPPORTUNITY
⭐️⭐️⭐️⭐️
LEGENDARY
4-RANGE,
6-SPEED,6-HEALTH
STRATEGY:
Finally in backline is LIRA THE DARK, a fascinating seductress. She'll strike and kill before enemy has a chance to react. Her excellent 'OPPORTUNITY

' ability allows her to attack from any position as she drains the life out of the enemy with lowest health. She is 'SWIFT

' and 'SNARE

' on the flying enemies, by removing their flying ability causing great damage and she has never failed to hit her target.
Without further ado, let us now enter the battleground.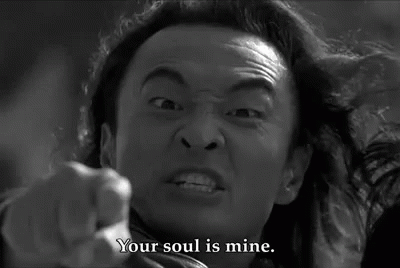 ---
⚔️BATTLE ROUND 1⚔️
---
The Enemy came at me with the Death element, Enemy-OWSTER ROTWELL as Summoner. ENEMY-LORD ARIANTHUS in first position, ENEMY-PRISMATIC ENERGY in second position, ENEMY-DEATH ELEMENTAL in third position, ENEMY-SKELETON ASSASSIN in fourth position, ENEMY-HAUNTED SPIDER in fifth position, and finally ENEMY-CORPSE FIEND in last position. Let's see what happened.
SUMMONER-CRYPTMANCER takes away -1 Melee, -1 speed, -1 HEALTH from enemy monsters as expected.

ENEMY-SUMMONER grants all his wicked monsters the 'Magic Reflect' ability.

ENEMY-DEATH ELEMENTAL 'silences' (-1 magic point) all my monster team, and my DEATH ELEMENTAL 'silences' + 'weakens' (-1 magic & -1 health) all enemy team monsters in return.

LIRA THE DARK grants all team monsters the 'swiftness' ability [+1 speed point) then swiftly targets and kills ENEMY-DEATH ELEMENTAL. This removes away the negative silence buff placed on my team of magic monster by enemy.

DEATH ELEMENTAL strikes at ENEMY-PRISMATIC ENERGY affecting its health - 2, but the magic reflect of magic refelcts same attack back at DEATH ELEMENTAL, affecting it's health too -2.

LORD OF DARKNESS attacks and 'stuns' ENEMY-LORD ARIANTHUS which will cause enemy to lose turn of attack.

💀SOUL STRANGLER💀 quickly strikes and applies 'poison' to ENEMY-LORD ARIANTHUS bringing enemy's health down to -1.

ENEMY-SKELETON ASSASSIN furiously attacks LIRA THE DARK affecting her health -2, and ENEMY- HAUNTED SPIDER also attacks and poisons LORD OF DARKNESS.
---
⚔️BATTLE ROUND 2⚔️
---
POISON APPLIED ON LORD OF DARKNESS BY ENEMY-HAUNTED SPIDER TAKES EFFECT -2 HEALTH
LIRA THE DARK swiftly strikes at ENEMY-LORD ARIANTHUS and kills him instantly.

DEATH ELEMENTAL also swoops in and kills ENEMY-HAUNTED SPIDER. The Magic reflect ability does damage back at him affecting its health down to 1, a small price to pay for the teams glory.

LORD OF DARKNESS attacks and 'stuns' ENEMY-PRISMATIC ENERGY which will cause enemy to lose turn of Attack and health brought down to 1.

💀SOUL STRANGLER💀 then quickly strikes and kills ENEMY-PRISMATIC ENERGY.
---
⚔️BATTLE ROUND 3⚔️
POISON APPLIED ON LORD OF DARKNESS BY ENEMY-SKELETON ASSASIN TAKES EFFECT -2 HEALTH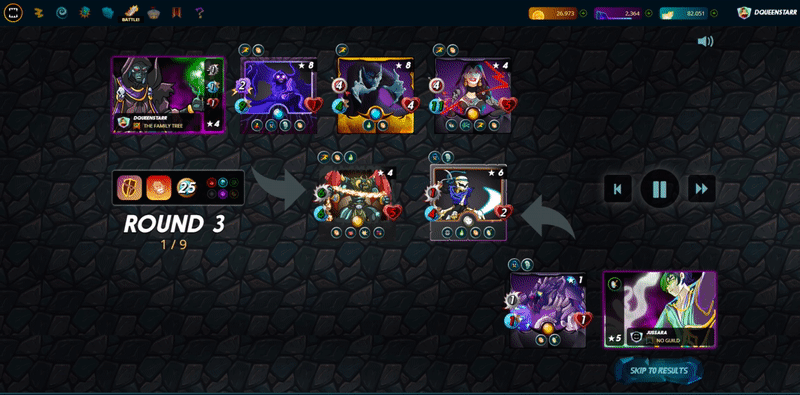 LIRA THE DARK swiftly attacks and kills ENEMY-CORPSE FEIND who's is now in sight and with the weakest health.

DEATH ELEMENTAL finally swoops in and kills ENEMY-HAUNTED SPIDER. The Magic reflect ability does damage back and kills him, a total sacrifice for the teams glory.
---
---
⚔️FINAL RESULT⚔️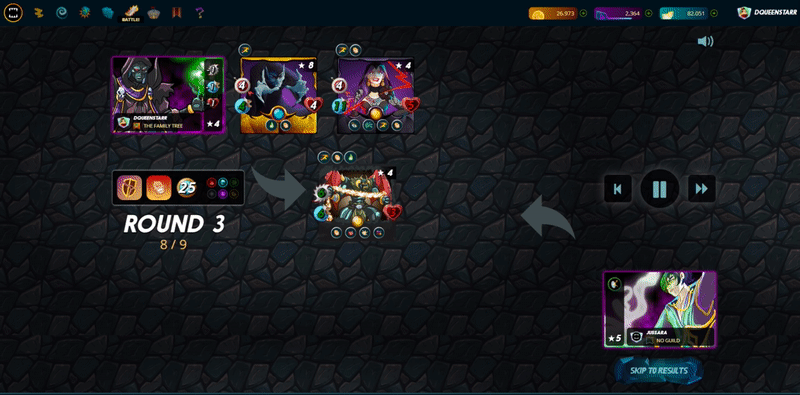 💀SOUL STRANGLER💀 and TEAM let out a roar FLAWLESS VICTORY!!!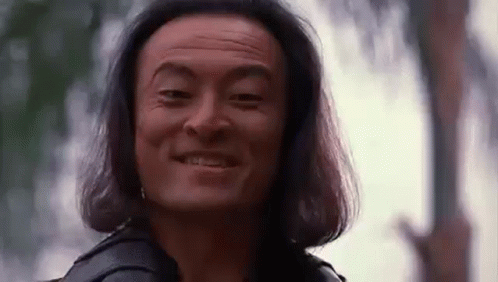 👉 CLICK ON LINK TO THIS BATTLE 1: 💀SOUL STRANGLER💀

DO I LIKE 💀SOUL STRANGLER💀?
I think I do like this card 💀SOUL STRANGLER💀. It sure has a very useful ability for a Range attacker. The decent 3 mana cost can be helpful in battles with low to medium mana limits such as this.
💀SOUL STRANGLER💀 'POISON

' is rare and important being a range attack monster, when placed at back line, he'll deal considerable damage to enemies and it'll be difficult for them to attack, he is one among the few chaos cards, hence, I am very optimistic about this particular ability. You can also employ him when feeling less positive about your lineup.
To be fair, I definitely am glad to have experienced his amazing ability, and would keep making use of in low mana death Splinter battles. He has decent Range, Speed and Health, that's already a slam dunk. This only demonstrates that if you play the death splinter and at decent mana cap such as this, then he is a card to have on deck.
In summary the battles were exciting to watch and I will keep seeking more ways to buy and max out my owned card.

DID MY STRATEGY WORK AND WHAT LESSONS DRAWN FROM IT?
Yes, my strategy worked very well. It was a good lineup and strategy for this battle⚔️
💀SOUL STRANGLER💀 being a ranged attacker should ideally be placed at the back position. I want this poison ability hitting the enemy alongside accurate Range attack. Also, if you add monsters with interesting abilities as support, then it will be more difficult to target and kill allowing him cause max damage.
From this battle and my observation. This ability helped 💀SOUL STRANGLER💀 and made him more useful and in battle, especially for a low manna cap (15-30) like this which I thoroughly enjoy.
👉 The SWIFTNESS

ability which grants all team monsters extra speed making 💀SOUL STRANGLER💀 speed point +4 and monsters like LIRA THE DARK offers that.
I would recommend this Lineup 💯 when confronted with low mana and favourable ruleset. I welcome your opinion, objections and recommendations to further make good use of him in comment😊
💀SOUL STRANGLER💀 is no doubt a decent card. This challenge has surely exposed his usefulness in battle.

😊That will be all about my weekly battle with 💀SOUL STRANGLER💀 as the themed card.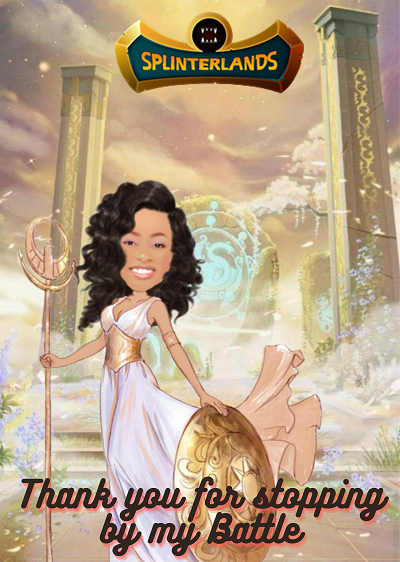 Worthy Notes:
✅All the images are taken from my in-game at WWW.SPLINTERLANDS.COM
✅Cover made in CANVA
✅My gratitude to THE PIMP HOUSE for the guild support.
✅Click on this Banner to join Hive's House of Help community THE TERMINAL

✅Edited Splinterlands text dividers in PS5 as provided freely by freeztag.
😊Until next Splinterlands Battle, Hive, Vibe & Be Lucky🍀
All content is mine unless otherwise Noted
queenstarr ©2022
---
---