⚔️SHARE YOUR BATTLE WEEKLY CHALLENGE⚔️ : 🐉ONE DRAGON IS ENOUGH🐉

😊Hey There!
A warm welcome to another splinter-week with the theme card 🐉DRAGONS🐉. This week we are allowed to chose from "ANY Rarity, Edition, Attack and Ability" of the Dragon Unit and combine with any other splinters. I have chosen the 🐉DIAMOND DRAGON🐉 for my battle challenge.
🐉DIAMOND DRAGON🐉 is an interesting card to have on deck and I'll explain why shortly. Before that, there's plenty more time left, so if you want to take part in this weeks Splinterlands battle challenge, simply go to 👉SHARE YOUR BATTLE Weekly Challenge! DRAGONS! to read up the rules of challenge.

| THEME CARD INFORMATION:🐉DRAGONS🐉 | |
| --- | --- |
| EDITION | UNTAMED |
| RARITY | LEGENDARY |
| ELEMENT | 🐉 DRAGON |
| LEVEL | 4️⃣ |
| MANA COST | 1️⃣0️⃣ POINT |
| | 3 - MAGIC POINTS |
| | 3 - SPEED POINTS |
| | 7 - HEALTH POINTS |
| | 10 - DEFENSE POINTS |
| | FLYING ABILITY |
| | SLOW ABILITY |
| | CLEANSE ABILITY |
| | LAST STAND ABILITY |
The 🐉DIAMOND DRAGON🐉 is an amazing card with MAGIC attack from the Dragon unit and it costs 10-mana to use in battle.
Let us now delve deep into this legend to discover what makes the card so unique. I am using a level 4 regular foil and she has

3-Magic,

3-speed,

10-defense, and

7-health.
🐉DIAMOND DRAGON🐉, a.k.a. Tulafra," is not a dragon made of diamonds; her name comes from her highly impervious exoskeleton. She possesses a solid +10 shield point that will slow down my enemy. This card is super pricey and well deserving of that IMHO. It is one of Splinterlands' most sort after card for it's "Untamed" edition and Monstrous abilities. Players including myself, enjoy using cards with amazing abilities, which explains my liking for this card.
Despite not being the biggest or strongest dragon, she is very difficult to defeat in battle. This is made feasible by her exceptional abilities.
FLYING ability- When in battle, she has increased chance of causing great damage to Melee & Range attack monsters who do not have the flying ability.
SLOW ability- She reduces the speed of all enemy monsters by -1.
CLEANSE ability- She removes all negative buffs placed on the frontline monster on her team.
LAST STAND ability- She gains increased stats if she's the only one left alive on her team.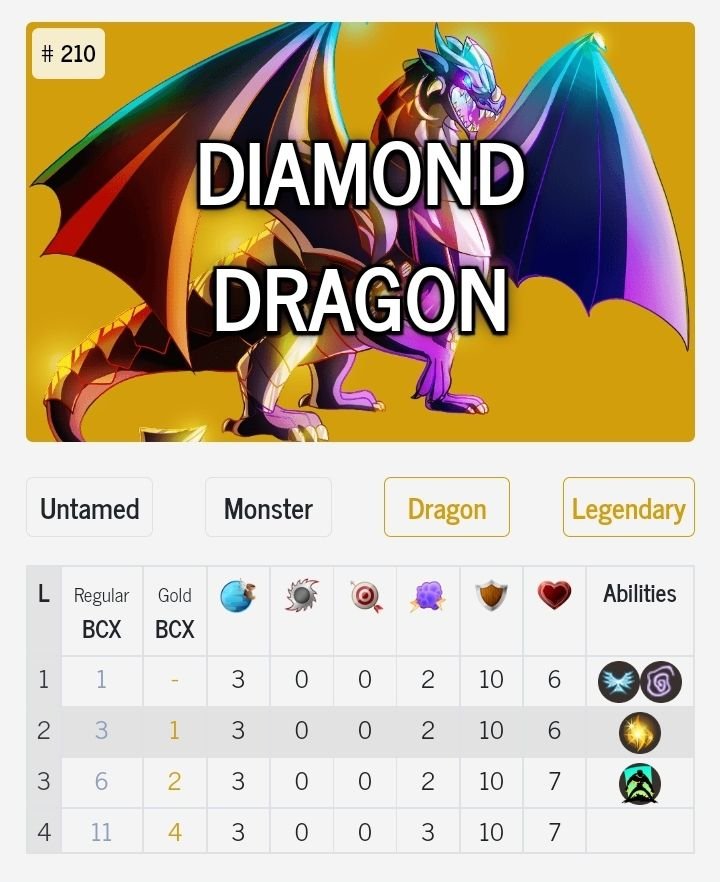 At level 1 🐉DIAMOND DRAGON🐉 has 2-Magic attacks at 3-speeds, 10-defense, 6-health, and the 'Flying + Slow ability'. Even at level one, she has impressive abilities, so will be very useful even in higher league.
level 2 Every other stats remains the same but then she gains the 'Cleanse' ability.
level 3 She gains an extra health and another new ability 'Last stand'.
At Max level 4-MAX, however, she gains an extra Magic attack while possessing the stats of a level 3. 🐉DIAMOND DRAGON🐉 is particularly effective against non-flyers, so you will see her being used in earthquake battles.
🐉DIAMOND DRAGON🐉 becomes extremely powerful when it's 10-mana cost is considered and well worth it. At this maximum Level, 🐉DIAMOND DRAGON🐉 Magic attack can be increased further with summoner like DELWYN DRAGONSCALE for extra '+1 Magic' ability.
---
---
✅RULE SET CONDITIONS THAT MAY FAVOUR THE USE OF 🐉DIAMOND DRAGON🐉 IN BATTLE✅

✅EARTHQUAKE:
All Non-flying Monsters
take 2 melee damage
at the
end of each round✔️
✅TARGET PRACTICE:
All Ranged and Magic
attack Monsters
have the Snipe ability.✔️
✅EQUAL OPPORTUNITY:
All monsters will attack
from any position
and will target the
enemy Monster with
the lowest health.✔️

---

---

---

⛔️RULE SET CONDITIONS THAT DOES NOT FAVOUR THE USE OF 🐉DIAMOND DRAGON🐉 IN BATTLE⛔️

---

---

NOXIOUS FUMES: All
Monsters start
the battle poisoned❌
BACK TO BASIC: Monster
Lose their own abilities.❌

For the Market price chart 👉 🐉DIAMOND DRAGON🐉 (REGUALAR FOIL AND GOLD FOIL)

You'll see that the regular has been in demand from players, with the low price at 22$ and all time high at 120$. While for the Gold foil, this is super pricey to buy now with least price at 1599$ and all time high at 2000$. You can buy or rent this card easily in-game SPLINTERLANDS or PEAKMONSTERS. Buying the level 3 regular foil now is sorta affordable as I have been shuttling between diamond and champions league, never know how the market turns out.

⚔️ THE BATTLE ⚔️

---

---

| RULE SET | |
| --- | --- |
| STANDARD | MODIFICATIONS TO THE RULES AND MECHANICS |
| MANA CAPACITY | 15 |
| AVAILABLE ELEMENT | Water🌊, Fire🔥, Life🌬 and Dragon🐉 Unit allowed |

This was a low mana cap battle with interesting rule sets;
✔️SPREAD FURY: All Monsters have the Enraged ability.
✔️TAKING SIDES: Neutral monsters may not be used in battle.

⚔️ TEAM LINE-UP ⚔️

BUFF
SUMMONER
ELEMENT
LEVEL
RARITY
+1 MAGIC
DRAGON
⭐️⭐️⭐️⭐️⭐️
⭐️⭐️⭐️⭐️⭐️
LEGENDARY

STRATEGY:

DELWYN DRAGONSCALE is one of my favorite Dragon summoners because I like to use a powerful magic attack against my enemy, something that can quickly deplete their life points so that the battle lasts a few rounds but not too long. Of course, I know when to use it, but for this battle, I needed DELWYN DRAGONSCALE and his inherent ability to grant me a +1 magic attack point, as my main attack 🐉DIAMOND DRAGON🐉 is of this type. I reasoned that the ruleset will make my enemy pick loads of ranged and melee attack, so I decided to come with magic which imho is stronger.

| POSITION | CARD | ABILITY | LEVEL | RARITY | STATS |
| --- | --- | --- | --- | --- | --- |
| Front-Position | | HEADWIND | ⭐️⭐️⭐️⭐️ | LEGENDARY | 1-MELEE 3-SPEED 2-HEALTH |

STRATEGY:

"Every Dragon needs a Friend😃", So, In front comes the TORRENT FIEND, a zero-cost unit employed solely as a sacrifice unit to distract first strike from enemy. It is positioned to deal with cunning enemy monsters who attack the front-line monster and usually these are powerful so I will need them to take their turn already. This card can take a blow or two if lucky, and I'm counting on his 'Headwind' ability against range attackers on enemy team. but, I employed it only for this purpose, not as an attacking unit per say, though it does have one melee attack.

| POSITION | CARD | ABILITY | LEVEL | RARITY | STATS |
| --- | --- | --- | --- | --- | --- |
| second-Position | | FLYING, SLOW, CLEANSE, LAST STAND | ⭐️⭐️⭐️⭐️ | LEGENDARY | 3-MAGIC3-SPEED 10-DEFENSE7-HEALTH |

STRATEGY:

In second and final position is the theme card. Because of it's high 10-shield, 🐉DIAMOND DRAGON🐉 can deal considerable magic damage to the enemy. It's mainly a magic attacker that can attack from any position. It's 'Flying' ability will destroy non-flying melee and ranged attack enemies. Her 'Slow' ability reduces speed of all enemies monsters and her 'Cleanse' will remove negative buffs on TORRENT FIEND in first line. If it happens to be the only monster alive on the team, then it's 'Last stand' ability will sustain her for longer.

🐉DIAMOND DRAGON🐉 and TORRENT FIEND are ready to engage in battle. Without further ado, let us now enter the battleground.

---

⚔️ROUND 1⚔️

---

My Enemy used the Life Unit, TYRUS PALADIUM as Summoner. SACRED UNICORN in first position, DEFENDER OF TRUTH in second, and SILVERSHIELD BARD in last position. Came at me with double Melee attack monsters, which I expected and well, nice team line-up. So far, this season, the Life Deck has been one of the strongest splinters playing and winning back to back. I was abit concerned but then, I sorta believe my Magic line Dragon will do the job. So let's see how that went🤞.

Round 1 started, SUMMONER DELWYN DRAGONSCALE grants my magic dragon the '+1 Magic' ability.

ENEMY SUMMONER-TYRUS PALADIUM give his team of monsters +1 Defense.

TORRENT FIEND tries to ' headwind enemy's range attack, unfortunately no range attackers.

🗯"👎boooo!!! on me for that miscalculation😅"🗯

ENEMY-DEFENDER OF TRUTH offers 'Protection' [+2 🛡armor] and ENEMY-SILVERSHIELD BARD offers swift ability to their enemy team.

It didn't take too Long for ENEMY-DEFENDER OF TRUTH to launch first attack at TORRENT FIEND, killing it immediately.

🗯"ouch that hurt my pride abit🤣!!!"🗯

Then steps in 🐉DIAMOND DRAGON🐉 and she activates the Last stand ability.

---

⚔️ROUND 2-6⚔️

---

All Enemy Monsters miss thier attack on 🐉DIAMOND DRAGON🐉.

🐉DIAMOND DRAGON🐉 then launches a deadly attack on ENEMY-SACRED UNICORN and bammm! 💔-6 health to enemy. The enemy self-heals and restores it's health by +2.

ENEMY-SACRED UNICORN then strikes at 🐉DIAMOND DRAGON🐉* but only affecters her defense by -3🛡. 🐉DIAMOND DRAGON🐉* then strikes back again, 💔-6 health. The enemy self heals a portion of health +3.

ENEMY-SILVERSHIELD BARD strikes at 🐉DIAMOND DRAGON🐉* and this enrages her, she then launches a far deadly attack at ENEMY-SACRED UNICORN, 💔-4 killing it instantly.

ENEMY-DEFENDER OF TRUTH then steps in and launches a strike at 🐉DIAMOND DRAGON🐉* which again enrages her, she then strikes back with a deadly 💔-4 and bammm!!! killed enemy instantly.

ENEMY-SILVERSHIELD BARD steps in next, all shaken up and launches an attack which affects 🐉DIAMOND DRAGON🐉* defense by -3. Enraged at this, 🐉DIAMOND DRAGON🐉* launches a deadly 💔-3 killing enemy instantly.

⚔️FINAL RESULT⚔️

🐉DIAMOND DRAGON🐉 lets out a fiery flame of FLAWLESS VICTORY!!!

👉 CLICK ON LINK TO THIS BATTLE: 🐉DIAMOND DRAGON🐉

DO I LIKE THE 🐉DRAGONS🐉 UNIT AND WHAT I WOULD'VE DONE DIFFERENTLY?

Dragons are my next favorite cards after Water because they are so flexible and adaptable to almost any type of rule set. We should always have a 🐉DRAGON🐉 deck to combine their great power with the rest of our cards and increase our chances of winning.

I do like 🐉DIAMOND DRAGON🐉, because even at just level 1 this monster has a nice ability, decent health and protective shield to survive enemy attack. When placed in favourable position or backed by supporting monsters such as in this Battle, it is able to cause great damage and last longer in battle as we saw.

It has pretty awesome Magic, Shield and health, that's already a slam dunk. This only demonstrates that if you play the Dragon splinter and at medium mana cap of 30+, then this is a card to have on deck.

If there's anything I would've done different was prolly adding a more resistance melee front line instead of a sacrificial one, but mana cost was low, hence in higher cost mana cap battles, i will have that in mind. The battle was exciting to watch and I will keep seeking more ways to engage, and hopefully afford to buy 🐉DIAMOND DRAGON🐉 at Level 3.

DID MY STRATEGIES WORK?

Yes, my strategy was very effective. This battle's lineup and strategy was simple and excellent. Although I admit it was a bit risky, after seeing the battle's rule set and my enemy's most used units, I was 95% certain that the enemy would pick up melee monsters.

This is why I concentrated on the magic attack. Also, as previously stated, this demonstrates that the strength and power of dragons are not solely based on brute force; therefore, if we think strategically and properly manage the mana available for each battle, the victory rate will undoubtedly exceed 85%.

🐉DIAMOND DRAGON🐉 is no doubt a decent card, and this battle challenge has surely exposed it's usefulness in battle.

😊That will be all about my weekly battle with 🐉DIAMOND DRAGON🐉 as the themed card.

Worthy Notes:

✅All the images are taken from my in-game at WWW.SPLINTERLANDS.COM
✅Cover made in CANVA
✅My gratitude to THE PIMP HOUSE for the guild support.
✅Click on this Banner to join Hive's House of Help community THE TERMINAL

✅Edited Splinterlands text dividers in PS5 as provided freely by freeztag.

😊Until next Splinterlands Battle, Hive, Vibe & Be Lucky🍀

All content is mine unless otherwise Noted
queenstarr ©2022
---
---