🌊SHARE YOUR WEEKLY BATTLE CHALLENGE : NERISSA TRIDAWN🌊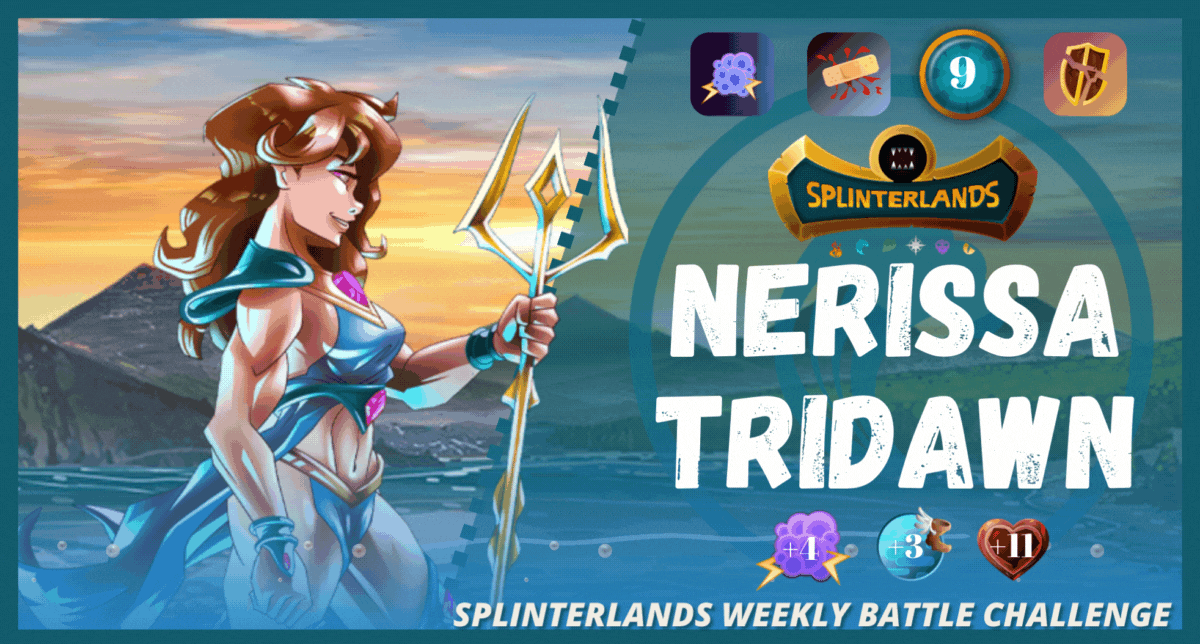 😊Hey Battle Mages!
A warm welcome to my battle challenge with 🌊NERISSA TRIDAWN🌊 of the Water Splinter. This week we've been given a really tempting card. A card I will love to refer to as manly-woman. So guys, when you say "I want a woman who is fierce, independent, powerful and knows her stuff", are you by any chance describing NERISSA? ouh dreamy

.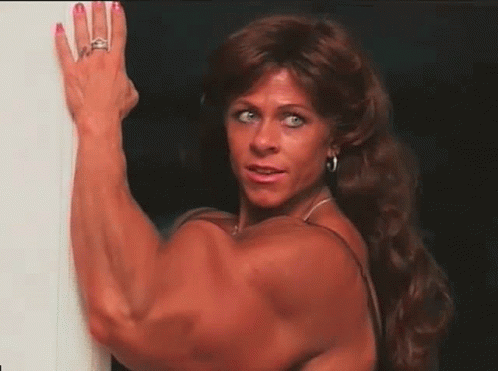 Don't hurry to dismiss her; instead, allow me to tell you a little bit about this sweet lady. Before then, there are still a few days remaining to participate in the Splinterlands' weekly battle challenge. Simply go to 👉SHARE YOUR BATTLE Weekly Challenge! NERISSA TRIDAWN to read up the rules of challenge and subscribe for future battle announcement.

| THEME CARD INFORMATION: 🌊NERISSA TRIDAWN🌊 | |
| --- | --- |
| EDITION | CHAOS |
| RARITY | EPIC |
| ELEMENT | 🌊 WATER |
| LEVEL | 5️⃣ |
| MANA COST | 9️⃣ - POINT |
| | 4 - MAGIC POINTS |
| | 3 - SPEED POINTS |
| | 11 - HEALTH POINTS |
🌊NERISSA TRIDAWN's🌊 attack type is MAGIC, and she is part of the Water Unit. She costs 9-mana to use in battle , as a result, she is the perfect card on deck for all mid to especially high mana battles.
Let us have a look at this formidable manly-woman. I am using a level 5 regular foil and she has

4-Magic,

3-Speed, and

11-Health.
The waters of Splinterlands is home to this 🌊NERISSA TRIDAWN🌊. Born and raised by the ocean, she could swim before learning to walk. Within NERISSA stirred a deep magic, an ancient mana of tides and waves.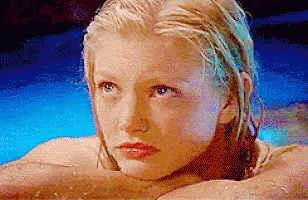 🌊NERISSA TRIDAWN🌊 sure is beautiful at heart despite her proud nature, and to be fair, a well deserving pride. Armed with her enchanted trident which she uses to defend the seas, the rivers, and the lakes, NERISSA has rescued sailors from hurricanes, and even warned villages of incoming tsunamis to save lives. Her bravery and brilliance in battle have led to her being called NERISSA THE HURRICANE.
Due to 🌊NERISSA TRIDAWN's🌊 fierce territoriality, she will attack any monster that enters and threatens the peace and beauty of her home and inhabitants.
---
---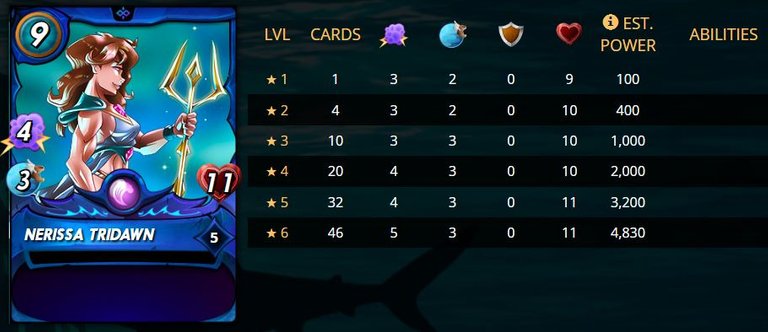 At level 1 This card has 3-magic attacks at 2-speeds, 0-Shield and 9-health. Even at level 1, she is very useful in silver leagues considering her health, magic and Speed points.
level 4 Her Magic is increased to 4, and Speed increased to 3 and health to 11. Given her 9-mana cost, 🌊NERISSA TRIDAWN's🌊 increased stats makes her a very powerful Gold league.
At Max level 6-MAX, however, This card gains additional power. Her magic is further increased to 5, speed 3 and health 11. 🌊NERISSA TRIDAWN's🌊 becomes very powerful magic weapon and useful in battle at this level. She might not have any Abilities, but her stats and ruleset like Back to Basic make up for that.
---
---
RULESET CONDITIONS THAT ✅MAY✅ AND ⛔️MAY NOT⛔️ FAVOUR THE USE OF 🌊NERISSA TRIDAWN🌊 IN BATTLE

✅WANDS OUT:
Only monsters with
Magic attack can
be used in battle.✅
✅TARGET PRACTICE:
All Ranged and Magic
attack Monsters
have the Snipe ability.✅
✅BACK TO BASIC:
Monster Lose their
own abilities.✅
⛔️WEAK MAGIC: Magic
attacks hit Armor before
reducing Health.⛔️

---

---

---

---

---

---

You'll see that the Regular Chaos edition cost $1.632 at current market for level 1. While for rentals she goes for ~0.22 Dec per day, Level 1 at 100CP. At max level this card goes for 78.863 Dec per day, Level 8 at 26,250CP.

The Gold chaos edition is $11.142 at current market for level 2. While for rentals card goes for 4.7 Dec per day. Level 2 at 2,500CP. At max level she cost same as regular foil for rentals and goes goes for 78.86 Dec, Level 8 at 26,250CP.

---

You can buy or rent this card easily in-game SPLINTERLANDS or PEAKMONSTERS. Buying the gold foil now at this prize will be the wise thing for me to do as I am back in Gold league now and approaching Diamond.

You can thoroughly make good use of 🌊NERISSA TRIDAWN🌊 at whatever league you are in right now.

⚔️ THE BATTLE ⚔️

---

---

| RULE SET | |
| --- | --- |
| STANDARD | MODIFICATIONS TO THE RULES AND MECHANICS |
| MANA CAPACITY | 46 |
| AVAILABLE ELEMENT | only Earth🍃, Water🌊, Death☠️, and Life🌬 elements allowed |

This was a mid-mana cap battle with the UNPROTECTED, HEALED OUT AND WANDS OUT rule set.

---

Meaning All Monsters lost their defense shield, would not heal or regenerate and only magic monsters allowed on battle field.

---

⚔️ TEAM LINE-UP ⚔️

ALRIC STORMBRINGER is one of my favorite Water Splinter summoners because I like to use a powerful magic attack against my enemy, something that can quickly deplete their life points so that the battle lasts a few rounds but not too long. For this Battle I engaged ALRIC STORMBRINGER and his inherent ability to grant a +1 magic attack point, as my theme card 🌊NERISSA TRIDAWN🌊 is of this type. I reasoned that the ruleset favored NERISSA and hence an extra Magic boost will give her advantage.

---

This summoner is such a very valuable card to have cause of this RARE fact, implying he will almost always fit in 100% rulesets and battle mana cap.

Legend has it that this powerful monster is loyal and would do anything to fight against the chaos legion who stand to oppose Magic. Ancient monster with powerful magic abilities. DJINN OSHANNUS' excellent Forcefield ability only can be attacked with monsters of +5. Magic attack misses him cause of his Phase ability and if hit, his Void ability recues the damage. A 3-star ⭐️⭐️⭐️ Legendary warrior who has demonstrated it's prowess.

---

This cards attack type is Magic, and it is part of the Water unit. It costs 8-mana to use in battle , as a result, it will be an excellent card for both mid & high mana ruleset battles.

She is placed in second,as this battle counted on her Flying ability to rain destruction over enemies who don't fly and fiercely cause damage. Also, one never knows when a Kraken steps forward, hence the Fury ability will deal double damage when it taunts, and her Life Leech ability is what she'll use to increase her health each time she depletes that of an enemy in proportion to the damage dealt.

---

This cards attack type is Magic, and it is part of the Water unit. It costs 11-mana to use in battle , as a result, she will be an excellent card for high mana battles with magic ruleset.

VENARI WAVESMITH comes from a race of rat-like people with extraordinary knowledge. She is a skilled technician and mechanic, making powerful weapons such as the Splinterlands have never seen before. A 6-star ⭐️⭐️⭐️⭐️⭐️⭐️ warrior with the Protect ability , giving all her team monsters double armor. She also Dispels by removing all positive status effects on enemy therefore causing great damage.

---

This cards attack type is Magic, and it is part of the Water unit. It costs 5-mana to use in battle , as a result, it will be an excellent card for both mid & high mana ruleset battles.

RIVER NYMPH comes in next, the spot-light card of the week. She is a 6-star ⭐️⭐️⭐️⭐️⭐️⭐️ Rare warrior who does well to Amplify the magic reflect, thorns and return fire damage of her enemy monster by +1. She will do anything to defend her home and inhabitants. Also her Cleanse ability will remove negative buffs on TORRENT FIEND in first line.

---

This cards attack type is Magic, and it is part of the Water unit. It costs 4-mana to use in battle , as a result, she will be an excellent card for both low & mid mana ruleset battles.

According to legend, he is as old as the seven seas. The Ocean Oracle is well-known for being the most feared of its kind, possessing knowledge that spans time and space. A powerful monster who is well-deserving of his rank and abilities. His Silence ability reduces all enemy magic monsters' attacks, while blasting the enemy monster adjacent to his target. RULER OF THE SEAS Swift ability increases the speed of all team monsters in battle.

---

This cards attack type is Magic, and it is part of the Water unit. It costs 6-mana to use in battle , as a result, it will be an excellent card for both low & mid mana ruleset battles.

In final position comes the Epic 5-star⭐️⭐️⭐️⭐️⭐️ theme card of the week, 🌊NERISSA TRIDAWN🌊 who can deal great magic damage to enemies. She has no abilities but who needs one with all that powers? 4 Mgaic and ALRIC makes it 5 Magic attack.

This cards attack type is Magic, an Epic card and it is part of the Water unit.

---

🌊NERISSA TRIDAWN🌊 and Team are ready to engage in battle. Without further ado, let us now enter the battleground.

---

---

⚔️THE BATTLE⚔️

---

The Enemy came at me with the Death element, ENEMY SUMMONER - ZINTAR MORTALIS as Summoner. ENEMY-PRISMATIC ENERGY in first position, ENEMY-ANCIENT LICH in second position, ENEMY-PHANTOM SOLDIER in third position, ENEMY-DEATH ELEMENTAL in fourth position, ENEMY-BOOGEY MAN in fifth position and finally ENEMY-REVEALER in last position.

Enemy came all BRUTAL on my! Although my opponent used the Death element which usually and IMO is weak against water, I have learnt never to look down on those cards as my butt have been whopped a few times with this splinter. So Let's see what happened.

SUMMONER ALRIC STORMBRINGER grants my team of monsters the +1 MAGIC.

ENEMY SUMMONER - ZINTAR MORTALIS tries to take away -1 MELEE from my monsters, poor attempt as it's an ONLY MAGIC ruleset.

All Monsters on battlefield have their Defense and Healing abilities taken away.

VENARI WAVESMITH offers Protection to all team monsters.

RULER OF THE SEAS offer all team monsters the Swift ability and takes away a magic point each from Enemy monsters.

DJINN OSHANUS launches the first attack at ENEMY-PRISMATIC ENERGY, affecting it's health but then gets reduced damage reflected back at him.

Brutal back and forth assualt on my team monster, but 🌊NERISSA TRIDAWN🌊 get's pissed and launches a deadly attack on Enemy front line with reflect ability ENEMY-PRISMATIC ENERGY and instantly kills it.

More assualt by the enemy on my team monster, 🌊NERISSA TRIDAWN🌊 swiftly moves, launching a deadly attack on now Enemy front line ENEMY-ANCIENT LICH and instantly kills him.

The tides turn in my favor as assualt on enemy by my team is perfect.😉

RULER OF THE SEA swoops in, targets and launches a deadly at ENEMY-PAHNTOM SOLDIER affecting it's health. Immediately, 🌊NERISSA TRIDAWN🌊 waste no time as she too launches another deadly blow, instantly killing this enemy.

Adieus you wicked soldier, see you in Valhalla😝

VENEARI WAVESMITH swoops in and makes her deadly magic balls, targets and immediately eliminates ENEMY-DEATH ELEMENTAL.

DJINN OSHANUS launches deadly attack at ENEMY-BOOGEYMAN, affecting it's health but then gets reduced damage reflected back at him.

🔪Yeah Take that you wicked boogeyman😜

RUNEMANCER KYE turns around, using her powerful trident, launches a deadly attack on ENEMY-REVEALER killing him instantly.

---

---

⚔️FINAL RESULT⚔️

---

---

🎉🌊NERISSA TRIDAWN🌊 and ALL TEAM OF MONSTERS Let out a roar of FLAWLESS VICTORY!!!🎉

▶️CLICK ON THIS TO REPLAY THE 🌊NERISSA TRIDAWN🌊 BATTLE◀️

DO I LIKE THE 🌊NERISSA TRIDAWN🌊?

I think I do like this 🌊NERISSA TRIDAWN🌊 card. She doesn't suit all rulesets, but in rulesets like BACK TO BASIC and only MAGIC MONSTERS in battle? She is a great card to add on deck.

🌊NERISSA TRIDAWN🌊 huge magic and health tank is very important, when placed in any position because she is flexible that way, She will deal massive damage to enemies and it'll be difficult for them to attack her. Even better place her in an uncompromising position and she will last long enough in battle to ensure victory. She is one among the few chaos cards, hence, I am very optimistic about this particular ability. You can also employ her when feeling less positive about your lineup.

To be fair, I definitely am glad to have experienced two of her at Level 5, and would keep making use of in Water Splinter battles. She has unmatched Magic, Speed and Health, that's already a slam dunk. This only demonstrates that if you play the Water splinter and at decent mana cap such as this, then she is a card to have on deck.

In summary the battle was 3 rounds and exciting to watch. I will keep seeking more ways to buy and max out my owned card.

DID MY STRATEGY WORK AND WHAT LESSONS DRAWN FROM IT?

Yes, my strategy worked, maybe not as best. It was a good lineup and strategy for this 46 mana battle⚔️

🌊NERISSA TRIDAWN🌊 being a Magic attacker should ideally be placed in the middle position because you'll want her attacking enemies without fear of being vulnerable, but she can do very well at the back too, or even in front. Also, if you add monsters with interesting abilities as support as in the case of these team line up, then it will be more difficult to target and kill allowing her cause damage.

What I learnt is that, this card can be further enhanced with summoners Like ALRIC or even better, VALNAMOR✅

🌊NERISSA TRIDAWN🌊 is no doubt a decent card. This challenge has surely exposed her usefulness in battle.

😊That will be all about my weekly battle with 🌊NERISSA TRIDAWN🌊 as the themed card.

Worthy Notes:

✅Cover made in CANVA.COM with all the monster and battles images are taken from in-game at WWW.SPLINTERLANDS.COM.

✅My gratitude to THE PIMP HOUSE and PIZZA 1 STUFFED CRUST for the guild support.

✅Click to Join the Hive Gaming Community to have fun and discuss with other Hive gamers.

✅Click to join Hive's House of Help community THE TERMINAL

✅Splinterlands text dividers freely provided by @freeztag.

😊Until next Splinterlands Battle, Hive, Vibe & Be Lucky🍀

All content is mine unless otherwise Noted
queenstarr ©2023
---
---