⚡️SOCIAL MEDIA CHALLENGE : A CLEAN SWEEP BRAWL REPORT⚡️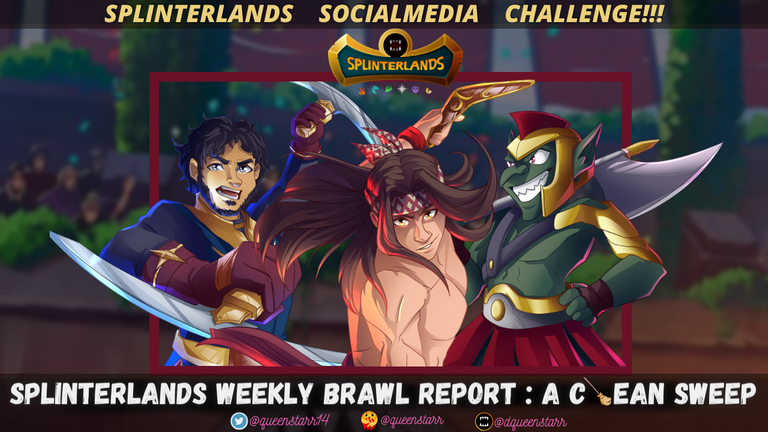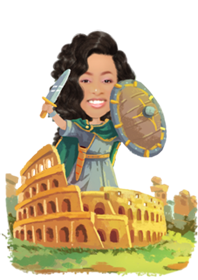 Hello Battle Mages. It's been a week of battling and looting, I hope the RNG has been kind to you. Another long week of travel, from the arenas of Azmaré to the magnificent Golden Arena on Mount Mox, where the great brawls and tournaments are held. This was a thrilling journey for me. I took the time to tour around the arena after arriving with my team of monsters a day before the brawl began.
We've had many brawls in the past, but this will be my first time reporting on one. Upon arrival, I registered my team for the Gold Fray 11,

Wild format, which allowed all monsters (cards) from different eras (editions) to compete. I reasoned that I should take advantage of the situation and get a

glimpse of the terrifying monsters that my enemies would unleash on me. Although I was certain that some who didn't own monsters would hire them, knowing what other guilds I was up against would be useful.
We were not allowed to know who our opponent would be or what their battle lineup would be. This was to honor the Dragonborne's prophecy of a united Gloridax made hundreds of years ago. Brawls were kept fair and square.
It was dawn, and it was time to battle. As the summoners mounted and set their tools on the table, we battle mages took our seats near the summoners' stone. Seven [7] battles were planned. Let's take a look at the events.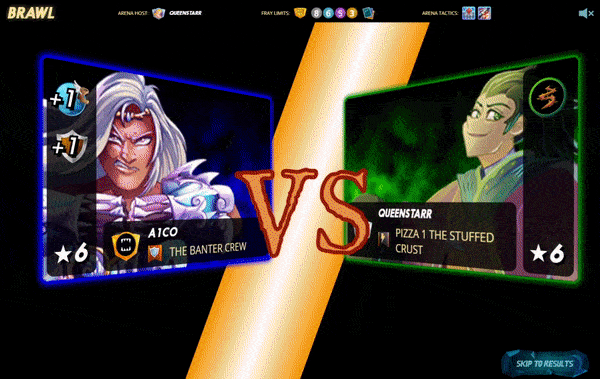 In this first Brawl, I went with the 🍃Earth Splinter and got matched with Banter Crew who picked the 🌊Water Splinter. The ruleset Removed all Protection and abilities for Monsters to Heal. So I chose MYLOR CROWLING who gives all monsters the

Thorn ability. This will ensure that each time my enemies hit at me, they also get same damage back. Then Next I went with three monsters that had the

Poison ability , this will also ensure they don't get a chance to survive for long after each round. My strategy was simple; Big tank Melee monster [FLESH GOLEM], 1 Speedy Monster [BROWNIE] , 2 poisonous magic monsters [MUSHROOM SEER & DOCTOR BLIGHT] and 2 accurate range shooters [GOBLIN CHEF], of which one was a Gladiator [CUTTER BRIEZE] with the Bloodlust ability. The Enemy tried it best but luck was on my side and Brawl ended in
---
🎉FLAWLESS VICTORY!!!🎉
👉▶️CLICK ON THIS TO REPLAY BRAWL BATTLE - QUEENSTARR vs AIKO◀️👈
---

Next up, I summoned the great ALRIC STROMBRINGER. I went with the 🌊Water Splinter and got matched with Poohwet of Sabaoth who picked the ☠️Death Splinter. The ruleset was against Magic and we all got poisoned at the end of each round with a noxious fume. To be fair, I didn't have any Gold leveled card other than ALRIC, so his buff was useless😪 and I also did not have any monster that was immune to the Noxious poisonous fumes. The odds was stacked against me, I then went for three monsters whom I felt will do very well irrespective.
SEA MONSTER has a decent tank with the Tank Heal and Thorn abilities. If anything, after each round of poison, I banked on his tank re-healing, and to make sure all went well, I then picked CRUSTACEAN KING who had the Protect and Healing abilities to help as well. The Gladiator in the mix was ALFREDO with the Bloodlust Ability.
It was a tough battle as enemy came with Legendary Harklaw who was an immune monster, but again, Luck was on my side as SEA MONSTER destroyed them all easily.
---
🎉FLAWLESS VICTORY!!!🎉
👉▶️CLICK ON THIS TO REPLAY BRAWL BATTLE - QUEENSTARR vs POOHWET◀️👈
---

My third battle was against a Legionnaire. I went with the 🍃Earth Splinter and got matched with MIKO THE FURIOUS CHICKENS who also picked the 🍃Earth Splinter. The ruleset offered Holy Protection and the Even Steven only allowed even mana monsters in battle. My Enemy had a really nice card, the delectable Gladiator Quora Towershead, while I came with Gladiator BERTROL GOBSON. The battle finished in 3 rounds as my FLESH GOLEM and DOCTOR BLIGHT along with Gladiator and FUNGUS FIEND pounced on the enemy, destroying them both. It is Ideal to that when Ruleset is Holy protection, then go for the Life Splinters, but my gut feel went for Earth as i understood those cards better, glad it paid off. Lucky huh!😆
---
🎉FLAWLESS VICTORY!!!🎉
👉▶️CLICK ON THIS TO REPLAY BRAWL BATTLE - QUEENSTARR vs MIKO67 THE LEGIONNAIRE◀️👈
---

The Fourth Brawl commenced. I went with the 🍃Earth Splinter again😁 and got matched with SPEEDMASTER THE LANDLORDS who picked the 🌬Life Splinter. The ruleset was against Magic and caused Earthquake at the end of each round, damaging the health of non-flying monsters.
I had more Earth Splinter Flyers whom the Earthquake wouldn't affect. So placed GIANT HILL the Stun monster in front, not a flying but i needed him to cause those he attacked to miss their chance of attack. Next came PELACOR MERCENARY with the Tank heal and Flying ability. I needed a monster to cook up come Affliction and Poison, hence GOBLIN CHEF came in third position. In fourth was a scavenger, SCREECHING VULTURE. Should the monsters before him die, he would have scavenged for itself enough health to deal with enemies. EARTH ELEMENTAL and SPIRIT OF THE FOREST were accurate rangers who played key roles behind, targeting and healing. Again Luck was on my Side, vanquished the enemy.
---
🎉FLAWLESS VICTORY!!!🎉
👉▶️CLICK ON THIS TO REPLAY BRAWL BATTLE - QUEENSTARR vs SPEEDMASTER57◀️👈
---

It was now the Fifth Brawl and I called on ALRIC STORMBRINGER again. I went with the 🌊Water Splinter again😁 and got matched with ISLDURR OF THE FIENDZONE who also picked the 🌊Water Splinter. The ruleset removed all protection from monsters and wouldn't allow summoners offer either their monsters too. I really picked a brute force deck in this one and it was a good thing cause enemy came at me the Kraken, that alone would've crushed me easy😁. But SEA MONSTER was brutal with his Thorns ability while he healed up. Then DJINN OSHANUS was there with his Forcefield, void and Phase abilities in second. In third was RIVER HELLONDALE, who would help resurrect any of my fallen monsters and dispel any negative effect on the front line monster. DOCTOR BLIGHT was in the mix with his poison, and scavenging off fallen monsters health. LORD OF THE SEAS was well positioned to blast and offer his swiftness to team monsters, and finally in last position was the great PHANTON OF THE ABYSS, a flyer and demoralizer. Kick ass team that easily crushed the enemy.
---
🎉FLAWLESS VICTORY!!!🎉
👉▶️CLICK ON THIS TO REPLAY BRAWL BATTLE - QUEENSTARR vs ISLDURR1◀️👈
---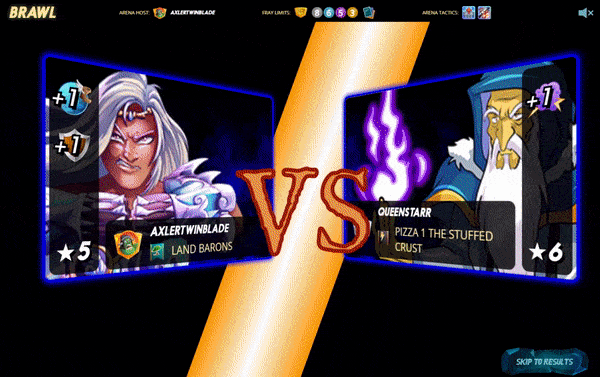 It was battling all day and Night was approaching. I went with the 🌊Water Splinter ALRIC STORMBRINGER again and got matched with AXLERTWINBLADE THE LAND BARONS who also picked the 🌊Water Splinter. The ruleset disallowed Legendary Monsters and allowed Close Ranged attack for accurate shooters to attack from any position. I did not have alot of Rangers in my quiver, so i again came with brute force. SEA MONSTER in front with Tank heal and Thorns to cause damage back at enemies. The next was CAPTAINS GHOST who came to Oppress and cause Affliction. I then needed RIVER NYMHP to cleanse from monster and Amplify all monster abilities, more like sharpen it. FURIOUS CHICKEN was there enraged and ready to attack, then in fifth was CRUSTACEAN KING an accurate shooter who would attack from any position, Protect and heal damaged team monsters. Finally, I placed the DEEP LURKER in last, in lurks then attacks enemy when they least expect. His Opportunity and Poison was perfect against enemies. Battle finished in 3 rounds and Luck was on my side again.
---
🎉FLAWLESS VICTORY!!!🎉
👉▶️CLICK ON THIS TO REPLAY BRAWL BATTLE - QUEENSTARR vs AXLERTWINBLADE◀️👈
---

Finally, the last Brawl. I went again with the 🌊Water Splinter ALRIC STORMBRINGER again and got matched with THEWASCALWABBITS THE PHOENIX RIZEN who also picked the 🌊Water Splinter KEYLA FRENDUL. The ruleset offered all monsters the knock out ability. This last battle proved tough to deal with as I almost gave when I was down to One monster, brutal lineup by enemy. But PHANTOM OF THE ABYSS really brought this victory home. A close call but luck was on my side😆🍀
---
🎉FLAWLESS VICTORY!!!🎉
👉▶️CLICK ON THIS TO REPLAY BRAWL BATTLE - QUEENSTARR vs THEWASCALWABBITS◀️👈

⚔️OVERVIEW OF BRAWL⚔️
All battles was intense for the first time, It was a clean sweep winning all 7 brawls. My Fellow Guildmates also put in great effort in their battles.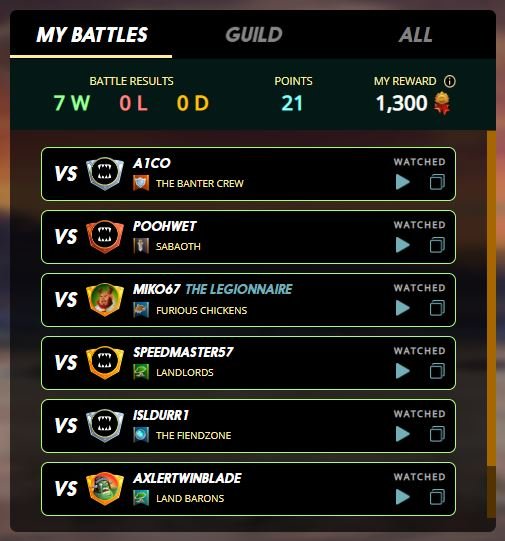 The 🍕Pizza 1 stuffed crust made another strong showing, finishing seventh and earning 1300K merits each. I enjoy participating in brawls and seeing how well my guild is doing in terms of conquering. We are very competitive in these brawls and work together to give it our all. Makes it all worth it in the end❤️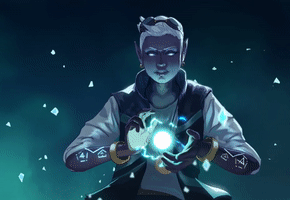 THE RIFTWATCHERS are here with us and the Splinterlands will never be the same with it's invasion.
Each pack cost 74SPS + 1 VOUCHER.
The Riftwatchers feature some amazing cards and packs sold out last week like fire. Still selling out fast, I wish everyone buying and who will be opening them Goodluck with the pulls.🍀
---
---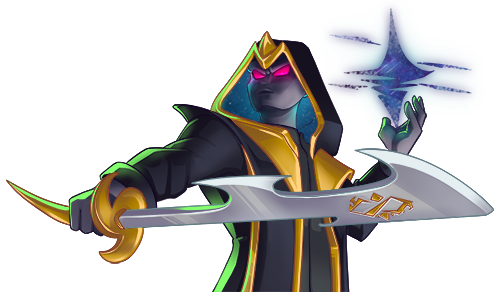 THE CHAOS LEGION packs sold out really quick last week and with just less than 20k packs left.
Once the pack sells out, the most wanted Fire splinter summoner CONQUERER JACEK will be released for grabbing. Everyone is anticipating this, pretty cool art and fantastic buffs too.
---
---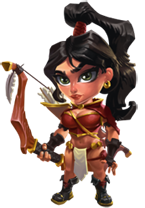 Splinterlands new game TOWER DEFENCE Pre-Sale sold out quick as of last night! I managed to grab just 3. I do hope it's as much fun and challenging as Splinterland itself.
Each pack cost 5000 DEC + 1 Voucher.
We are yet to know the game play and all, this will be communicated to us soon.
---
---
〽️UPDATE & A BRIEF LOOK AT THE CURRENT TOKEN MARKET : 22nd -SEPTEMBER- 2022 2:30AM〽️

😪↕️BTC this past week been on a dreadful downtrend with all the financial-world threats and all [Wen Pump?], down and down it goes and currently sitting at $18,448. Hive as always follows BTC downtrend and currently trading at 0.490$. HBD pegged and holding at $0.995. Fingers crossed to better days🤞
---
---
Splintershards (SPS) is currently traded 0.10293910 0.00160625 and although seen a decrease of -0.03%. Good news is that the price has boosted really good now compared to a few days ago. We ow earn SPS in ranked battles and Chest loots. There will also be rewards based on staked SPS, so time to get more SPS in-game and stake✅.

---
---
Whereas the main in-game token DEC, is no longer be earned but bought off the market. It's use case remains to buy chaos packs, rent cards and now Buy Tower Defense packs which is great. Currently trading at 0.00128441 0.00090424, it went down during the past week, but now at a +0.56% price increase in the last 24hrs. Let's see what this new week brings us🤞.


😆Alrighty, that will be all about my social media challenge for this week. I hope you enjoyed reading about my brawls and little market rants.
🍀MAY THE ODDS FOREVER BE IN OUR FAVOUR✊. Disclaimer alert: I am not a Crypto or Splinterlands expert. This is Just me ranting, being real about my stuff. But well, we keep grinding, hopefully it'll pay🤞.
IF YOU REGISTER USING MY REFERRAL LINK >>> https://splinterlands.com?ref=dqueenstarr, I'll send you a perk of 500DEC. Simply log in with your Hive account username, follow the hive-keychain prompts and purchase the $10 Spellbook [can pay with Hive/HBD] to unlock your account's full potential. [P.S. You will also receive 3000 in-game credits back from Splinterlands as a gift for you to rent cards which is more than enough for a whole season at the early stage]. Once completed, leave a comment on any of my posts and I'll get back to you like Flash.
If you want to take part in this Splinterlands' challenge, simply visit 👉Splinterlands Social Media Challenge! to read up more.
---
---
👇MY SPLINTERLANDS TALES YOU MAY WANT TO VISIT👇
👉 ⚔️TALE OF THE BARONESS : EPISODE 1⚔️
👉 ⚔️TALE OF THE BARONESS : EPISODE 2⚔️
👉 ⚔️TALE OF THE BARONESS : EPISODE 3⚔️
👉 ⚔️TALE OF THE BARONESS : EPISODE 4⚔️
👉 ⚔️TALE OF THE BARONESS : FINAL EPISODE⚔️
👉 🔥FAST LIKE A YODIN, FURIOUS LIKE A ZAKU🔥
👉 ⚔️ALASTAIR'S STRANGE ENCOUNTER⚔️
👉 ⚡️A MEETING WITH THE GREAT ALRIC⚡️
👉 ⚡️A TALE OF ELSIE AND THE WAR IN SOLAKI⚡️
Worthy Notes:
✅POST COVER EDITED BY ME IN PHOTOSHOP PS5 WITH ALL IMAGES FROM WWW.SPLINTERLANDS.COM , SPLINTERLANDS ENCYCLOPEDIA
✅My gratitude to THE PIMP HOUSE for the guild support.
✅Click to Join the Hive Gaming Community to have fun and discuss with other Hive gamers.
✅Click to join Hive's House of Help community THE TERMINAL

✅Splinterlands text dividers freely provided by @freeztag.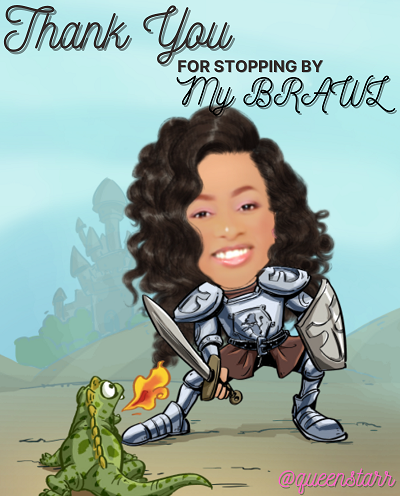 😊Until next Splinterlands Social Media Challenge, Hive, Vibe & Be Lucky🍀
All content is mine unless otherwise Noted
queenstarr ©2022
---
---