🌳SOCIAL MEDIA CHALLENGE : IZA'S CURSE🌳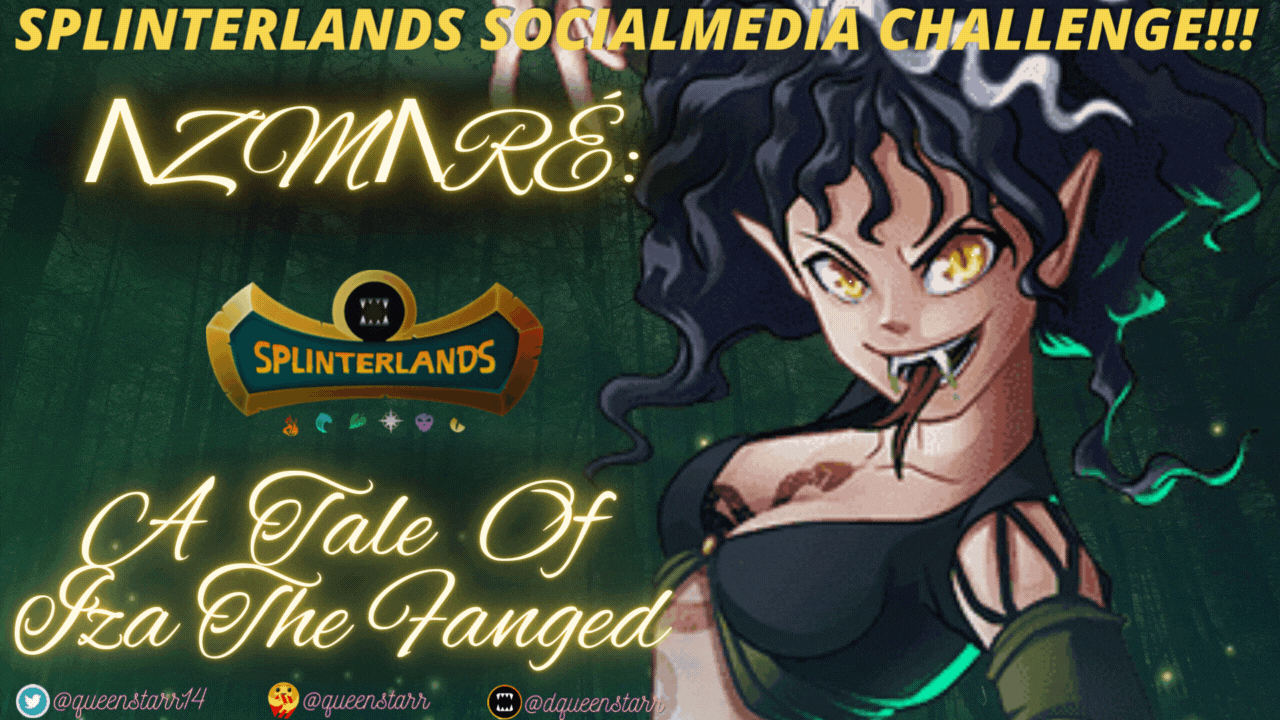 ΛZMΛRÉ's dense forest is home to one of the most feared creature in the Splinterlands. A being with the strength and acute sense of a god, with the heart of a serpent, razor-sharp teeth, and a long, powerful tongue. IZA THE FANGED is her name.

Families use this story to tame mischievous kids who enjoy wandering into the forest. The villagers laughed it off as a ridiculous fable. But because the disappearances continued to occur, the horrifying story of Iza endured.
Iza occasionally curled herself up next to a tree and listened as the locals talked about her around the campfire. She seemed to love the tales that were told about her, although, she did not appreciate the part about her stealing and feeding on the locals children. Her preference was for outlaws who loved to carry out their misdeeds in the dark forest as opposed to children. In addition, the rebels, a division of the chaos legion who destroyed towns by annihilating anything and everyone that stood in their way. Iza was also on the lookout for those.
---
---
It was evening, and at this hour of day Iza would move through the jungle to hunt invisibly and softly. She could command vines, thorns, and trees because she was in sync with the earth's mana. Iza has no idea where she came from, other than the fact that she was born with a serpent's heart and forever cursed to live in the dark forest.
"Don't run into the forest Caroline, come back here please."
A woman cries out with exhaustion in her voice.
"You cannot catch me mother, run faster and catch me if you can."
A little girl responds while giggling. Iza halted.
It was now dark, and you could make out two sickly red & yellow eyes peering at them from behind the trees. If you focused close attention, you could also hear a faint hissing, Iza's long tongue flickering in and out many times with open mouth to display her razor-sharp fangs.
A sudden loud thud and the child's scream is heard.
"Caroline, Caro..."
The now exhausted voice cries out and then stops. A villager and her 6-year-old daughter were playing hide and seek until the child decided to run deep into the forest to hide. The mother tried to run as fast as she could, but her tired legs couldn't go as far as the little legs could. They stood there, her young naive daughter looking up at a being twice the size of a man, with a pot-belly, sharp fangs, and long ears like an elf, and from his hands dripped a liquid-like hot substance.
The mother, who is now about 2 meters away from her daughter, motioned for her to return to her slowly. Caroline, shaken and crying, takes gentle steps backwards towards her mother, while this being fixes it's gaze on the child. Terrified she runs and clings to her mother, as her mother wraps her in like a hen wraps her chicks.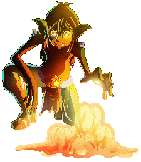 Iza remained invisible as she stood still peering through the trees at them. As soon as the being raises his hands to grab the mother and child, Iza swoops in at the speed of light and commands the vines to wrap themselves around him and pull him away.
"PYRE......! what brings you all the way from the burning lands to my territory, this is forbidden"
Iza said with a whispering rattling hiss in her voice as she crawled on the ground and rose up mere inches from where he had landed, now standing many feet's between him and the mother and child.
Pyre was found by the Torch and taken in because he had summoning powers. He was given a new life and now summons for the Torch. Since joining the Chaos Dragons, he's developed an insatiable appetite for humans, especially children. He has invaded villages, each time burning it to ground and taking captives for his belly.
"and who made you keeper of ΛZMΛRÉ? I can do as I please. I thread whatever path I wish and take whatever I want. I crush whoever or whatever stands in my path. Out of my way Iza or there will be consequences."
Pyre lashed out at Iza with enormity in his voice.
Across the ΛZMΛRÉ forest, another loud thud is heard. Then suddenly a forest fire starts. The air became filled with the dread of an impending battle as the enemy mustered it's forces. Iza took a strong stance, determined not to surrender without a fight, the Chaos Dragons were a wicked set and they'll burn down this forest and the entire neighboring villages if she doesn't fight back.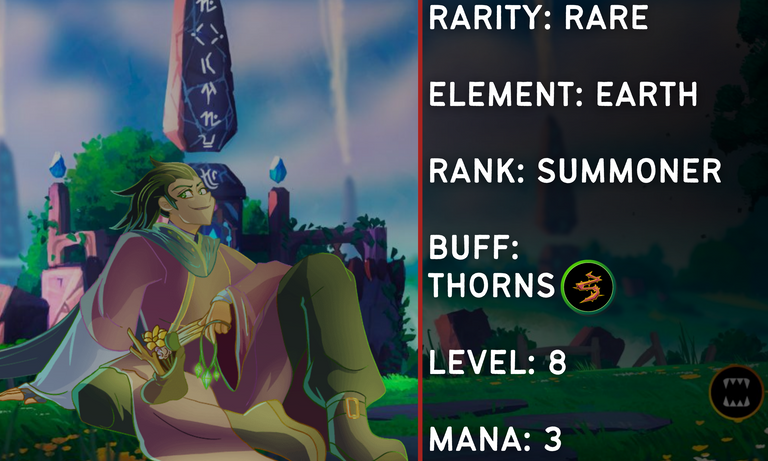 Iza who is connected to the Earth's mana, commands the thorns and calls on the great MYLOR CROWLING. He smashed through the forest, clad in fine linen and wearing a thorny belt, large enough that the earth struggled to hold him together. An 8-star⭐️⭐️⭐️⭐️⭐️⭐️⭐️⭐️ summoner with the supernatural ability to grant the Thorns

ability to the monsters willing to fight alongside him. MYLOR CROWLING turns towards Iza and both give a nod, then he takes a commanding stance, and summons his most powerful allies to combat.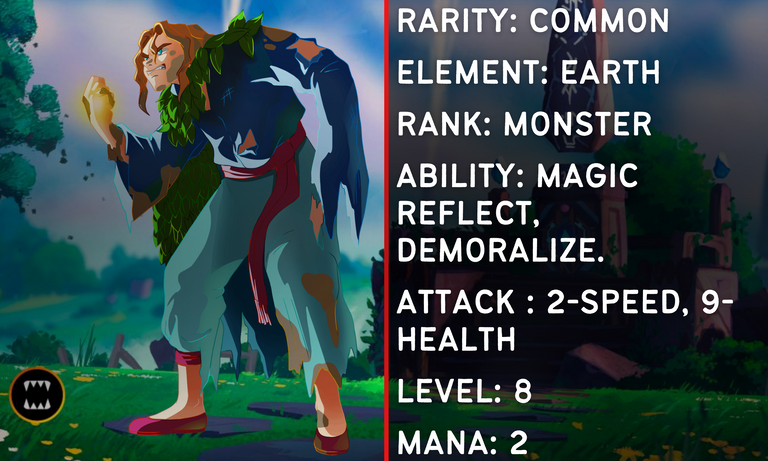 He is one of the 90% failed summoners cut of from the academy of western wood. Although he failed as a summoner, he however has proven himself as an excellent warrior who fights fiercely. FAILED SUMMONER has no attack type, but his speed of and resistance will take enemies by surprise. His 'magic reflect

' ability does reduced damage back when hit by magic attack monster. He then 'Demoralizes

' the enemies with melee attack. An 8-star ⭐️⭐️⭐️⭐️⭐️⭐️⭐️⭐️ warrior deserving of his moniker.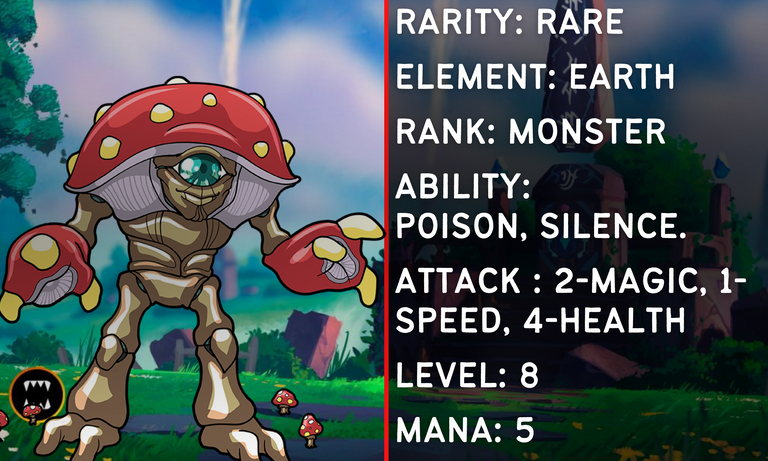 Deep down in the heart of this forest lays the fully grown Mushroom seer. He spreads maddening spores everywhere his goes and very well dreaded in battle. This seer 'Silences

' all magic enemies by reducing magic attacks, and finally 'poisons

' them which does automatic damage to the enemies at the start of each round once applied. An 8-star ⭐️⭐️⭐️⭐️⭐️⭐️ Rare warrior who has demonstrated it's prowess.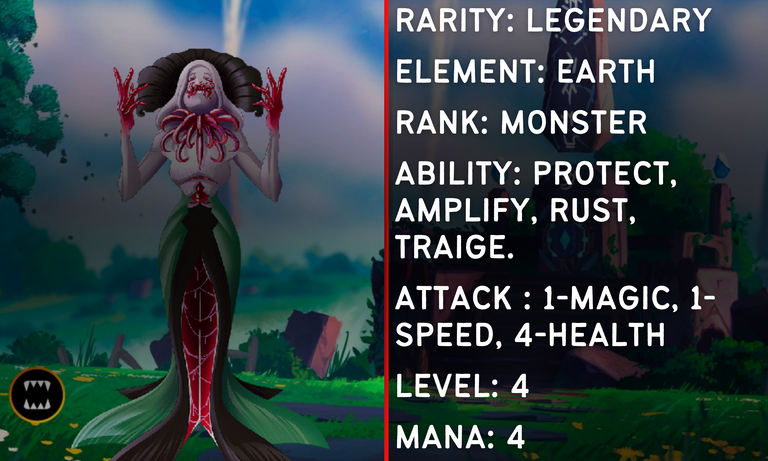 The deadly QUEEN MYCELIA, a seductive yet terrifying creature that will attack and kill before her enemies think to blink. She is a 4-star⭐️⭐️⭐️⭐️ warrior with magical abilities. In battle, her evil role has a variety of effects, the 'triage

' which helps to heal backline team warrior that has taken the most hit. Her ability works well to 'protect

' her team by giving them double armor. she 'amplifies

' the magic reflect, thorns and return fire ability of her team warriors by +1 while 'rusting

' the armor of enemies.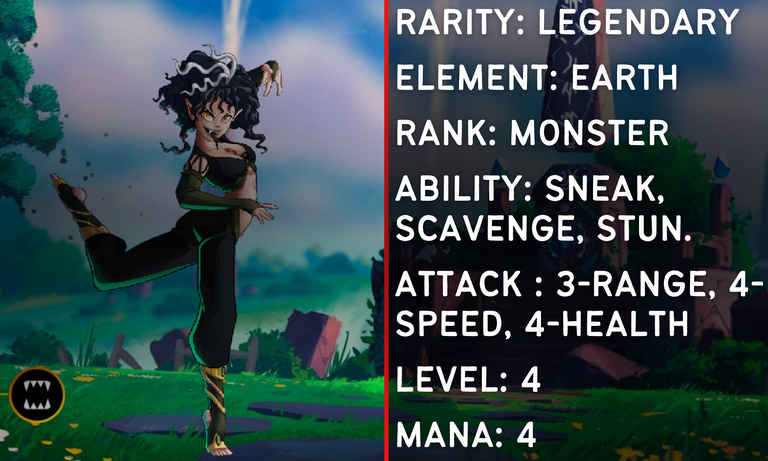 IZA THE FANGED is a brutally honest savage who only takes what she knows rightfully belongs to her. She 'Stuns

' her assailant, leading them to lose control of the situation, missing a turn to strike and then goes on to 'Scavenge

' for herself the health of every fallen monster, an ability she shares with DOCTOR BLIGHT. A 4-star⭐️⭐️⭐️⭐️ warrior deserving of her moniker.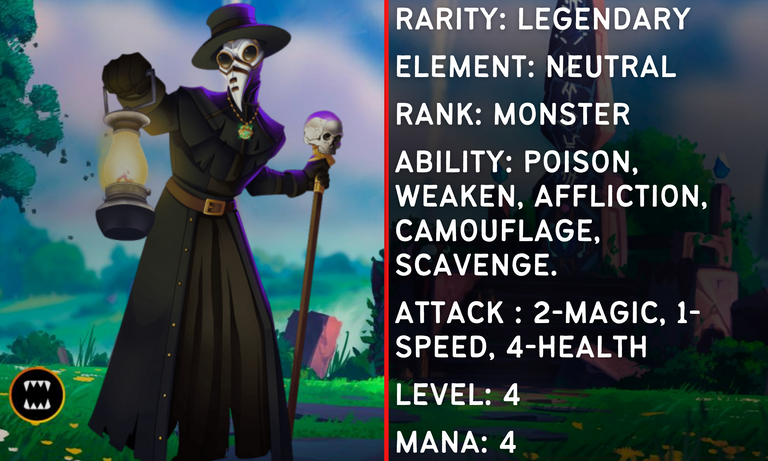 A 4-star⭐️⭐️⭐️⭐️ legendary DOCTOR BLIGHT who is deserving of his title because of his strong dark occult magic and diverse set of abilities. He causes great 'affliction

' by making enemies wounds not heal, and then 'poison

' enemies every round of battle. His 'camouflage ability

' makes it impossible to attack and kill except if placed in first position. He goes on to 'weaken

' the all enemies by reducing their health and 'Scavenges

' for himself the health of every fallen monsters. DOCTOR BLIGHT is a monster MYLOR CROWLY considers suitable in any situation, and in this battle, he couldn't find a better monster than him from the neutral unit to fight side by side.

As they all lined up for battle, a formidable team indeed, they ready their armor for battle.
ENEMY-PYRE takes a few steps back and invokes his summoning ability, calling forth his team of wicked monsters, enemy-ANT MINERS

in front line, enemy-GOBLIN SHAMAN

in second, enemy-ZALRAN EFREET

in third, enemy-SPARK PIXIES

in fourth, enemy-IMP BOWMAN

in fifth and enemy-FLAME IMP

in backline.
Destroy them all, but the woman and child is mine to keep
ENEMY-PYRE yells out to his team of wicked monsters. Then he licks on his fangs with his long tongue, and rubs his pot belly. Iza motioned for Queen Mycelia to cast the prismatic protection spell over the mother and child. Following that, they all charged forward into battle.⚔️

⚔️ THE BATTLE ⚔️
---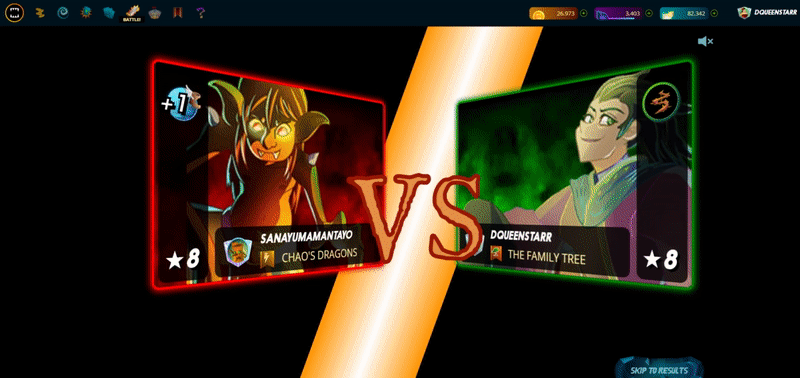 | | EARTHQUAKE: The Non-Flying monsters take 2 Melee damage at the end of each round. |
| --- | --- |
| | HOLY PROTECTION: All monsters have the Divine shield ability in battle. |

ENEMY-PYRE boost his monsters with +1 speed as they expected.

MYLOR VROWLY give all team monsters the 'Thorns' ability as expected.

All monsters on battlefield get the 'divine shield' which will ignore first earthquake damage.

ENEMY-GOBLIN SHAMAN 'weaken' (-1 max health) and 'silences' (-1 magic attack), while ENEMY-ZALFAN EFFREET 'Headwinds' (-1 Ranged attack) all Iza's team of monsters and 'strengthens' his wicked team of monsters. ENEMY-FLAME IMP grants all enemy monsters the swift ability.

on seeing this, FAILED SUMMONER 'Demoralizes' (-1 Melee attack), MUSHROOM SEER 'Silences' (-1 magic attack), DOCTOR BLIGHT 'Weakens' (-1 max health), followed by QUEEN MYCELIA 'Rusting' (-1 Shield attack) of all enemy monsters.

QUEEN MYCELIA then offers 'Protection' to all team monsters.

The fight began with an enormous and intimidating display of abilities. However, IZA THE FANGED remained unaffected. Whether she was doing it to protect the mother and child or her forest, the only thing that mattered was that she was teaching this band of rebellious chaos dragons not to cross unknown territory. And who knows the forest better than Iza?.
As they all charged into battle, ENEMY-SPARK PIXIES struck at FAILED SUMMONER, removing his defense by -2🛡️ and health by -1❤️. Multiple attacks at FAILED SUMMONER to break Iza's front line, but he stood strong, reflecting back every attack shot at him.
IZA THE FANGED launches an attack at ENEMY-FLAME IMP in a fit of rage, reducing its health by -3❤️. Enraged, MUSHROOM SEER sends a deadly strike at ENEMY-ANT MINERS killing it immediately. IZA THE FANGED and DOCTOR BLIGHT immediately scavenges +1❤️ Max health each. DOCTOR BLIGHT strikes and poison's ENEMY-GOBLIN SHAMAN'.

EARTHQUAKES HITS ALL MONSTERS - IZA THE FANGED AND TEAM ARE UNAFFECTED BY IT. BOOYAAA!!!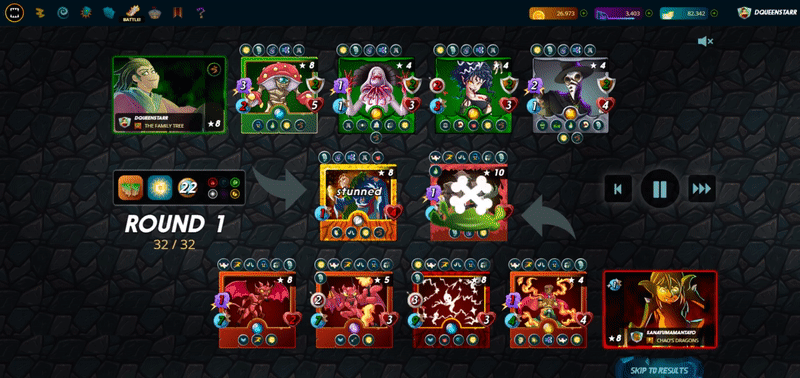 POISON PLACED ON ENEMY-GOBLIN SHAMAN TAKES EFFECT AND KILLS HIM IMMEDIATELY. HIS 'WEAKEN' SPELL IS CAST-OFF TEAM AND +1❤️ HEALTH RESTORED....BOOOYAAA!!!
ENEMY-SPARK PIXIES strikes a deadly at FAILED SUMMONER, 😢killing him immediately, this enrages the whole team. This makes QUEEN MYCELIA send a deadly strike at ENEMY-ZALFRAN EFREET, killing him instantly. HIS 'HEADWIND' SPELL IS CAST-OFF IZA THE FANGED AND +1🏹 RANGE RESTORED
IZA THE FANGED and DOCTOR BLIGHT immediately scavenges +1❤️ Max health each. DOCTOR BLIGHT strikes and poison's ENEMY-SPARK PIXIES.

EARTHQUAKES HITS ALL MONSTERS - AFFECTING ALL THEIR HEALTH BY -1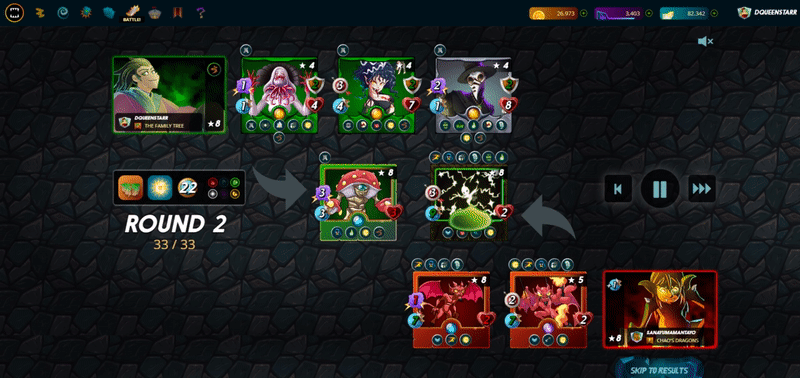 POISON PLACED ON ENEMY-SPARK PIXIES TAKES EFFECT AND KILLS HIM IMMEDIATELY...BOOOYAAA!!!
ENEMY-FLAME IMP enraged with his wicked team crumbling swoops in, attacks and kill MUSHROOM SEER.
IZA THE FANGED has had enough now, it was time to end the charade. She launches a deadly range attack at ENEMY-FLAME IMP, followed by DOCTOR BLIGHT who strikes at ENEMY-IMP BOWMAN killing it too.
WHAT A BATTLE, FATALITY!!!
---
---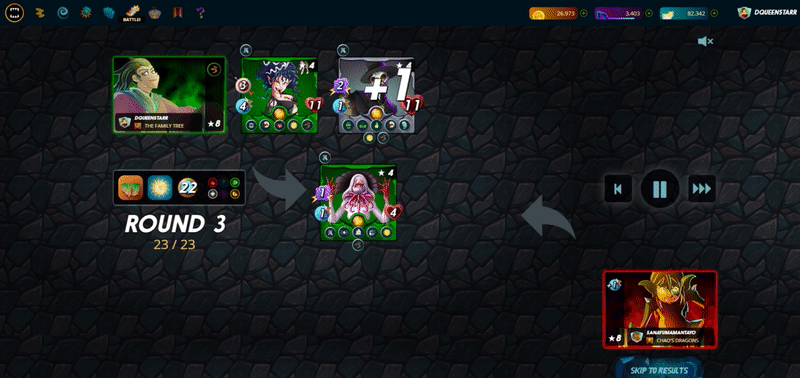 IZA THE FANGED and TEAM let out a terrifying roar of VICTORY!!! The Enemy is vanquished!
👉▶️CLICK ON THIS TO REPLAY BATTLE◀️👈

IZA THE FANGED notices ENEMY SUMMONER-PYRE approaching as he tries to sneak by to attack the mother and child, whose covering had now been lifted and who were visibly terrified from the combat they had just watched. She aim at him with her long, strong range and doesn't miss. ENEMY-PYRE disappears into thin air as a result of this. DOCTOR BLIGHT then used his magic to cast a memory loss spell on the mother and child and teleport them back to the safety boundary of their village.
As a sign of respect before going into battle, Iza and team bows to one another. The team that survived picked their slayed teammates, immersed into the Life Gate pool. There was a belief that they will recover their health.
IZA THE FANGED stood alone now, the night was still young for hunting, and using her heightened sense targets a prey afar. One might wonder why Iza the Fang went into battle. Was she truly assisting the mother and child, or was she merely securing her double meal for the night? Or was she worried about the destruction of her forest home? Was Iza, Pyre, or another chaos legion to blame for the disappearances of people, particularly children, in neighboring villages? I guess we'll never know, and the dreadful story of IZA THE FANGED will continue to spread throughout the Splinterlands.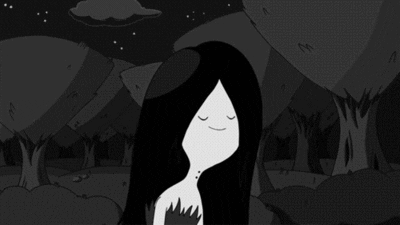 🌬💀🔥🍃🌊🐉⚔️The End⚔️🐉🌊🍃🔥💀🌬

🔥DO I LIKE IZA THE FANGED AND DID MY STRATEGY WORK?🔥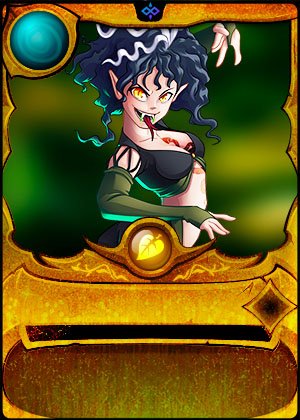 I definitely like IZA THE FANGED, she is an absolute beast. IZA THE FANGED is fierce and has amazing abilities that when summoned in battle, it'll be difficult to target and kill. I always engage her in battle once using the Earth splinter. Her accurate Range, Speed, Scavenger and Stun abilities is impeccable. This only demonstrates that if you play the Earth Unit and at whatever mana then engaging her with this team lineup gives an 90% chance of victory. My strategy worked very well. It was a good lineup and strategy for this battle.
---
---
〽️Let's look at the current market value of IZA THE FANGED〽️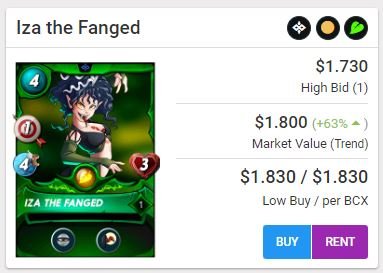 This amazing card comes in the Chaos Edition. The Regular Untamed is $1.83 at current market. While for rentals he goes for 0.63Dec/day. Level 1 at 500CP. At max level she goes goes for 7.66Dec/day, Level 4 at 5,775CP. There's been a +63% increase in price, players are buying this card and levelling up pretty fast, so best grab it now at best price🔥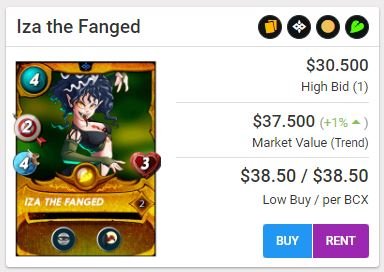 sweet😆!!! The value on this card makes me happy as it's way affordable than the previous cards showcased here [recall the $5k Alpha edition card? yeah😅]. The Gold chaos is $38.50, at current market. While for rentals she goes for 20.86Dec/day staring from Level 2 at 12,500CP. It's an amazing card, not at-all surprised at the value placed on plus it's seen a +1% boost, I tell you rush and own this bad-gal now if you can!!!.
---
---
〽️UPDATE & A BRIEF LOOK AT THE CURRENT TOKEN MARKET : 9th -AUGUST- 2022 9:35PM〽️

We witnessed a shocker in the last week as ⬆️BTC shot up to at 24k, and Hive 0.98. The scenes🤑. Currently BTC still at 23k and Hive trading at 0.603$. HBD pegged and holding strong at $0.972. 😆Other than the monthly or regular post payout Power-Ups that benefit us all, I really don't know what else we should do to make BTC/HIVE moon again, wen moon?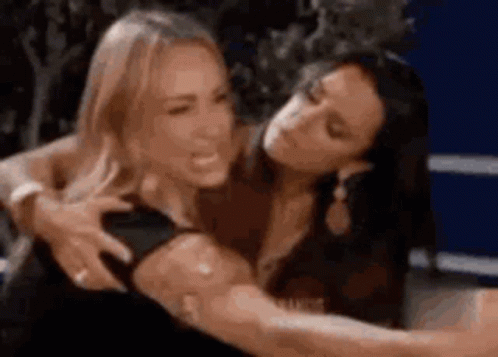 Splintershards (SPS) now has awesome use-cases and this has directly impacted it's price over the week. Currently being traded for 0.13483 0.11079349$ and seen a +7.99% boost. Good news for invested players with staked SPS will make this expensive. Hence, Players are buying and buying in. Good for the game, good for us all.

Whereas the main in-game token DEC, will no longer be earned but bought off the market. It's use case remains to buy chaos packs and rent cards. Currently trading at 0.00101162 0.00101612$, I bet it went down during the past week, but now at a +0.02% price increase in the last 24hrs. I guess the hype did alot of good to these tokens, let's see what this new week brings us.

👉The Cryptomancer youtuber is a vlog I love to visit when I can. Here's something I found interesting that you may want to watch too👇

👉OPENED GLADIUS PACK FOR BRAWL
I also opened three Gladius packs with the merits I've earned from brawls and chests. Every week, I will open one or two packs. I enjoy surprises, and this will provide one. So happy about pulling these two cards, A LEGENDARY SOLA RANJELL from the Life Unit, with the Tank Heal + Bloodlust Ability, then AN EPIC QUORA TOWERSHEAD with the Heal + Bloodlust ability were my catch, slam dunk!!!
I'll also leveled up my cards, which will benefit my guild and my honor in brawls because I get trashed a lot, so level 2s & 3s is very nice🤣
IF YOU REGISTER USING MY REFERRAL LINK >>> https://splinterlands.com?ref=dqueenstarr, I'll send you a perk of 500DEC. Simply log in with your Hive account username, follow the hive-keychain prompts and purchase the $10 Spellbook [can pay with Hive/HBD] to unlock your account's full potential. [P.S. You will also receive 3000 in-game credits back from Splinterlands as a gift for you to rent cards which is more than enough for a whole season]. Once completed, leave a comment on any of my posts and I'll get back to you like Flash.

🍀MAY THE ODDS FOREVER BE IN OUR FAVOUR✊. Disclaimer alert: I am not a Crypto or Splinterlands expert. This is Just me ranting and being real about my stuffz✌️
😆Alrighty, that will be all about my social media challenge for this week. I hope you enjoyed the Tale, battle and market rants as much as I did. If you've used IZA THE FANGED in battle(s), please I welcome your opinion and recommendations on whether she's worth collecting and having on deck. If you have not, I put forward to you a challenge⚔️
If you want to take part in this Splinterlands' challenge, simply visit 👉Splinterlands Social Media Challenge! to read up more.
PREVIOUS EPISODES
👉 ⚔️TALE OF THE BARONESS : EPISODE 1⚔️
👉 ⚔️TALE OF THE BARONESS : EPISODE 2⚔️
👉 ⚔️TALE OF THE BARONESS : EPISODE 3⚔️
👉 ⚔️TALE OF THE BARONESS : EPISODE 4⚔️
👉 ⚔️TALE OF THE BARONESS : FINAL EPISODE⚔️
👉 🔥FAST LIKE A YODIN, FURIOUS LIKE A ZAKU🔥
Worthy Notes:
✅IZA THE FANG & TEAM OF MONTERS COVER ASSEMBLED BY ME IN CANVA WITH ALL IMAGES FROM WWW.SPLINTERLANDS.COM & OFFICIAL DISCORD SERVER , Map of ΛZMΛRÉ., Pixabay original Image of Mother and child, Original Giphy vampire
✅Big Thanks to THE FAMILY TREE for guild support and @saffisara for the gifts, she's the loveliest💗🥂.
✅Click on this Banner to join Hive's House of Help 🚆 THE TERMINAL for all your Hive related questions.

✅Edited Splinterlands text dividers in PS5 as provided freely by freeztag.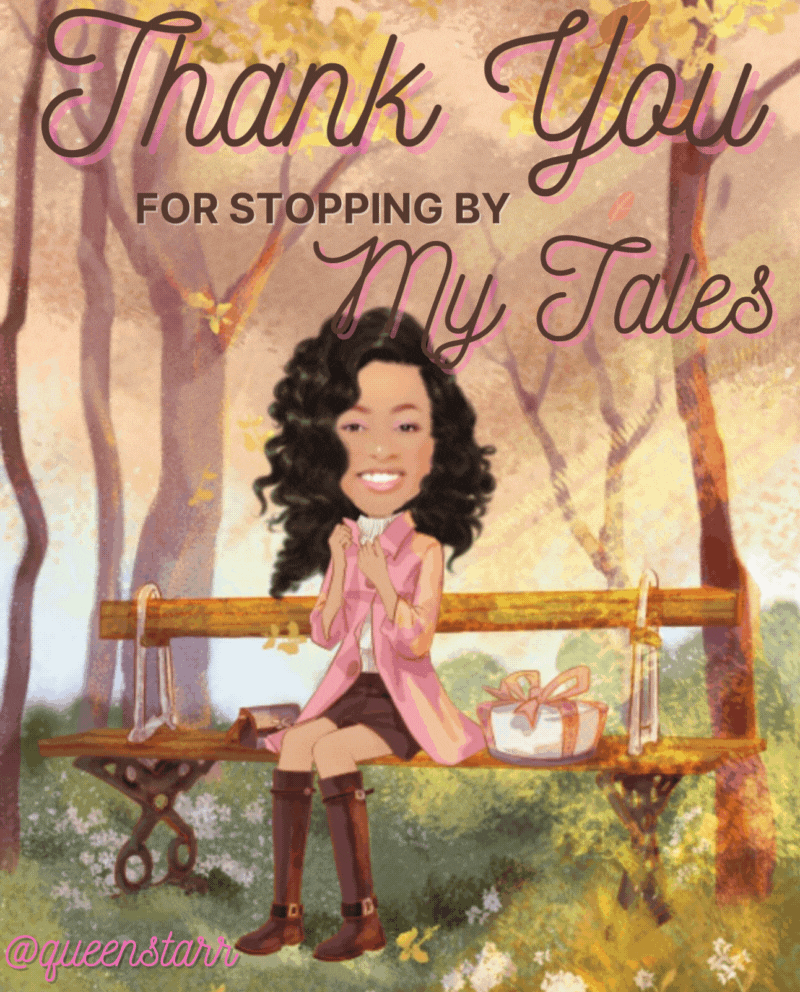 😊Until next Splinterlands SocialMedia Challenge, Hive, Vibe & Be Lucky🍀
All content is mine unless otherwise Noted
queenstarr ©2022
---
---