⚡️SOCIAL MEDIA CHALLENGE : LIRA THE VICIOUS SEDUCTRESS⚡️

LIRA was standing there in a lavish dress with a black shoulder cut and black heeled boots that reached her knees. She was breathtaking to see. As the guests arrived at her Ancient manor, which is tucked away in the mountains, she walked over to the tower window and stared out at it aimlessly.
LIRA THE DARK hosted such gatherings for the wealthy and powerful of Splinterlands every year. a location where mortals occasionally mix with immortals. She had previously attended a party that she will always remember because it was there when she was changed into a vampire. She doesn't regret it at all. LIRA liked it because it was the most alive and strong she had ever felt. While some perceived it as a misfortune, LIRA enjoyed the power it brought.
"Your royal wickedness"
Her train of thought is abruptly cut off by a rough deep voice from behind. It was a very potent ally—the LORD OF DARKNESS. A glass of red sparkling drink is given to her by him.
Do you possibly believe that having CRYPT MANCER around would cause us any problems?
LIRA takes a sip from her glass and points with her side eye in the direction of the mancer's position holding his rod of power.
He will be acting recklessly if he believes he can attempt a takeover. But I'm more than willing to make him my dinner for the evening.
The LORD OF DARKNESS responds to LIRA as they both raise a toast while grinning broadly.
"You two aren't chatting about me behind my back, are you?"
A female voice with a rasp comes up behind the two of them. It was MIMOSA NIGHTSHADE.
"You've arrived at last."
As they kiss and exchange pleasantries, LIRA turns with a smirk on her face. Through her guardian who picked her as a poor shivering child, the LORD OF DARKNESS, MIMOSA is familiar with LIRA.
"I've learned of a conspiracy to depose you once more, LIRA. I am here for that reason."
As she takes a sip of wine, MIMOSA NIGHTSHADE says.
Oh, they continue to attempt, and I continue to hang their bodies to adorn my walls.
They all laugh and take a sip from their glasses as LIRA says. She abruptly bends backward and quickly ducks to escape getting struck. As guests seek covering from the attack, screams fill the hall. Across the mountains, a loud stump is heard as the enemy gathers its forces, a sense of impending combat fills the air.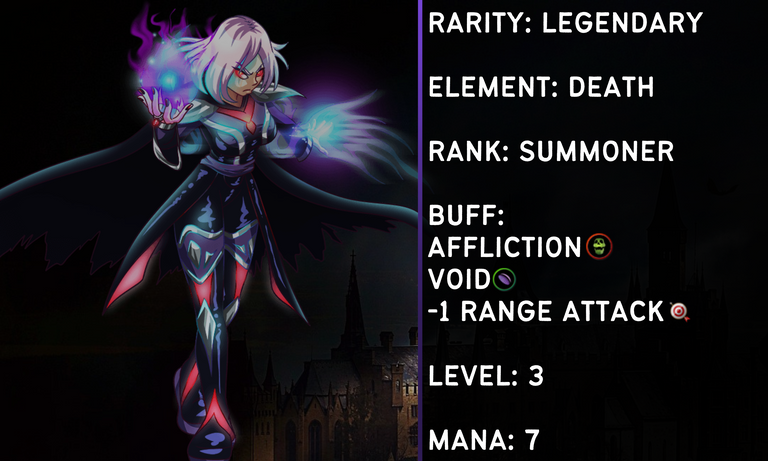 MIMOSA NIGHTSHADE is an extraordinary 3-star⭐️⭐️⭐️ Legend destined for greatness. Once upon a time, a poor shivering child abandoned in the alleys of Beluroc and now a well respected summoner, picked by LORD OF DARKNESS and brought to Mortis. She is a well trained summoner and when in battle she

Afflicts all her enemies, causing their wounds never to heal. She then grants the
Void ability to the warriors fighting alongside her, protecting them from Magic spell casters, and finally takes away

-1 Range attack from all range enemy monsters. MIMOSA NIGHTSHADE takes a stance, ready to attack.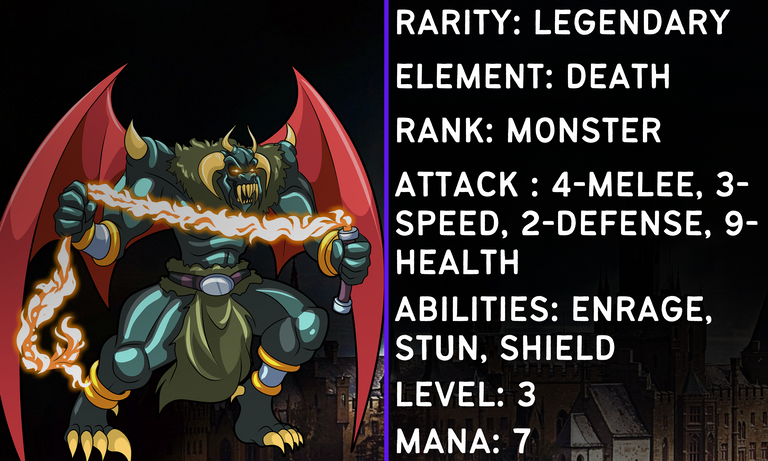 LORD OF DARKNESS is indeed the Lord of battle, and he leads any team fighting along side with him to victory with his amazing abilities. When he is injured, his
Enrage ability is activated which gives increase Melee and speed attack . He
Stuns his assailant, leading them to lose control of the situation, losing a turn to strike. A 3 star⭐️⭐️⭐️ warrior with the

Shield ability, which shields him from melee attacks. LIRA is well aware of his combat skills and doesn't miss an opportunity to have him fight alongside.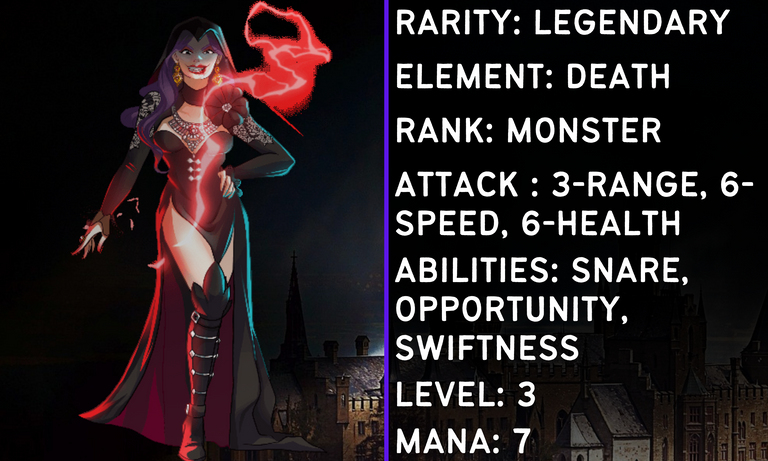 LIRA THE DARK steps in next, a 3 star⭐️⭐️⭐️ as she pushes back her draped gown, a hand on the hip and the other fired up to strike. She is indeed a fascinating seductress. Lira will strike and kill before enemy has a chance to react. Her excellent

Opportunity ability allows her to attack from any position as she drains the life out of the enemy with lowest health. She is super

Swift and grants her team warriors the same ability. Lira then goes on to

Snare flying foes, and she has never failed to hit her target.

⚔️ THE BATTLE ⚔️
---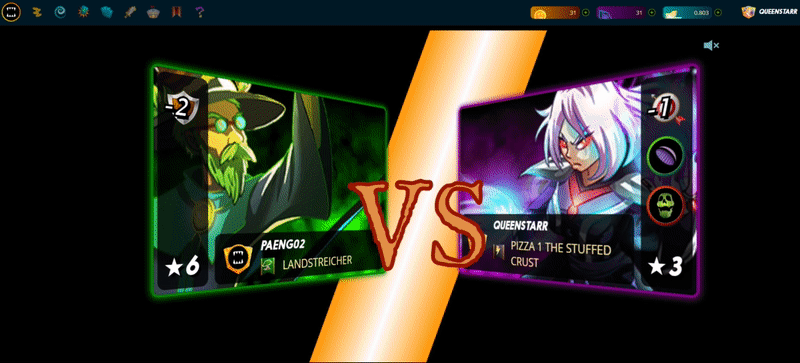 As they all lined up for battle, the enemy finally revealed itself. Enemy-WIZARD OF EASTWOOD

steps forward while holding his staff, which is the source of all of his magical powers. He is a fiercely competitive summoner. He spent several years living a selfish life in seclusion before unexpectedly making a strong comeback. Enemy-WIZARD OF EASTWOOD is frequently seen taking part in tournaments or seeking to remove strong chaos legionnaires. He came with company and smashes the ground with his staff to call forth a group of dreadful monsters. Enemy-FLESH GOLEM

in front line, Enemy-VENATOR KINJO

in second, Enemy-WOOD NYMPH

in third, Enemy-SPIRIT HOARDER

in fourth, Enemy-CHILD OF THE FOREST

in fifth and Enemy-FURIOUS CHICKEN

in backline.
The attack on LIRA THE DARK by the enemy-WIZARD OF EASTWOOD at such a gathering was forbidden, so there was restrictions before engaging in battle. All mortal beings were protected by creating a false sense of security, and all Immortals engaged in combat were granted the

EXPLOSIVE WEAPONRY: giving them all the Blast ability. and the

WEAK MAGIC: Magic attacks hits armor before damaging health.

MIMOSA NIGHTSHADE immediately

Afflicts all the enemy monsters and takes away from ENEMY-CHILD OF THE FOREST

-1 Range attack. LIRA THE DARK then swirls her hands and grants LORD OF DARKNESS

Swiftness. The battle had turned fierce already as ENEMY-WIZARD OF EASTWOOD of again tries to break through restrictions taking away double armor of LORD OF DARKNESS to cause ENEMY-SPIRIT HOARDER and ENEMY-WOOD NYMPH's magic attack affecting his health directly.
All of you will perish.
As the wind howled around the hall and the candles went out, LIRA THE DARK hissed and marked each monster for a torturous demise with her luminous eyes. She spots the weakest link, FURIOUS CHICKEN, leaps over, hits, and kills it. LIRA THE DARK and LORD OF DARKNESS properly shielded
Voids all magic attacks by enemy magic spell casters, and again LIRA seeks the opportunity, leaps over, strikes and kills ENEMY-CHILD OF THE FOREST, she wipes the blood off her fangs and growls loudly. Turning to seek her next target as LORD OF DARKNESS strikes and stuns ENEMY-FLESH GOLEM, drastically reducing his health, leaving him staggering. LIRA swiftly moves, strikes and sucks the life out of ENEMY-FLESH GOLEM, he falls dead to the floor. Again she turns and targets next enemy weak link, ENEMY-VENATOR KINJO, killing him immediately.
LIRA was having her fill for the night, breathing heavily and enraged, she wasn't going to stop until they were fallen and dead. LORD OF DARKNESS then strikes and kills ENEMY-WOOD NYMPH. It was a flood bath and the floor of the halls had gotten slippery from it's flow. The blast from that attack goes on to kill ENEMY-SPIRIT HOARDER.
FLAWLESS VICTORY!!!

LIRA sneaks up on ENEMY-WIZARD OF EASTWOOD and pounces on him as he tries to run. He drops to the floor. She ascents to the top of him, fangs bared, and glowing like a beacon.
"Do your worst, LIRA."
Enemy-WIZARD OF EASTWOOD lashes at LIRA,
"As you wish."
Enemy-WIZARD OF EASTWOOD's scream is short lived. With her fangs gleaming, she drank the life from him, making him disappear into thin air.
The lights turn on as LIRA THE DARK rises up, removes the shield that was protecting the mortal, and double-taps her hands.
"Enjoy the party, please."
LIRA greets her visitor with a smile as if nothing had happened. The LORD OF DARKNESS and MIMOSA NIGHTSHADE are invited to have a seat by her as they enjoy the rest of the evening.
🌬💀🔥🍃🌊🐉⚔️The End⚔️🐉🌊🍃🔥💀🌬
👉▶️CLICK ON THIS TO REPLAY THIS BATTLE◀️👈

☠️WHY I CHOSE LIRA THE DARK CARD☠️
Splinterlands comes with a lot of deep thinking and strategies. You'll need attempt to forsee what your opponent with come at you with, hence, every card you pick would either bring victory or defeat.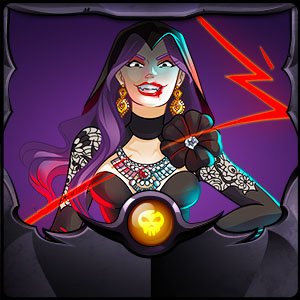 I chose to field a full a Melee attacker in front with goof tank and then a ranger at the back. Once my Enemy got stunned, this would give my LIRA THE DARK a ranger to attack easily. I anticipated that my enemy would focus on magic attackers from the battle history, hence I needed the
Void &

Affliction ability MIMOSA NIGHTHSHADES offered monsters.
I definitely like LIRA THE DARK, she is an absolute beast. LIRA is fierce and has amazing abilities that when summoned in battle, it'll be difficult to defeat her. Before now, I have not been using her much as my deck is usually Water or Earth, but lately I always make sure to have the Death deck and engage her. LIRA's

Swift ability is gives an added speed point which is much needed, then her

Opportunity ability comes in handy and shortens the battle as much as possible as her focus is solely on weak monsters, which usually is the case in low mana battle. My strategy worked very well. It was a good lineup and strategy for this battle.
---
---
〽️Let's look at the current market value of LIRA THE DARK〽️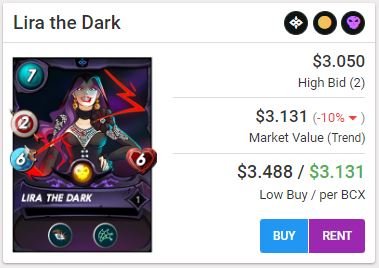 This amazing card comes in the Chaos Legion Edition. The Regular CL is $3.488 but now selling at $3.131 at current market. While for rentals she goes for 0.5/Dec per day. Level 1 at 500CP. At max level she goes goes for 5.7/dec, Level 4 at 5,775CP. There's been a -10% drop in price, prolly some market activities so best grab it now🔥
---
---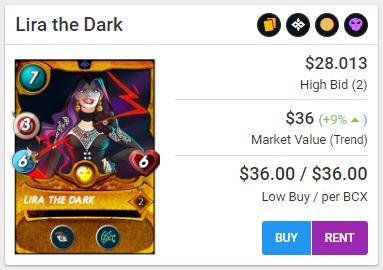 The value on this card is really great now. The Gold CL is $36 at cheapest current market. While for rentals she goes for 11.8/Dec per day starting from Level 2 at 12,500CP. It's an amazing card, well worth it's price.

EOS DIAMOND CHEST PULL
💗Splinterlands is such a rewarding game for sure, BUT, a huge gamble when it comes to pulling these amazing rewards from chest at End of Season [EOS]. This season was fair, though rentals remain on the high. I wasn't able to grind enough chest as I would've loved to But i was sorta okay with my pull.
I did manage to pull Gold foil Level 3 Pelacor Deceiver , 83.7 SPS , 1 CHAOS LEGION PACK and other regular level 1 cards with bunch of potions and merits to buy gladius.
All in all, I am having fun, working my butt-off. Cheers to new season, let's see what that brings us🤞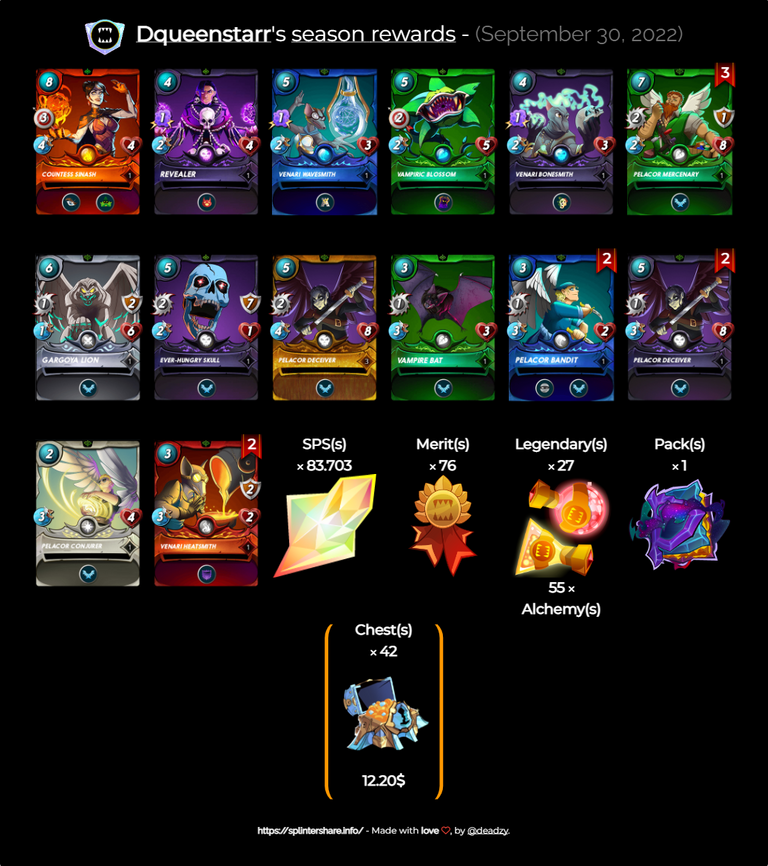 END OF SEASON DAILY CHEST PULL
I also was able to grind a few daily chest and was also pleased with the chest pulls. 6.5 SPS , 1 CHAOS LEGION PACK and other regular level 1 cards with bunch of potions and merits to buy gladius. That makes a total decent amount of Staked SPS and 2 CL packs which i will open in next post or hold until price spikes up.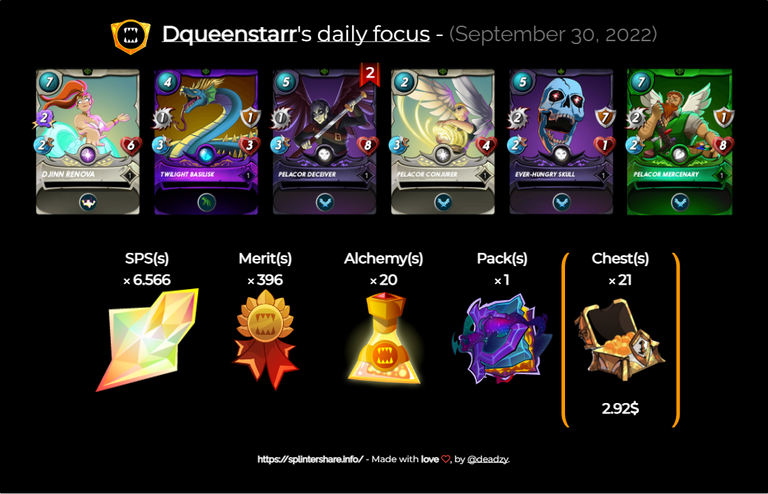 All in all, it's a rewarding experience. IF YOU REGISTER USING MY REFERRAL LINK >>> https://splinterlands.com?ref=dqueenstarr, I'll send you a perk of 500DEC. Simply log in with your Hive account username, follow the hive-keychain prompts and purchase the $10 Spellbook [can pay with Hive/HBD] to unlock your account's full potential. [P.S. You will also receive 3000 in-game credits back from Splinterlands as a gift for you to rent cards which is more than enough for a whole season at the early stage]. Once completed, leave a comment on any of my posts and I'll get back to you like Flash.

〽️UPDATE & A BRIEF LOOK AT THE CURRENT TOKEN MARKET : 1ST -OCTOBER- 2022 02:00AM〽️

↕️BTC this past week been on a downtrend with all the financial-world threats and all [Wen BTC Pump 40K?], up and down it goes and currently sitting at $19,451. Hive as always follows BTC downtrend and currently trading at 0.484$. HBD nicely pegged and holding strong at $1.001. Fingers crossed to better days🤞

Splintershards (SPS) with awesome use-cases and this has directly impacted it's price over the past weeks. Currently being traded for 0.11079349$ 0.10577$ and seen a +7.33% boost since the end of event. Good news for invested players with staked SPS will make this expensive. Hence, Players are buying and buying in. Good for the game, good for us all.

Whereas the main in-game token DEC use case remains to buy Chaos Legion, Riftwatchers and rent cards. Currently trading at 0.00101612$ 0.00138$, I bet it went down during the past week, but now at a +2.41% price increase in the last 24hrs. I guess the hype did alot of good to these tokens, let's see what this new week brings us. May we always be happy!!!


Let's see what this new week brings us. 🍀MAY THE ODDS FOREVER BE IN OUR FAVOUR✊.
Disclaimer alert: I am not a Crypto or Splinterlands expert. This is Just me ranting, being real about my stuff. But well, we keep grinding, hopefully it'll pay🤞.
😆Alrighty, that will be all about my social media challenge for this week. I hope you enjoyed the tale, battle and rants. If you've used LIRA THE DARK before, then please I welcome your opinion and recommendations on whether in your own opinion if she's worth collecting and having on deck. If you have not, I put forward to you a challenge⚔️
If you want to take part in this Splinterlands' challenge, simply visit 👉Splinterlands Social Media Challenge! to read up more.
👇OTHER TALES YOU MAY WANT TO VISIT👇
👉 ⚔️TALE OF THE BARONESS : EPISODE 1⚔️
👉 ⚔️TALE OF THE BARONESS : EPISODE 2⚔️
👉 ⚔️TALE OF THE BARONESS : EPISODE 3⚔️
👉 ⚔️TALE OF THE BARONESS : EPISODE 4⚔️
👉 ⚔️TALE OF THE BARONESS : FINAL EPISODE⚔️
👉 🔥FAST LIKE A YODIN, FURIOUS LIKE A ZAKU🔥
👉 ⚔️ALASTAIR'S STRANGE ENCOUNTER⚔️
👉 ⚡️A MEETING WITH THE GREAT ALRIC⚡️
👉 ⚡️A TALE OF ELSIE AND THE WAR IN SOLAKI⚡️
Worthy Notes:
✅LIRA AND MONSTER COVERS EDITED BY ME IN CANVA WITH ALL IMAGES FROM WWW.SPLINTERLANDS.COM , #EYECANDY CHANNEL AT SPLINTERLANDS OFFICIAL DISCORD , DARK CASTLE BY ARTIST COCOPARISIENNE ON PIXABAY
✅My gratitude to THE PIMP HOUSE for the guild support.
✅Click to Join the Hive Gaming Community to have fun and discuss with other Hive gamers.
✅Click to join Hive's House of Help community THE TERMINAL

✅Splinterlands text dividers freely provided by @freeztag.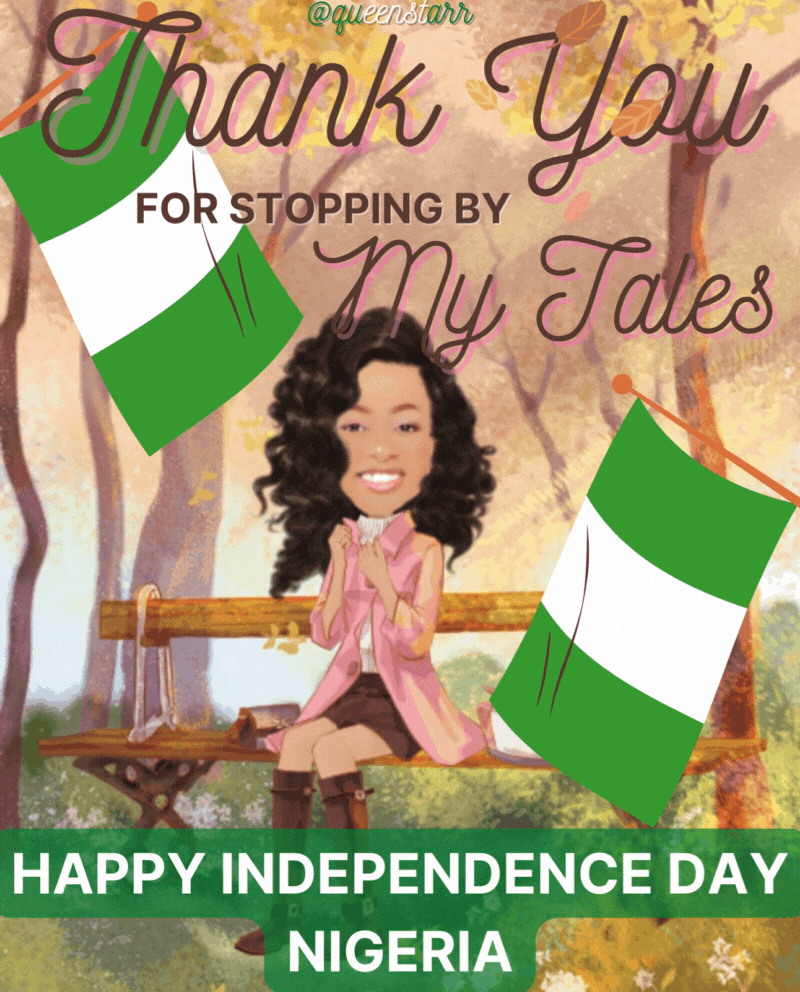 💚1st October is Nigeria's Independence Day Celebration. Until next Splinterlands Social Media Challenge, Hive, Vibe & Be Lucky🍀
All content is mine unless otherwise Noted
queenstarr ©2022
---
---