⚡️SOCIAL MEDIA CHALLENGE : POISONOUS SPIRITBLADE⚡️


😊Hey Battle Mages!
I'd like to extend a warm welcome to another Splinterlands media week. I truly hope you are all having fun and progressing through the leagues. How fast the days fly by. A New season just started few days back and we have only 11DAY:20HOURS till the End of Season [EOS]. I'm hoping to do well compared to last season and loot more season chests and SPS. Speaking about last season chest, It wasn't alot, but managed to grind x44 Gold chest and out of that got 9.313SPS with 1 Chaos Legion Pack and great cards for Leveling up🎉. I have decided to stay in Gold league going forward until my card collections is competitive enough. Once I have achieved this, I can move to Diamond🤞.
I've made a significant amount of 800 staked SPS in two seasons and I will keep staking it in order to participate in Gold cap tournaments as well. I sincerely hope you're doing equally well in your battles.
The past week has been extremely interesting as Splinterlands Ranked-Battle these first few days has been brutal😆. This week I will be sharing my battle with the great 💀WAKA SPIRITBLADE. This card is the main reason why I know I can survive in Diamond League as I advanced to diamond league for the feel of the thrill. Without Further ado, let's go to the battlefield.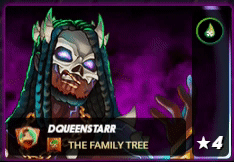 The most wanted deadliest summoner of the death splinter, the WAKA SPIRITBLADE, a summoner with the supernatural ability to grant all monsters fighting alongside the Poison

ability so to weaken enemies health at the start of every round of battle. I especially enjoy using this ability in an unfair ruleset such as this, AIM TRUE and MELEE MAYHEM.
---
👉WHY I PICKED WAKA SPIRITBLADE
Summoner WAKA SPIRITBLADE is a Magical being with a Poisonous taste, hence, he is particularly effective when you envisage your enemy to come at you with Melee and deadly Spell cast Attackers. You will need the battle to not extend too far off, eventually securing you victory.
---
The Regular Foil [top] Promo edition cost $368 at current market and starts only from Level 4. While for rentals this summoner goes for ~48.494 Dec per day, at Max level 4 at 5,775CP.

The Gold Foil [bottom] Promo edition is very pricey even at start, costing $1700 at current market. While for rentals card goes for 599.416 Dec per day. Level 4 at 52,500CP.
This summoner is a super valuable card to have cause of the fact that he is LEGENDARY with just 3 Mana cap and almost always fits all rulesets.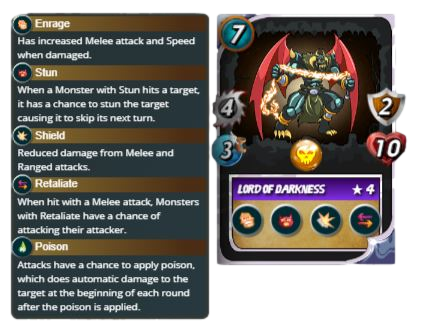 LORD OF DARKNESS is indeed the Lord of battle, and he leads his team to victory with his amazing abilities. When he is injured, his
Enrage ability is activated which gives increase Melee and speed attack . He
Stuns his assailant, leading them to lose control of the situation, losing a turn to strike. A warrior with the

Shield ability, which shields him from melee attacks, , and if hit by a melee attack monster, he Retaliates immediately.
---
---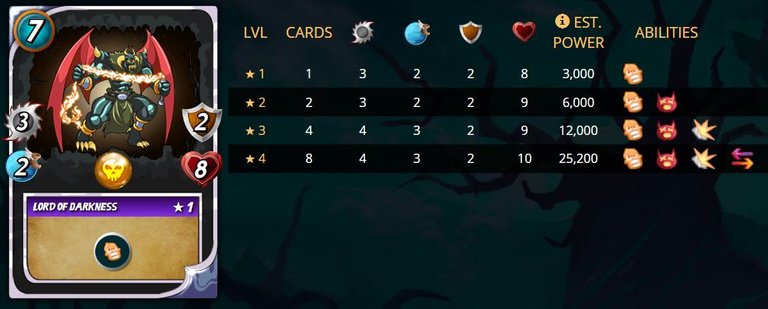 At level 1 LORD OF DARKNESS has 3-Melee attacks at 2-speeds, 2-defense, 8-health, and the Enrage.
level 2 Every other stats remains the same but then he gains the Stun ability which makes him very useful as a front liner.
level 3 He gains an extra 4-Melee point and another new ability Shield.
At Max level 4-MAX, A total game changer, He gains another extra 9-ealth point while possessing the stats of a level 3 with another impressive ability, the Retaliate. He recomes an ultimate front weapon and you'd have to pass through him to get the others.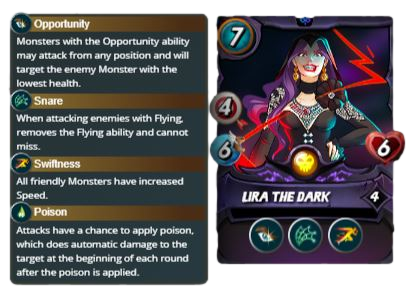 LIRA THE DARK in second position. You'll Never see Lira without Lord of Darkness. She will strike and kill before the enemy has a chance to react. Her excellent

Opportunity ability allows her to attack from any position as she drains the life out of the enemy with lowest health. She is super

Swift and grants her team warriors the same ability. Lira then goes on to

Snare flying foes, and she has never failed to hit her target.
---
---

At level 1 LIRA THE DARK has 2-Ranged attacks at 6-speeds, 5-health, and the Opportunity + Snare ability. Even at level one, she has super useful abilities, so will be very important even in lower league.
level 2 her range is increased to 3, while maintaining same speed and health points as Level 1.
At Max level 4-MAX, however, she gains another extra Range to 4, while possessing the stats of a level 5. She then gains another impressive ability, the Swiftness.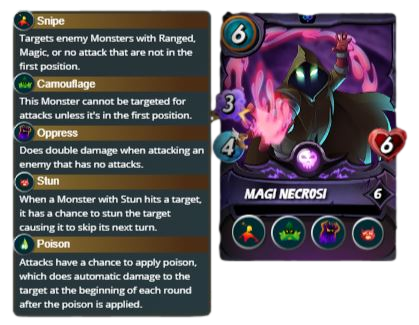 MAGI NECROSI is indeed a most powerful wizard, and he leads his team to victory with his amazing abilities. He

Snipes targeting monsters with range, magic or no attack type at all, causing great damage to them. He then

Camouflages making it difficult to attack him accept if placed in the front line of battle. He
Stuns his assailant, leading them to lose control of the situation, losing a turn to strike. A terrifying monster with the

Oppress ability, causing him to deal double damage to enemies without attack.
---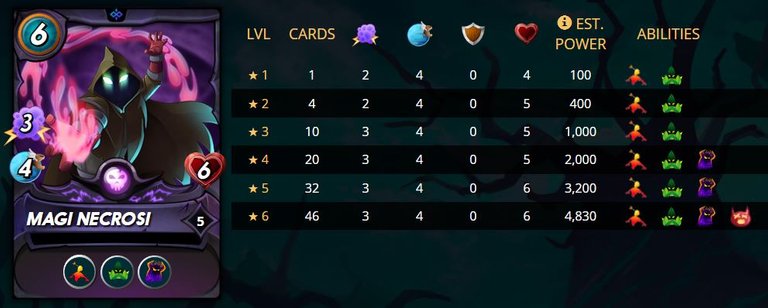 At level 1 this card possesses 2-Magic Attack At 4-speed with 4-health. In it's initial level, this card has high health which is very useful plus an added Snipe ability and Camouflage ability.
level 4 this card's Magic is increased to 3 and health point to 5, and also gets another ability, the Oppression.
At Max level 6, this card gets 6-health along with another extra ability, the Stun. This increased stats really makes it's terrifying on the battle field.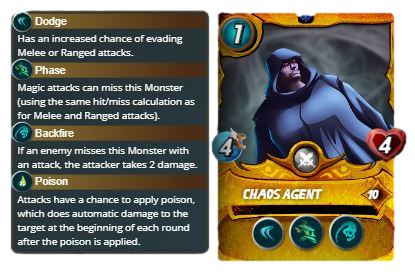 The CHAOS AGENT is dreaded by many for his cunning words and focused destruction, generates chaos and misdirects the opponent as a decoy to make place for their master to attack. A formidable Agent who is well-deserving of his rank, with the ability to Evade melee and ranged strikes by escaping them. If an enemy uses magic to harm him, his Phase ability causes the magic to miss him while he Backfires, doing double damage to that enemy.
---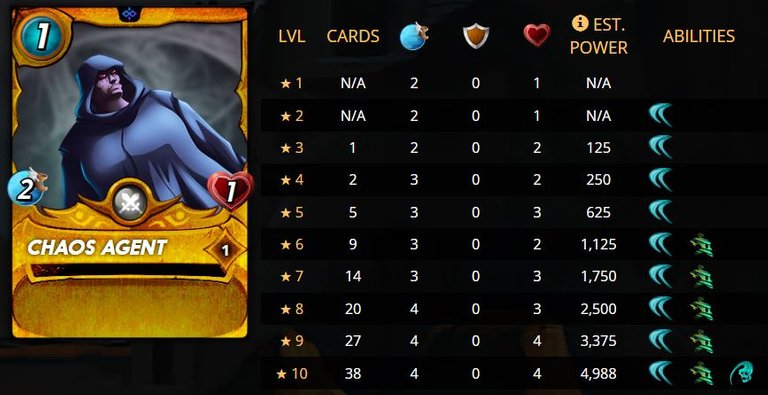 At level 1 this card possesses 2-speed with 1-health, but even at this level, this card is quiet useful.
level 6 this card gains additional stats of 3-speed and 20health points, with the Dodge and Phase ability.
At Max level 10, this card gets 4-speed but maintains 4-health along with another new ability of Backfire. It becomes extremely useful and dangerous at this level.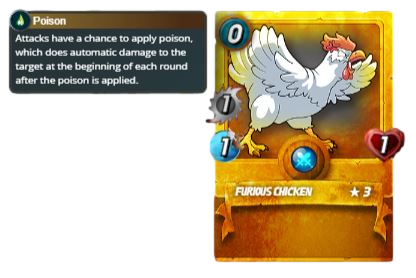 The FURIOUS CHICKEN is not afraid to fight for it's rights in the Splinterlands. This Chicken has the Enraged ability at higher levels, but I currently only have level 3 to battle with. FURIOUS CHICKEN might look little, but it's attack is lethal and can serve well as a distraction by taking the front line or backline enemy hit for it's team members, giving room for the next monster to gain some attack advantage.
---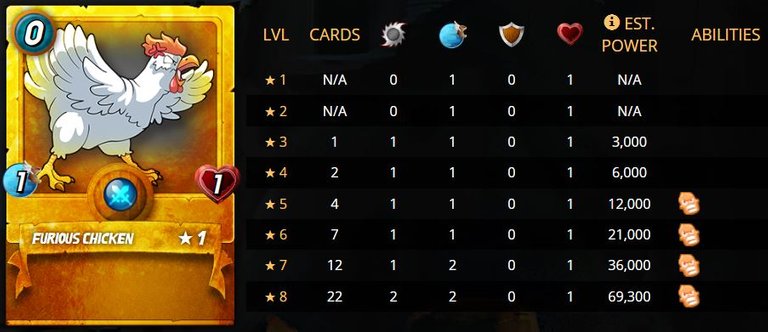 At level 1 this card possesses 0-melee Attack at 1-speed with 1-health, but even at this level, this card is quiet useful.
level 5 this card maintains level 1 stats but then gains the Enrage ability. Because of this ability, it supernaturally develops increased melee attack and speed when hit.
At Max level 8, this card gets 2-Melee attack at 2-speed but maintains 1-health along with same ability.

⚔️ THE BATTLE - DEATH AGAINST WATER ⚔️
---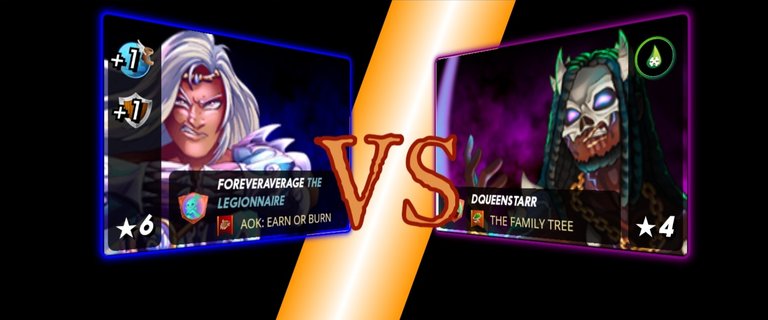 ---
| RULE SET | |
| --- | --- |
| STANDARD | MODIFICATIONS TO THE RULES AND MECHANICS |
| MANA CAPACITY | 24 |
| AVAILABLE ELEMENT | only Fire🔥, Water🌊, Life🌬, Earth🍃 and Death☠️ elements allowed |
This was an interesting battle with the AIM TRUE: Melee and Ranged attack will not miss their target. MELEE MAYHEM: Melee attackers can hit from any position.
My Opponent came at me with the WATER Element. ENEMY-KELYA FRENDUL as summoner, accompanied by top ranked monsters, ENEMY-GARGOYA LION in first position, ENEMY-XENITH MONK in second, ENEMY-FURIOUS CHICKEN in third, ENEMY-TORRENT FIEND in fourth, the ENEMY-RULER OF THE SEAS in fifth and ENEMY-DOCTOR BLIGHT in behind.
WAKA SPIRITBALDE gives his team of monsters the Poison ability. This ability attacks and removed the shield of enemies first, leaving them exposed for maximum damage to their health at start of each round.

ENEMY-SEA MONSTER launches his first attack by silencing WAKAS team of monsters causing a - 1 magic effect.

LIRA THE DARK GIVES ALL TEAM MONSTERS SWITFT ABILITIES.

As the battle began, LIRA THE DARK targets the weakest link in enemies team FURIOUS CHICKEN and strikes and inflicts with poison which removes the shield.

ENEMY-XENITH MONK attacks LORD OF DARKNESS, this causes a retaliation at it and Removes the shield.

ENEMY-RULER OF THE SEA attacks LORD OF DARKNESS and that Enrages him, causing him to stun GARGOYA LION and the poison also takes off the shield.

MAGI NECROSI launches an attack on ENEMY-LORD OF THE SEA and poisons him to remove shield.

ENEMY-TORRENT FIEND launches a deadly but misses the attack on LORD OF DARKNESS, in return a retaliation which takes off the shield of enemy leaving him exposed.

ENEMY-DOCTOR BLIGHT attacks LORD OF DARKNESS and afflicts him with death. Immediately enemy-FURIOUS CHICKEN launches an attack but misses on LORD OF DARKNESS. In response, it gets poisons and killed immediately.

LIRA THE DARK Attacks And poisons ENEMY-LORD OF THE SEAS, an attack so fatal that takes off -3 of his life line, leaving him hanging to one.

ENEMY-GARGOYA LION now unstuned, but before he can attack, LORD OF DARKNESS immediately and attack on him with poison, killing ENEMY-GARGOYA LION instantly.

ENEMY-DOCTOR BLIGHT now scavenged restore his health +1, while ENEMY-XENITH MONK and ENEMY-LORD OF THE SEAS take turns to launch an attack on LORD OF DARKNESS, brining it's life line to 2.

On seeing that, MAGI NECROSI gets furious and launches a deadly attack on ENEMY-LORD OF THE SEA, killing him instantly.

ENEMY-DOCTOR BLIGHT scavenged again restores its health, and launches a deadly attack on LORD OF DARKNESS.

MAGI NECROSI give a loud painful roar upon seeing LORD OF DARKNESS killed and launches an attack with a stun on ENEMY-XENITH MONTH.

ENEMY-DOCTOR BLIGHT goes on to launch and kill LIRA OF DARKNESS, but no without a fight, she goes down like the heroine that she, poisoning her attacker.

The battle takes a drastic turn as FURIOUS CHICKEN attacks and poisons ENEMY-XENITH MONK leaving him with hanging on a life line, while MAGI NECROSI takes advantage of the opportunity to launch an attack and kill ENEMY-XENITH MONK.

ENEMY-DOCTOR BLIGHT keeps scavenging and now with a health of 11. FURIOUS CHICKEN attacks and weakness ENEMY-TORRENT FIEND while again MAGI NECROSI take advantage of the opportunity and launches a deadly, killing it.

Fear gripped the baroness' heart seeing how fierce the battle was now, holding unto her sword and ready to join in the battle. But something within her believed WAKA SPIRITBALDE summoned these fearless monsters for a reason.

MAGI NECROSI launches an attack on ENEMY-DOCTOR BLIGHT weakening its health by - 3 while and leaving a Stun.

FURIOUS CHICKEN attacks ENEMY-DOCTOR BLIGHT, now unstuned but before he gets the chance to attack, MAGI NECROSI swiftly attacks and Stuns him again.

FURIOUS CHICKEN again launches an attack, which unstun him, but before ENEMY-DOCTOR BLIGHT would get the chance to attack, MAGI NECROSI filled with rage over the death of his Top tanked team monsters, launches a deadly, - 3 and immediate death of ENEMY-DOCTOR BLIGHT.
---
---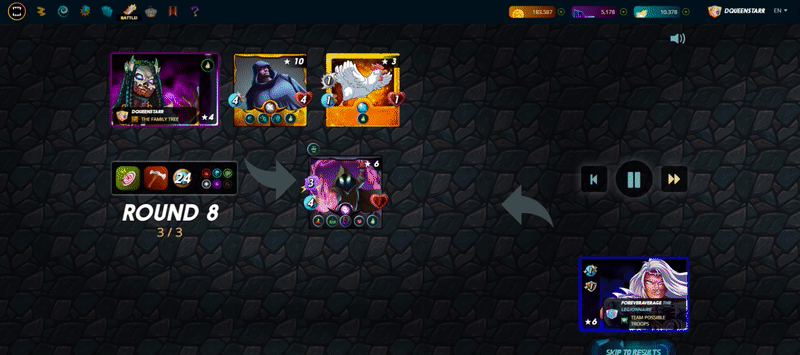 WAKA AND TEAM OF MONSTERS LET OUT A LOUD ROAR OF VICTORY!!!🎉
▶️CLICK ON THIS LINK TO WATCH BATTLE◀️
---
---
FINAL NOTE ON BATTLE
I definitely like my team of monsters and look forward to experiencing these monsters more in battles again. WAKA SPIRITBLADE sends chills down my spine. I especially enjoy such battles where your enemy has no idea that you intend to come with poison hence they don't come with monsters that have the Immune ability against poison. This only demonstrates that if you play the Death splinter and at whatever the mana cap, then this team lineup is awesome.
My strategy worked very well. It was a good lineup and strategy for this battle⚔️. It is no doubt the monsters are worth collecting, decent cards, and this battle challenge has surely exposed their usefulness in battle. I Thoroughly enjoyed this battle.

Crypto is pumping, atleast it did yesterday upto 0.45$, o well, 🍀MAY THE ODDS FOREVER BE IN OUR FAVOUR✊. We keep grinding, hopefully it'll pay🤞. Please Let BTC $40K+, SPS 1$+ and Hive $1+. Koreans do something😂
If you want to know what's happening in the splinterverse or want take part in the Splinterlands' challenge or view other latest battle challenge by other Splinterlands warriors, simply visit 👉Splinterlands Social Media Page to stay up-to-date [🛎turn on notification🛎].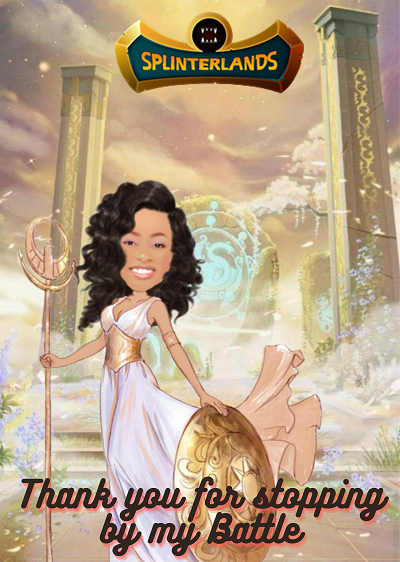 Worthy Notes:
✅All the images are taken from my in-game at WWW.SPLINTERLANDS.COM
✅Cover made in Canva with image from ARTIST CPMACDONALD
✅My gratitude to THE PIMP HOUSE for the guild support.
✅Click to Join the Hive Gaming Community to have fun and discuss with other Hive gamers.

✅Click to join Hive's House of Help community THE TERMINAL

✅Splinterlands text dividers freely provided by @freeztag.
😊Until next Splinterlands Battle, Hive, Vibe & Be Lucky🍀
All content is mine unless otherwise Noted
queenstarr ©2023
---
---