⚔️SOCIAL MEDIA CHALLENGE ⚔️: 👸PRINCESS SIPHA👸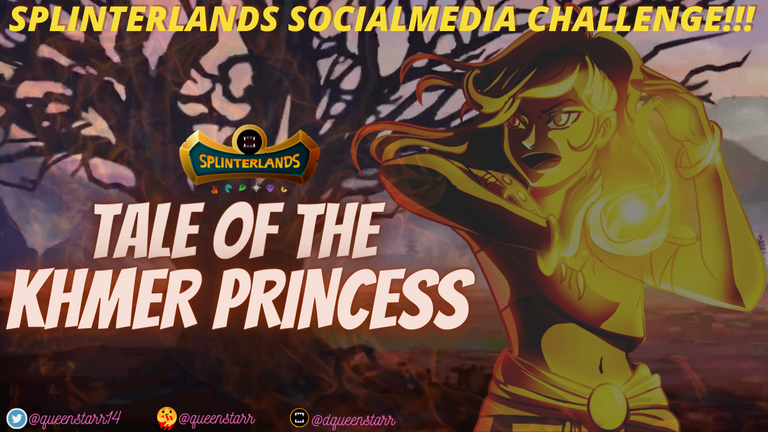 Once upon a time, a prophecy that the Khmer empire would birth a fierce warrior who would defend and protect the people. But this empire would be taken away, and the warrior would fight for it with fire and an iron fist.
A princess named Sipha is born into the royal family a few years later. The empire is captured by a terrible adversary, forcing the royal family and its people to flee their home and surrender their empire.

Sipha realized as she sat by the lake that she couldn't rely on her memory to accurately recall the times and locations of their forced departure from the vast empire to what she best describes as "from pride rock to pit of shame," the Burning land. She was the only one of seven daughters to survive the war and is now the heir to the throne. Her sole motivation is to honor the lives lost by restoring her empire.
---
---
She had always been fascinated by water, but whenever she fetched a little in her hand to play with it, it quickly turned into vapor. She sat under a sycamore tree, looking out into the vast open ocean. Her people were well-known for their fire-powered magic. She has spent years learning combat and control in order to contain it. A part of her knew it was necessary for the upcoming war, but she didn't feel prepared.
The majority of princesses wish for a knight to come and save them. Sipha, on the other hand, desired a sword to save, defend, and protect the Khmer people. She couldn't risk endangering the lives of her people. There had been suitors who had come to ask for her hand in marriage, but she had always found a way to break off the relationship.
Today was one of those days. She was said to be betrothed to a tyrant who claimed their alliance would ensure the survival of her people. But When Sipha discovered a dark, mysterious secret about her betrothed and his kingdom, Sipha knew that everything was going to get worse unless she does something about it. The land of skulls could not produce anything good. He reeked of death. She could see right through his devious plan to make her his slave and sell off her people. The Splinterlands were at war, and betrayal was the norm.
---
---
Sipha was nervous. She tried to calm herself by focusing her thoughts on the bigger picture; it would be risky, but it would be worthwhile. Her actions would appear reckless and childish to the elders, but she had everything planned out. The first step was not getting married today, so she had to flee.

"My princess, my prin..."
A voice yelled out, sprinting towards her, panting heavily from the exertion. It was Elsie, a battle mage chosen by her family from a village devastated by the same adversary who had captured their empire. Elsie, who was about Sipha's age at the time, grew up with Sipha as her only sister. Battle mages were forbidden in combat but helped call summoners, Elsie and Sipha have been sneaking out to practice their respective callings. On their many outings, they formed alliances with various splinters and trained alongside powerful warriors. They shared a strong bond and both anticipated that it would be significant someday.
Sipha stood up quickly and also rushed towards Elsie before she fell to the ground.
"What's the matter Elsie, why do you look terrified?"
Elsie catches her breath and informs Sipha that her kingdom is under siege by the suitor she abandoned at the altar. He had threatened to slaughter and sell off her strongest men if she did not return and bind the alliance. Sipha was completely furious. She almost flared up in flames, but she quickly regained control.
"We must return and fight, my people need me. It is time Elsie, we must fight"
She said this as she helped Elsie to her feet. Elsie agreed, hydrates, and they both dashed towards the burning land.
The air was filled with the dread of an impending battle and a loud stomp as they approached. If Sipha and Elsie did not accept the challenge, they will suffer the consequences nonetheless. Elsie was motioned by Princess Sipha to call the summoner and the warriors who would fight alongside her. Sipha was not going down without a fight.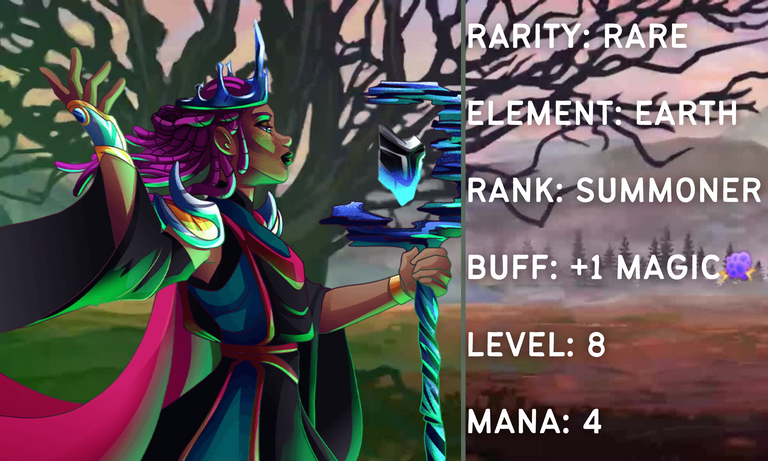 With her amulet and at Princess Sipha's command, Elsie summoned the great enchantress OBSIDIAN. She is an 8-star⭐️⭐️⭐️⭐️⭐️⭐️⭐️⭐️ summoner with powerful magic such as the Splinterlands have never seen before. OBSIDIAN amplifies magical warriors fighting alongside with '+1

Magic attack'.
OBSIDIAN, takes a commanding stance, and summons the most powerful warriors.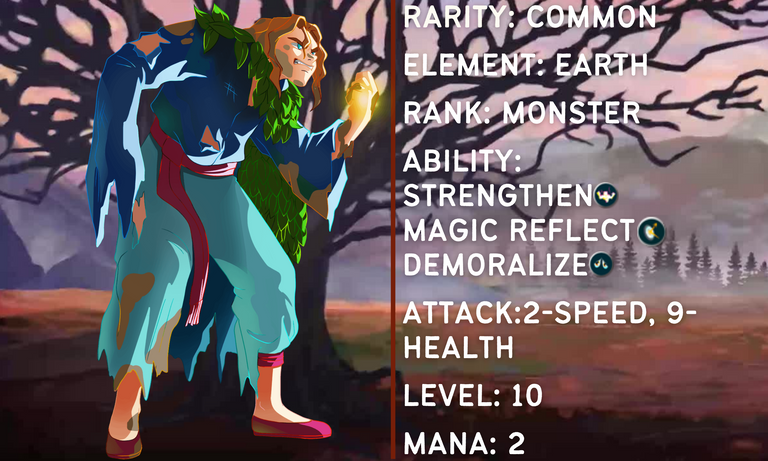 He is one of the 90% failed summoners cut of from the academy of western wood. Although he failed as a summoner, he however has proven himself as an excellent warrior who fights fiercely. FAILED SUMMONER has no attack type, but his speed of +2 and health of +9 will take enemies by surprise. His 'magic reflect

' ability does reduced damage back when hit by magic attack monster. He then 'Demoralizes

' the enemies with melee attack and 'strengthens

' his team health. A 10-star ⭐️⭐️⭐️⭐️⭐️⭐️⭐️⭐️⭐️⭐️ warrior deserving of his moniker, of which PRINCESS SIPHA and OBSIDIAN are well aware of.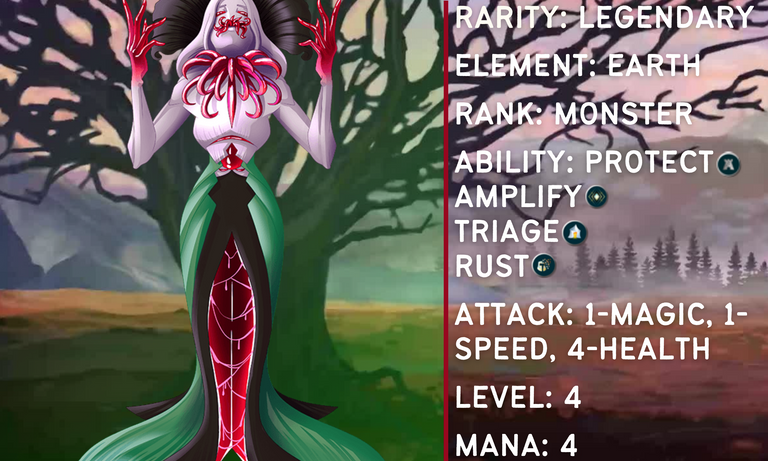 The deadly QUEEN MYCELIA, a seductive yet terrifying creature that will attack and kill before her enemies think to blink. She is a 4-star⭐️⭐️⭐️⭐️ warrior with magical abilities, one of which she bares same with PRINCESS SIPHA. In battle, her evil role has a variety of effects, the 'triage

' which helps to heal backline team warrior that has taken the most hit. Her ability works well to 'protect

' her team by giving them double armor. she 'amplifies

' the magic reflect, thorns and return fire ability of her team warriors by +1 while 'rusting

' the armor of enemies.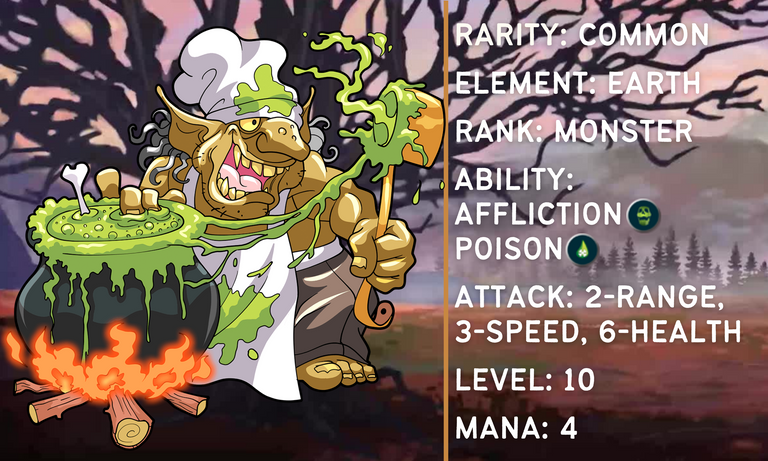 According to legend, the Goblin food may appear to be garbage, but it smells divine. They have truly perfected the appetizing aroma through generations of culinary focus solely on odors. Unfortunately, only goblins can digest their food properly.
This GOBLIN CHEF is a 10-star⭐️⭐️⭐️⭐️⭐️⭐️⭐️⭐️⭐️⭐️ warrior with the ability to cause great 'affliction

' by making enemies wounds not heal, and 'poison

' enemies every round of battle. An intelligent creature deserving of the title.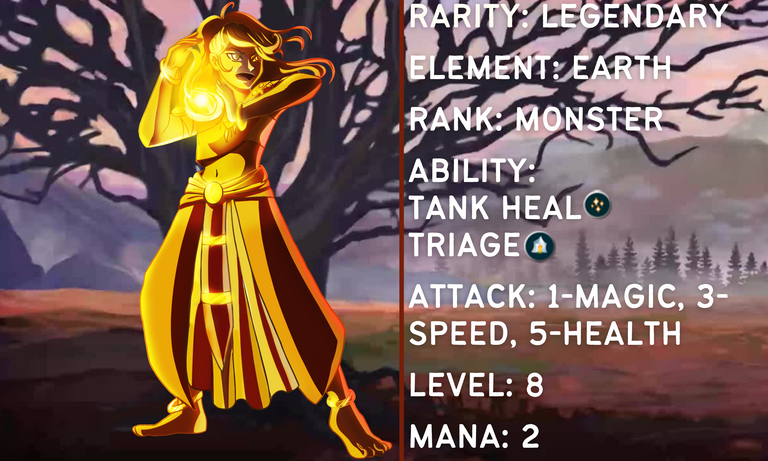 Finally Princess Sipha stepped in, all flamed up. Her apparel was like gold glass. Every inch of her being turned to fire as she charged herself for battle. Her 'triage

' is going to help heal team warrior that has taken the most damage, whereas her 'Tank heal

' will help restore the health of FAILED SUMMONER each round.

As they all lined up for battle, they ready their armor. Merwen, the deceitful suitor comes out to confront Princess Sipha with so much enormity in his voice;
"You dare to make a mockery of this alliance? You dare to mock me. After my monsters have finished with your posse, I will drag you to the altar to perform the rites and then sell you to the worst creatures."
He let's out an evil laughter. Princess Sipha looks at him and moves her right foot forward, drawing a line of battle in martial arts-style, while she creates a globe of fire with her hands together. She spits on the floor, indicating a challenge.
Merwen, the deceitful suitor groans in anger as he calls on his team of monsters. His summoner enemy-ZINTAR MORTALIS accompanied by top ranked monsters, enemy-DARK FERRYMAN in front line, enemy-HAUNTED SPIDER in second, enemy-TOWER GRIFFIN in third, and enemy-UNDEAD ARCHER in backline.

The battle mage Elsie quickly takes a stance to read the rules of battle.
| | KEEP YOUR DISTANCE: All monsters with the Melee attack are not allowed in battle. |
| --- | --- |
| | CLOSE RANGE : Range attack monsters can be used in front positions. |
Princess Sipha with the rest team turn to look at OBSIDIAN and they all give a nod of agreement. All charge out to attack.

⚔️ THE BATTLE ⚔️
---

---
⚔️ROUND 1⚔️
---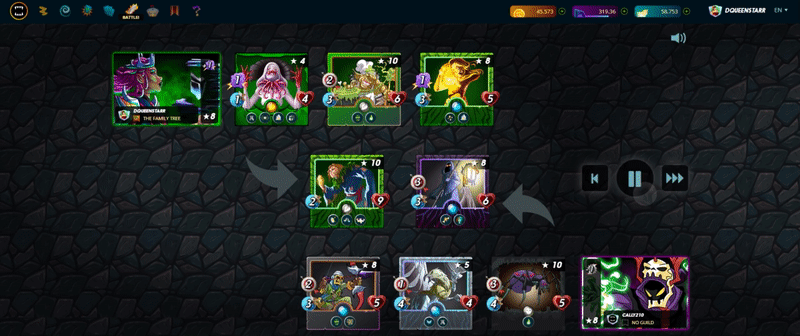 enemy-ZINTAR MORTALIS evil -1 ability is of no effect on Princess Sipha and team cause rule set forbids Melee monsters and none was on her team.

OBSIDIAN gives princess sipha and all magical warriors a +1 magic as expected.

enemy-TOWER GRIFFIN offers protection to his enemy monsters.

FAILED SUMMONER demoralizes all enemy monsters and strengthens all team monsters as expected.

QUEEN MYCELIA offers protection for team warriors while she rust the armor of all enemy monsters as expected🥂

enemy-TOWER GRIFFIN and enemy-HAUNTED SPIDER take turns to launch their attack on FAILED SUMMONER , this removes his shield.

KHMER PRINCESS then launches her attack on enemy-DARK FERRYMAN affecting it's health -2.

enemy-UNDEAD ARCHER and enemy-DARK FERRYMAN again take turns to launch their attack on FAILED SUMMONER , this affects his health -4 , afflicts and cripples him.

GOBLIN CHEF retaliates and poisons enemy-DARK FERRYMAN

QUEEN MYCELIA quickly swoops in and launches a deadly attack on the now weak enemy-DARK FERRYMAN , killing it instantly.

Elsie the battle mage and the people witnessing this great battle are pleased with how coordinated the Princess Sipha's team are. KHMER PRINCESS and QUEEN MYCELIA roar as they charged forward again at the enemy.

---
⚔️ROUND 2⚔️
---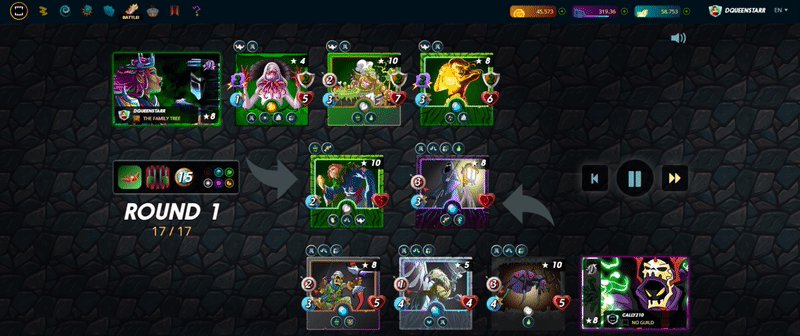 Round 2 starts again with enemy-TOWER GRIFFIN and enemy-HAUNTED SPIDER taking turns to launch their attack on FAILED SUMMONER and affects its health down to last life line.

KHMER PRINCESS then launches her attack on enemy-HAUNTED SPIDER affecting it's health -2.

just then enemy-UNDEAD ARCHER strikes at FAILED SUMMONER and kills him😥.

GOBLIN CHEF enrages retaliates and poisons enemy-HAUNTED SPIDER

QUEEN MYCELIA quickly swoops in and launches a deadly attack on the now weak enemy-HAUNTED SPIDER , killing it instantly🥂.

Elsie clenches her fist and looks at Merwen, the deceitful suitor. When he saw how powerful Princess Sipha and her team were, he looked terrified. He had no idea she had been training for battle and was the most fierce Khmer warrior. His demise was approaching.

---
⚔️ROUND 3-4⚔️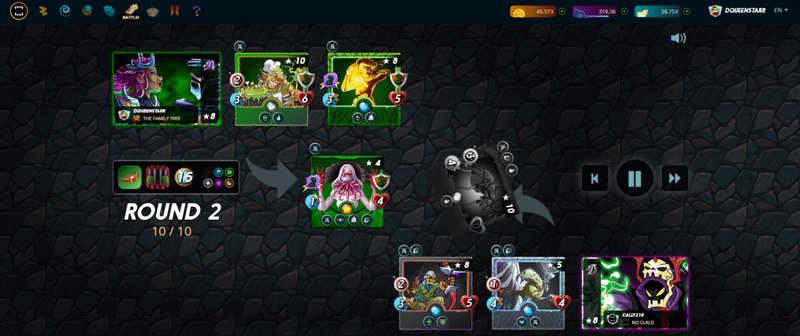 enemy-TOWER GRIFFIN and enemy-UNDEAD ARCHER take turns to launch their attack on QUEEN MYCELIA , but it only affects her shield. QUEEN MYCELIA retaliates at enemy-TOWER GRIFFIN and depletes his health to -2.

GOBLIN CHEF quickly swoops in and launches a deadly attack on the now weak enemy-TOWER GRIFFIN, killing it instantly🥂

QUEEN MYCELIA, GOBLIN CHEF and KHMER PRINCESS takes turns to strike at last standing enemy-UNDEAD ARCHER who stood no chance and kills him immediately🥂
---
⚔️FINAL RESULT⚔️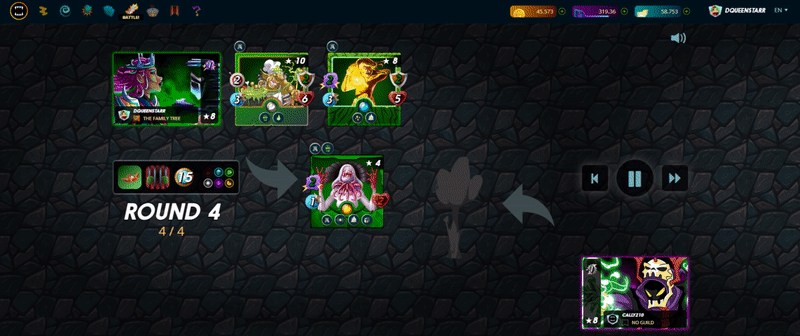 PRINCESS SIPHA AND THE WHOLE TEAM OF WARRIORS LET OUT A GREAT SHOUT OF VICTORY. The Enemy is vanquished!
👉 CLICK ON LINK TO WATCH THIS BATTLE

Just as the deceitful suitor, Merwen, is about to flee, Princess Sipha uses her magic to set fire to him and all his troops, killing them all. She theb offers her gratitude to OBSIDIAN and team of WARRIORS, they acknowledge this and vanish. This battle spreads throughout the Splinterlands.
The Khmer people, with the veil now taken off, realize prophesy has been fulfilled. They vowed their unwavering loyalty to Princess Sipha after witnessing how bravely she battled to protect them, bending down on their left knee and extending the right hand in her direction.
Sipha accepts the honor and complete responsibility of defending her people. She turns her gaze toward the far-off lands. Everything appears to be right on time.
🌬💀🔥🍃🌊🐉⚔️The End⚔️🐉🌊🍃🔥💀🌬

DO I LIKE 👸KHMER PRINCESS-SIPHA, DID MY STRATEGIES WORK AND WHAT LESSONS DRAWN FROM IT?👸
I definitely like Princess Sipha, she's graceful and same time can be a consuming flame when confronted in battle. Lately I have been engaging her in battles. Her abilities to Tank heal

and provide Triage

is amazing, to think she only cost 2 mana points in battle, absolutely unmatched. This only demonstrates that if you play the Earth Unit and at the lowest possible mana such as this [12 mana cap battle], then this team lineup gives an 85% chance of victory.
My strategy worked very well. It was a good lineup and strategy for this battle. To make her job easier, KHMER PRINCESS , like every other splinter card, requires the support of monsters with interesting abilities, making it more difficult to target and kill her.
When using her on deck, always pick summoners that enhance or support her attack type, like in the case of OBSIDIAN, VALNAMOR are both great summoners to use with her because of the '+1 Magic' they offer.

Using monsters that offer 'Protection, Poison and Affliction' ability will greatly help this KHMER PRINCESS perform flawless in battle, as the simultaneously work hand together. Almost giving no chance for enemy to attack until their rounds of attack is done.

〽️A BRIEF LOOK AT THE CURRENT MARKET 12th -JULY- 2022 21:18〽️

BTC still staggering between 18k-20k for the last 3 days, the downtrend is also seen on Hive as it plummets further to 0.415😥. HBD however has remained solid💪. In hopes for a bull run, HOLDERS see it as the best time to buy hive, once bullish, there will be massive buy in for HBD to get that juicy 20% APR.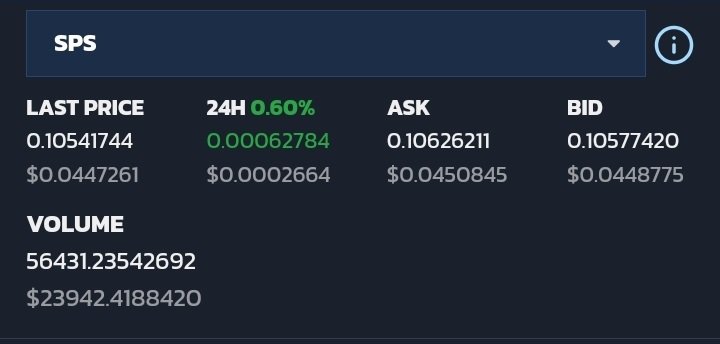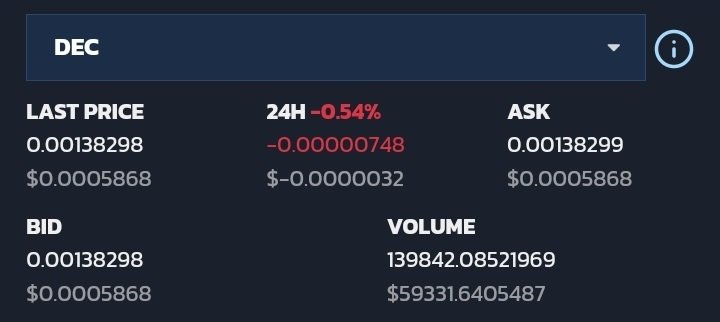 There's been a ton of new changes lately which will directly affect the prices of Splinterlands tokens. So far the market has been on a roller coaster. The SPS token came above 0.11$ and currently being traded for 0.10577$ with a +0.60% price rise in last 24hrs. Whereas the main in-game token DEC is currently being sold for 0.00138$, asking price of 0.00058$ with a -0.54% price decrease in last 24hrs.
This will however change in the coming week, drastic change that may not be favourable for we new card players who really play the game. The changes before now has been okay, so🤞
Let's look at the current market value of KHMER PRINCESS

This amazing card is currently on the market for $8 regular card at level 1. 40CP. It has seen a boost of +1% in the last 24hrs, It's an amazing card, not surprised.

The gold foil cost about 42$ starting from level 2. 2000CP. It's however seen a -25% dip in the last 7 days, not sure what's going on there but it's goodness for gf collectors. I'll love to afford that, sweet.
Do as you may with the information. Prolly BUY & HODL✊. Disclaimer alert: I am no crypto expert, THIS IS NO FINANCIAL ADVICE, JUST ME BLABBING😆👇.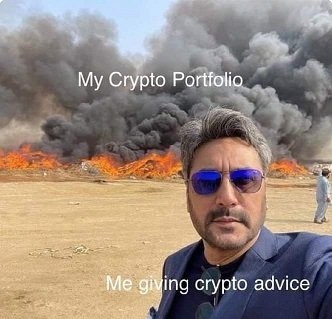 😊That will be all about my social media challenge for this week. I hope you enjoyed the Tale, battle and market blabbing as much as I. If you've used the KHMER PRINCESS in battles, please I welcome your opinion and recommendations on whether she's worth collecting and having on deck. If you have not, I put forward to you a challenge⚔️
If you want to take part in this Splinterlands' challenge, simply visit 👉Splinterlands Social Media Challenge! to read up more.
PREVIOUS EPISODES
👉 ⚔️TALE OF THE BARONESS : EPISODE 1⚔️
👉 ⚔️TALE OF THE BARONESS : EPISODE 2⚔️
👉 ⚔️TALE OF THE BARONESS : EPISODE 3⚔️
👉 ⚔️TALE OF THE BARONESS : EPISODE 4⚔️
👉 ⚔️TALE OF THE BARONESS : FINAL EPISODE⚔️
Worthy Notes:
✅COVER & IMAGES MADE BY ME IN CANVA WITH ALL IMAGES FROM WWW.SPLINTERLANDS.COM & OFFICIAL DISCORD SERVER
✅Cheers to THE FAMILY TREE for guild support🥂.
✅Click on this Banner to join Hive's House of Help 🚆 THE TERMINAL for all your Hive related questions.

✅Edited Splinterlands text dividers in PS5 as provided freely by freeztag.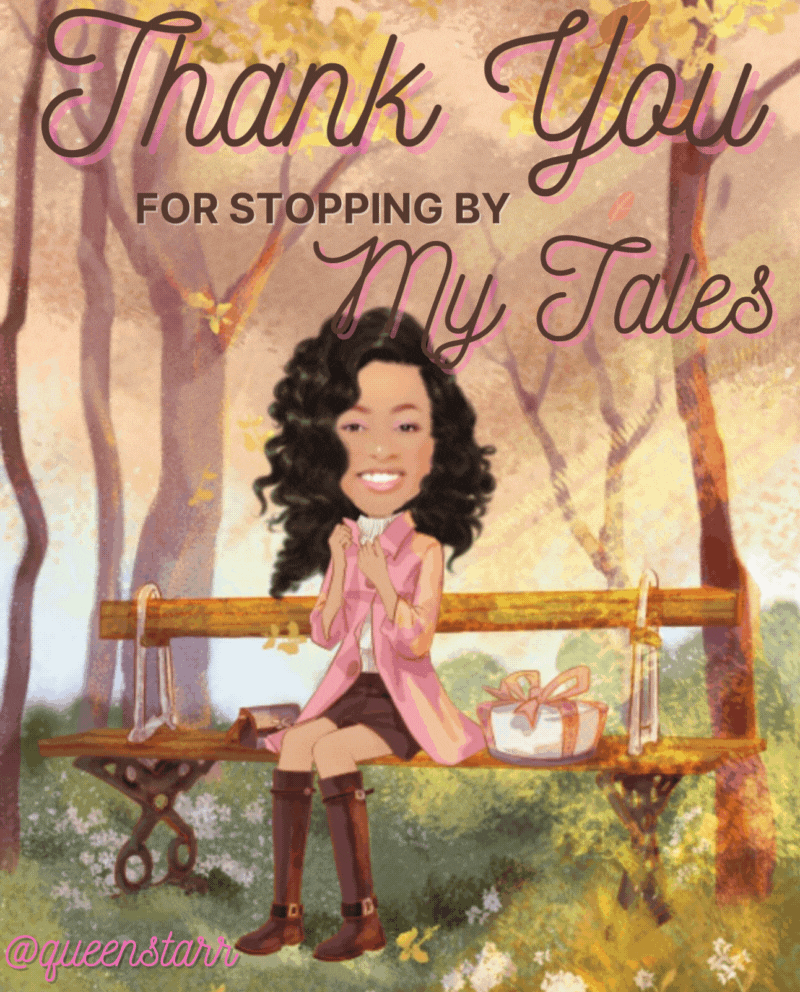 😊Until next Splinterlands SocialMedia Challenge, Hive, Vibe & Be Lucky🍀
All content is mine unless otherwise Noted
queenstarr ©2022
---
---