⚔️ SOCIAL MEDIA CHALLENGE : TALE OF THE BARONESS [EPISODE 3] ⚔️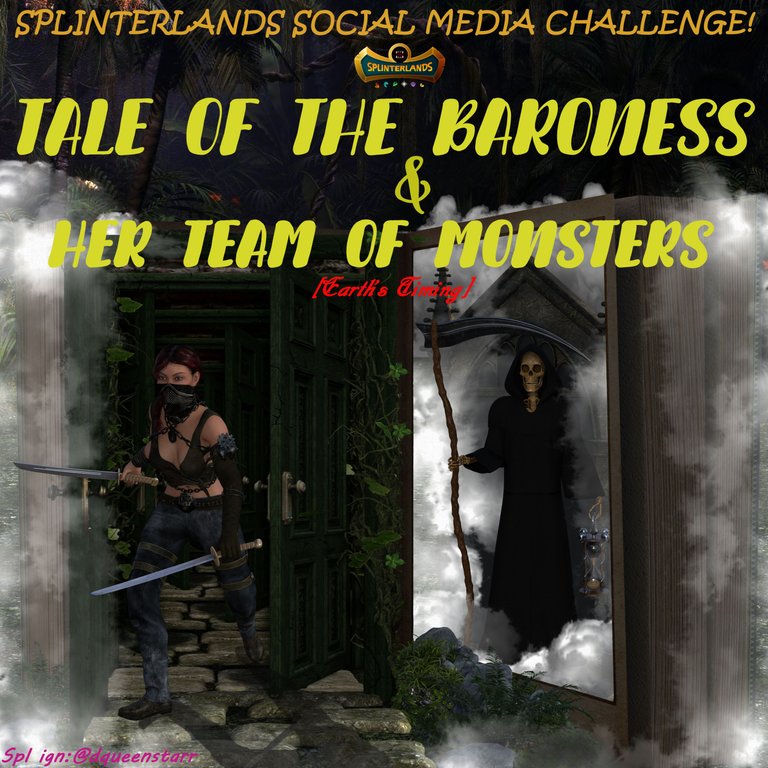 The cargo ship, now defeated by the terrible waves. The sun is fading, and their food supply is nearly depleted. The waves had now carried them to an island, and the baroness extended her eyes, straining to see through the thick fog, until she noticed a name carved into a plank driven into the ground. The Island of Tamos, It was a trapezoid, enormous and densely forested, but not nearly as lovely as Anenon.
The baroness gently let herself down while holding on to the ship's raft, then made way for other humans to alight.
"We need to find a safe area to camp for the night with all of our men spread out." From atop the ship, the captain announces, "The journey begins by daybreak."
They were not threatened by the lush green flora or the relatively clean water. She reaches into the rushing stream with her palm to take a drink.

The baroness noticed the ripples in the streams growing larger and larger as she attempted another fetch. The earth began to tremble, and every time a loud stump hit the ground, it trembled even more. The baroness, well aware of what that entailed, declared that it was time to take a stand once more, lest they all perish. She stood firm using her driving sword into the ground for support. The air became thick with the dread of impending battle.
With trembling hands, she searches for her amulet and removes it from her neck once more, revealing the rules of combat and allowing her to summon only one summoner at a time. If a battle mage did not do so, it would be considered sacrilege, which could lead to death. That would never happen. She wasn't about to go down without a fight.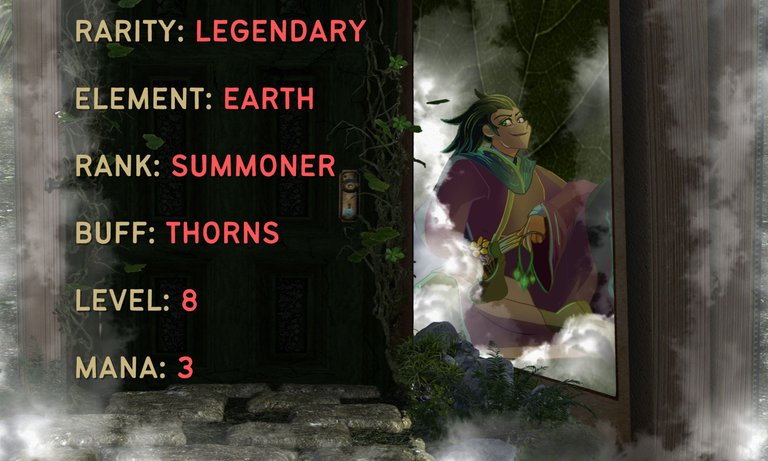 Then the baroness summoned the great MYLOR CROWLING with her amulet. He smashed through the trees, clad in fine linen and wearing a thorny belt, large enough that the earth struggled to hold him together. An eight-star summoner with the supernatural ability to grant the 'THORNS' ability to the monsters willing to fight alongside him.
The baroness in awe as his stats appeared in the sky. She couldn't believe what he'd accomplished since accepting a Gloridax invitation to Mount Mox. Another stump echoes, drawing the fight closer. MYLOR CROWLING turns towards battle field, takes a commanding stance, and summons his most powerful monsters.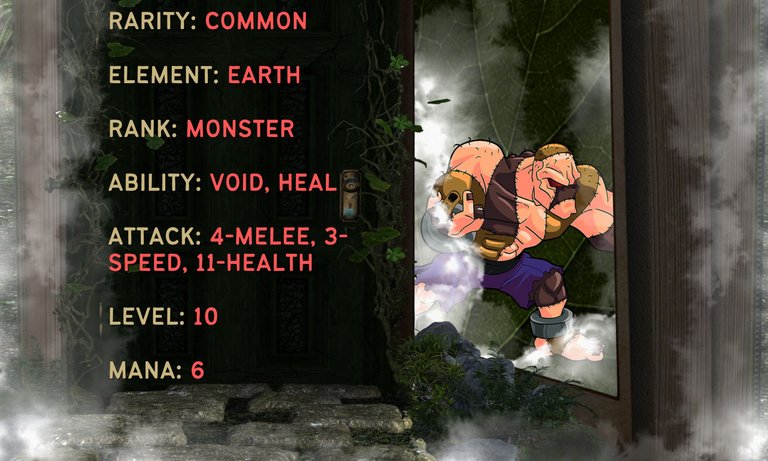 This formidable golem battles with the strength of 100 men. The forest is home to Anumün's FLESH GOLEM. He is the guardian of the river of power from which he drinks. A ten-star monster who fully deserves his moniker. He can heal himself and regenerate his powers. Magical attackers have no chance against him because of his Void ability.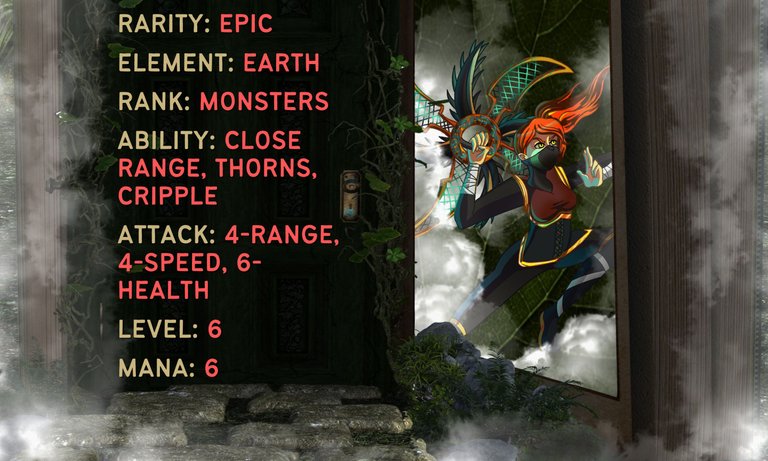 A born royal who takes her position seriously. BEATRIX IRONHAND isn't afraid to step in and fight with all her might. Her command of the boomerang is exceptional. She can use her thorn ability to double the damage of an attack. She then cripples the attacker and can attack ranged enemies from any position using her close range ability. Should Flesh Golem go down, This warrior who detest to be called a princess, is more than willing to step in and bring victory alongside her team.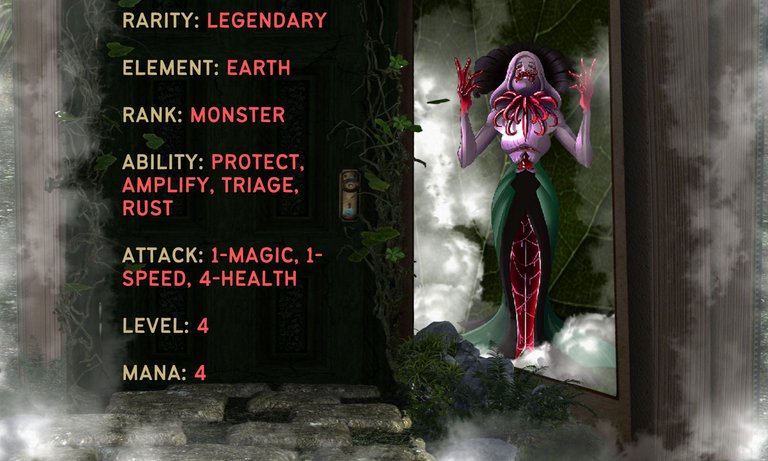 QUEEN MYCELIA is her name, and her reputation precedes her. Her ability is useful for protecting team monsters before the battle begins. Her evil role has a variety of effects in battle; she weakens the enemy from within and protects all of her fellow monsters while removing protection from enemy monsters. Her power is so strong that it rusts enemies' armor, and she excels at amplifying magical attacks back at them. She is a valuable combat weapon who deserves her title.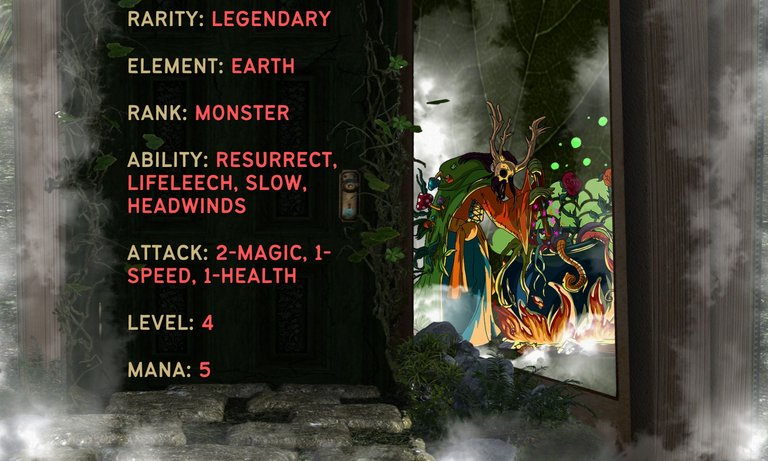 SPIRIT DRUID GROG is said to be the most powerful druidic sorcerer in the Splinterlands. A feared magical creature known for its unique ability to resurrect fallen monsters while draining the lives of fallen enemies. He assists his team by slowing and reducing the range and speed of enemy attacks. He disappears into the mud, and when he is summoned, he brings all of his magic with him. A sorcerer deserving of his title.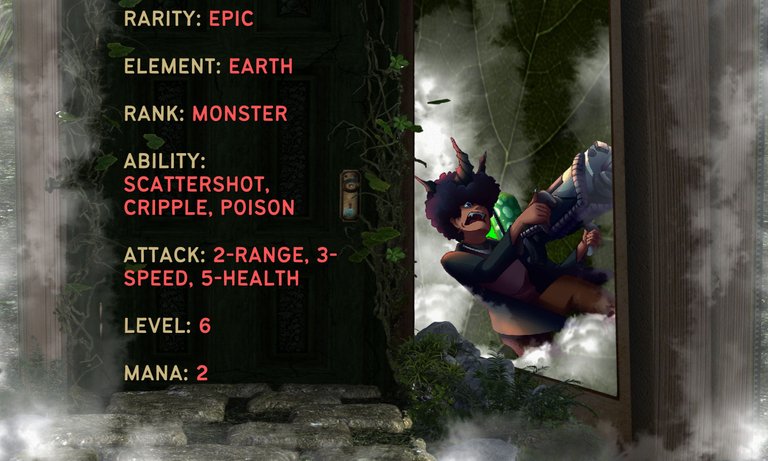 The infamous ACID SHOOTER is an exceptional monster who creates new defense weapons. He wields massive metal crossbows loaded with acid cannisters. This crossbow can spray a burst of acid or fire the entire bottle at targets. Each shot that hits the enemy corrodes the armor immediately. His crippling ability aids in reducing the enemy's health. When a monster with the poison ability attacks, he has a chance to apply poison, which causes the target to take automatic damage at the start of each round after the poison is applied.

As they all appeared before the great MYLOR CROWLING, they ready their armor and a big stump reveals the opponent all of a sudden. The defiant LEGIONNAIRE were a familiar kind in the Splinterlands battleground. They were feared and well respected, with most of them possessing wicked monsters who spared no one.
There was a great roar through they thick forest that echoes as the enemy's summoner enemy-GENERAL SLOAN approached for battle, accompanied by top ranked monsters, enemy-SHIELDBEARER in first position, enemy-URIEL THE PURIFIER in second, enemy-FURIOUS CHICKEN in third, enemy-SOUL FIEND in fourth, and enemy-DIVINE HEALER in fifth.

As she dashed to the center of the battleground, clutching the amulet, the baron's heart skipped several beats. When the enemy-GENERAL SLOAN saw the baroness, he roared in rage because he recognized her as the battle mage who defeated the LEGIONNAIRE and for whom a bounty has been set. In his rage, he beat his chest several times.
"You, a mere mortal, dare to take on the great LEGIONNAIRE. Today we will have our pound of flesh and feed it to the earth along with your stanched blood. A triple bounty for your head mage"
He lashed out at the Baroness. She trembled even more, nearly dropping the amulet, but then remembered who she was: a battle mage who feared no one. She wipes her face with her hand while taking a stance to read the combat rules with great courage in her voice.

EXPLOSIVE WEAPONRY: All monsters gain the blast ability.
HOLY PROTECTION: All monsters gain divine shield.
Her heart was steady as she yelled. She frowns and spits on the ground, giving enemy-GENERAL SLOAN a disgusted look. This enrages the enemy and causes the stump on the ground to shake even more.
MYLOR CROWLING moves forward and with a thundering stump;
"Brothers this mage seeks safe passage to the next realm. Our weapons have been honed for combat. Fight! We are the Immortal army; to arms! to arms! Today we fight for glory!!!"
His team of monsters let out a thundering growl, furious and intense. All the monsters then charge out to attack.

⚔️ THE BATTLE ⚔️
---

---
⚔️ROUND 1⚔️
---
According to the rule set, all monsters are given the BLAST ability.

According to ruleset, all monsters are given DIVINE SHIELD ability.

QUEEN MYCELIA GIVES ALL TEAM MONSTERS PROTECTION ABILITY AND RUST ALL ENEMY MONSTERS ARMOR.

SPIRIT DRUID GROG SLOWS DOWN -1 AND HEAWINDS -1 ALL ENEMY MONSTERS SPEED POINT AND RANGE ATTACK.

Enemy-SOUL FIEND COUNTERS IT BY GIVING HIS ENEMY TEAM +1 SPEED BOOST😆.

Round 1 starts with BEATRIX IRONHAND launching the first attack on enemy-SHIELD BEARER, crippling him and the blast from that attack affecting enemy-URIEL THE PURIFIER but divine shield activated.

Next comes ACID SHOOTER who attacks and cripples enemy-DIVINE HEALER, the blast affects next enemy monsters enemy-SOUL FIEND but divine shield is activated.

FLESH GOLEM attacks and damages -2 shield of enemy-SHIELDBEARER and enemy-URIEL THE PURIFIER.

enemy-SHIELDBEARER attacks and take off shield of FLESH GOLEM and BEATRIX IRONHAND. In return, they strike back with thorns which also rids him of shield, leaving room for QUEEN MYCELIA to attack his health directly -2.

SPIRIT DRUID GROG attacks on the now defenseless enemy-SHIELDBEARER affecting his health -2 and the blast affects enemy-URIEL THE PURIFIER , He leeches on both their health +3.

The baroness's heart racing. All of the enemies' abilities were far too impressive, and none of them were fallen. The fight had just gotten heated. She knew that defeating the LEGIONNAIRES was critical to her and the humans' survival. The baroness' heart beat tries to steady even as her mind fought the obvious thought of being skinned alive by the enemy should her team of monsters lose. She had faith in her monsters. FLESH GOLEM and BEATRIX IRONHAND roared in rage as they charged at the enemy once more.

---
⚔️ROUND 2⚔️
---
BEATRIX IRONHAND launches a strike at enemy-SHIELD BEARER, crippling him and the blast from that attack affects enemy-URIEL THE PURIFIER , both enemy's health -2.

ACID SHOOTER attacks and cripples enemy-FURIOUS CHICKEN, the blast affects next enemy monsters enemy-URIEL THE PURIFIER and enemy-SOUL FIEND , both enemy's health -1.

then comes SPIRIT DRUID GROG who launches a deadly and kills enemy-SHIELDBEARER and the blast affects enemy-URIEL THE PURIFIER , He leeches on both their health +3.

QUEEN MYCELIA strikes at enemy-URIEL THE PURIFIER affecting his health -2 and the blast goes on to kills enemy-FURIOUS CHICKEN.

The baroness clenches her fist and sighs with relief. Two enemy monsters have died, and a few more are nearing the end of their lives. This gave her and the other humans hope, so they cheered and this enrages enemy-URIEL THE PURIFIER. He rushes out of the battleground to finish off the Baroness, whom he spotted so quickly that the earth shook and rocks split. This, however, was not permitted by the combat rules. No battle mage was to be harmed, but some monsters broke the rules, costing mages their lives.

---
⚔️ROUND 3⚔️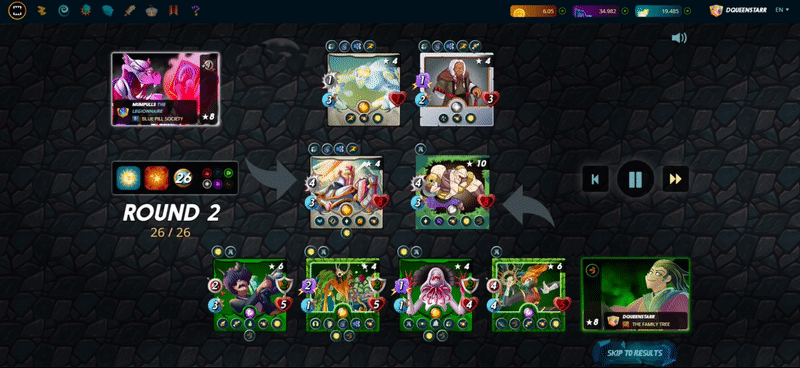 Before enemy-URIEL THE PURIFIER can carry out his evil attack on the baroness, BEATRIX IRONHAND swoops in and cripples him -4 health affected. He lands badly on the ground, and the resulting blast immediately kills enemy-SOUL FIEND.

ACID SHOOTER strikes at enemy-URIEL THE PURIFIER but misses.

FLESH GOLEM using his ability heals a portion of his health +3 and immediately launches a deadly on enemy-URIEL THE PURIFIER killing him and the resulting blast affects the health of enemy-DIVINE HEALER. enemy-URIEL THE PURIFIER doesn't go down without a fight , his Redemption ability attacks the baroness' monsters, reducing health -1.

enemy-DIVINE HEALER now alone and staggering, holding onto her last life line, SPIRIT DRUID GROG using his fierce magic launches a deadly at her and leeches off her life.
---
⚔️FINAL RESULT⚔️
MYLOR CROWLING AND THE WHOLE TEAM OF MONSTERS LET OUT A GREAT ROAR OF VICTORY. The Enemy is defeated. Another LEGIONNAIRE is fallen
👉 CLICK ON LINK TO WATCH THIS BATTLE

Just as MYLOR CROWLING and the squad are about to leave, the baroness steps forward, completely overwhelmed, takes a bow, as a sign of her admiration and respect. MYLOR CROWLING and Team of monsters acknowledge her respect.
As her team of monsters vanished into thin air, the baroness stood immobile, speechless in the face of such a crushing defeat of the LEGIONNAIRE. Victory was hers and none of her monsters were slain.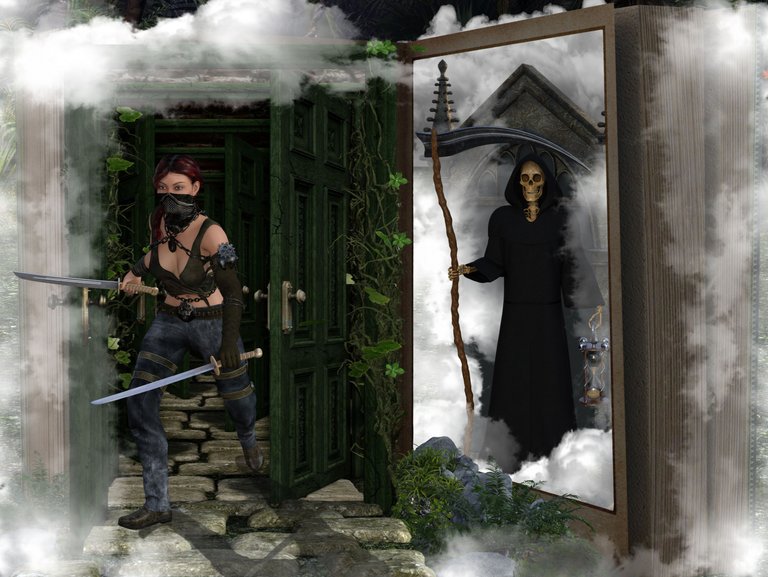 A massive earthquake struck all of a sudden, but this time it was different. A massive gong sound, similar to a bell, rang out across the sky and the Splinterlands grim reaper appeared. This meant just one thing to the baroness: EARTH'S TIMING!!! She hurriedly pulls out her crystal locket, which provided her with a way out. She needed it to unlock doors to the next realm, she rushes through them, each time casting a spell with the crystal locket to unlock. She soon felt herself being sucked back through a portal like a whirlwind. All battle mages were impacted by the Splinterlands EARTH TIMING which sent them back in time to previous lower realms if they failed to reach Anenon on time.

The TALE OF THE BARONESS comes to a close. She did, however, receive 84 gold chests as a reward for honoring battle calls. Wonderful treasures and dark crystalline shards were among them, which she will use to forge new amulets and lockets. Will she continue on, and will she ever get to ANENON?


DO I LIKE THIS TEAM OF MONSTERS AND DID THE STRATEGY WORK?
I definitely like this team of monsters and look forward to experiencing these monsters more in battles again. The abilities of these monsters at Maximum levels is fascinating, unmatched. It all sends chills down my spine. This only demonstrates that if you play the Earth Unit, then this team lineup is awesome.
My strategy worked as i think the lineup was decent⚔️. It is no doubt the monsters are worth collecting, great cards to own, and this battle challenge has surely exposed their usefulness. I Thoroughly enjoyed this battle.

😊That will be all about my battle. If you want to take part in this Splinterlands' weekly battle challenge, simply go to 👉Splinterlands Social Media Challenge! to read up more on the challenge.
PREVIOUS EPISODES
👉 ⚔️TALE OF THE BARONESS : EPISODE 1⚔️
👉 ⚔️TALE OF THE BARONESS : EPISODE 2⚔️
Worthy Notes:
✅COVER & IMAGES MADE BY ME IN PHOTOSHOP WITH COLLAGE IMAGES FROM WWW.SPLINTERLANDS.COM , Image 1 , Image 2 , Image 3 , Image 4 , Image 5 , Image 6 , Image 7 , Image 8
✅My gratitude to THE PIMP HOUSE, @saffisara,and @enginewitty for the many card gifts, guild Support and encouragement.
✅Click on this Banner to join Hive's House of Help 🚆 THE TERMINAL.

✅Awesome PIMP Banner by Inthenow.
✅Edited Splinterlands text dividers in PS5 as provided freely by freeztag.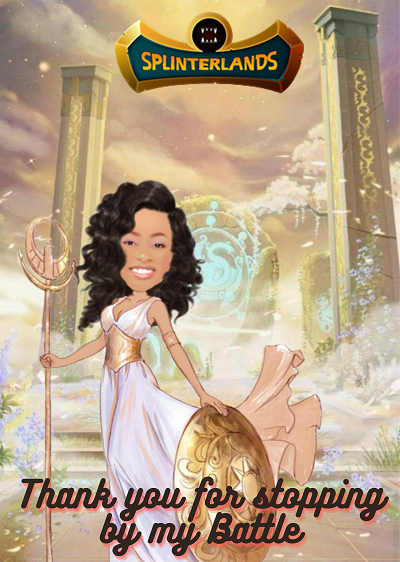 😊Until next Splinterlands Battle, Hive, Vibe & Be Lucky🍀

All content is mine unless otherwise Noted
queenstarr ©2022
---
---