⚡️SOULBOUND: ECHOES OF THE AMAZING MONSTER CARDS⚡️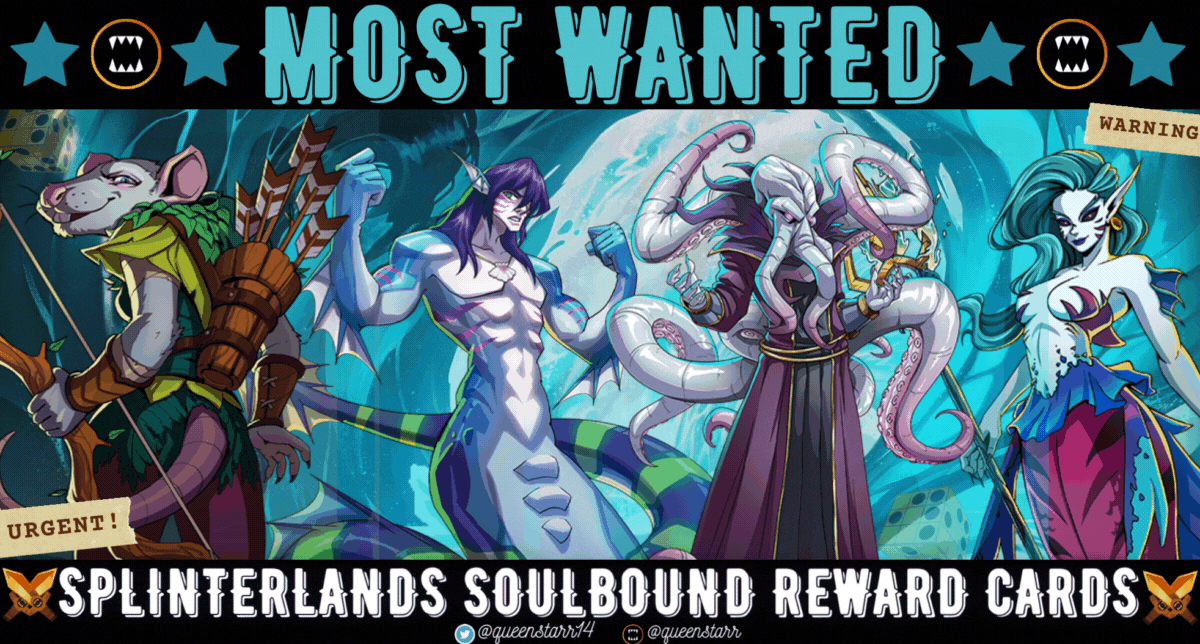 🧙‍♀️Hey Battle Mages!
I'd like to extend a warm welcome to another of my Splinterlands Battlogue. We barely have 3days to EOS[End of Season] and the past 13days has been extremely challenging accompanied with game updates as you can easily see from the Last Released Note Here. It's been tough keeping up especially in this bear market; I sincerely hope you're doing equally well my friend.
From my precious weekly blogs, I've shared with you my Ranked & Brawls, SPS & CL challenges. It's true that Splinterlands mainly encourages players to try out various strategies; I have been doing that for weeks now, and it's a rewarding experience because I keep learning new cards, their abilities, and how to best engage them in battle. This post isn't about rulesets, I'm here to introduce you to my favourite set of the MOST WANTED SOULBOUND MONSTERS in the Splinterlands and have the perfect battle for this purpose.

📜THE SOULBOUND WARRIORS OF SPLINTERLANDS📜
---
Discover the epic tale of the Soulbound cards: Coastal Sentry, Kulu Mastermind, Noa the Just, and Venari Marksrat.
---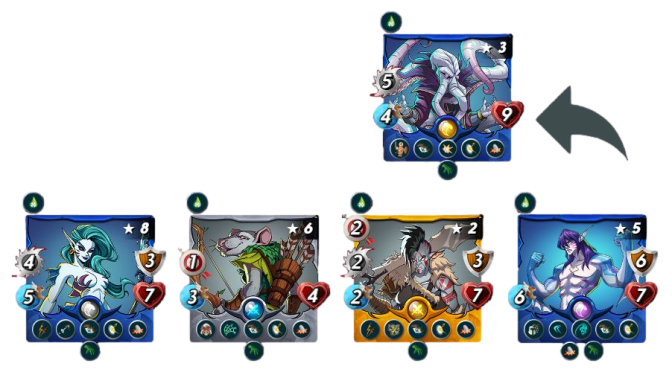 Splinterlands is not just about collecting cards and battling; it's about the epic tales, strategies, and legends that unfold with each game. The introduction of the Soulbound Cards has brought even more excitement, strategy, and depth to the game. Today, we will dive into a thrilling battle featuring these mighty cards and unravel the strategies behind their victory.
| BATTLE RULESET | |
| --- | --- |
| | Noxious Fumes: The battle begins with all monsters being poisoned, adding an extra layer of danger and urgency to the battle. |
| | Equal Opportunity: All monsters have the freedom to attack from any position, targeting the enemy with the lowest health. This ensures a fast-paced, unpredictable battle. |
| | Counterspell: Every monster now has the unique ability to counter-attack when hit with Magic damage. |
| AVAILABLE ELEMENT | only Water🌊, Life🌬, and Death☠️ elements allowed in battle |

📜THE GREAT BATTLE MAGE'S STRATEGY📜
---
| | SUMMONER: - Before the battle commenced, the great Dragon Summoner, POSSIBILUS THE WISE, invoked it's powers to grant all monsters +2 Health Points, the Trample ability, and the Reach ability. With these buffs, even the weakest of monsters became formidable opponents. |
| --- | --- |
| | FRONT-LINER: KULU MASTERMIND positioned at the front, this mighty warrior has the Weapons Training and Opportunity abilities. With his Shield, he ensures that the enemy's attacks are weakened, paving the way for his team. |
| | SECOND-LINE: Following Kulu, NOA THE JUST holds the power of Rust, weakening the armor of every enemy. With his Dodge and Backfire abilities, she becomes a nightmare for her opponents, especially when paired with her allies. |
| | THIRD-LINE: DRYBONE RAIDER double threat wields both Melee and Ranged attacks. With his Double Strike and Shatter abilities, he can quickly eliminate enemies, making him a pivotal figure in the team. |
| | FOURTH-LINE: Despite being taken down early, this VENARI MARKSRAT's sacrifice was not in vain. His Martyr ability ensured that his adjacent teammates received a boost in their stats. |
| | FIFTH-LINE: A key figure in the Soulbound series, COASTAL SENTRY's Double Strike and Piercing abilities, especially after being powered up by Venari Marksrat's sacrifice, made him a force to be reckoned with. |
| | SIXTH-LINE: A savior in disguise, RIVER HELLONDALE's Ressurect ability brought back fallen allies, ensuring the team's continuity. Her other abilities, Inspire and Dispel, were also instrumental in the team's victory. |

📜THE LEGENDARY BATTLE📜
---
As the battle began, Enemy-Iziar struck a deadly blow to Venari Marksrat. However, River Hellondale's timely intervention resurrected him. Drybone Raider retaliated swiftly, bringing down Enemy-Iziar. The enemies' continuous assault proved fatal for Venari Marksrat, but his martyrdom boosted Coastal Sentry and Drybone Raider, turning the tide of the battle.
With each passing second, the poison started taking its toll. River Hellondale fell, but not before resurrecting Venari Marksrat once more. Coastal Sentry, empowered by Venari Marksrat's sacrifice, annihilated Enemy-Jared Scar. Noa the Just targeted and defeated both Enemy-Adelade Brightwing and Enemy-Silvershield Sheriff, while Drybone Raider took care of Enemy-Marisol Contuma.
In the climax of the battle, the entire team focused their attacks on Enemy-Uriel the Purifier, chipping away at his health, until the final blow was dealt by the brave Kulu Mastermind.
---
LINK TO WATCH THIS BATTLE ON SPLINTERLANDS
THE BRILLIANT SOULBOUND CARD HEROS
---
This legendary battle cemented the prowess of the Soulbound Cards in the annals of Splinterlands history. Coastal Sentry, Kulu Mastermind, Noa the Just, Drybone Raider and Venari Marksrat have proven that they are not just cards, but legends in their own right. Their unique abilities and the strategy behind using them make them invaluable assets in the game. These cards are a testament to the ever-evolving and exciting world of Splinterlands. Now Let's take a look at each card below.
---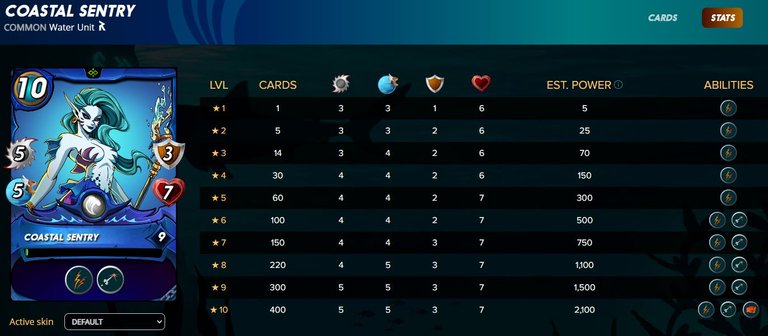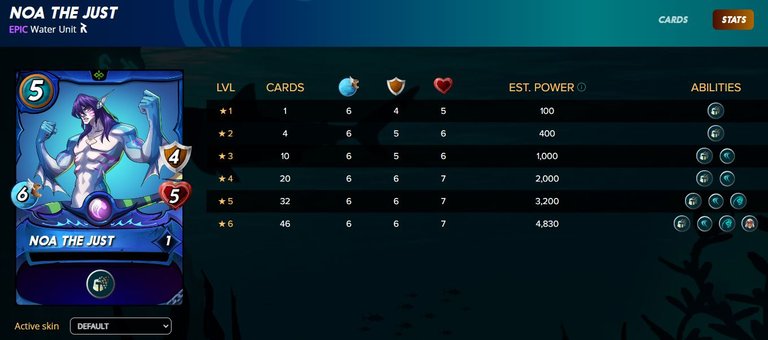 ---
| | | |
| --- | --- | --- |
| COASTAL SENTRY is a Common card who isn't so common. She's a Melee attack monster with impressive stats of 7-Health points, 4-Melee, 5-Speed and 3-Defense at Level 8. She has the Double Strike [Monster attacks twice each round] and Piercing [If Melee or Ranged attack damage is in excess of the target's Armor, the remainder will damage the target's Health]. This Card works perfectly well when paired with POSSIBILUS THE WISE summoner. Once Trample is activated, She Pins the Monster down and Strikes twice per turn. I absolutely love this card. |      | NOA THE JUST is an Epic card who is my absolute favourite, handsome Aqua monster. He has no attack type but surely got impressive stats of 7-Health points, 6-Speed and 6-Defense. He has the Rust ability [Reduces the Armor of all enemy Monsters] with the Dodge [Has an increased chance of evading Melee or Ranged attacks] and the Backfire [If an enemy misses this Monster with an attack, the attacker takes 2 damage]. I absolutely adore this card and glad I have it up-to level 5 for Gold. |
---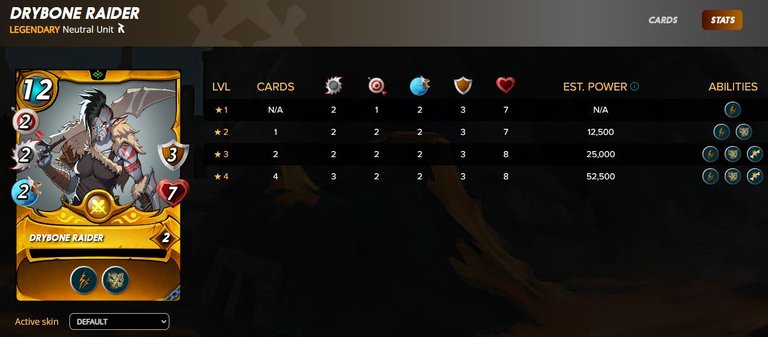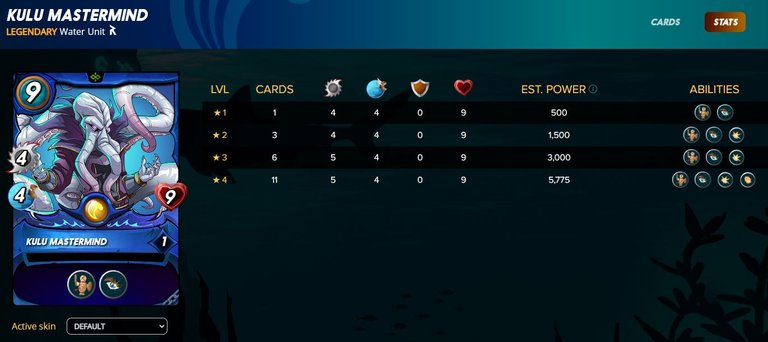 ---
| | | |
| --- | --- | --- |
| DRYBONE RAIDER is a Legendary card, this is my first ever Golf-foil card pulled from my first soul-bound chest. It's like we were meant to be together and absolutely digging it's usefulness. She's a Melee and Range attack monster with impressive stats of 7-Health points, 2-Melee, 2-Range, 2-Speed and 3-Defense at Level 2. She has the Double Strike [Monster attacks twice each round] and shatter ability [Target's armor is destroyed when hit by an attack from Monsters with Shatter]. This Card also works perfectly well when paired with POSSIBILUS THE WISE summoner. Once Trample is activated, She attack twice and her Shatter targets enemy's health directly. Awesome card. |      | KULU MASTERMIND is a Legendary card, the Octupicious genius. A Melee attack monster with impressive stats of 9-Health points, 5-Melee, and 4-Speed. This sweet card has the Weapons Training [Adjacent monsters gain half this Monster's attack if they have no attacks themselves] and Opportunity [Monsters with the Opportunity ability may attack from any position and will target the enemy Monster with the lowest health] and the Shield [Reduced damage from Melee and Ranged attacks] at Level 3 which is what I have. This monster's weapons training makes it in an demand card |
---
This truly has turned out to be my top favorite Cards from the Water Splinter and Glad to have used them all in battle. You can visit my last post where I showcased my last Most wanted Monster, Venari Marksrat was featured there aswell. If you haven't yet gotten your hands on these powerful cards, now is the time. They not only elevate your gameplay but also bring a fresh perspective to strategy and team building.
---
❓Are you ready to join the ranks of the Legendary Summoners and command the Soulbound warriors❓ Then Dive into Splinterlands, build your deck, and let your Legend unfold🙂
---

If you want to know what else is happening in the splinterverse or want to take part in the Splinterlands' challenge or view other latest battle challenge by other Splinterlands warriors, simply visit 👉Splinterlands Social Media Page to stay up-to-date [🛎turn on notification🛎].
🍀MAY THE ODDS FOREVER BE IN OUR FAVOUR✊
---
Worthy Notes:
✅POST COVER EDITED BY ME IN CANVO PRO WITH ALL IMAGES FROM WWW.SPLINTERLANDS.COM
✅Want to know more about Hive Blockchain? Click to join Hive's House of Help community THE TERMINAL




😊Thank you and Until next Splinterlands Challenge, Hive, Vibe & Be Lucky🍀
All content is mine unless otherwise Noted

©2023
Posted using Neoxian City
---
---