⚡️SPLINTERLANDS : A CLEAN SWEEP BRAWL + STAKED SPS CHALLENGE⚡️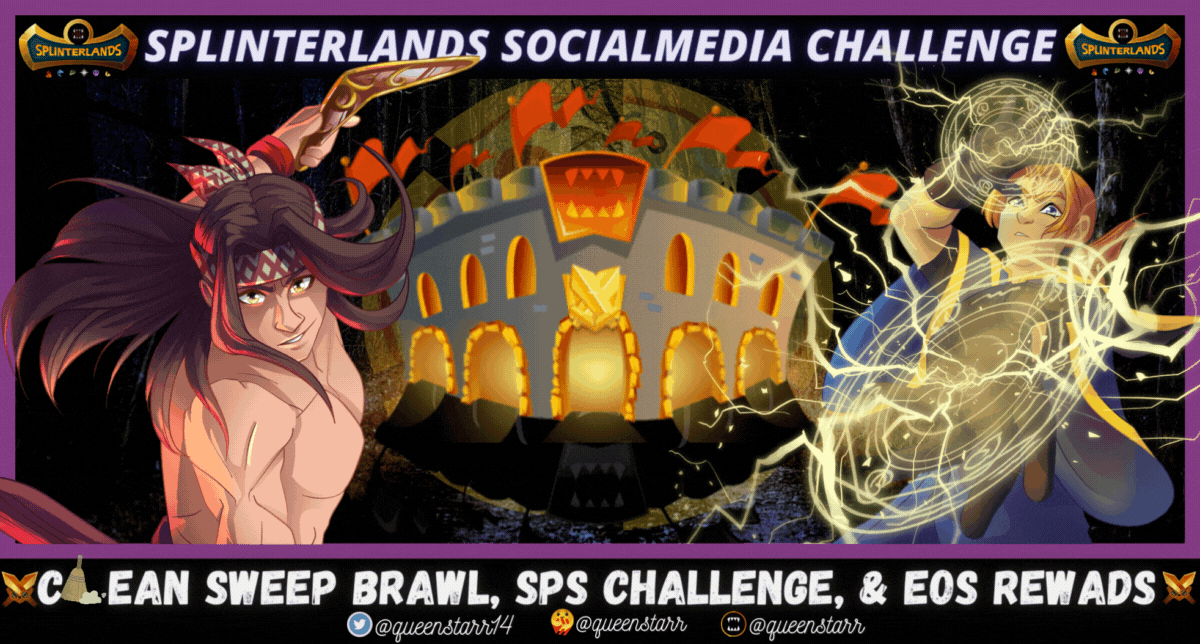 Hello Battle Mages. It's been a fierce 15 days of battling and grinding daily & end of season rewards. There is exciting news with latest being the Release of Land 1.0🎉, well, I bought 1 Plot and ended up pulling a natural Lake🌊, but that's a story for another day😂.
Other exciting technical hot fixes in the Splinterverse which you can easily refer to in this release updates.
---
It's been another battle for Glory in the Splinterlands arena, where the big brawls and tournaments are staged. I hope the battlefield has been kind to you.
A raucous crowd of thousands had gathered once more in the vast arena to see what would certainly be a fight of the legends. Battle was about to begin and winners would all receive rare Splintershards

and Golden crowns

. I carried on and registered under Wild Gold Fray 11

, which allowed all monsters from different eras to compete and to honour the Dragonborne's prophecy of a united Gloridax made hundreds of years ago, all battles were kept fair, kill or be killed.
Dawn came, and it was time. As summoners mounted and set their tools on the summoners' stone, I and guildmates took our positions. Eight [8] battles were arranged for me and I was not going to accept defeat.

---
✅IN A NOXIOUS RULESET WHERE YOU DON'T HAVE IMMUNE MONSTERS,DOUBLE THE DAMAMGE BY BLINGFOLDING YOUR OPPONENT, THEN DOUBLE YOUR DEFENSE, TRIAGE AND RETURN FIRE THEIR ATTACKS TO OUTLAST YOUR OPPONENT IN BATTLE. THAT'S A WINNING STRATEGY💯
---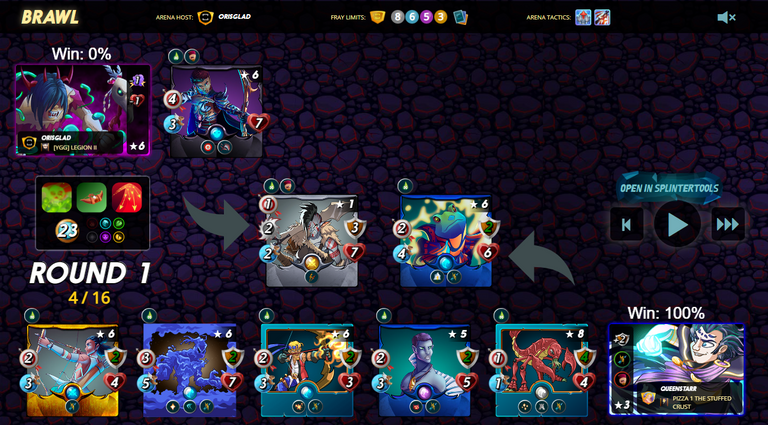 In my first Brawl, I went with the 🌊Water Splinter and got matched with ORISGLAD OF THE [YGG] LEGION II CLAN who picked the ☠️Death Splinter, coming at me with the dreaded summoner Enemy-Thaddius Brood.
The ruleset only allowed Ranged attack monsters, making it that Range attackers can attack from front and all monsters got poisoned at the end of each round.
So I chose LIR DEEPSWIMMER who gave all my team monsters the +2 Shield and return Fire ability, he then carried on to Blind fold all enemy monsters.
It was already a loosing battle for my opponent as I doubt this enemy gave any thought to the ruleset, Thaddius brood, well, except the -1 health was useless. I got a 100% win on this one,
---
🎉FLAWLESS VICTORY!!!🎉
👉▶️CLICK ON THIS TO REPLAY BRAWL BATTLE - QUEENSTARR vs ORISGLAD◀️👈
---

---
✅IN A BRIAR PATCH BATTLE, ALWAYS USE AMPLIFY TO DOUBLE THE DAMAMGE AND SURELY COME WITH A EXTRA DEFENSE TO COUNTER ENEMY ATTACKS. ALWAYS ENVISION MAGIC MONSTERS IN BRIAR PATCH, SO A VOID ABILITY IS A WINNING STRATEGY💯
---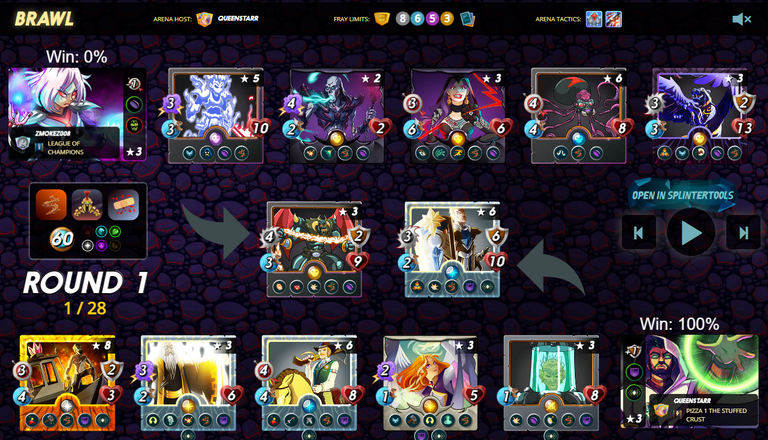 Next battle was called upon almost immediately, I then summoned the great GRANDMASTER RATHE. I went with the 🌬Life Splinter and got matched with ZMOKEZ008 OF THE LEAGUE OF CHAMPIONS CLAN who picked the ☠️Death Splinter.
The ruleset was Brair patch which gave all monsters the thorn ability. Healed out caused all monsters not to heal and Are you entertained allowed for an additional Gladiator.
Again, My opponent underestimated this battle and it was a 100% win for me, taking into consideration what the ruleset was and monsters that sufficed brought another👇
---
🎉FLAWLESS VICTORY!!!🎉
👉▶️CLICK ON THIS TO REPLAY BRAWL BATTLE - QUEENSTARR vs ZMOKEZ008◀️👈
---

---
✅YOU HAVE GOT TO COME WITH DOUBLE HEALTH POINTS IN A NOXIOUS FUMES WATER BATTLE WHEN YOU DON'T HAVE IMMUNE MONSTER(s). DO NOT UNDERESTIMATE THE REACH AND TRAMPLE ABILITY IN A NO MAGIC MONSTERS ALLOWED BATTLE, THAT IS A WINNING STRATEGY💯
---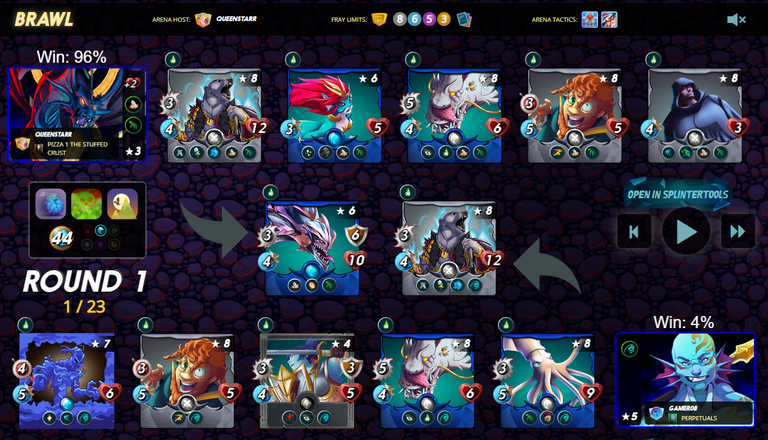 My next battle was against a Backfire Summoner ENEMY-AQUATUS. It was an Only Water Splinter allowed battle and I got matched with GAMER08 OF THE PERPETUALS CLAN.
The ruleset disallowed Legendary monsters and Magic monsters, then poisoned all monsters each round of battle.
I had to think carefully and went with POSSIBILUS THE WISE who would grant my monsters the Trample and reach abilities, then add +2 Health which was well needed seeing I had no immune monsters. This time around my opponent gave some 4% thought to his team selection and they were brilliant only no Healer which was a huge plus for me, and who dares stand against diemonshark? Opponents all got trampled and it ended in a loud roar of 👇
---
🎉FLAWLESS VICTORY!!!🎉
👉▶️CLICK ON THIS TO REPLAY BRAWL BATTLE - QUEENSTARR vs GAMER08◀️👈
---

---
✅BECAREFUL WHAT YOU WISH FOR IN AN EXPLOSIVE WEAPONARY AND AIMLESS BATTLE. RANGE MONSTERS WILL ALMOST ALWAYS SAVE THE DAY, BUT VOID MAGIC ENEMIES ATTACK AND WEAKEN THEIR HEALTH POINT, THIS IS A WINNING STARTEGY💯
---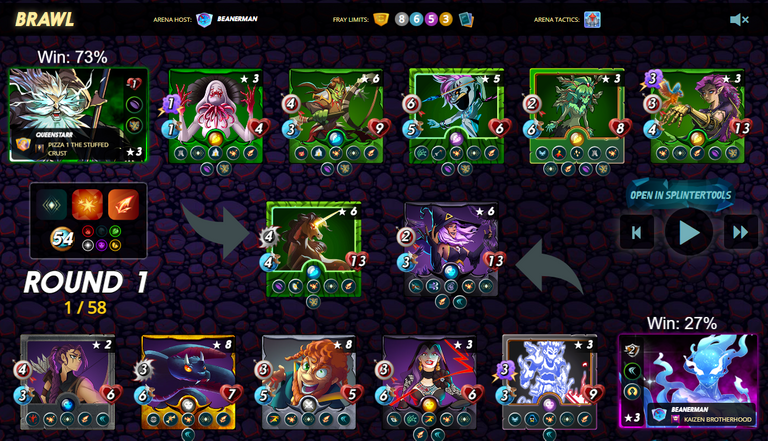 Next battle was called upon almost immediately, I wasn't so prepared but I took the stand and summoned the great IMMORTALIS. I went with the 🍃Earth Splinter and got matched with BEANERMAN OF THE KAIZEN BROTHERHOOD CLAN who picked the ☠️Death Splinter
The ruleset offered all monsters the amplify Amplify, Blast and Scattershot ability.
If anything, I banked on my teams Tanks, especially Unicorn Mustang and Florre, I did have Spirit of the forest to Heal damaged monsters and Queen Mycelia to protect them. Uloth and Mitica are a force to reckon with on the battlefield and they dealt massive damage to enemy. My opponent came ready, having a 27% chance against me, I guess IMMORTALIS AND TEAM were too 73% more deadlier. The battle ended in 👇
---
🎉FLAWLESS VICTORY!!!🎉
👉▶️CLICK ON THIS TO REPLAY BRAWL BATTLE - QUEENSTARR vs BEANERMAN◀️👈
---

---
The same Strategy followed for these four (4) other Brawls, and I must confess I found this new tool to be very helpful in teaching me about strategizing my Lineup, the SPLINTERTOOLS.IO. It's impressive to play around with and learn about what monsters abilities or Stats suits what ruleset.
🎉ALL BATTLES ENDED IN A FLAWLESS LANDSLIDE VICTORY!!!🎉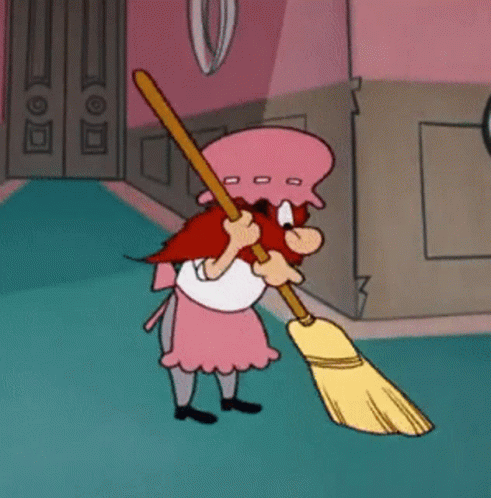 ---
⚔️OVERVIEW OF BRAWL⚔️
---

I did enjoy lining up my team for all the battles, this is my second clean sweep in a row. I have learnt through my many defeat [still learning] and eventually gained the courage to totally destroy your enemies. For this brawl, I got rewarded with 21.89 Splintershards

and 3,150 Merits to purchase a Gladius pack, a realm where Battles mages can own soulbound Gladiators.
---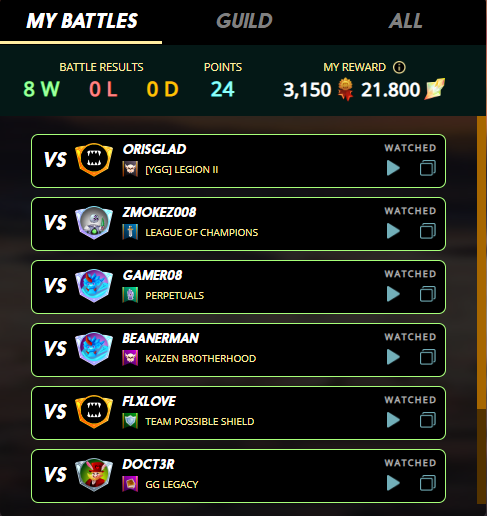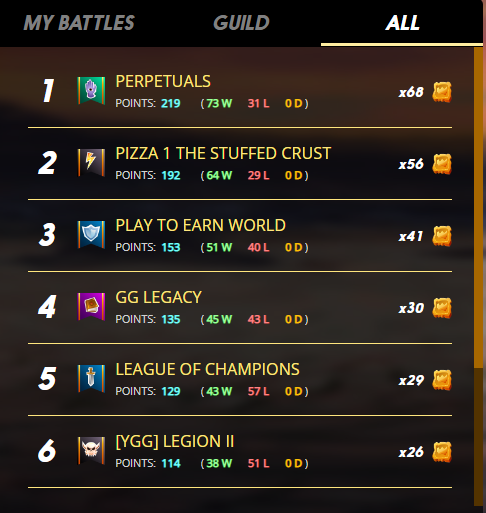 ---

My Fellow Guildmates also put in great effort in their battles, having a guildmate @theacks with a 5/0 CLEAN SWEEP aswell, implying he destroyed all his enemies. The 🍕Pizza 1 stuffed crust made another bold display, finishing second and earned 56 Golden crowns

. I enjoy participating in brawls and seeing how well my guild is doing in terms of conquering. We are very competitive in these brawls and work together to give it our all. Makes it all worth it in the end❤️

---
BUYING AND STAKING SPS CHALLENGE
---
I challenged myself to grow on Splinterlands and now hit over 16,000 staked SPS mile🎉. I grinded and earned a total of 1,627.567 SPS bringing me to a total of 16,399 Staked SPS. Wooots! It's been an amazing Challenge so far, I am absolutely loving it.
Aside from the SPS I earn via Ranked battles, Brawls, the Daily Quest, Tournaments and the Season Chest, I have adopted Mr. Alok's advice at an Ecency program held by Mr. Pravesh to purchase and stake 100+ SPS every week from my post payouts and I am comfortable with this plan.
---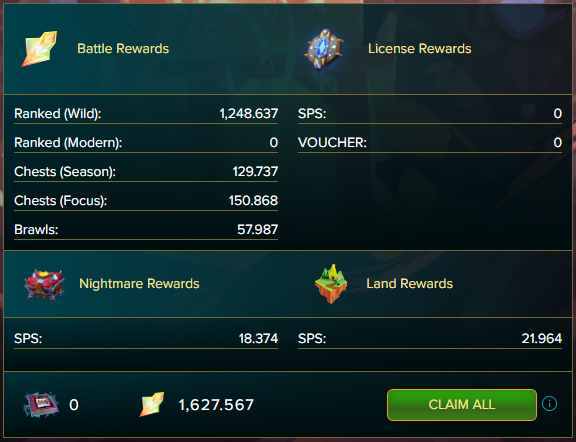 ---
I also get to earn awesome tokens like #spt sometimes on post which I can trade for SPS and immediately stake. Hopefully I am making the right decisions here, so fingers crossed🤞.
If you choose to join in this challenge, then let us build our accounts together. This is also timely advise, as whispers have it that we will require staked SPS to earn any rewards. My next goal is 20,000 staked SPS by end of Season🤞.

---
END OF SEASON [EOS] REWARD CHEST
---
I was able to grind 138 Gold chest last season. I got to Pull four (4) Chaos legion packs🔥, adding to the numbers, so happy. Legendary AVES STURGIS, Gold-foil Epic WILL-O-WISP, 128.7 more SPS, merits, sweet potions and regular cards for leveling up.
---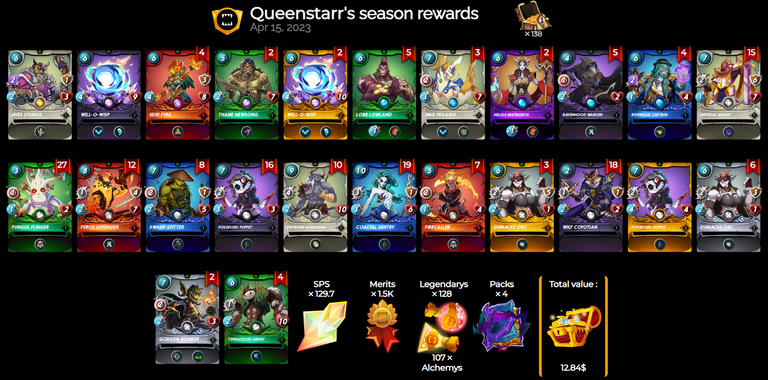 ---
I am very pleased with my End of Season rewards. especially having landed 9th, right on the border to earn me some DEC to help with rentals and some cards buying. Splinterlands is such a rewarding game, you shouldn't be missing out on these.


---
PURCHASED AND OPENED GLADIUS CASES
---
I used another 4,000 MERITS to purchase 2 gladius packs and threw them into mana well swirl, Behold;
---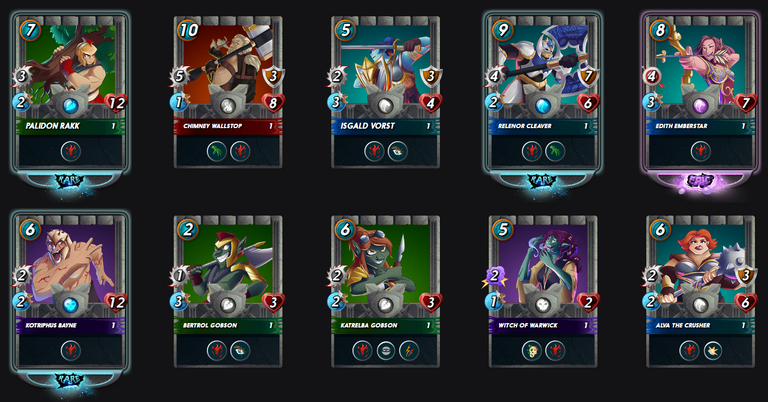 ---
I pulled 10 Gladiators, no multiple copies this time around but already got copies, so leveling up. I was pleased because I pulled an EPIC EDITH EMBERSTAR⭐️ of the Water splinter, and other amazing Bloodlust Gladiators in multiple copies for leveling up.

😆Alrighty, that will be all about this weeks Brawl battle report and social media challenge. If you want to know what's happening in the splinterverse or want take part in the Splinterlands' challenge or view other latest battle challenge by other Splinterlands warriors, simply visit 👉Splinterlands Social Media Page to stay up-to-date [🛎turn on notification🛎].
Crypto is pumping gradually, hopefully Moon Soon, 🍀MAY THE ODDS FOREVER BE IN OUR FAVOUR✊.

Worthy Notes:
✅POST COVER EDITED BY ME IN CANVO PRO WITH ALL IMAGES FROM WWW.SPLINTERLANDS.COM , ARTIST JPLENIO IN COVER TREE PATHWAY FROM PIXABAY
✅My gratitude to HIVE.PIZZA - PIZZA 1 STUFFED CRUST for guild support.
✅Click to Join the Hive Gaming Community to have fun and discuss with other Hive gamers.
✅Click to join Hive's House of Help community THE TERMINAL

✅Awesome Splinterlands Gold League page dividers by Nane-Qts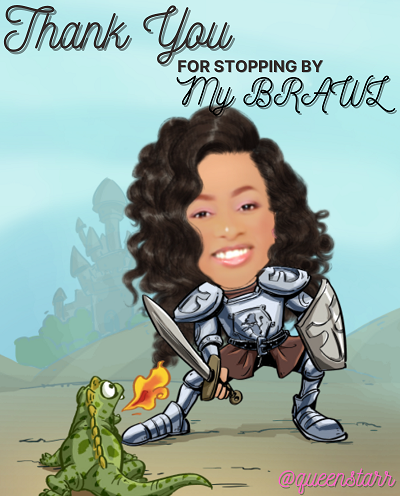 😊Until next Splinterlands Brawl, Hive, Vibe & Be Lucky🍀
All content is mine unless otherwise Noted

©2023
---
---