⚡️SPLINTERLANDS MEDIA : AN INTERVIEW WITH RUNEMANCER KYE⚡️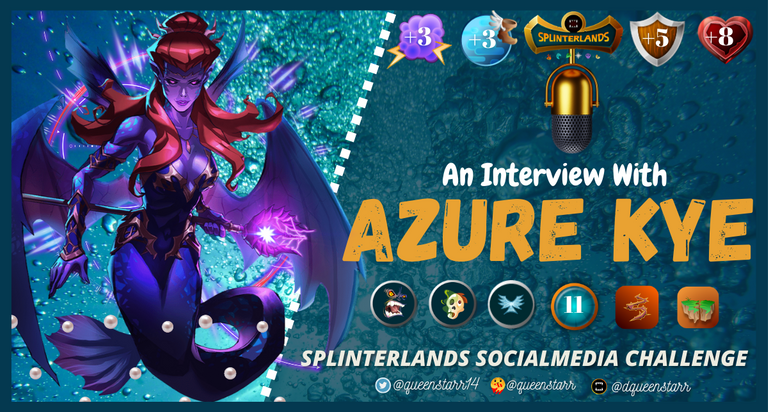 Hello Battle Mages! Welcome to another QS20.22 Radio Broadcast, and I hope your week is off to a fantastic start. It's Monday, and we celebrated Christmas yesterday🌲. HAPPY BOXING DAY🎁! I hope the battlefield has been kind to you as well, with just 3D:19H to the end of the season.
I'm super excited to have the Splinterlands renowned sorceress AZURE KYE on today's Live broadcast. AZURE who now wears the mantle of Runemancer, was chosen to follow in the footsteps of her predecessors and is well known all over Splinterlands as RUNEMANCER KYE. She is the first and only Legendary Water Monster emerging from the Riftwatchers.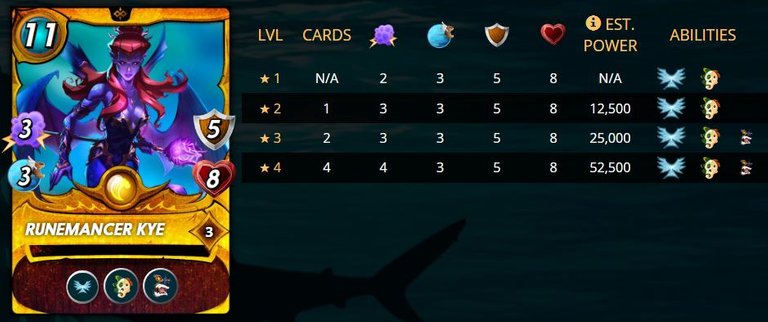 She is a valuable NFT and there is only 3,197 in circulation, pretty small amount if the total number of Battle mages is considered.
When confronted in battle, RUNEMANCER KYE comes with impressive skills, the

Flying ability to rain destruction over her enemies who don't possess same flying ability. This is an impressive new one, the

Fury ability which she uses to deal double damage to enemies who taunt her, and finally, the

Life Leech ability which she uses to increase her health each time she damages an enemy's monster health in proportion to the damage dealt. Her impressive abilities will make you grovel to have her on your side of the battlefield.
AZURE KYE is a Legendary card and cost 11 mana to employ in any battle. Her main advantage is the fact that she suits almost 70% rulesets, plus you only [even though 1 NFT doesn't come cheap] need 11 of her NFTs to max out🔥
---
---

You might want to know what an NFT of AZURE KYE cost in the open world? Her Level 2 Regular foil cost $56.70, whereas for same level, her gold foil cost a whooping $105. It is amazing how much this card goes for and You can buy or rent easily via SPLINTERLANDS or PEAKMONSTERS.

RADIO HOST🎙: "A warm welcome to QS 20.22 radio Live Broadcast Azure, and, I must say you look rather ravishing , with the whole cleavage in a sexy apparel, brilliant designer. It is a well known, that you spend your days in the sky and nights deep beneath the waves. You also hail from a very humble and Long lineage of warriors; would you mind telling us a little bit more about you?"📻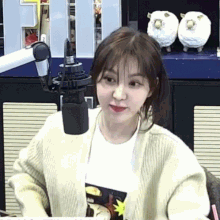 AZURE KYE:

"Growing up was sweet-sour, but I still treasure the stories told to me by grandparents, who raised me after my parents died. We were originally from a little world called Lemell, until the Chaos Legion's invasion caused my family to flee. I was only a child at the time of the invasion, but I recall a few incidents vividly."
RADIO HOST🎙: "My sincerest condolences for the loss of your parents. You mentioned your grandparents telling you stories about the chaos legion invasion. Could you share one of those stories?"📻
AZURE KYE:

"The invasion of the chaos legion is far from over. We're still at war, and time won't permit me to tell their stories, but I do have mine."
RADIO HOST🎙: "Kindly pardon my questions, the mages on air are curious about a formidable warrior who motivates so many to battle. I'd love to hear about your encounter with the Chaos legion, but first, could you tell us a little bit about your childhood?"📻
AZURE KYE:

"I suppose, like every other young lady in other worlds, trying to prove your worth is a tough challenge. I started battling at an early age and grew up to become the famed sorceress the Splinterlands today reveres."
RADIO HOST🎙: "That's rather intriguing! Azure, you have a fantastic talent for runemancy and have amassed a plethora of mana-infused weapons in your fight against the Chaos Legion. Would you like to elaborate?"📻
AZURE KYE:

"I've repeatedly proven myself by confronting the Chaos Legion army on various realms and challenging their armies with secretive, insurgent strategies. I've brought down a kraken by myself. All of these abilities are owing to my parents, who were masters and teachers of these skills before their demise."
RADIO HOST🎙: "And now you're here, having risen fast through the ranks of the Riftwatchers. Because of the passage of time, it is likely that laws have changed. Please tell us about your new position."📻
AZURE KYE:

"Indeed! The passage of time. After proving myself, I felt it was an easy decision to replace the old guard. It is an honor to follow in the footsteps of my predecessors and take on the mantle of a Runemancer. This is a massive responsibility, but it is well worth it."
RADIO HOST🎙: "Fascinating story of success Azure. You are no doubt a champion of the people, dedicating your life to stopping the Chaos Legion threat. Do you mind sharing with us a battle in which you were summoned in?"📻
AZURE KYE:

"Surely, since my arrival in the Splinterlands, I've been called into a few proper battles. There is one I'd share, It was a Barrier patch and Earthquake ruleset battle. Best I show you"

Using her staff, the source of her many powers, behold the battlefield;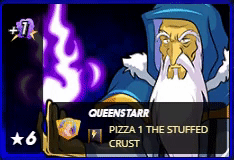 ALRIC STORMBRINGER is one of Splinterlands oldest Water Summoner who welds powerful magic attack against it's enemies. A Magic that can quickly deplete the enemies health points so that the battle lasts a few rounds but not too long. For this Battle I was pleased to be summoned by the great ALRIC STORMBRINGER and his inherent ability to grant a

+1 magic attack point which suits my attack type.
---
---
---
"Every Water battle needs a Friend", So, In front comes the formidable TORRENT FIEND, a zero-cost unit employed solely as a sacrifice unit to distract first strike from enemy. This warrior is positioned to deal with cunning enemy monsters who attack the front-line monster and usually these are powerful, you will need them to take their turn already. This warrior can take a blow or two if lucky, and I too was counting on this fact, not as an attacking unit per say, though it does have one melee attack. For the Battle, TORRENT FIEND became an Anti-Melee thanks to the Thorn Ability ruleset.
---
---
---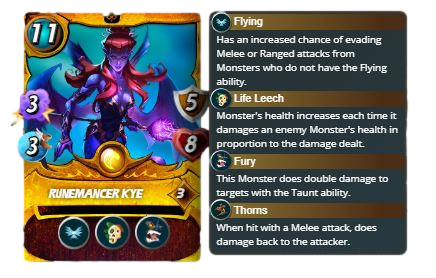 I was placed in second, to be honest, I would do well in first too. But grandpa Alric surely has a plan. This battle counted on my

Flying ability to rain destruction over enemies who don't fly and fiercely cause damage. Also, you never know when a Kraken steps forward, hence the

Fury ability will deal double damage when it taunts, and my

Life Leech ability is what I'll use to increase my health each time I deplete that of an enemy in proportion to the damage dealt.
---
---
---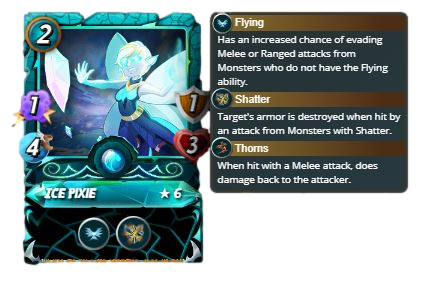 In final position came ICE PIXIE who can deal considerable magic damage to the enemy. ICE PIXIE mainly serves as a magic attacker that can attack from any position. Her

Flying ability will destroy non-flying melee and ranged attack enemies, while her

Shatter ability will destroy enemy armor when she attacks.
---

⚔️ THE BATTLE ⚔️
---
---
AZURE KYE:

"This battle was a 3 army against 6. The enemy called some competent warriors, including a water summoner Keyla Frendul, Cruel Sethropod, Pelacor Bandit, Merdaali Guardian, Uraeus, Torrent Fiend and Furious Chicken; not a terrible lineup. I guess this opponent believes in number more than significant Tanks. A fierce battle but there's just a few hits I'd like to point out and how each enemy got knocked out."
---
---
AZURE KYE:

"TORRENT FIEND made a bold assault on the Enemy's front-line monster, the Enemy-Cruel-Sethropod, causing some damage but finally succumbing as the Thorn took away it's health. Then there was an earthquake that harmed all monsters except myself and ICE PIXIE since we both could fly. Enemy-Pelacor-Bandit swooped down on it, taking down ICE PIXIE. This was the point at which I was the last warrior remaining; the fate of this battle was in my hands. I focused my aim on Enemy-Cruel-Sethropod and swiftly annihilated it, taking 4+ health points for myself. Another earthquake struck the battlefield, killing three enemies instantly. Enemy-Pelacor-Bandit mistook me for a weakling and brushed me, removing my protection, but the thorns didn't let him survive and he got killed instantaneously. Finally, Enemy-Merdaali-Guardian tried, healing up and such; I just stood there watching, and when I grew bored of the freak show, I cast a lethal spell, and she died instantly."
---
---
🌬💀🔥🍃🌊🐉⚔️FLAWLESS VICTORY!!!⚔️🐉🌊🍃🔥💀🌬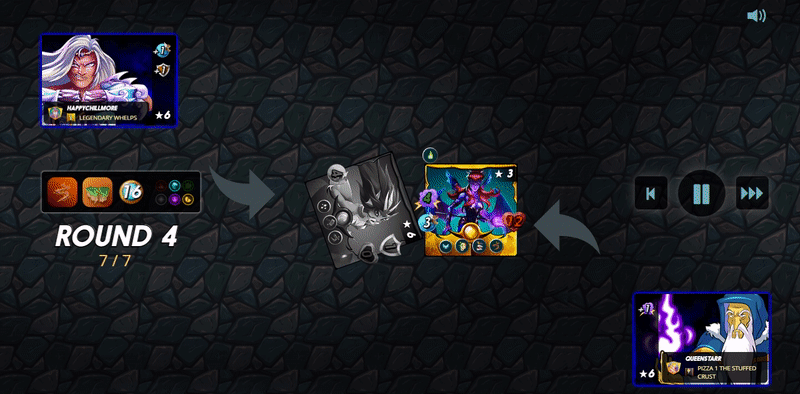 ---
---
RADIO HOST🎙: "I mean, whatever was going through this opponents mind, usually you would pick flying monsters in an earthquake ruleset and magic monsters to serve as an anti-melee. One would think that was obvious, o well, fascinating battle Azure. Is there anymore that Showcased the use of the other two abilities? I'm referring to the FURY and LIFE LEECH abilities?"📻
LUX VEGA:

"exceptionally well! Flying warriors are immune to the Earthquake ruleset's impact. Alric Stormbringer is an experienced summoner who knows just which warriors to summon into battle with him. Yes! I was pulled into an epic battle with Bulldog, a seasoned battle warrior. This was a fantastic battle that left me with almost 100 health points. Nothing seems impossible in the Splinterlands."
Splinterlands YouTube battle Source: @bulldog1205
---
---
RADIO HOST🎙: "Azure, this question just got sent in. Any Love interest or plans to start a family soon?"📻
AZURE KEY:

"That takes us further away from the battlefield. I've only just began my adventures in the Splinterlands; perhaps love and family are written in the stars for me, but for now, I battle for glory."
RADIO HOST🎙: "A standing ovation for you. A fantastic show of might, unmatched and unheard off, both battles worth mentioning AZURE KYE. It was lovely having you over and definitely will not be forgetting this encounter. We can't keep you any longer, the battlefield calls out to you."📻
AZURE KEY:

"Indeed!"
[Azure Kye using her powerful staff, seals up the opened portal, through which she communicated.]
RADIO HOST🎙: "Awesome, goosebumps! Well Battle mages, there you have it. A great time with the one and only Azure Kye. If you have summoned her into battle, please share your experience in the comments section. That's all for today's radio broadcast. Who would you like to hear next? Please let me know, and I will make it happen. You've been listening to QS 20.22 once again. Until next time, take control & brave on Mages!!!"📻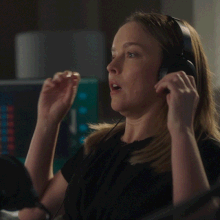 👉▶️CLICK ON THIS TO REPLAY FULL RUNEMANCER KYE BATTLE◀️👈
---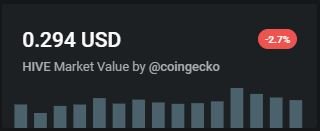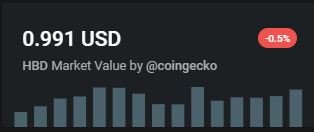 ---
In other news, 26TH-DECEMBER-2022, Crypto downtrend with BTC trading at $16,713.74 and seen a -2.7% in the last 24 hours🔻. Hive is stuck at $0.294, while HBD stays pegged to 0.991$✅. Maybe buy more Hive, never know when moon and you wouldn't want to be left behind. Let's see what this new week bring us.
🍀MAY THE ODDS FOREVER BE IN OUR FAVOUR✊
Disclaimer alert: I am not a Crypto or Splinterlands expert. This is Just me being real about my stuff✌️.
I hope you enjoyed the battle interview. If you want to know what's happening in the splinterverse or want take part in the Splinterlands' challenge or view other latest battle challenge by other Splinterlands warriors, simply visit 👉Splinterlands Social Media Page to stay up-to-date [🛎turn on notification🛎].
Worthy Notes:
✅POST COVER EDITED BY ME IN CANVA PRO WITH ALL IMAGES FROM WWW.SPLINTERLANDS.COM , CANVA PRO FREE WALLPAPERS.
✅My gratitude to THE PIMP HOUSE for the guild support.
✅Click to Join the Hive Gaming Community to have fun and discuss with other Hive gamers.
✅Click to join Hive's House of Help community THE TERMINAL
✅Splinterlands text dividers freely provided by @freeztag.
❤️🎁😘WISHING YOU AND YOURS A MERRY HOLIDAY SEASON AND PROPEROUS NEW YEAR😘🎁❤️
Until my next Splinterlands media, Hive, Vibe & Be Lucky🍀
All content is mine unless otherwise Noted
queenstarr ©2022
---
---