⚡️SPLINTERLANDS SOCIALMEDIA CHALLENGE : THE WRATH OF IMMORTALIS THE ETERNAL⚡️
🍃THINGS SELDOME STAY AS THEY SHOULD...🍃
---
The air was filled with the dread of an impending battle. The rules were strict: only Magic monsters with a limitation that their attack hits shield first before affecting health and Rise of the Commons were allowed to fight, both sides had to select their teams wisely.
Immortalis had chosen his team carefully, comprising of Goblin Psychic and Mushroom Seer, two of his most trusted allies. The trio stood poised and ready for battle as Enemy-Summoner Obsidian appeared with her own team, the Enemy-Prismatic Energy, and Enemy-Goblin Psychic.
With a fierce determination, Immortalis commanded his team into battle. Obsidian boosted her teams magical powers by +1, but Immortalis was ready, he would render it all void.


Shami, a green fat and well decorated Goblin, used his Psychic powers of Silence which reduced enemy's magic and affliction that caused the target enemy not to heal, he threw Prismatic Energy off balance, while Mushroom Seer unleashed a cloud of poisonous spores on it's target enemy.
As the battle raged on, Immortalis and his team refused to back down. They combined their powers to overwhelm the enemy, unleashing a barrage of spells and attacks until Enemy summoner-Obsidian, Enemy-Prismatic Energy, and Enemy-Goblin Psychic were defeated.
The team emerged victorious, Immortalis well known as Splinterlands summoner of all time stood tall. And though knowing that more challenges lay ahead, there was Arenas to conquer and an Undying Kron with Scared Llama to defeat, he was ready to face them with the same unwavering courage and determination that had brought him to victory this day.
🌬💀🔥🍃🌊🐉⚔️THE END⚔️🐉🌊🍃🔥💀🌬
👉▶️CLICK ON THIS TO REPLAY BATTLE◀️👈

⚔️PRESENTING THE HEROES OF BATTLE⚔️
---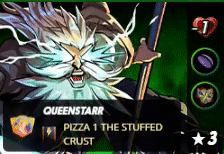 Splinterlands great IMMORTALIS, a powerful summoner with the supernatural ability to take away -1 Max Health

from enemies at start of battle, and grant the Void

and Shatter

ability. These abilities are lethal to it's enemies.
IMMORTALIS is an Anti-magic summoner in the sense that Magic Attacks are Lethal and can cut through armor and find their mark even against the swiftest of targets. Also, with this summoner, you need not labor against the enemies strengths, just seek to nullify their advantage by levelling the battlefield and obliterating them.
---
This is a Legendary Chaos Legion card edition and Regular foil cost $27.99 at current market. While for rentals this card goes for 2.9 Dec per day, Level 1 at 500CP. At max level this card goes for 350 Dec per day, Level 4 at 5,775CP.

The Gold foil his price goes up, costing $155 at current market. While for rentals card goes for 16.7 Dec per day, Level 2 at 12,500CP. At max level 4 card goes for 440 Dec at 52,500CP.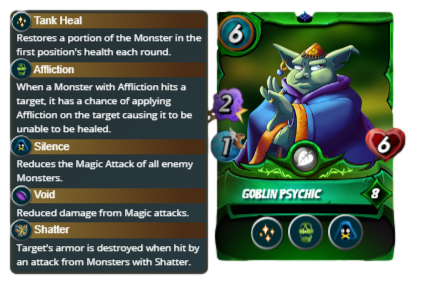 In first Line comes the formidable card GOBLIN PSYCHIC. A true tank healer and a powerful spellcaster warrior. His

Tank heal ability will help restore the health each round. Whereas he causes great Affliction

by making enemies wounds not heal. Finally he Silences

all magic enemies by reducing magic attacks.
---
GOBLIN PSYCHIC attack type is MAGIC, and it's part of the Earth Splinter. It cost 6-mana to use in battle , as a result, it's an excellent card on deck for all low-Mid mana battles.
I used a level 8 regular foil and it has

2-Magic,

1-Speed, and

6-Health
---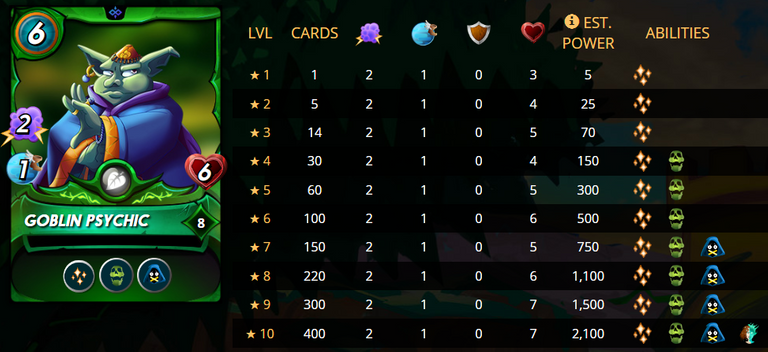 At level 1 This card has 2-Magic attacks at 1-speed and 6-health, with a starting ability of

Tank heal.
level 4 All starts remain but health drops to 4 point with an additional ability of Affliction

.
At Max level 8-MAX, however, This card gains additional power. All starts remain same but with a boost in health points to 7 and added two abilities of Silence

and Dispel

.
---
---
👉WHY I PICKED GOBLIN PYSCHIC
I picked GOBLIN PSYCHIC mainly because of his Affliction and Silence abilities which will really prove worthy as I figured my enemy must have a tank healer and definitely magic monsters as per ruleset.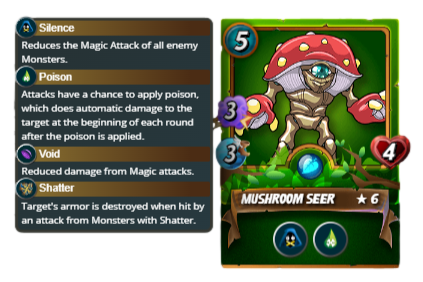 Next comes MUSHROOM SEER who spreads maddening spores everywhere his goes and very well dreaded in battle. This seer

Silences all magic enemies by reducing magic attacks, and finally

Poisons them which does automatic damage to the enemies at the start of each round once applied.
---
MUSHROOM SEER attack type is MAGIC, and it's part of the Earth Splinter. It cost 5-mana to use in battle , as a result, it's an excellent card on deck for all low-Mid mana battles.
I used a level 6 regular foil and it has

3-Magic,

3-Speed, and

4-Health
---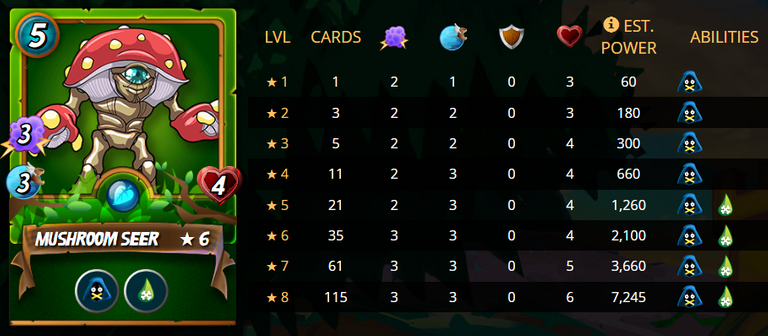 At level 1 This card has 2-Magic attacks at 1-speed and 3-health, with a starting ability of Silence

.
At Max level 8-MAX, however, This card gains additional power. It's Magic is boosted to 3 and health to 6. In addition to the previous ability, it gains the

Poison ability.
---
---
👉WHY I PICKED MUSHROOM SEER
I picked MUSHROOM SEER because of it's Poison ability. It will destroy their health at start of each round in battle because the monster in front causes them not to heal, Lethal weaponry.

---
⚔️MY THOUGHT ON THE BATTLE⚔️
---
---
The Battle came with three (3) Rulesets. As much as I fancy the Magic ruleset, these made me slow down to think of the best monsters possible in 2 minutes. These were rules of battle👇
✅WANDS OUT:
Only Magic
monsters may be
used in battles✅
✅WEAK MAGIC: Magic
attacks hit Armor before
reducing Health.✅
✅RISE OF THE COMMONS:
Only common and rare monsters
may be used in battle.✅
---
It was almost the perfect Ruleset for IMMORTALIS, GOBLIN PYSCHIC & MUSHROOM SEER in a low manna battle

.
Now, it's best to note that I am not a Splinterlands Guru but I try to attempt explaining things in simple terms or as i know hw to. Here's a few points to note down;
In a Wands Out Battle, Only Magic Monsters are allowed in combat. This ruleset alone should make you realize that your best move should be to pick monsters with the Void ability or best Summoners such as Immortalis to give all your monsters the Void ability which cancels out magic spells attack.

In a Weak Magic battle, Lethal magic attacks hits monsters armor before affecting it's health, hence you will need to go for monsters with high defense or pick Summoners like Wizard of Eastwood who gives +1 shield protection to all team monsters.

In a Rise of the Commons battle, The most sophisticated of monsters who usually are from the Legendary or Epic rarities aren't allowed in battles, but you can use sophisticated Legendary summoners like Immortalis with impeccable abilities as demonstrated in this battle.

Now bring all these three (3) rulesets in one battle and we have ourselves a strategy. First is to make Magic your focus, top priority, Bring in the VOIDS to serve as defenders. Then next, since I was limited to choice of monsters and had non with Shields, I went to Poison and Affliction as my strikers. This is almost undefeatable in battle, team Line up was pretty decent and I thoroughly enjoyed this battle.
---

Splinterlands release notes as seen here👉 https://docs.splinterlands.com/platform/release-notes#2023-03-21 came with a pleasant surprise for SPS Stakers, this only makes me glad that i started staking powering up SPS before now. Although i had 8k staked SPS, I decided to get 5 copies to level it up to 2, I'll seek ways to get it to level 8 soon🤞. This card sure is an interesting one and I look forward to writing my thoughts about it soon. I also hope there will be more of such reward cards to encourage staking, need up to 20k staked so I can participate in good tournaments too.

😆Alrighty, that will be all about this weeks social media battle. If you want to know what's happening in the splinterverse or want take part in the Splinterlands' challenge or view other latest battle challenge by other Splinterlands warriors, simply visit 👉Splinterlands Social Media Page to stay up-to-date [🛎turn on notification🛎].
Crypto is down again, we are anticipating the bitcoin hardfork which should happen middle next year 2024.
🍀MAY THE ODDS FOREVER BE IN OUR FAVOUR✊
Worthy Notes:
✅POST COVER EDITED BY ME IN CANVO PRO WITH ALL IMAGES FROM WWW.SPLINTERLANDS.COM , ARTIST Darkmoon_Art FROM PIXABAY
✅My gratitude to THE PIMP HOUSE & 🍕PIZZA 1 THE STUFFED CRUST for the guild support.
✅Click to Join the Hive Gaming Community to have fun and discuss with other Hive gamers.
✅Click to join Hive's House of Help community THE TERMINAL

✅Splinterlands battle text dividers freely provided by @freeztag. and Lore text Page divider by www.splinterlands.com
😊Thank you for stopping by my battle Tale. Until next Splinterlands Social Media Challenge, Hive, Vibe & Be Lucky🍀
All content is mine unless otherwise Noted
queenstarr ©2023
---
---