⚡️SPLINTERLANDS SOULBOUND: ETERNAN'S GAMBIT EXPOSES FINA VOXOM'S BLOODLUST⚡️
🧙‍♀️Hey Battle Mages!
I'd like to extend a warm welcome to another of my Splinterlands Battlogue. We are now down to 11DAYS: 17HOURS to EOS [End of Season] and I haven't played much the past 2 days in other to recharge my Energy bar, but, I will get on the battlefield again tonight🤞. It's been tough keeping up especially in this bear market; I sincerely hope you're doing well my friend.
From my precious weekly blogs, I've shared with you my Brawls, SPS & CL challenges. It's true that Splinterlands mainly encourages players to try out various strategies; I have been doing that to my level best if you've been following, and it's a rewarding experience because I keep learning new cards, their abilities, and how to best engage them in battle. This post isn't about rulesets, I'm here to introduce you to another set of SOULBOUND & GLADIATOR MONSTERS and have the perfect battle for this purpose.

📜THE LEGENDARY MELEE BATTLE OF SPLINTERLANDS: THE MIGHT OF SOULBOUND & GLADIATOR MONSTER📜
---
Discover the epic tale of the Soulbound & Gladiator cards: Summoner Eternan Brune, Fina Voxom, and Ferox Defender.
---

Splinterlands is not just about collecting cards and battling; it's about the epic tales, strategies, and legends that unfold with each game. The introduction of the Soulbound cards that can be paired with Gladiator Cards in ranked battles has brought even more excitement, and strategy to the game. Today, we will dive into a thrilling battle featuring these mighty cards and unravel the strategies behind their victory.
---
📌TIPS TO NOTE ABOUT THIS BATTLES RULESET📌
| BATTLE RULESET | The Battle was set at a Mana Cap |
| --- | --- |
| | UP CLOSE & PERSONAL: The true test of might, where only the strong dare to tread. What it means: Only Monsters with Melee attack can engage in battles. It brings the combatants face-to-face, eliminating any ranged advantages. Strategy tip: Choose a summoner that amplifies melee attacks. Shield team or Unshield the enemy. Opportunity help take down enemies from any position. |
| | BORN AGAIN: From the ashes, they rise again. No warrior truly falls till their spirit remains. What it means: Every fallen monster gets a second chance with the Rebirth ability. They self-resurrect with 1 Health once per battle, making it essential to strategically take down enemies that could be troublesome if reborn. Strategy tip: It's not just about defeating an enemy; it's about timing. If a potent enemy resurrects at a crucial moment, it can turn the tide of battle. Plan your attacks to ensure dangerous foes don't come back at the wrong time. |
| | SPREADING FURY: Anger is a gift, and in the heat of battle, it becomes the ultimate weapon. What it means: All monsters are imbued with the Enrage ability. When damaged, they gain increased Melee attack and Speed. The values are multiplied by 1.5 and then rounded up. Strategy tip: This ruleset offers a double-edged sword. While your monsters get stronger when damaged, so do your enemies. Melee monsters with Sneak and Opportunity abilities can be crucial in the back row, capitalizing on this newfound strength. Aim to strike hard and capitalize on the increased power, but remember: a wounded enemy can strike back even harder. |
| AVAILABLE ELEMENT | only Fire🔥, Water🌊, Earth🍃, and Death☠️ elements allowed in battle |

📜THE GREAT BATTLE MAGE'S STRATEGY📜
---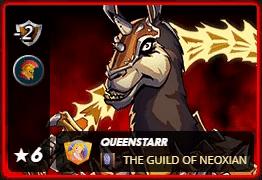 The summoner who carries the weight of Soulbound warriors into battle. ETERNAN is known for his unique ability to strip away -2 defenses from enemies and allowing one Gladiator into the battlefield. His presence was the key to orchestrating my strategy.
---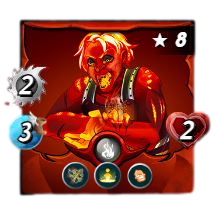 At the frontline stood the resilient RADIATED SCORCHER, a melee monster with the Shatter ability. His primary job? To destroy any defense mechanisms my enemies had.
---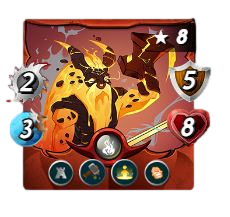 The steadfast protector with a heart of flames. FEROX DEFENDER held the secondary line with its Protect and Repair abilities, vital for reinforcing my team's defense, followed closely by the star of the evening, the legendary gladiator, FINA VOXOM.
---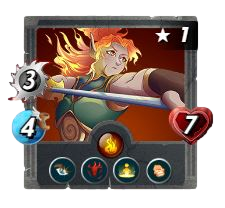 At just level 1, GLADIATOR FINA VOXOM, a warrior whose spirit only intensifies with every challenge. With her Opportunity and Bloodlust abilities, every enemy's defeat enhanced her stats, making her a growing storm of power and precision.
---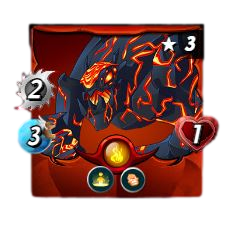 Hailing from the Fire Splinter, the SCORCH FIEND is a creature born from the very essence of flames. This Fiend is a zero mana monster that possesses no ability at this level 3. This monster is placed to absorb damage and well, as per ruleset, now gains the Rebirth and Enrage abilities.

📜THE LEGENDARY BATTLE📜
---
---
As the dust swirled and the two teams faced off, summoner ETERNAN BRUNE began by weakening the enemy's defenses, stripping away 2 points of shield. However, the Enemy-summoner Keyla Frendul quickly responded, bolstering her team's speed and partially restoring the shield.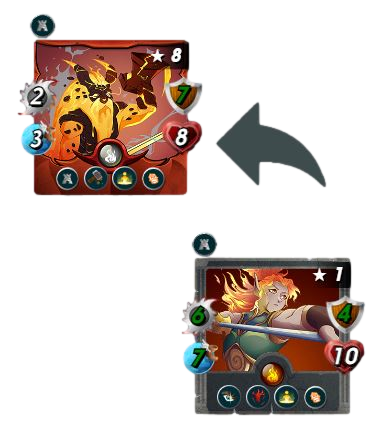 Placed at the frontline, RADIATED SCORCHER stood, ready with its Shatter ability, intending to break the armor of the approaching adversaries. Behind, the FEROX DEFENDER stood tall, ready to harness its Protect and Repair abilities, ensuring it's team stayed shielded and armored.
The drama unfolded rapidly. The enemy's Uraeus struck, taking down the SCORCH FIEND. But thanks to the Born again ruleset, the Fiend resurrected, its fiery spirit undiminished. Attacks came thick and fast, with the FEROX DEFENDER distributing protection, ensuring its teammates remained a formidable barrier against the onslaught.
---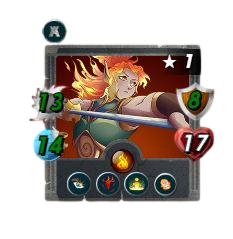 Amidst the chaos, the gladiator FINA VOXOM was the shining star. With each strike she landed, her Bloodlust abilities amplified her strength. Every fallen enemy not only boosted her stats but also intensified her rage, turning her into an unstoppable force. By the end of the rounds, this rising Gladiator had amassed a staggering 11 Melee points, 12 Speed points, 4 Armor, and 15 Health.
Despite the odds stacked against them, the coordination between FEROX DEFENDER and FINA VOXOM was outstanding. The Defender would tactically weaken an opponent, setting them up for the Gladiator's fatal blow. This manner of weakening and annihilation continued until they whittled down the enemy forces, one after the other. The battlefield echoed with the roars of victory as the duo showcased their unmatched duo, laying waste to those who dared challenge them.
---
▶️LINK TO WATCH THIS BATTLE ON SPLINTERLANDS◀️
THE BRILLIANT SOULBOUND & GLADIATOR CARD HEROS
---
This legendary battle cemented the bravery of the Soulbound and Gladiator Cards in the core of Splinterlands history. Summoner Eternan Brune, Fina Voxom, and Ferox Defender have proven that they are not just cards, but legends in their own right. Their unique abilities and the strategy behind using them make them invaluable assets in the game. These cards are a testament to the ever-evolving and exciting world of Splinterlands. Now Let's take a look at each card below.
---


---
| | | |
| --- | --- | --- |
| FEROX DEFENDER is a Common card who isn't so common. He is a Melee attack monster with impressive stats of 7-Health points, 1-Melee, 2-Speed and 4-Defense and starting ability of Protect at Level 1. He becomes even more lethal when he gets to level 10, having a 3-Melee, 3-Speed, 5- Defense and 8-Health points, topped with repair and shatter abilities. This Card works perfectly well when paired with ETERNA BRUNE or PLADO summoner. |      | FINA VOXOM is a Legendary card who is now one of my fire favourite, beautiful gladiator. She has no defense points but surely got impressive stats of 7-Health points, 4-Speed and 3-Melee and starting abilities of Bloodlust and Opportunity. She gets even more impressive at level 4, with 4-Melee, 4-Speed, 7- Health and added 3 more abilities of Piercing, Stun and Redemption. I absolutely adore this card now and glad I could pull that from a gladius case. |
---
This battle made me appreciate these cards [I'm not a fan of the fire element] and glad to have used them all in battle. The bravery displayed by FEROX DEFENDER and GLADIATOR FINA VOXOM was nothing short of extraordinary. While the Defender exemplified resilience and strategic brilliance, the Gladiator symbolized raw power and unbeatable spirit. Their combination which was only made possible by SUMMONER ETERNAN BRUNE, made them an almost invincible force on the battlefield.
You can visit my last post where I showcased my last Most wanted Soulbound Monsters, these monsters not only elevate your gameplay but also bring a fresh perspective to strategy and team lineup.
---
⚠️The Born Again Ruleset goes amazing well with Bloodlust Monsters. Also In an Up close & Personal or Weak Magic, always make sure to Monster(s) with the Repair and Protect abilities.⚠️
---

If you want to know what else is happening in the splinterverse or want to take part in the Splinterlands' challenge or view other latest battle challenge by other Splinterlands warriors, simply visit 👉Splinterlands Social Media Page to stay up-to-date [🛎turn on notification🛎].
🍀MAY THE ODDS FOREVER BE IN OUR FAVOUR✊
---
Worthy Notes:
✅POST COVER EDITED BY ME IN CANVO PRO WITH ALL IMAGES FROM WWW.SPLINTERLANDS.COM and WWW.BARONSTOOLBOX.COM
✅Want to know more about Hive Blockchain? Click to join Hive's House of Help community THE TERMINAL



😊Thank you and Until next Splinterlands Challenge, Hive, Vibe & Be Lucky🍀
All content is mine unless otherwise Noted

©2023
Posted using Neoxian City
---
---