⚔️SHARE YOUR BATTLE WEEKLY CHALLENGE : CARRION SHADE⚔️
---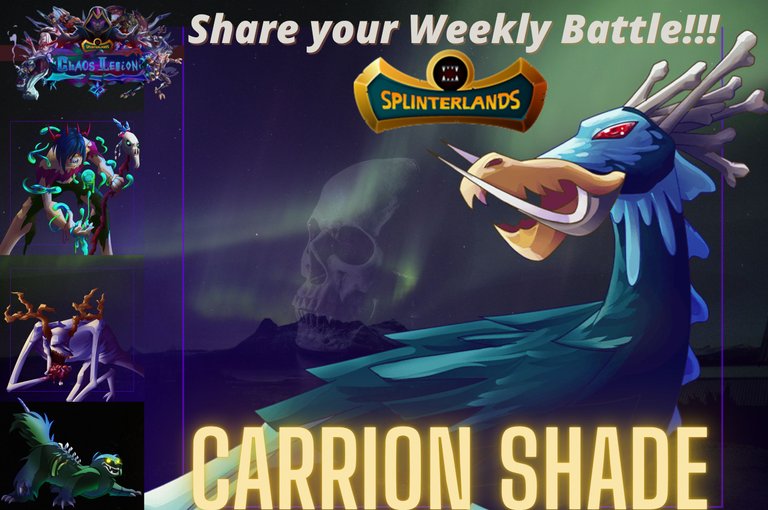 ---

😊Hello There!
This is my weekly battle with the theme card CARRION SHADE. If you wish to participate, simply go to 👉SHARE YOUR BATTLE Weekly Challenge! CARRION SHADE.
| THEME CARD INFORMATION: CARRION SHADE | |
| --- | --- |
| EDITION | CHAOS |
| RARITY | COMMON |
| ELEMENT | DEATH |
| MANA COST | 1 POINTS |
| ATTACK | MELEE |
| ABILITIES | VOID |
CARRION SHADE is a very simple card. The first thing that amazes you about Carrion Shade, and maybe the card's value, is that it just costs a single point of mana, making it useful as a little tank to take the initial enemy hit or as a late card to shield the star of the second row. Aside from that, I don't think a basic card in the death deck has much else to offer.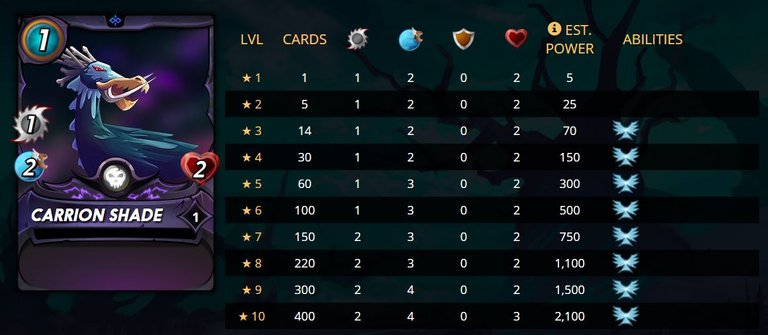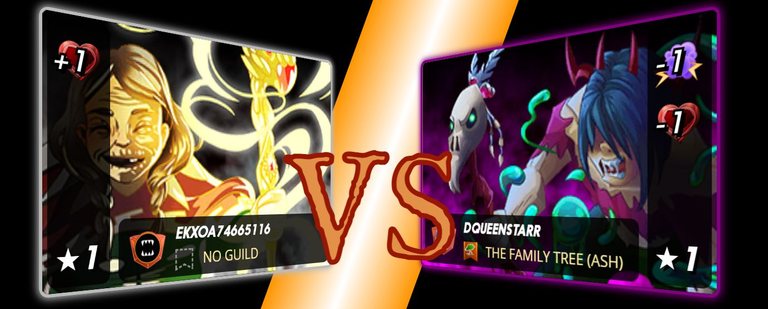 | RULE SET | |
| --- | --- |
| STANDARD | NO MODIFICATION TO THE STANDARD GAMEPLAY RULES AND MECHANICS |
| MANA CAPACITY | 13 |
| AVAILABLE ELEMENT | ALL |
"That has got to be some serious challenge," I thought as I was greeted with a mana of 13. I wasn't sure if I'd win, o well, I lined up with my team with the timer on.

| BUFF | SUMMONER | ELEMENT | STRATEGY |
| --- | --- | --- | --- |
| 4point Mana, -1 Magic, -1 Health | | DEATH | Because the majority of the monsters in Low Mana Cap have low HP (4-5 max), the minus 1 HP could be significant. I am going with the Death element THADDIUS BROOD as a Summoner. |
| POSITION | CARD | ABILITY | STRATEGY |
| Front-line | | VOID | A decent card already introduced as the themed card. A monster you can spend without having in your deck without any problem. |
| Second-line | | THORNS | When the thorn ability is used and the attacker is hit with a melee attack, the attacker takes damage. It's a strong defensive tank with a lot of HP. |
| Third-line | | SNEAK | With 3 speed points for only two mana, this Undead Badger is a very valuable card. His brief life is a drawback for him. However, thanks to his sneak ability, he was able to enjoy crushing opponent cards every round of the combat due to a mistake in the opponent's lineup. |

ROUND 1
Opponent used the Life element MOTHER KHALA as Summoner, BLINDING REFLECTOR in first position, STITCH LEECH in second position, GARGOYA SCRAPPER in third position and SCAVO HIRELING in fourth position.

Round 1 started with +1 Health boost by summoner MOTHER KHALA to opponents monsters.

UNDEAD BADGER launches the first attack on SCAVO HIRELING and kills it.

Finally BLINDING REFLECTOR launches an attack on CARRION SHADE and kills my themed card, this end round 1.
ROUND 2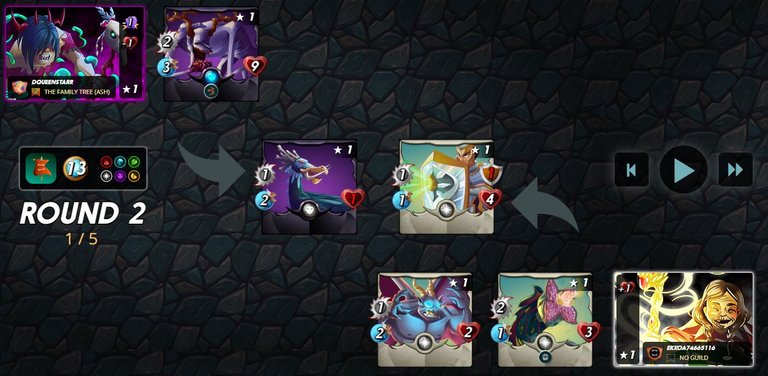 STITCH LEECH launches an attack on CURSED WINDEKU and gets cursed too.

Finally CURSED WINDEKU attacks BLINDING REFLECTOR and weakens it, this end round 2.
ROUND 3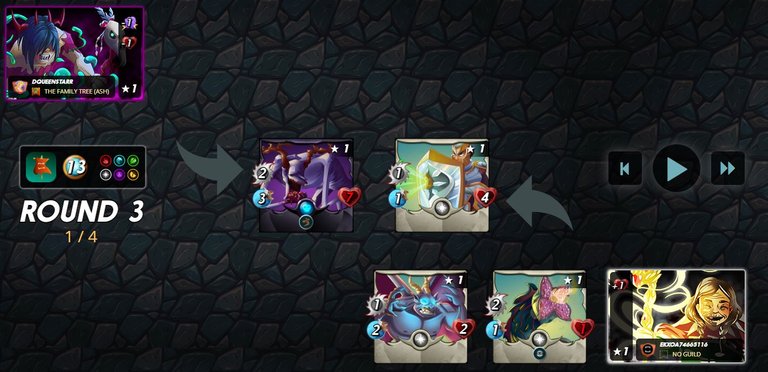 STITCH LEECH misses it's attack on CURSED WINDEKU, this end round 3.
ROUND 4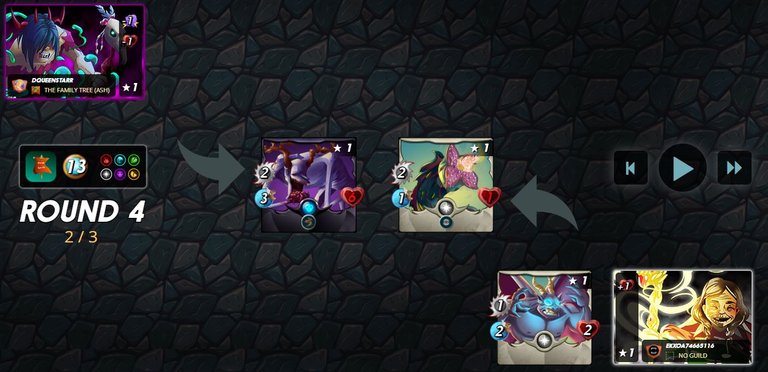 CURSED WINDEKU attacks BLINDING REFLECTOR and kills it, this end round 4.
ROUND 5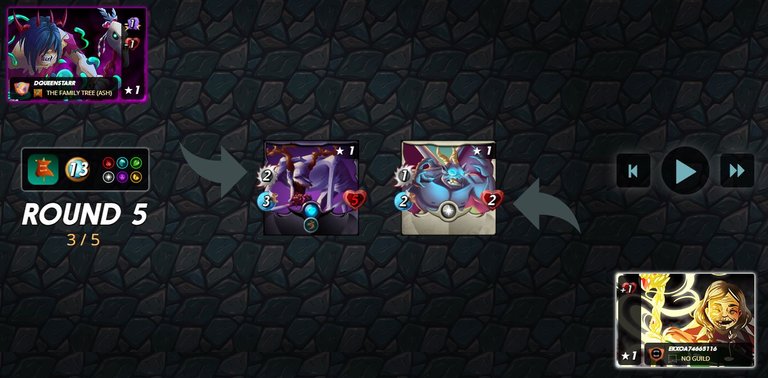 STITCH LEECH attacks CURSED WINDEKU, gets cursed and dies.
GARGOYA SCRAPPER attacks CURSED WINDEKU, gets cursed and dies too.
FINAL RESULT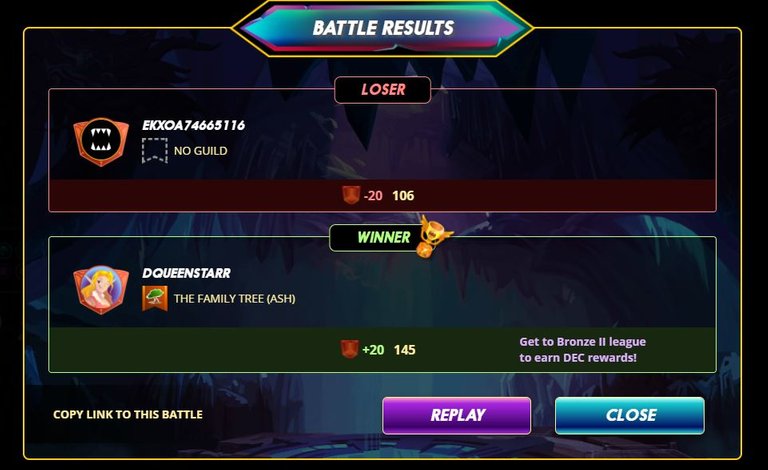 The Battle ends in FLAWLESS VICTORY!!!

DID MY STRATEGY WORK?
YES! I Won! but i wished that CARRION SHADE managed to survive till the end. But then Yay Victory!⚔️**

CONCLUSION AND WHAT I WOULD'VE DONE DIFFERENTLY?
In the Death element, the CARRION SHADE is a very basic card that hardly improves with leveling up and has no other usage other than in a very narrow sacrifice situation. The fact that it barely improves makes this card, in my opinion is abit frustrating.

I will keep seeking more ways to engage this Monster.
😊That will be all about my weekly battle with *** CARRION SHADE*** as the themed card⚔️
😊Splinterlands is a well-known NFT #play2earn game and if you wish to play, you can use my referral link by CLICKING HERE👈

✅All the images are taken from my in-game at WWW.SPLINTERLANDS.COM
✅LINK TO MY BATTLE
✅Awesome Text dividers by @nane-qts via #pagedividers in @theterminal's discord server.
✅My gratitude to @saffisara and @enginewitty for the card gifts.
✅Thumbnail edited in CANVA.COM with Splinterlands images.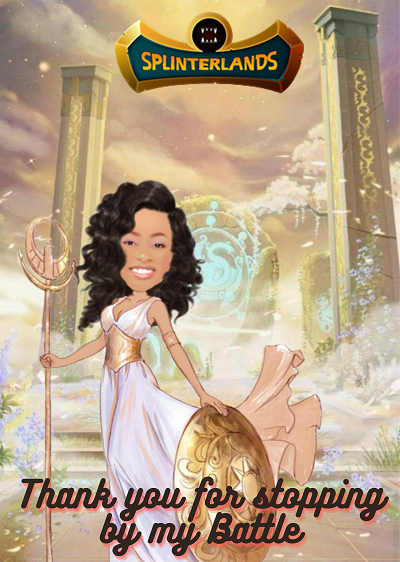 😊Until next Splinterlands Battle, Hive, Vibe and Be Lucky🍀
All content is mine unless otherwise Noted
queenstarr ©2022
---
▶️ 3Speak
---
---