Awesome Dragon battle versus Water
Hey there fellow Splinterland fans, how are you doing? I'm Question23 and here i am again, this time i'm going to show you guys a battle i just had using the summoner Drake of Arnak versus an Alric Stormbringer. I chose this summoner because i liek the design of the card and because it gives me one point in armor and i can choose any element so sometimes i can get my enemies with a little bit of surprise effect.
You can check the fight out at this link
https://splinterlands.com?p=battle&id=sl_5a967cfbd9ef29113f732c97d1050be9&ref=question23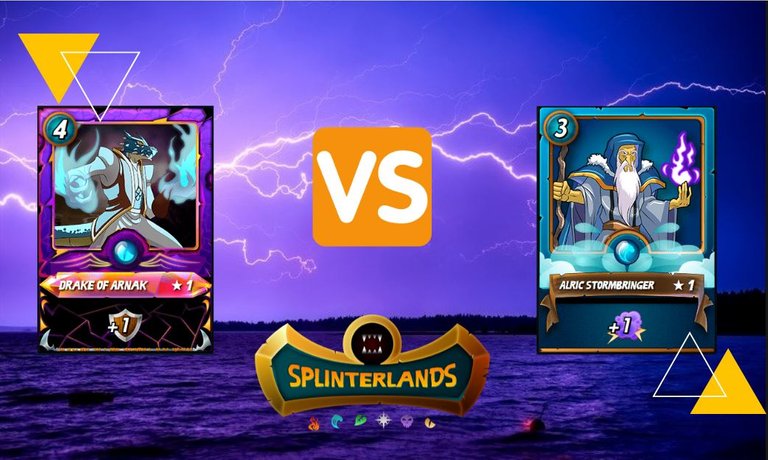 As soon as i saw his composition i just froze, because that's a really strong summoner and he played strong cards, so i was kinda doubtful that my strategy would work, my summoner power wouldn't have a lot of effectiveness because there was a lot of magic damage in the other team, and it denies armor. He used Spineback Turtle and i think that Spineback turtle is such a great card because it tanks a lot of damage and doesn't cost much, so you still have mana for more cards, differently from serpent of eld that has that crazy dodge effect, but costs much more mana.
[Source](www.splinterlands.com)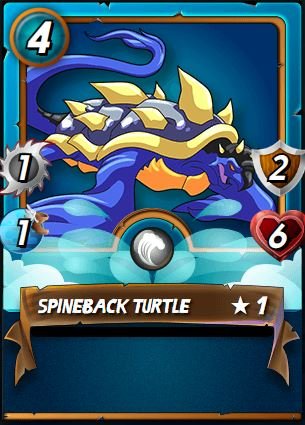 [Source](www.splinterlands.com)     

I often use this cards because of its tankiness, (and you will see the reason in the battle)
So the enemy used a lot of magic damage cards, a strong tank and that crazy water elemental, a card that recovers health each round so becomes hard to take out.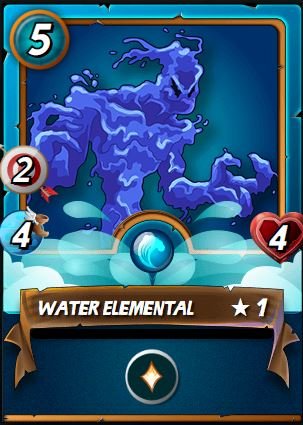 His deck also had a lot of mages hitting from behind, so i knew i was gonna take a lot of damage and still have to deal with the tank in the first position.

[Source](www.splinterlands.com)     

Those mages were a real menace, they would give me a lot of damage if i didn't take them out fast.
Gladly... I put a lot of assassins in the back of my team, it was the perfect responde for those powerful but fragile mages. In the firt round my Skeleton Assassin already neutralized that buffed Ice Pixie before she could attack, we almost killed the Water elemental before he could heal and hit again, but he survived with one point of life. We took some shots from the Medusa, Elven Mystic and Enchanted Pixie but were able to survive, My haunted Spirit took a lot of shots but could survive to heal itself for the next round, but he couldn't survive the start of the second round, fortunately the Enchanted pixie of the other team was wiped out too.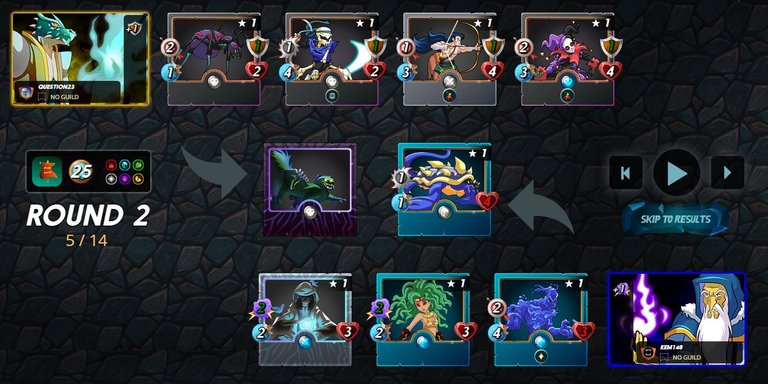 [Source](www.splinterlands.com)     

At this point i didn't know if my team was going to be able to tank the rest of the attacks, i thought my Haunted Spirit would stand those attacks but he left way too early. My chance was to eliminate the backline and deal with the tank later. And that's what happened, my Twisted Jester and
Centaur eliminated the Water Elemental that would be in the backline healing everytime.
The battle continued and my cards were getting demolished, because they weren't supposed to tank, and i couldn't trespass the tankiness of that Spineback Turtle. Fortunately i just killed the Medusa so i was getting less hits, and a little bit later i could kill the Elven Mystic, leaving only the Tank to deal with, Fortunately he missed an attack on my centaur, then we could give him the final blows and sealed the battle.
---
---