Almo Cambio - The Legendary Idler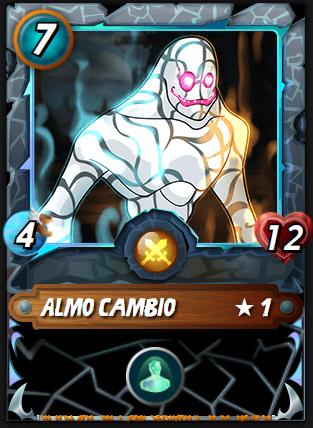 Alright so today I would wish to share with everyone on Almo Cambio, the first Legendary card that I earned from this game through a normal daily quest. It got me really puzzled, how on earth is this a Legendary. After doing a bit of study on this, then I am beginning to better understand.
Almo Cambio is a 7 Mana, 0 Damage and 12 Health Monster. Whatever level it gets to, it still remains at 0 Damage. Therefore, this probably is the first and only Legendary (apart from summoners) that inflicts 0 Damage. Nevertheless, it has this very unique ability, "Immunity".
Now I am still at Silver 3, so I have yet to explore the higher level gameplay. But for this special Immunity ability, it allows me to do one thing, and that is to receive 0 damage from Noxious Fumes. During match conditions like Noxious Fumes, every single monster is bound to receive 2 damage per turn (ignores armour) except for monsters with Immunity. Meaning, you can put Almo Cambio in, and watch all your enemies die as they deduct 2 Health every turn. With it's high amount of Health, Almo Cambio can also take a couple of hits as it stares it's opponent (with an evil smile if I may add) take 2 damage every turn and suicide.
Since then, I have been using Almo Cambio every single match as long as there is Noxious Fumes involved, as long as there are enough Mana for the match that is. Also, it is wonderful to pair Almo Cambio with a ranged creature that has Heal, so that it can continue to heal itself from the backline while dishing damage. Instead, Almo Cambio will once again just grin and smile as it watches the opponent monster dies off.
---
---