MY SPLINTER-STORY 005 - SHARE YOUR BATTLE CHALLENGE - VENARI SP[ELLSMITH

Hello Co-Splinterlands Players!
This is my "SHARE YOUR BATTLE CHALLENGE" post for this week for #Splinterlands with a theme monster:

Venari Spellsmith is a Magic Neutral Splinter Rare Card that cost 4 mana. This card is also part of the ongoing event of Chaos Legion Card Set. Below are the Stats of the Venari Spellsmith Card :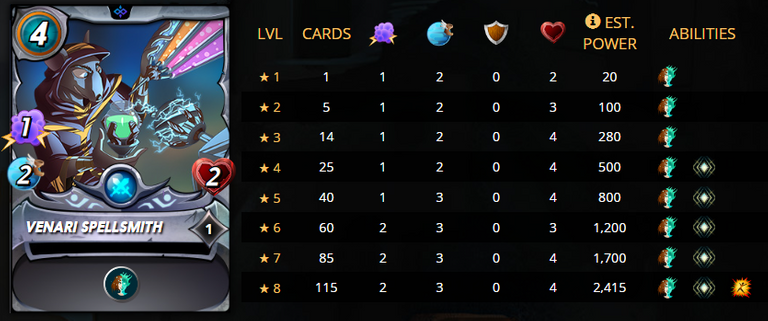 | | |
| --- | --- |
| At Level 1 | V. Spellsmith has 1 Magic Damage, 2 Speed, 0 Shield, 2 HP and the Dispel Ability |
| | DISPEL - When this monster hit an enemy, it clears all positive status effects on that enemy |
| Magic Damage | will increase at Level 6 |
| Speed | will increase at Level 5 |
| Shield | will not get any |
| HP | will increase at Level 2 and 3 but will decrease at Level 6 and will increase again at Level 7 |
| At Level 4 | V. Spellsmith will have the Amplify Ability |
| | AMPLIFY - Increases Magic Reflect, Return Fire, and Thorns damage to all enemy monsters by 1 |
| At Level 8 | V. Spellsmith will have the Redemption Ability |
| | REDEMPTION - When this Monster dies, it does 1 damage to all enemy monsters |

ᙏY ᙖᗩTTᒪᙓ ᖇᙓᐯIᙓᙎ
RULE SETS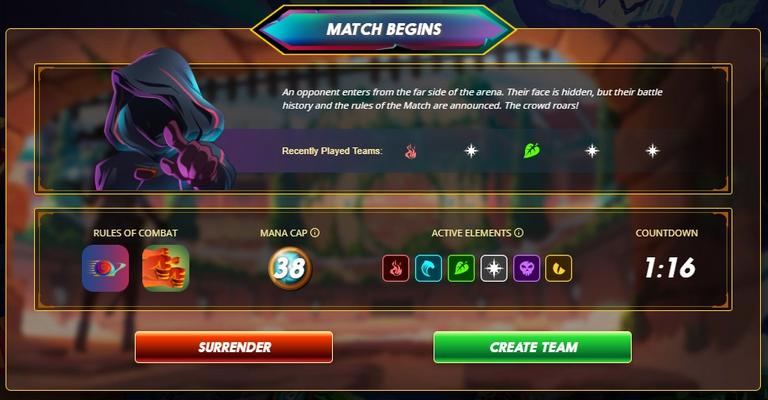 | | |
| --- | --- |
| REVERSED SPEED | - Monsters with the lowest Speed attack first and have the highest chance of evading attacks. |
| HEAVY HITTERS | - All Monsters have the Knock Out ability. |
| MANA CAP | - 38 |
| AVAILABLE SPLINTER | - All Splinters |
As you can see, my opponent likes to use the Life Splinter. His line-up ussually revolves around Shieldbearer and a lots of Revive Ability. Because of this I decided to go with a Magic Lineup to burst him down.
---
MY LINE UP
POSITION

CARD

REMARKS

SUMMONER

As I mention above, I will use Magic Lineup therefore I choose Obsidian as the summoner to buff the Magic Damage.
MONSTERS:

1

I chose Unicorn Mustang as my Tank because he can withstand Magic Damage with his Void Ability and can also withstand other damages with his High HP. I predicted that my opponent will have a combo of magic and melee damage because he might use Shieldbearer and Revive Ability.

2

I chose Prismatic Energy as my Off-Tank to utilize its ability, Reflect. Together with Venari Spellsmith Ability Amplify, the damage of Reflect will be up by 1.

3

Mushroom Seer's Weaken Ability will deduct the opponents monster's Magic Damages by 1. This will help to sustain Unicorn Mustang.
Mushroom Seer has 2 damage plus 1 because of Obsidian's buff which makes it 3 will be a relevant source for my offence.

4

Goblin Psychic for his Tank Heal to sustain Unicorn Mustang and if ever, Prismatic Energy.
Like Mushroom Seer, G.Psychic also has 2 damage plus 1 again because of the buff of Obsidian will make it 3, which will be also relevant for my offence

5

Venari Spellsmith abilities will be a big help to win this battle. His Dispel to erase any buffs to the Tank and his Amplify that will blend with Prismatic Energy's Reflect.

6

Earth Elemental HP and his Heal Ability will be perfect for the last position to serve as protection for V. Spellsmith if there will be a Sneak Barage attack
---
THE BATTLE
As predicted, my opponent used a Life Splinter with Shieldbearer and Revive as his strategy.
| Summoner | Tyrus Paladium |
| --- | --- |
| Monsters: | |
| Position 1 | Shieldbearer |
| Position 2 | High Priest Darius |
| Position 3 | Adelaide Brightwing |
| Position 4 | Stitch Leech |
| Position 5 | Divine Healer |
| Position 6 | Venari Crystalsmith |


ROUND 1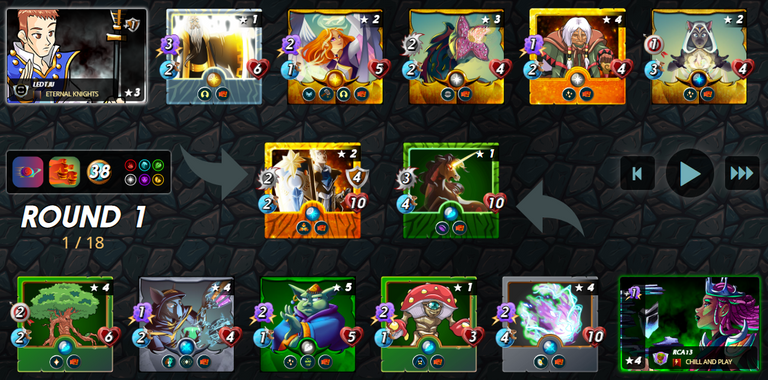 Because of the Reversed Speed Rule, Goblin Psychic attacks first. On just the 1st attack of G.Psychic to Shieldbearer, the Affliction Ability already activates, because of this Shieldbearer cannot be healed resulting to his 1st Elimination but then Revive by High Priest Darius.
Stitch Leech 2 damage attack cannot really do damage to Earth Elemental because it will just return with 2 HP healing. This is also the case for Unicorn Mustang. Since the Magic Damages is already reduce by Mushroom Seer, U. Mustang can just Tank it out. And for the other damage that he will receive, it will just going to erase by G.Psychic Tank Heal.


ROUND 2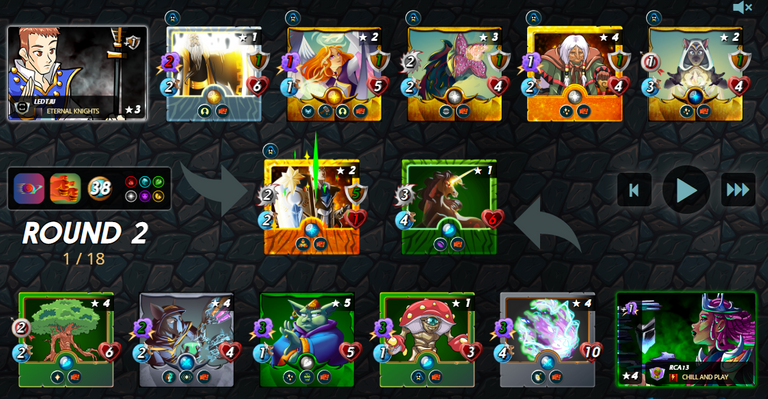 Again G.Psychic attacks first, eliminating again Shieldbearer but Revive again, but this time by Adelaide Brightwing. Now he runs out of Revive Ability. The next attack of Mushroom Seer finally eliminates Shieldbearer. His monster continuously attacks U.Mustang but they can't really damage him. At the end of Round 2 High Priest Darius has been eliminated as well.


ROUND 3-5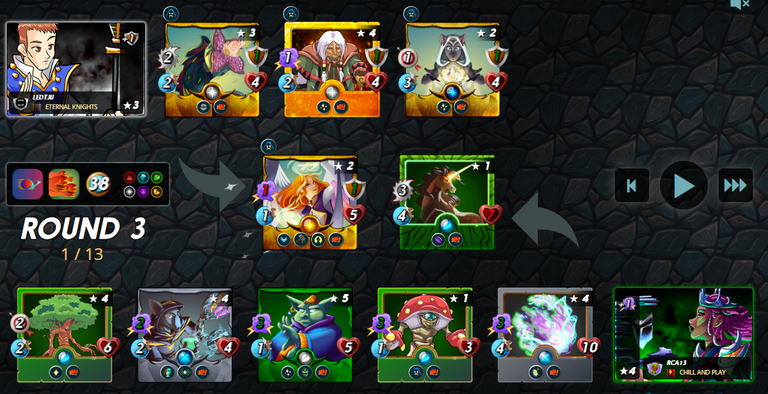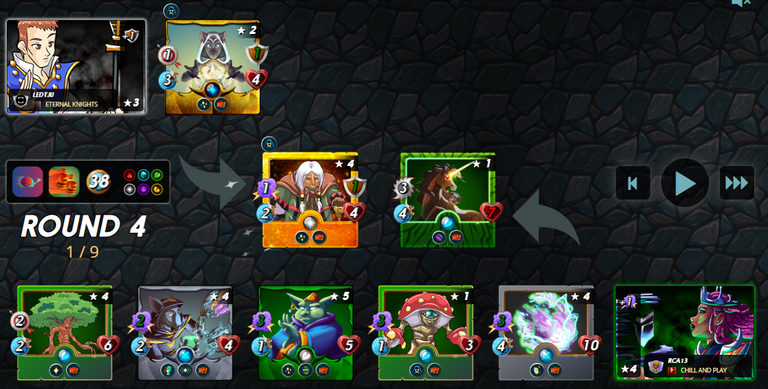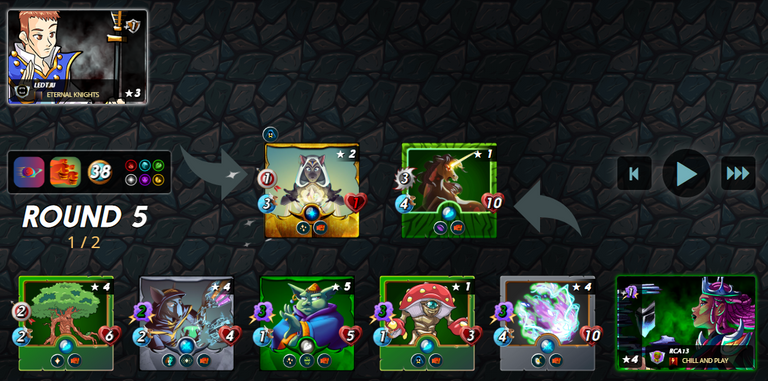 For the succeeding Rounds, my team obliterate the opponents team, grabbing my victory. This battle last for 5 Rounds but it is really a one-sided battle because I predicted what my opponent will do.


BATTLE RESULT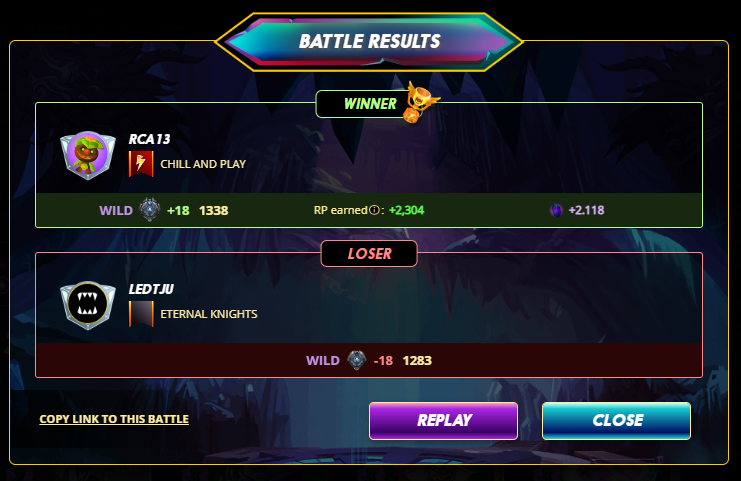 LINK TO THE BATTLE
https://splinterlands.com?p=battle&id=sl_60f6f827c13ce5a6cf5dd1bb210aa93b&ref=rca13

ᖴIᑎᗩᒪ TᕼOᙀᕼTS
Sadly, we did not see Venari Spellsmith's ability Amplify take effect on Prismatic Energy's Reflect. I think Venari Spellsmith will shine on a the Higher Leagues. Even though he has a low to average base Stats, his Ability Sets is going to cope up with that. His Dispel will be useful on Higher League since more Abilities and Buffs will be available there to be erased. His Redemption can add up to the Suicide Squad of Death Splinter. With just the right partner like Venari Spellsmith can really perform well.
Still this is a good match. This battle shows just how important prediction and reading your opponent line up base on their past battles will have an effect. Just take precautions as well, because maybe your opponent was just setting up their history so he can set up your line up and counter it.

So this is it guys. This concludes my "SHARE YOUR BATTLE CHALLENGE" post for this week.
I hope you learn something from this.


🆃🅷🅰🅽🅺 🆈🅾🆄!


for reading and taking an interest up to this.
-12.Ca13-
All images, crop images and logos are owned and open-sourced by Splinterlands.io
Cover Photo is made from Canva.
---
---