MY SPLINTER-STORY 006 - SHARE YOUR BATTLE CHALLENGE - TENYII STRIKER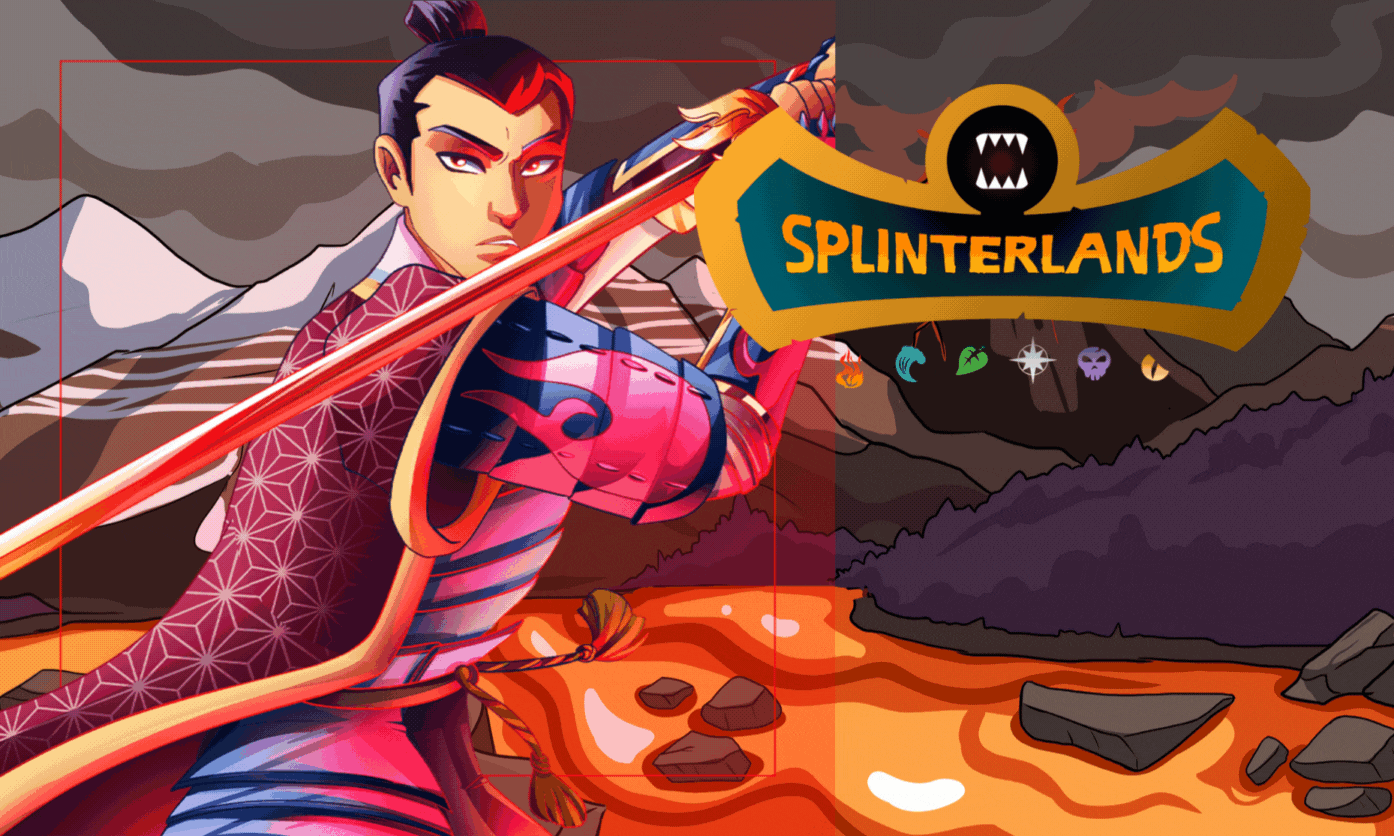 Hello Co-Splinterlands Players!
This is my "SHARE YOUR BATTLE CHALLENGE" post for this week for #Splinterlands with a theme monster:

Tenyii Striker is a Melee Fire Splinter Rare Card that cost 5 mana. This card is also part of the ongoing event of Chaos Legion Card Set. Below are the Stats of the Tenyii Striker Card :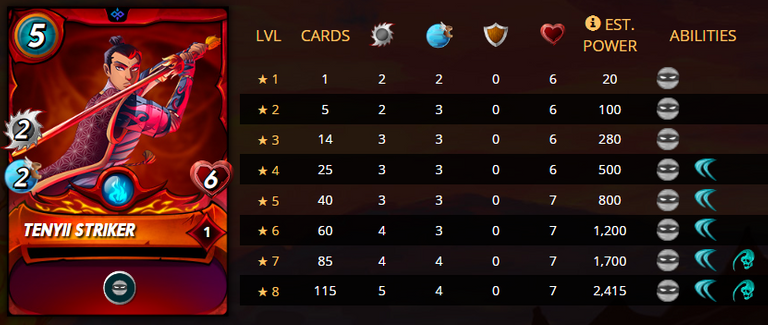 | | |
| --- | --- |
| At Level 1 | Tenyii Striker has 2 Melee Damage, 2 Speed, 0 Shield, 6 HP and the Sneak Ability |
| | SNEAK - Targets the last Monster on the enemy Team instead of the first Monster |
| Damage | will increase at Level 3, 6 and 8. |
| Speed | will increase at Level 2 and 7. |
| Shield | will not get any. |
| HP | will increase at Level 5 only. |
| At Level 4 | Tenyii Striker will have the Dodge Ability |
| | DODGE - Has an increased chance of evading Melee or Ranged attacks. |
| At Level 7 | Tenyii Striker will have the Backfire Ability |
| | BACKFIRE - If an enemy misses this Monster with an attack, the attacker takes 2 damage |

ᙏY ᙖᗩTTᒪᙓ ᖇᙓᐯIᙓᙎ
RULE SETS

| | |
| --- | --- |
| HEAVY HITTERS | - All Monsters have the Knock Out ability. |
| LOST LEGENDARY | - Legendary Monsters may not be used in battles. |
| MANA CAP | - 40 |
| AVAILABLE SPLINTER | - Fire and Dragon |
---
MY LINE UP
| POSITION | CARD | REMARKS |
| --- | --- | --- |
| SUMMONER | | I chose Plado Emberstone over Tarsa because I want to increase the Speed of my monsters instead of their HP. Sneak monsters have a decent speed already, increasing it will give me an advantage to strike first and eliminates my opponents back monsters. |
| MONSTERS: | | |
| 1 | | I chose Living Lava as my Tank here because of Rust Ability. With Rust and a -1 HP De-buff from Plado, It can help to eliminate my opponents monster much easier and faster. |
| 2 | | If ever my opponent choose to use Magic Line-up, Tusk the Wide will be there as my off tank. I also choose Tusk for his Inspire Ability that will add an additional 1 melee damage. |
| 3 | | My main offense will start with Kobold Miner at Position 3. His initial 2 melee damage will increase by 3 because of buffs coming from Plado, Tusk and later on from Ferexia General. If my opponent will not put any melee damage de-buff. Kobol Miner will have a 5 melee damage. |
| 4 | | Uraeus damage will be the same as Kobold Miner but Uraeus Poison Ability is what I'm after as well. |
| 5 | | I put Tenyii Striker here at Position 5 because of his Dodge Ability. If ever my opponent also has a Sneak Team and my Position 6 has been eliminated, the Dodge Ability will add a chance for my opponent to miss. |
| 6 | | I chose Ferexia General because of his Inspire Ability as well. To add a damage for my Sneak-centered Team. |
---
THE BATTLE
My opponent chose Dragon Splinter and used Daria Dragonscale as his Summoner. At first I thought it will be a battle of Melee Damages but I was wrong because his line up was this :
| Summoner | Daria Dragonscale |
| --- | --- |
| Monsters: | |
| Position 1 | Living Lava |
| Position 2 | Manticore |
| Position 3 | Naga Fire Wizard |
| Position 4 | Beettle Queen |
| Position 5 | Djinn Inferni |
| Position 6 | Fire Spitter |


ROUND 1
Round 1 starts with Kobold Miner attacking first. Since my opponents didn't have any melee damage de-buff. My monsters damage have increased by 3 with buffs coming from Plado, Tusk and Ferexia General. Because of this I did a 1-hit attack each onto my opponent's back monsters. This also become possible because of the Rust Ability of Living Lava and 1 Hp De-buff of Plado. On Round 1 alone my monsters eliminated 3 of my opponent's monsters.


ROUND 2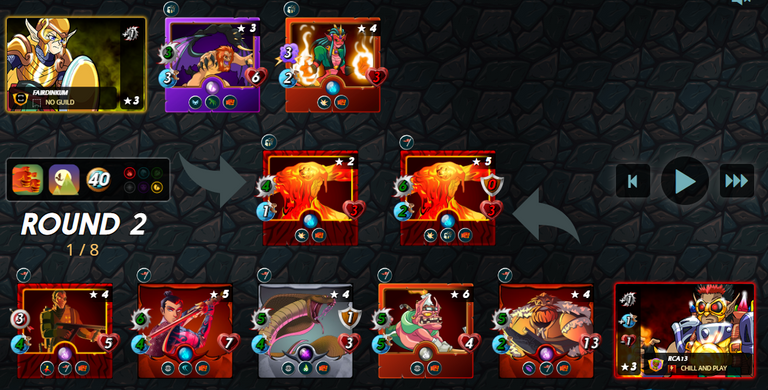 My monsters attacks first again on Round 2. Literally not giving my opponent a chance to attack. With my Living Lava attacking my opponents Living Lava concludes this battle with me emerging as the Victor.
---
BATTLE RESULT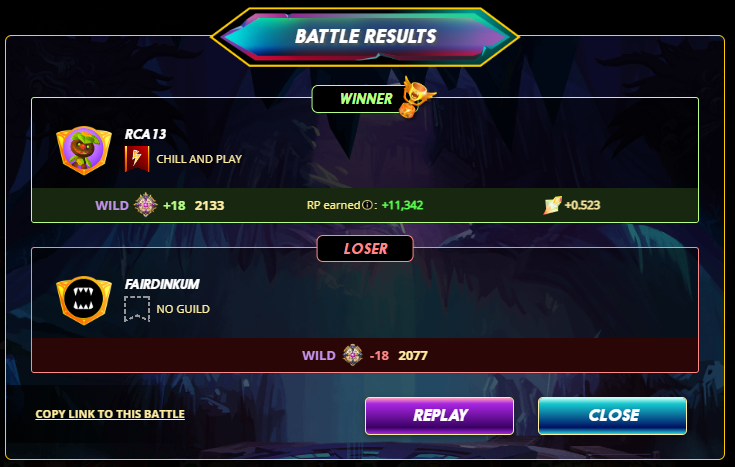 LINK TO THE BATTLE
https://splinterlands.com?p=battle&id=sl_98b828285f3cd7f053b4a1c66f21953a&ref=rca13

ᖴIᑎᗩᒪ TᕼOᙀᕼTS
This battle becomes fast and overwhelming because my Strategies works well this time :
Choosing Plado's Speed buff over Tarsa's HP buff. Because of this my monsters got to attacks first, eliminating my opponents 3 back monster with 1 hit each.
Huge amount of Melee Buffs. The 3 additional buffs and no de-buffs really give me an advantage. And even if my opponent put melee damage de-buff, I think it will just prolong the battle but I will still get the victory.
Living Lava's Rust and Plado's 1 Hp De-buff. These effects also help my monsters to do a 1 hit attack. Without the 1 Hp Debuff, my opponents Fire Spitter will still have 1 Hp left after Kobol Miners attacks, therefore Uraeus will still attack Fire Spitter. Then without the Rust Ability. Beetle Queen and Naga Fire Wizard will not be eliminated immediately, resulting for them to do more damage.


Lastly, my opponents Summoner don't have a synergy with his Monster. Maybe, this was not part of my Strategy, but it is one of the reason why I overwhelmed his line-up. It will be a different story if he chooses to make the most of Daria's 1 melee buff.

So this is it guys. This concludes my "SHARE YOUR BATTLE CHALLENGE" post for this week.
I hope you learn something from this.




and for reading and taking an interest up to this.
-12.Ca13-
All images, crop images and logos are owned and open-sourced by Splinterlands.io
Cover Photo is made from Canva.
---
---