MY SPLINTER-STORY 008 - SHARE YOUR BATTLE CHALLENGE - MYCELIC SLIPSPAWN

Hello Co-Splinterlands Players!
This is my "SHARE YOUR BATTLE CHALLENGE" post for this week for #Splinterlands with a theme monster:

Mycelic Slipspawn is a Magic Earth Splinter Rare Card that cost 9 mana. This card is also part of the ongoing event of Chaos Legion Edition. Below are the Stats of the Mycelic Slipspawn Card :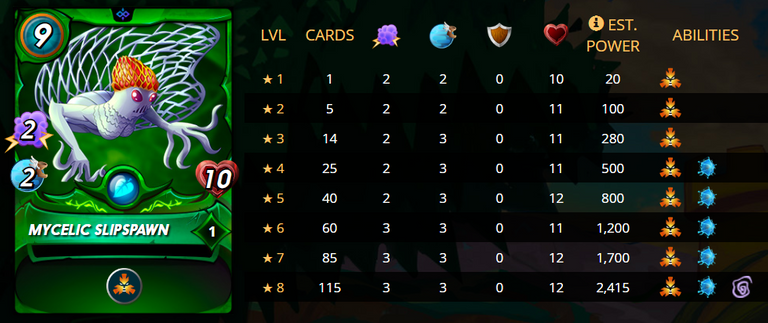 | | |
| --- | --- |
| At Level 1 | Mycelic Slipspawn has 2 Magic Damage, 2 Speed, 0 Shield, 10 HP and Taunt Ability |
| | TAUNT - All enemy Monsters target this Monster (if they are able to) |
| Damage | will increase at Level 6 |
| Speed | will increase at Level 3 |
| Shield | will not get any |
| HP | will increase at Level 2 and 5 then reduce at Level 6 and increase again at Level 7 |
| At Level 4 | Mycelic Slipspawn will have the Forcefield Ability |
| | FORCEFIELD - This Monster takes only 1 damage from attacks with power 5+ |
| At Level 8 | Mycelic Slipspawn will have the Slow Ability |
| | SLOW - Reduces the Speed of all enemy Monsters |


For this Battle Challenge, I will be using a Level 5 Mycelic Slipspawn.

ᙏY ᙖᗩTTᒪᙓ ᖇᙓᐯIᙓᙎ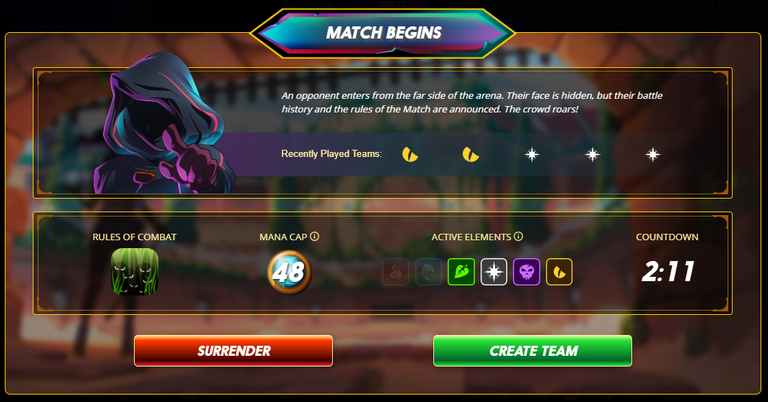 RULE SETS
| | |
| --- | --- |
| SUPER SNEAK | - All Melee attack Monsters have the Sneak ability. |
| MANA CAP | - 48 |
| AVAILABLE SPLINTER | - Earth, Life, Death and Dragon |
My Opponent's Battle History consists of using Life and Dragon Splinter. However, the Partner of the Dragon Splinter is Life Splinter too with Shieldbearer as its center to his line up.

MY LINE UP
POSITION

CARD

REMARKS

SUMMONER

Since Mycelic Slipspawn has a Magic Damage. I decided to use Obsidian as my Summoner. Also I thought that my opponent will still use a Life Splinter with Shieldbearer line-up, I can burst them with Magic Damage.
MONSTERS:

1

I chose Flesh Golem as my Tank. Since Mycelic Slipspawn will absorb all the backline damage first. Flesh Golem can sustain the damage he will get from the Tank or First Position

2

I pick Spirit Hoarder because of his Triage Ability. That is to heal any monster from the back positions. For this battle, it is to heal Mycelic Slipspawn.

3

Although most of the damage will be absorbed by Mycelic Slipspawn and Flesh Golem has already a Heal Ability, I am more comfortable if there are at least 2 heals in my line-up. That is why I still pick Wood Nymph.

4

Just like Spirit Hoarder, I pick Queen Mycelia for her Triage Ability. And as I said above, I am more comfortable to use at least two healing ability. Even if it is for the 1st position or backline position. I always feel that 1 healing ability is not enough to sustain a monster.
Her Protect Ability will also a big help to absorb some damages.

5

I pick Mitica Headhunter for her offensive capability. Her 5 Range Damage will be my main source of damage for this battle. And with her Piercing Ability, opponent's Shield will not be very effective.

6

I prefer to position monsters with Taunt at the 1st or last position. That is why I put Mycelic Slipspawn here.

THE BATTLE
Surprisingly, my opponent chose Death Splinter and used Thaddius Brood as his Summoner, maybe because he saw at my history that I used Magic Line up a lot 🤣 :
| Summoner | Thaddius Brood |
| --- | --- |
| Monsters: | |
| Position 1 | Harklaw |
| Position 2 | Nightmare |
| Position 3 | Disintegrator |
| Position 4 | Undead Rexx |
| Position 5 | Phantasm |
| Position 6 | Cursed Windeku |


ROUND 1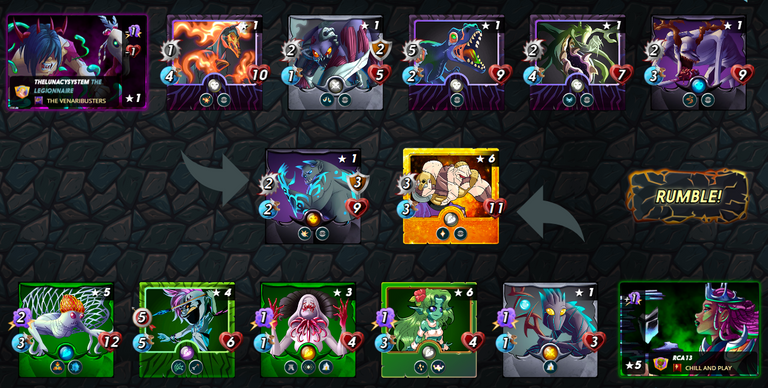 On this Round, the buffs and de-buffs has cancelled each other. Obsidian +1 Magic Damage cancels by Thaddius Brood -1 Magic Damage. Wood Nymph Strengthen cancels by Thaddius Brood -1 HP. But my Protect Buff from Queen Mycelia has no counter from my opponent and his Disintegrator's Demoralize has no counter from my team.
Mitica Headhunter started the round by attacking Harklaw followed by an exchange of attacks from our team. Since my melee monster is Flesh Golem only at Position 1, his Windeku's Thorn at his Position 6 has not been used. Also Undead Rexx's 5 melee damage is also not effective to Mycelic Slipspawn Forcefield Ability. Even if all my opponent's damage will connect to Mycelic Slipspawn, it will just be healed by my Spirit Hoarder and Queen Mycelia.
Round 1 ends with no elimination for both side.


ROUND 2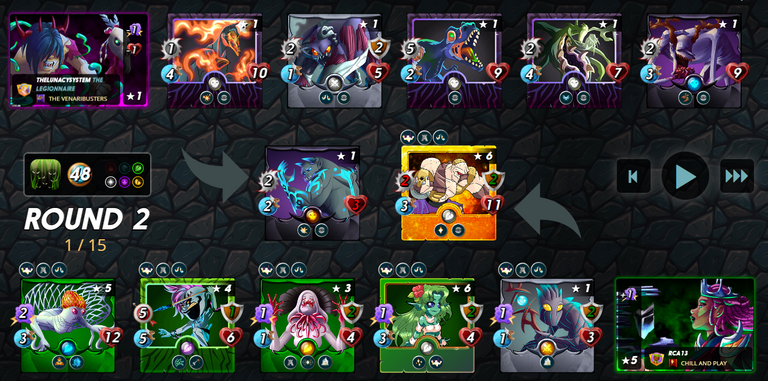 Mitica Headhunter opens this Round by eliminating Harklaw. With Nigthmare going up to the first position, the damage that Mycelic Slipspawn will receive will also reduce thus making Mycelic Slipspawn to eliminate. Another exchange of attacks from both side. But no progress has been made my opponent because of the sustain coming from my healers.
Round 2 ends with 1 elimination for my team and none for my opponent.


ROUND 3 to 6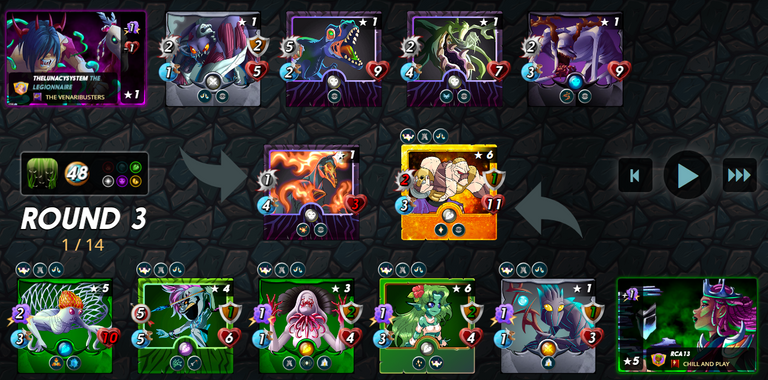 Again, Mitica Headhunter opens this round by eliminating Nightmare followed by a series of attacks and heals. From Round 3 to Round 6 will just be a cycle of attacks and heals. My oppponent will not eliminate any monster from my team because of the sustain I have. Maybe if I only use 1 Triage Ability, I will not be able to sustain Mycelic Headhunter very well and might get eliminated.
On Round 6, Mitica Headhunter gives the final attack to Cursed Windeku and grab the Victory.

BATTLE RESULT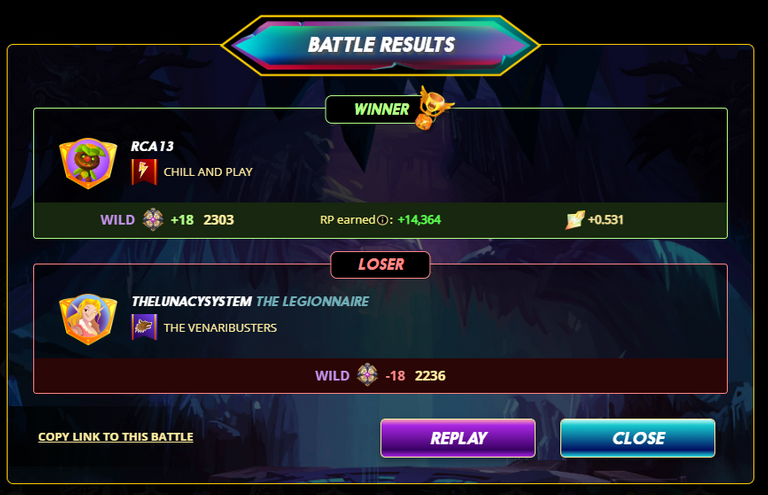 LINK TO THE BATTLE
https://splinterlands.com?p=battle&id=sl_5f04e648040386a730e8fbc5b0e4ee95&ref=rca13

ᖴIᑎᗩᒪ TᕼOᙀᕼTS
Even though he countered my Magic line up with the Thaddius Summoner. I still won this battle because of the following :
My opponent doesn't have Healing Ability that is why even with -1 De-buff, my Magic Damage will still become a factor to my offensive capability.
On contrast to number 1, I have many Healing Ability, Because of this, my opponent did not eliminate any of my Monster. If I don't have the Triage, my Mycelic Slipspawn might be eliminated on Round 2.
I really like to use monster with Taunt Ability if the Ruleset are Melee Mayhem, Super Sneak, Equal Opportunity and Target Practice. Because of Taunt, they cannot attack any other monsters. With a combination of Heals and Repair ability. The opponent will have a hard time eliminating the Taunt Monster just like on my battle above. But be careful with the line-up of your opponents, because he might use monster with Affliction Ability. This will prevent your monster to be healed. If this is the case, you will need to put a Monster with Cleanse Ability and put your Taunt Monster on the Position 1 because only Monster that is on Position will can be cleansed.
Note that the Scattershot Ability will not be affected by Taunt. This ability will make the Monster's Attacks hit a random enemy target. Also with the release of Riftwatchers, a new ability will be introduced as well. That is the "Fury". This ability will make a double damage to the enemy monster with Taunt Ability.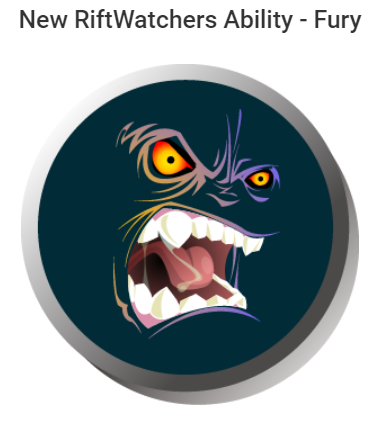 and for reading and taking an interest up to this. This concludes my "SHARE YOUR BATTLE CHALLENGE" post for this week.
I hope you learn something from this.😀
-12.Ca13-
All images, screenshot images, crop images and logos are owned and open-sourced by Splinterlands.io
Cover Photo is made from Canva.
---
---