Chaos Legion General Sale starts in 1 Day! My plan to buy CL Packs!
Splinterlands has completed the official sale a few days back and now the general sale for the Chaos Legion pack is just one day away. Count down the sale is already live on the website and its surely an excitement for people who were eying to buy CL packs in the general sale. There have been two sales earlier and in both, there was a requirement for voucher tokens but in the general sale, there is no such requirement so anyone who doesn't hold vouchers will be able to buy packs.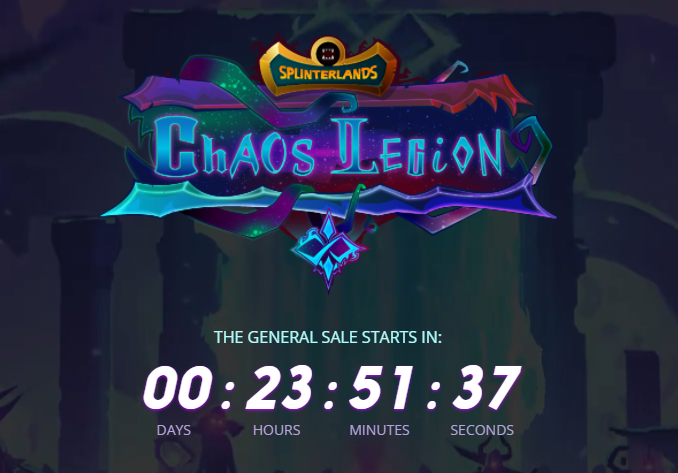 so as long as 500k packs are sold within the first 24 hours of the presale there will be at least 2 new airdrop cards to release. All of the airdrop cards released based on the first 24 hours of the general sale will be a Legendary rarity and each pack will have a 0.2857% chance of receiving each of the cards. That means that on average one out of every 350 packs will receive one of each of the new airdrop cards.
Splinterlands team has already announced a benefit for those who buy packs in the first 24 hours of general sale and they will be eligible for cards airdrop. This is a great opportunity to pack immediately after the sale opens and this will bring an opportunity to get airdrop cards and another great thing is that these cards will be legendary so the value is going to be high. I never got the cards airdrop because I was never able to buy more packs but this is okay because my goal is to buy more packs and hold. This is a great chance for the ones who are planning to buy packs in bulk and this will be an additional reward for them.
I did buy some packs in the first sale and opened a few to what I have got and I am happy to share that I got nice cards in the packs. I could not buy packs in the second sale because my plan is to hold more packs but since I would not be buying in bulk so airdrop is not for me. Probably I am eyeing to buy 100 packs and if I may do this with the help of some players who are buying if I get some additional benefits. I am not sure this will work for me or not but I am just exploring the possibility and if not then also I will be buying so its time for me to accumulate more funds.
---
My SPS holding has been growing and I am almost at 7.5k SPS tokens so I have achieved 75% of my SPS goal. I want to have 10k SPS staked in my account and this holding is helping me earn 37.24% of APR which is very good. The price of the SPS token has been dropping and seems like more people are booking profit but I am not at all concerned because my plan is to HODL and not to book profit.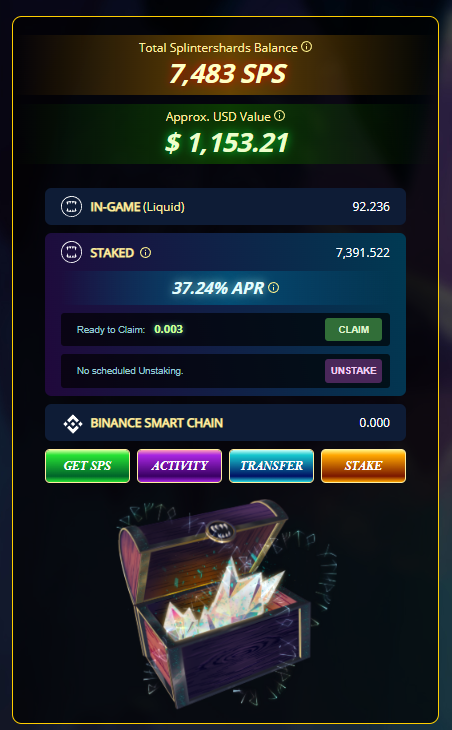 I am expecting something great with SPS as shared by the splinterlands team and I hope with lands on the game and it will bring many more benefits for SPS holders.
Thank you so much
Stay Safe
Posted Using LeoFinance Beta
---
---