Next is SPS on the list.. More SPS to accumulate
I generally don't check the market prices daily because I am not a trader and there is hardly sell anything so I find the need to keep an eye on the price. But when the market is not doing well then I try to and I get to know about it through posts on LeoFinance and even on Twitter. Once that happens then I get active and try to keep an eye on the market movement. These days the crypto market is not doing well and the LUNA incident is the talk of the town. UST which was called a stable coin by the LUNA project is de-pegged and trading around $0.60-65 and even though LUNA has dropped a lot and the current price is around $8. Somewhere it seems like LUNA will reach one USD before the UST does and this also shows that the project has lost its reputation.


src
While people are worried that prices are falling but I am not worried because when I look at the prices of SPS then it gives me more reasons to buy more. I did buy some tokens at $0.14 a few weeks back and never thought that price can go down by almost 50% and I did buy at the wrong time. This happens in crypto quite often because we never know what would be the bottom and even now we don't know if this is the bottom.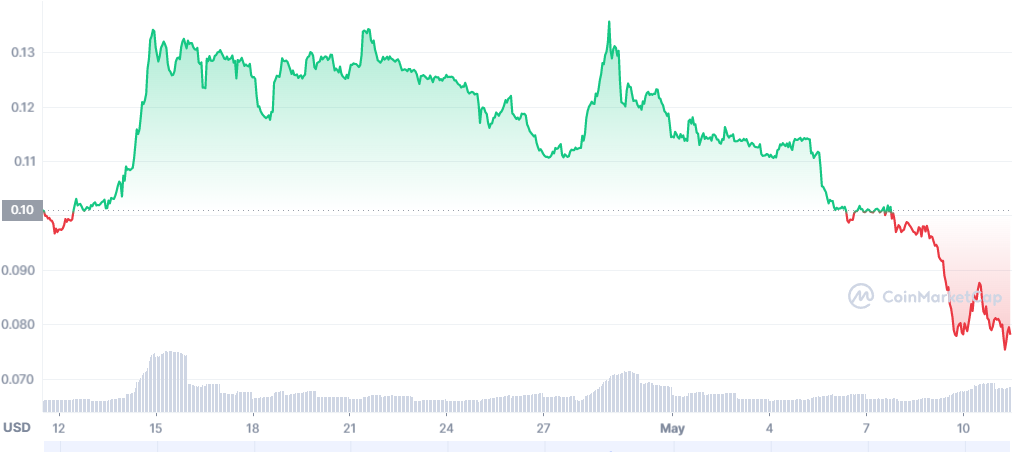 SPS is one of the high-value tokens and its all-time high price was $1.27 and now it's 0.077 approx which is too low and it's approx a dip of approx 94%. Some people have purchased SPS now and I am sure they did take the right decision because SPS at this price seems the best deal to me and just in case if it drops to 5 cents then I think it will be the time to put all the money on it without giving second through.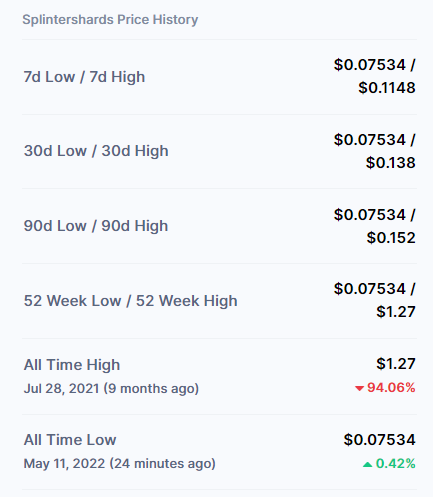 I want to have 20k SPS and am currently at 12k so I am short of 8k and if this price dips further then probably I will be able to reach my milestone soon. Usually, I spend my HBD balance to buy such coins and now my balance is too low so I have to wait for some time. Somewhere I feel like FOMO with SPS due to a shortage of funds because I don't if this price will stay longer and if it increases then I would not be able to make it at this price which is the best price I believe.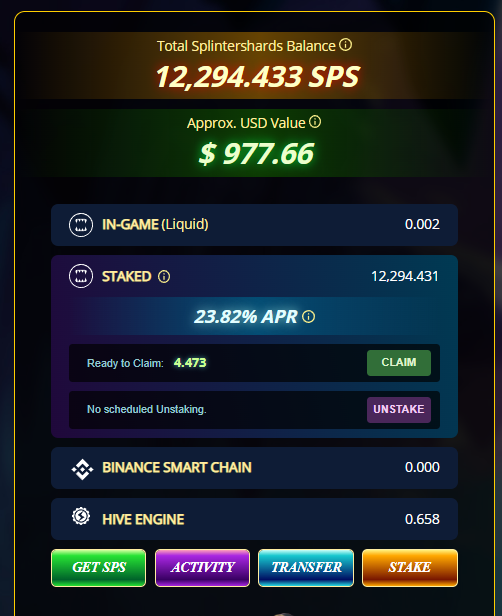 ---
Why believe in SPS?
SPS is one of the coins that will bring lots of benefits to the splinterlands so if you are a believer in the project then I think that you should stake more SPS. We know that SPS will be used to buy mini rift-watcher packs and that way it will be a beneficial deal even now it pays an APR of 24% along with a daily drop of voucher token. Roughly we get 1 voucher for 20k SPS and the token is currently around 2 hive tokens which are not bad. Earlier I sold all my vouchers to buy SPS and now I even have a low balance of vouchers. This dip was not expected at all and I am not prepared but I am trying to get some funds to invest in SPS so that I can increase my stake to 20k soon.
This is not a piece of financial advice anyway and invests only if you believe in the project and the gaming ecosystem. We have seen the game growing in the past and looking at the development and roadmap we can expect a lot and this will surely push the SPS price high however a long-term goal and approach are needed to witness.
Thank you so much
Stay Safe
Posted Using LeoFinance Beta
---
---