SPS (Splintershards) is in better Buying Range
SPS (Splintershards) is one of the coins that I keep on track with its price movement. The reason is simple I want to buy more so whenever I see a better buying opportunity I do not want to miss it. It happens with most of us that we track certain projects and see for a better buying opportunity so whenever it is available then we try not to miss it and with sps, I am also trying to do the same. In the crypto market, it is difficult to predict the next market move because we are not sure how things will be unfolded in the next moment but if any coin is available at the discounted price of 90% then it is considered a bigger percentage.
Even now I do not know if the price seems stable in this range because anything can happen which might bring the price up or down. It's hard to predict, what price is the right to buy but I believe the current price is a better buying opportunity for the long term. I am neither an expert nor a trader but I just tried to read the pattern of sps price and it's been a long time since the token is hovering around the current price. There have been some slight spikes in the price but that was not significant and the recent incident has added even more fuel to the drop sentiments. I hope by now most of you are aware that there has been a compromise on the sps and DEC both in the game.
SPS Current Price in the Market
Below is the chart for sps and you can see the current price which is gone up by over 2% in the last 24 hours and currently trading in the range of 0.025 USD. I think that this is the lowest ever price I have ever seen for sps and there is hardly scope for a further drop in the price which means a higher probability for price appreciation.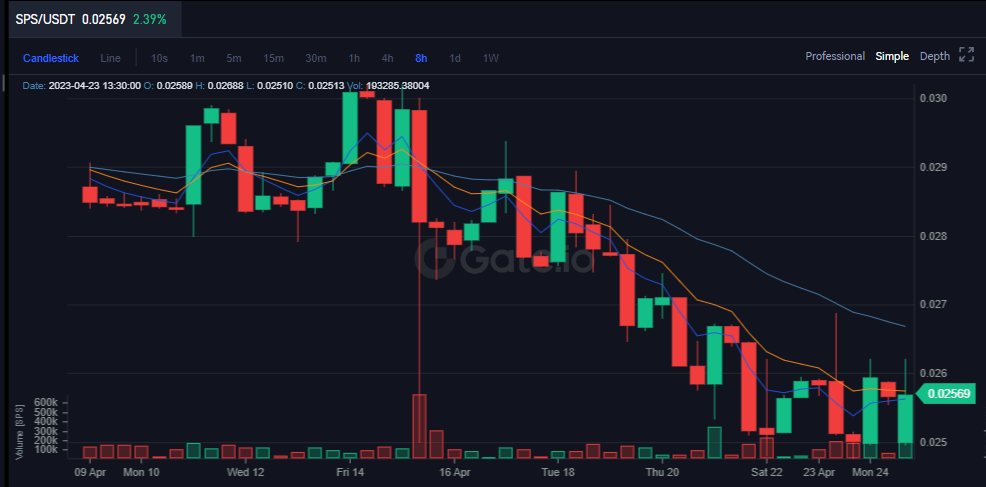 Recent SPS Dump
Recently 6 million sps along with 8 million DEC tokens were stolen and sold out in the market. This was like a security breach on the hot wallet but the team was able to identify it if they applied the fix to avoid the same situation in the future. This is a bigger amount for sure that we cannot deny and because of this I think the price has gone down but I'm sure this will recover soon because there is a lot that is expected to come for the sps and even the DEC token.

source- Splinterlands Discord
My SPS Holding and Strategy
I was able to achieve my sps goal last month and is still I have not stopped myself from the accumulation of sps because I am still bullish on this coin. It is because I believe in the project and the token economy which is very strong and I hope that this will be much more valuable in the coming years. Buying low is always the best choice when we talk about the investment and here I am doing the same to follow the same strategy with my investment on sps. I am not asking anyone to follow my financial advice because it is not the advice that I'm sharing instead I am trying to share my experience and further strategy that how I will be doing to grow my sps holding even more.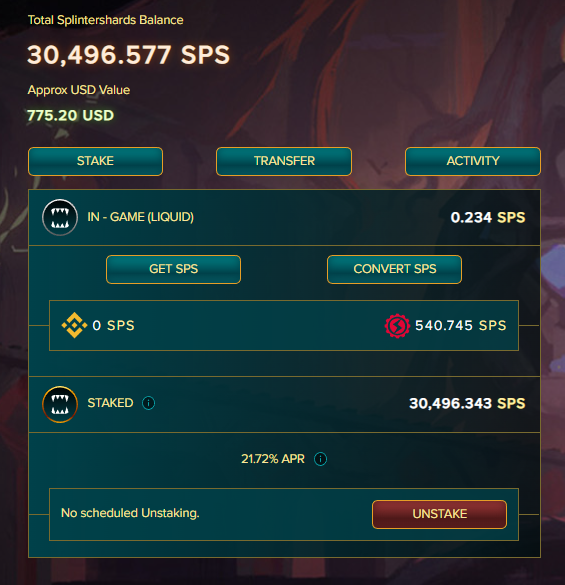 I'm not worried about the current price and even my goal is not for the short term so whatever is the current value of my portfolio does not matter to me. I accumulate whatever I earn through my daily reward and I will power up whatever I will bye in the coming days which I will share through my other post once it is done. This process of accumulation is going to be continued and this is how I am trying to make the portfolio more valuable and also to increase the count of tokens in my wallet.
(Splinterlands is a fantastic play-to-earn game and if you like to join then do it through my affiliate link shared below.)
https://splinterlands.com?ref=reeta0119
Thank you so much
Stay Safe
Posted Using LeoFinance Beta
---
---