Chaos Legion incoming || SPS, DEC, VOUCHERS.....
The epic event which most of the Splinterlands players have been awaiting for is not that far away. Only a couple of days (approx 7days) are remained to see what is actually coming for us! I am excited about few aspects regarding this new sets of card launch. One of them is the way to get into this presale is via the VOUCHERS! It would be very difficult to obtain thanks to SL team for coming up with the whole idea of staking and limited no of drops of vouchers. Lets get deep into what is happening and how the market is reacting to this event!
---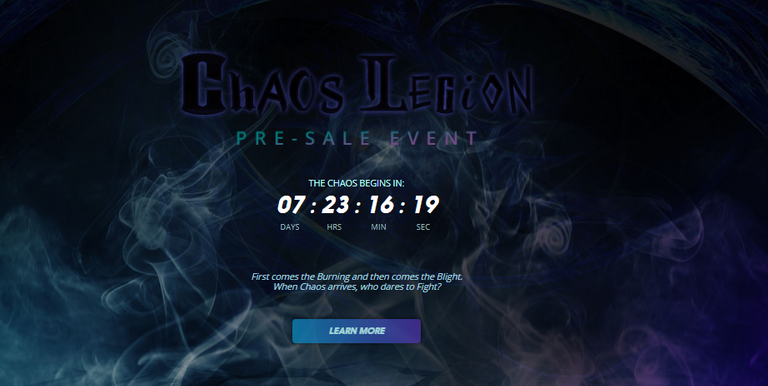 ---
SPLINTERSHARDS
---
Yep! SPS has been getting the response very positively regarding the announcement of CL. The market price describes it all. As you can see in the graph below, the price and volume has been increasing in an constant speed. Which is good in terms of value. 2600+ transaction in just 24 hours, that might not sound that good but when you do the calculations the average buy per person does sounds pretty crazy. Which is (3549419/2629) $1350 per person. Yep, I am aware this is just calculation and few whales are grabbing as much as possible as we all are aware where the price is going towards in the next seven days.
---
This is just one gateway of SPS being traded upon and there are other gateways where not only the price but the volume is as well getting larger as days are passing by. Information collected from https://dex.guru/token/0x1633b7157e7638c4d6593436111bf125ee74703f-bsc
---

---
---
Vouchers
---
The elephant in the room! How many vouchers will you get?
---
I have been using a tool for some time and it has been helping me to analyze a lot of things regarding my Splinterlands assets! Mostly all the things regarding to SPS, such as how much airdrop I will be getting, how much staking rewards etc etc. Thanks to @tehox for making this tool and helping us fellow SPlinterlands users. (Just a suggestion, if possible add a NIGHT/DARK MODE, it would be really efficient for us)
---
---
Honestly, I was quite excited about how many vouchers I would get but after finding out how many I would actually get, I was kind of disappointed. I wish I could have got more. But to those whales, they are going to get plenty during the presale. Adios to them! So how many are you going to get??
---
Keeping all these in mind, do not for get about DEC! It has been seeing a massive surge is price in the last couple of days. One of the main reason is SPS. The more DEC you hold the more points you get. Hence more SPS you receive! Damn, I must say, AGGY is awesome when it comes to use case of a token. Currently 1000 DEC is worth well above $13 ! It is indeed insane. I am well aware of that.
---
The big question is, how far will it go ;) ????
---
Staking
---
The staking rewards of SPS is going down everyday! In a way it is a good news as because players are staking SPS and it is getting locked for a atleast the next 28 days. Whilst, those were the lucky ones who were collecting nefty APR in the first few days. While writing this post, total staked SPS by players are 127,992,023. Which is quite a hefty amount as this does shows people are quite excited for the upcoming CL release. NEED THOSE VOUCEHRS ASAP ;)
---
Even though the presale event is about to last a month the rush to collect these vouchers would be immense. The price of vouchers might (will) plummet as soon as it hits the market. As there are users like me who are eagerly waiting to purchase vouchers since their account does not holds sufficient amount of staked SPS. So let's see how much does the price goes for vouchers.
---
This post is not any kind of financial advice! I'm just sharing my thoughts with ya'll!
---
So, are you getting prepared for Chaos Legion?
---
Best regards
Rehan
---

Posted Using LeoFinance Beta
---
---