Shopping Spree in Splinterlands....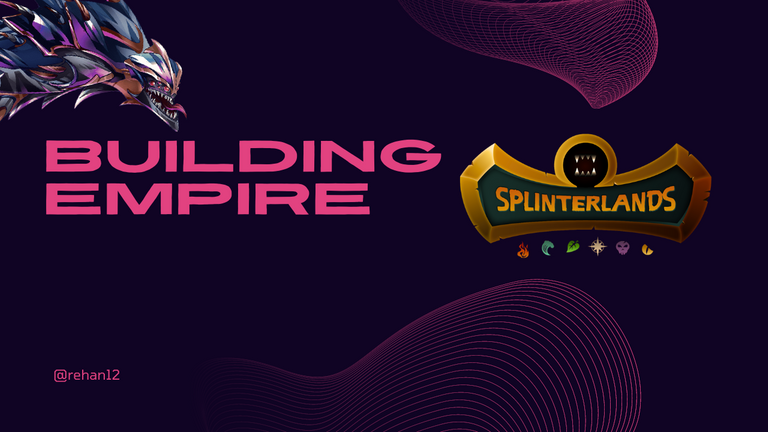 Splinterlands is a game of strategy, investments, patience! The more time you spend within the game, the more addictive it gets. This has been going on for years! Veteran players have made this game a rigid part of their everyday activities. It is no surprise, the more upper league you go, the more fun, exciting the game gets. Which does requires patience, quite high investments into the game.
---
I have been wanting to create a decent deck (Max level CL deck is the goal). But things have not been going that well. But lately due to the fact of land and other installments arriving into the game, it is no surprise soon there will be shortage of CL cards. I might be wrong here but I do not want to take risks for the time being. So I have been purchasing cards, not in bulk but I am upgrading my deck slowly. I am using funds from my content rewards and also using other funds to get a decent deck in Splinterlands.
Another fact about investing into Splinterlands is because of its future plan. There has been several play to earn games in blockchains. But not many survived till date. Splinterlands has survived this long and has proven its value over and over. Which is why seeing its roadmap and future endeavors I decided to jump in before its too late! Crypto is an uncertain place. Literally anything can happen! Which is why, I would rather stick with those folks which I have been seeing from the very beginning. And walk along side them to the end!
---
Where should I start?
---
This is a big question! I have been doing some digging and decided to make the best use of my asset on those cards which I use often. As there are cards which I desire to achieve but the price of those cards is not really letting me go near them. Which is why I am focusing on cards which are low at price in certain decks. In addition, I am trying to get them at max level instead of purchasing single BCX. As this step, would decrease my cost initiative and help me achieve the goal much faster.
---
---
Water and Earth Splinter : These are the two most used splinters, which I decided to focus. As I use these two Splinter the most, compared to the rest of the decks. Some of my most use monsters on water splinters that I usually use in battles :
Djinn Oshannus
Diemonshark
Merdali Guardian
Venari Wavesmith
Nerrisa Tridawn
Deeplurker
Flying Squid
Coastal Nymph
River Hallondale
Torrent Fiend
and many more. Sine I had Djinn at level 3, it was time for him to get to max level. Yes, I am aware of the summoners. But as I said, I wanted to get max cards which requires quite a decent amount. So for now, scooping up all the cards that I need. Although, it is probably going to take a long time to get to where I want. At the moment, bought this four cards and Diemonshark is on the verge of max level. Venari wavesmith has been taken care of as well. As for, Runemancer Florre, I wanted to get here due to the double attacks. Also this card was missing in my collection. I was not able to resist lol.
---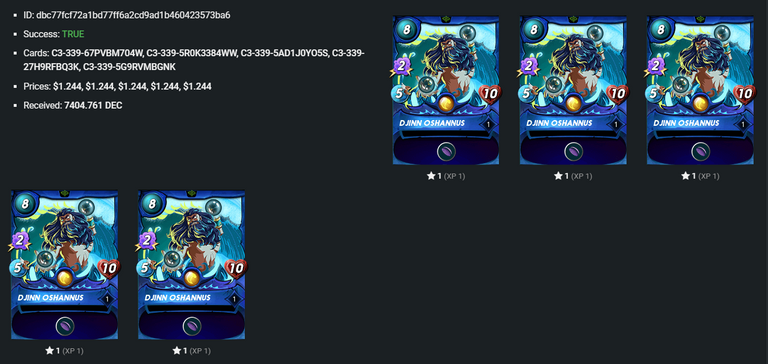 ---
Lucrative Cashbacks
---
Purchasing cards from Splinterlands is a must. While getting a decent amount of cash back does sounds lucrative. Whenever, I purchase Splinterlands cards, I do prefer Monstermarket, as it offers cashback. Yeah, it is difficult to say, NO to cashbacks!
---
While, I am playing at lower leagues, which is why I am upgrading cards based on my play styles. But in higher leagues the scenario is completely different. Which is why, I wanted to ask, what are you recommendations about upgrading cards? Which cards would be better to go for at first? Which deck do you think you play the most and why? Do not forget to share your thoughts below in the comment section!
---
Images used from Splinterlands and Peakmonsters
---
Best regards
Rehan
---
Want to play & earn from Splinterlands

---
---

---
---