Splinterlands Affecting LIVES || Crypto Changing Lives...
One of the massive grown project in Hive Eco-system is Splinterlands. It is no doubt the effect of Splinterland is making impacts in different users lives. Well, technically there are people who are still not aware of such kind of ways, where crypto is making impacts in people's lives. Rather they would criticize crypto and abuse it in every way possible (Ex: My country). There will be people who will always be afraid of changes but those who adopts to the changing of ways in monetization over the time, may the shine reflect upon them along the way. Lets discuss few of the reasons why and how SL is making impacts in its users lives.
---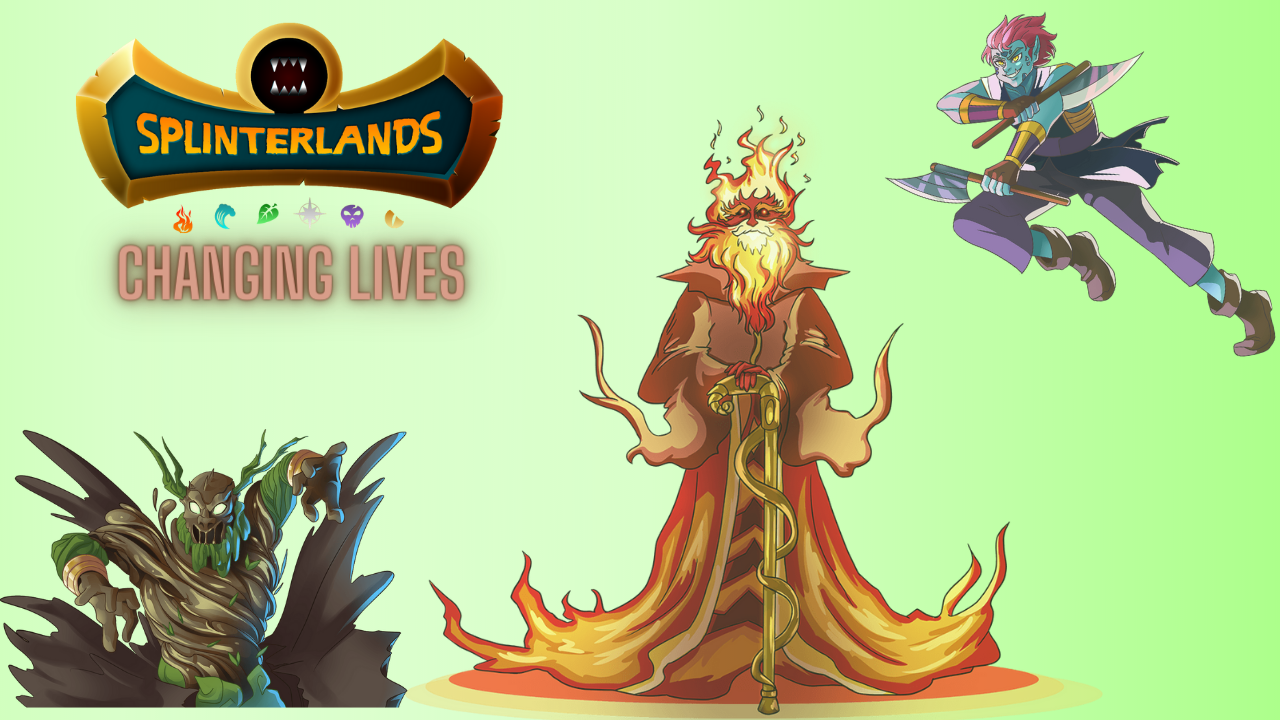 ---
NFT
---
For starters, the assets of Splinterlands are worth hundreds, thousand and if not millions of dollars. Who would have thought the cards that were bought using small amount of money would plummet 10x than the original price. Yeah, it is indeed crazy. Just by holding the cards in-game you are able to earn quite sufficiently. SPS airdrop it is game changing and making impacts in its userbase. For me I am accumulating SPS and I am thinking long term. Lets say one or two years along the road.
---
While there are other ways of earning and making passive/active income via playing the game or renting the cards into the market. People are doing it and they are making quite a handsome amount of $$$ (DEC/HIVE) almost everyday. The charts does not lie ;) What are you waiting for? Join Splinterlands Now : https://splinterlands.com?ref=rehan12
---
Splinterlands making changes
---
It is for posts like this, which brings a smile in our faces. When you think, the project that are involved in, is making changes in our lives it does gives another kind of vibes within inside. When you go through different types of posts related to splinterlands you may as well see, how SL users are giving their valuable time and some are even making this game as their full time job. This is an extraordinary step for everyone and to think it that way Splinterlands is just starting their big move and this is just the beginning of something new for us all.
---
Made My Mortgage Payment Using Only SPS Staking Rewards
---
@blueeyes8960 she gave a payment of her mortgage, thanks to splinterlands. Now this is one of kind achievement from my point of view. She did her best and came up to this point of achievement, it is indeed splendid. Thanks a lot for sharing your thoughts and achievement with us! Read the post here for full details.
---
---
Some of you are probably aware, Splinterlands is actively rewarding users not by only games but also to those who are writing amazing contents in their blogs. There are active curators of Splinterlands who are giving their time and searching for contents and upvoting them as per their content. The amazing a content is, the more support it gets. Currently Splinterlands is supporting its authors with its steemmonsters account, where the voting power resides at 1,526,587.008 HP. What you have to do is just follow @splinterlands accounts and there are 3 types of posts which are shared via splinterlands
Splinterlands Social Media Challenge!
SHARE YOUR BATTLE Weekly Challenge! WAVE RUNNER
and another one with SL art contest with booster packs as reward
---

Just follow the rules of these posts and express your views according to the posts and the curators of Splinterlands are there for you to show appreciation as much as possible. What are you waiting for jump in amazing content creators!
---
---
The more value your assets get, the more careful you should be. From my POV, even if your assets are few bucks worth, it is still your money. Better be safe than sorry!
---
The very first thing which you should do is, keep your passwords as safe as possible! Yep, since it is decentralized tech, no one can get your funds back or if your account gets hacked (unless few other facts). But in most cases you will loose your assets and than cry over it. It has happened recently in HIVE and one of the users account got compromised and the result was a loss of 50k worth of assets, read more here........
---
Store your password somewhere safe. Even better if it is offline! Even if you are storing your password in your computer or in any stored online aspects, better give it best security as you can.
Just in case input password which ae not easily memorable
Print it out and put it offline
Use authenticator
Use Email security
Phone verification
Do not save passwords in your browser
Do not click on any unwanted links
---
Anything can happen at any time! This is one of the bad side of free world of internet. You are completely secure or you are not. Depends on how you are facing the situation. So better have the post possible security from our side and in every way possible.
---
Join Splinterlands : Click here
---
Images used in this post are taken from Splinterlands.
---
Be Safe guys!
---
Best regards
Rehan
---

Posted Using LeoFinance Beta
---
---