Battle Mage Secrets - The Best Card For Aimless Battles Is...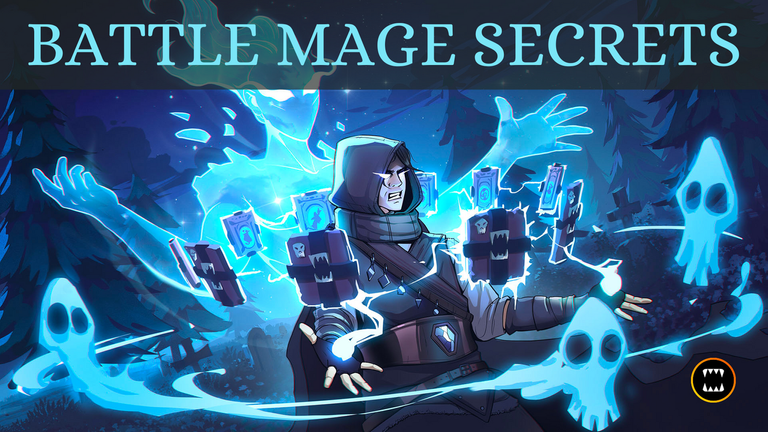 The theme for the current "Battle Mage Secret" challenge is Aimless ruleset this time! It's not always easy to get the specific ruleset, but if you play hard enough, you definitely can find one!
For Aimless ruleset, the damage is usually split across the team, so having healers would be useful as cards usually won't die so quickly (unless you are unlucky enough where all the hits are concentrated on one card).
Anyway, I thought it would be still be interesting to introduce some useful cards and show how their strengths can be maximised especially with a particular ruleset. In this post, the featured card would be Venari Marksrat, which is one of the best cards to be used in Aimless rulesets.
Looking at the stats, for the first time, it presents a weird dilemma because on one hand, the stats get more tanky at higher levels, but on the other hand, we want these cards with Martyr ability to be knocked off as fast as possible so it's more ideal to have a lower HP. Do you see what I mean? Lol.
As usual, here's the lore for Venari Marksrat for your reading interest:
Venari marksrats spend more time in the forests than they do underground. Most of it is taken with hunting and foraging, with marksrats being the main food gatherers for the venari colonies that inhabit the upperdark caverns of the Realm of Silence. They are incredibly agile and have honed their hunting skills to perfection.
Their crude bows are fashioned out of branches and saplings. Don't be fooled by their unrefined look, though. These skilled archers can still hit a fleeing rabbit at a hundred yards with precision. They hunt alone or in packs, and if you ever manage to spot one, you can guarantee they saw you first and have been watching you for some time.
---
Battle Type & Team Lineup


| Position | Card/Level | Mana |
| --- | --- | --- |
| Summoner | Bortus | 3 |
With Thorns, the type of cards available for selection are mainly Ranged and Magic cards. I decided to go with an anti Magic lineup, utilising a Bortus/Djinn Oshannus combination. Hopefully Djinn Oshannus' speed with cause some trouble if there are Ranged attacks.
| Position | Card/Level | Mana |
| --- | --- | --- |
| 1 | Djinn Oshannus | 8 |
Djinn Oshannus is chosen to pair with Bortus to shut out any Magic lineups. He will be further boosted if the 2nd card dies and the Martyr ability will be activated.
| Position | Card/Level | Mana |
| --- | --- | --- |
| 2 | Venari Marksrat | 3 |
Venari Marksrat is one of the best cards to use in low mana Aimless battles. Scattershot means there is a high chance that it will be taken out fast and the Martyr ability can be activated to boost adjacent cards. In this case, I have chosen Djinn Oshannus and the next card as the adjacent cards!
| Position | Card/Level | Mana |
| --- | --- | --- |
| 3 | Axemaster | 7 |
Positioned to receive the Martyr boost on the other side would be Axemater. With Scattershot, Axemaster's Double Strike becomes very powerful.
| Position | Card/Level | Mana |
| --- | --- | --- |
| 4 | Merdaali Guardian | 3 |
As I have mentioned earlier, healers are especially useful in Aimless rulesets because attacks are not concentrated on one card (barring any bad luck) and they are able to use their healing abilities effectively to buy more time for the team.
| Position | Card/Level | Mana |
| --- | --- | --- |
| 5 | Creeping Ooze | 1 |
The remaining mana is used for filler cards so as to soak up some damage that is scattered so the main cards have a better chance to survive to deal damage.
| Position | Card/Level | Mana |
| --- | --- | --- |
| 6 | Torrent Fiend | 0 |
The remaining mana is used for filler cards so as to soak up some damage that is scattered so the main cards have a better chance to survive to deal damage.
---
Pre Battle: My opponent clearly had a stronger lineup compared to mine based on the level of the cards, but I came with a strategy, and one will never know how the Scattershot hits fly. So let's see.

Round 1: While my Bortus effectively shut off the opposing Magic lineup, I was similarly affected by the opposing lineup's Slow and Headwinds. Creeping Ooze took the hit from the flying hits this round.

Round 2: Venari Marksrat went down as expected and provided a great boost to its adjacent cards. Djinn Oshannus' damage went up to 3 and Axemaster regained his original 2 damage. While I had done well defensively, I hadn't done much damage on my opponent actually.

Round 3: Finally I made some progress in this round and both teams were level with 3 cards each. Victory was actually secured at this point, because all the opposing cards had only 1 Magic damage and they will not hit Djinn Oshannus because of Void.


Round 7: Fast forward all the way to Round 7, and we are done, with Djinn Oshannus barely touched.

If you are interested to watch the battle, you can find it here.
---
Post Battle
Did my strategy work? Definitely, My Bortus/Djinn Oshannus anti Magic combination worked perfectly on the defensive front. But I also struggled to break down my opponent, and the critical point came when Venari Marksrat was taken out and the Martyr ability was activated. From then on, my attacks were boosted and I was able to see out the win.
What's the Battle Mage Secret? Venari Marksrat is one of the best cards for Aimless rulesets, so use it and remember to place it wisely.
---
So that's all I have! What are your takeaways from this battle? Feel free to comment below, as I am always keen to learn and improve!
As always, thanks for reading and have a pleasant day ahead!
---
If you are interested to sign up to play Splinterlands, my referral link is here.
---
---