Guild Brawls With Pizza 2 - No Bloodlust Activated and Opening of 3rd Gladius Case!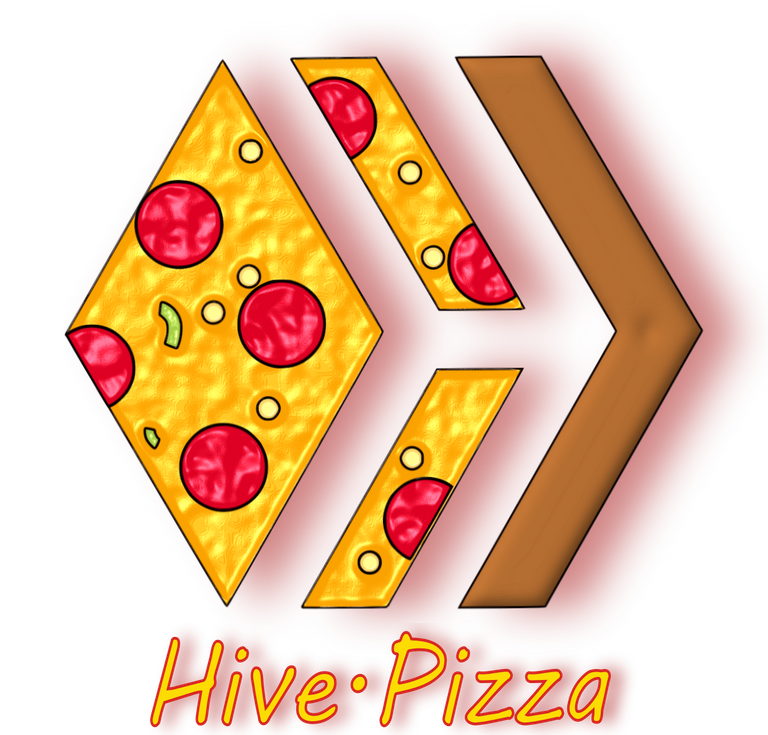 I have recently joined a new guild and it's Pizza 2 The Deep Dish!
And I just completed the 3rd brawl with them!
Really appreciated the interaction in the Discord chats within the Pizza guilds. During the preparation phase, there's a lot of information sharing and discussion on who to fill each fray. During the brawls, there were reminders to members to complete their brawl battles. And after the brawls, there were celebratory messages and some members (including me) would write about our experience in the brawls. Aside from brawls, I thought the donations were also very well organised and tabulated, with lucky draws to incentivise donors as well.
Choosing An "Easier" Fray
The fray slots were usually snatched up pretty fast and once again, but this time, I was able to opt for Fray 2, which was 1/1/1/1. The good thing about choosing an "easy" fray is that it is easier to win, but the bad part about it is one's performance has a bigger impact on the alliance result because there are usually more battles and Novice level frays are mostly about skill instead of cards so card collection is not really an excuse. As a result, I felt some pressure going into the fights this time. (Maybe I should revert to Fray 10 next time hehe!)
So for the final result, we finished 2nd out of 9 guilds and got a whooping 831 Merits, which was a superb result in my view and our teamwork definitely showed. We actually won more than half of our battles. I must say, almost all of the members fought very well in their respective brawls!

Individually, I had 7 fights this time and I managed 4 wins, finishing 7th within the guild. Could have been better in my view but I did my best.

---
Let's jump into the battles!
Battle 1 - WIN
Gladius Card Used: Hugo Strongsword
I opted for a Gladius Card as a tank this time and I must say, faced with 2 Legendary cards on the opposing end, Divine Shield saved me immensely as I had a lot more cards for them to go through. Interestingly, I saw a card which I have never seen before, i.e. Cthulhu. Anyway, Bloodlust wasn't activated but my Ranged cards did their job and I got this win!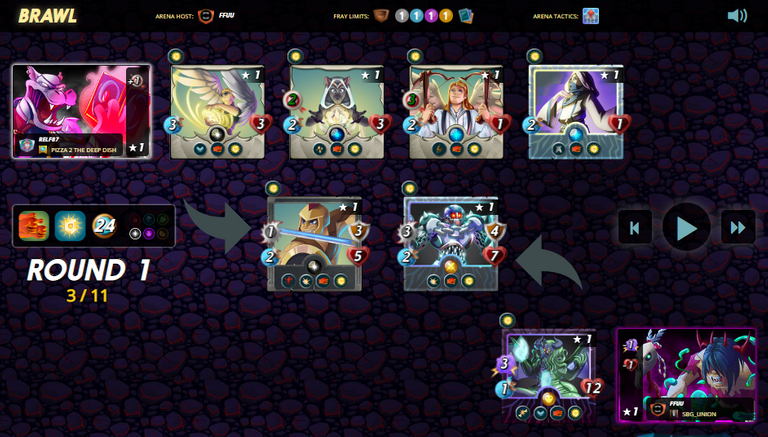 ---
Battle 2 - LOSE
Gladius Card Used: Orella Abadon
Both teams opted for similar Fire lineups and used the same Gladius Card as well. Unfortunately, my Gladius card got taken out before Bloodlust activated and I got edged out in this one. I need to learn to protect my Gladius cards better next time.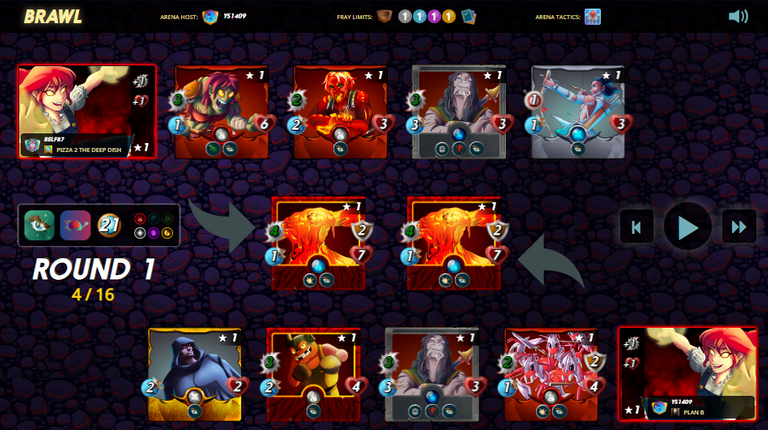 ---
Battle 3 - WIN
Gladius Card Used: None
Wow what a summoner from the opposing side! I wasn't confident of the chances but somehow, I cleared the entire team with all my 6 cards intact even though they had Resurrect. Blast definitely helped a lot. The main difference would be my Pelacor Arbalest's damage, which after General Sloan's boost, became 10 damage (2 times 3 direct damage and 2 blast damage) per turn.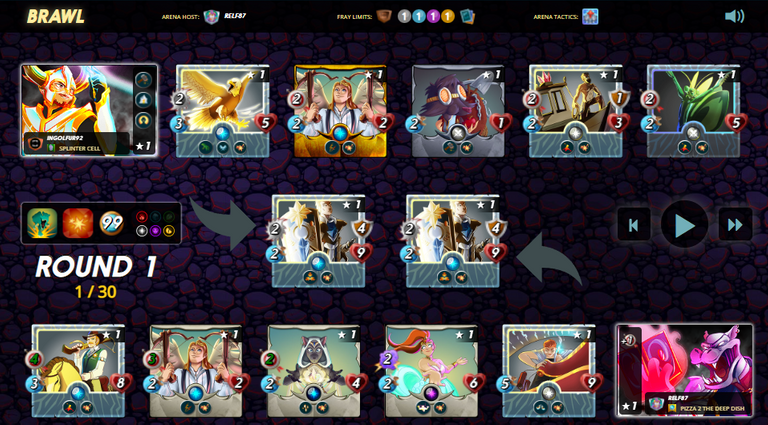 ---
Battle 4 - LOSE
Gladius Card Used: None
This selection process was a mad scramble because I usually don't play Earth much but with the battle modifiers, there was really no choice but to go with Magic. In the 3 minute timeframe of thinking which element to choose, which Gladius card to pick, and which cards to play, I panicked a little and made a mistake by selecting a healer which couldn't heal in this battle. I definitely need more practice after this.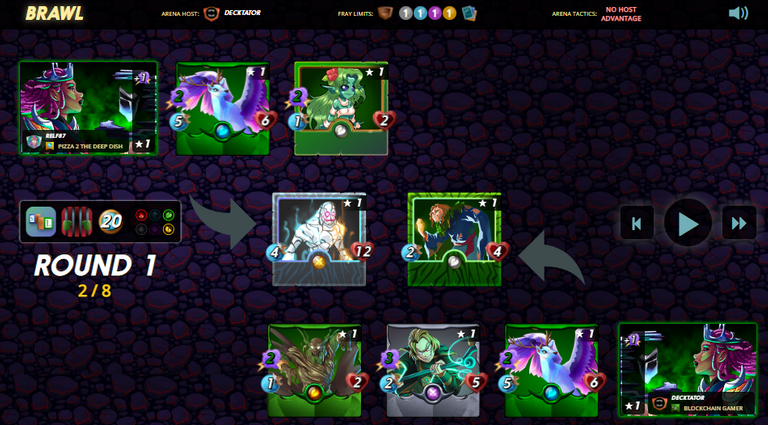 ---
Battle 5 - WIN
Gladius Card Used: Isgard Vorst
Finally I was able to use a Water lineup, something that I am more comfortable with. Picked Isgard Vorst, which was more like a Deeplurker with Bloodlust. Even with the opposing team having a big tank with repair and healing, it was no match for my team. Glad that I scored another win! High five to my Water lineup!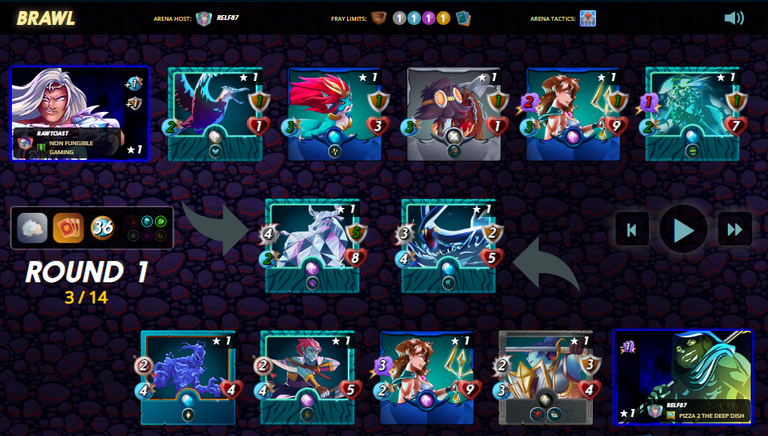 ---
Battle 6 - LOSE
Gladius Card Used: Alva the Crusher
I thought I stood a chance when I submitted my lineup but Grum was just too tough to handle, especially after Bloodlust. Somehow, none of my Gladius cards were able to get a last hit to activate their Bloodlust this entire brawl.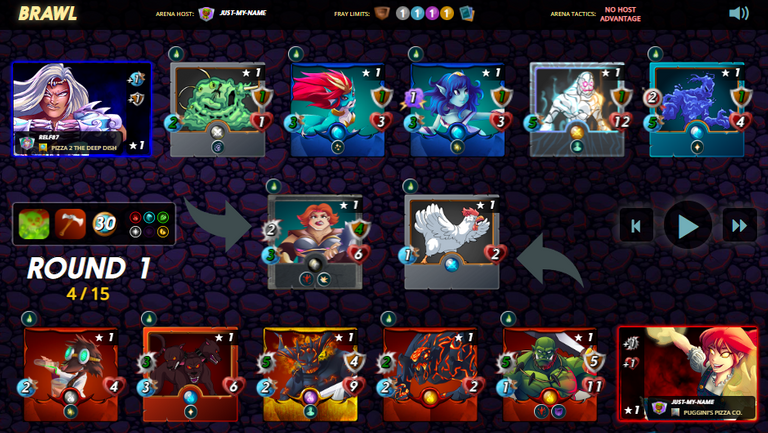 ---
Battle 7 - WIN
Gladius Card Used: Isgard Vorst
Another Water lineup, which meant another win for me! My summoner choice was spot on and my tank too! Everything clicked and even with that "hated" Gladius card on the opposing team, my team comfortably secured the win with all 6 cards intact!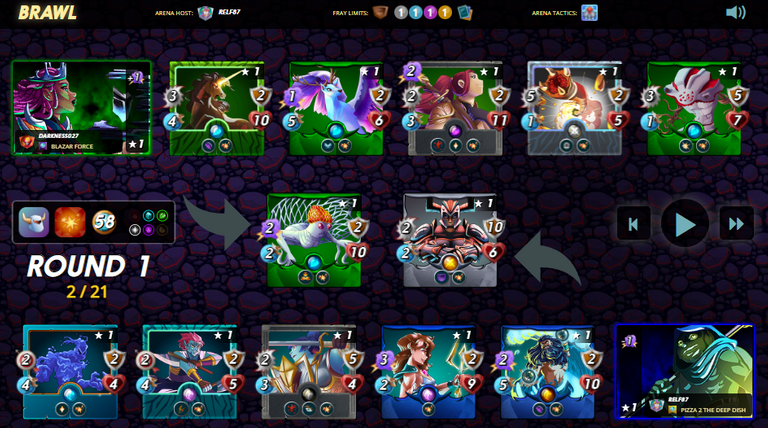 So that sums up my 7 battles for this brawl!
---
Review Of Gladius Cards
Since I am able to use Gladius cards now, I thought I should review selected cards that helped me win in the brawls. However, none of my Gladius cards were able to activate their Bloodlust this time (interestingly), so I thought I would post about the opening of my 3rd Gladius case!
Managed to get 2 Rares and 3 Commons, which is always a good help to the collection power. That's an additional 110 CP. 3 new cards this time, which give me more choices for my Death lineups. I thought Krash Wanderford would be interesting to play. With an effective speed of 7, he might make a good tank in some occasions.
Of course, please let me know if you have any tips in using these cards too as I am keen to learn and improve too!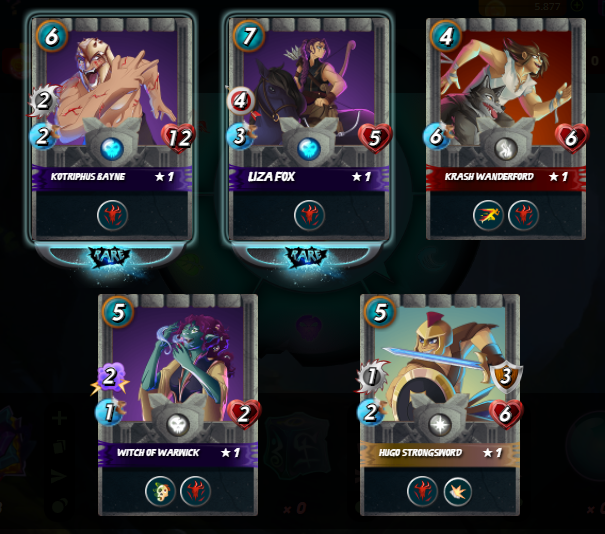 ---
That's all I have! Let me know if you have any thoughts too!
As always, thanks for reading and have a pleasant day ahead!
---
If you are interested to sign up to play Splinterlands, my referral link is here.
---
---