Share Your Battle - Astral Entity Is The Best Death Summoner?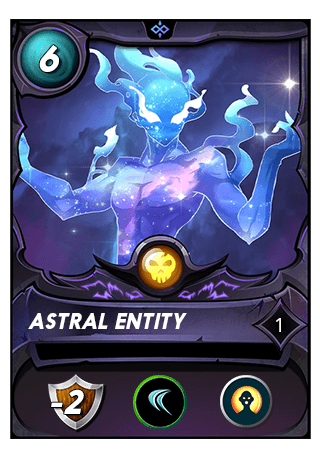 The theme for the current "Share Your Battle" challenge is Magi Necrosi but I wanted to share more about the latest Death card that got me super excited!
I was browsing PeakMonsters one day and I noticed that this Legendary summoner was being listed for rent at 0.2 DEC per day - so I thought why not give it a try and rent it for 3 days to see how good (or bad) this summoner is.
After trying out for a few battles, I liked it so much and I have since added it to my list of cards to be rented permanently!
Looking at the stats, there's nothing out of the ordinary for Legendary summoner. The good part of it would be one can play high levelled Common, Rare and Epic cards with just a Level 1 Legendary summoner. As for its ability, it packs 3 extremely strong abilities, eliminating opponents' armor, dodge and resurrect, which will be very valuable in most battles.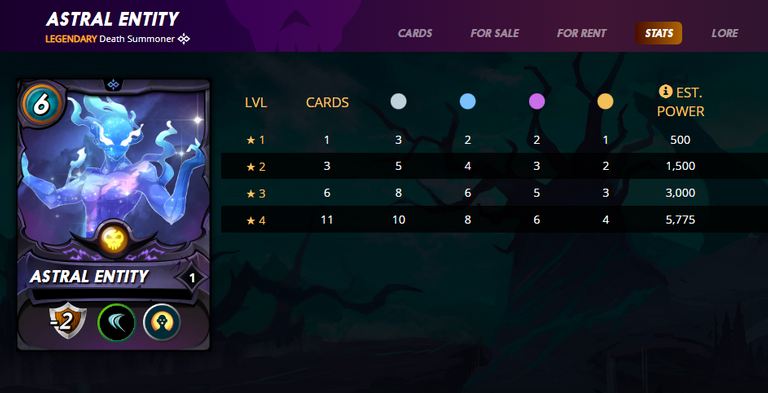 As usual, here's the lore for Astral Entity for your reading interest:
From the shadows and the ether comes an eldritch entity known only as the Astral Entity. It is a celestial being that drifts through rifts in reality, searching for new planes and realms. There are almost no recordings of the Astral Entity in the athenaeums of the Splinterlands, but if one was to search through forgotten scrolls in the cobwebbed corners of ancient libraries, one would find the briefest mentions of this being. Snippets from across the centuries mention a humanoid shape made of cosmic energy. No one knows where it came from or what it wants, but it has only been recorded doing one thing: observing.
In spite of this, death always seems to follow the Astral Entity's arrival. Clans and nations go to war. Crops wither, livestock become ill or infertile, and famine ravages the land. Droughts, plagues of locusts, and violent storms bring empires to their knees. And when it's over, the Astral Entity vanishes without a trace.
When the Chaos Legion invaded the Splinterlands, the rift they opened echoed across realities. This drew the attention of the Astral Entity. It was able to slip through the rift undetected and explore this new world.
It witnessed a world rich in mana, with diverse people and dramatic landscapes. It also witnessed a world crushed by the grip of the powerful Chaos Legion and their leader, Silus of the Rift. The Astral Entity observed the battles, the people suffering, and all the death, but it did nothing to intervene. What it did do was learn. It learned the strengths and weaknesses of not only the Splinterlands, but of the Chaos Legion, as well.
The time may come when the Astral Entity chooses a side. Whatever choice it makes will be purely for its own gain and based on all it has learned from its eons of passing through the rifts.
---
Battle Type & Team Lineup


| Position | Card/Level | Mana |
| --- | --- | --- |
| Summoner | Astral Entity | 6 |
Astral Entity is my top pick given that my opponent might put up a Melee lineup because there's Melee Mayhem in the ruleset. The Dodge ability will definitely come in handy.
| Position | Card/Level | Mana |
| --- | --- | --- |
| 1 | Harklaw | 8 |
It's always either Harklaw or Cursed Windeku for Death tanks. Given that it's Melee Mayhem, I chose Harklaw over Cursed Windeku because of its Shield ability. And then I will place Disintegrator behind to further reduce the Melee attacks with Demoralise.
| Position | Card/Level | Mana |
| --- | --- | --- |
| 2 | Riftwing | 4 |
Given that mana was not too much of a luxury, and that my summoner already took up 6, I chose Riftwing as my secondary tank. Coming in a 4 mana only, Riftwing has the potential to be an invincible tank with high HP from Scavenge and it's good speed and Flying ability. With Astral Entity's Dodge, Riftwing will be much much higher to be hit and you will be amazed how strong a Common card can be.
| Position | Card/Level | Mana |
| --- | --- | --- |
| 3 | Revealer | 4 |
Revealer is also a very strong card, especially at Level 2 when his HP goes up to 5. The Stun ability is extremely useful because the opponent's tank might be a strong card, but the downside of this ability is it's luck-based, i.e. it's doesn't apply 100% of the time.
| Position | Card/Level | Mana |
| --- | --- | --- |
| 4 | Venari Bonesmith | 4 |
Venari Bonesmith is also one of the staple Death cards used in Death lineups because of Life Leech. The long the battle drags out, the more powerful it becomes. At Level 2, its speed receives a boost and this improves his survivability too.
| Position | Card/Level | Mana |
| --- | --- | --- |
| 5 | Disintegrator | 7 |
If not for Melee Mayhem, this would have been a tricky gamble to spend 7 mana on a Melee card in the backline. Harklaw/Disintegrator is one of the nasty combination that could neutralise teams with Melee lineups, except for Fire lineups which are typically stronger when paired with Tarsa.
| Position | Card/Level | Mana |
| --- | --- | --- |
| 6 | Cursed Windeku | 6 |
Cursed Windeku is one of the stronger Melee cards in the Death lineups and I have placed him last to fend off Sneak attacks. When paired with Disintegrator, this makes Thorns more powerful. Hopefully the Thorns will come in handy.
---
Pre Battle: Was not surprised that my opponent came up with a Fire Melee lineup. I have a slight advantage when it comes to HP but let's see how Astral Entity performs.

Round 1: Both my high speed cards Venari Bonesmith and Cursed Windeku absorbed misses from the attacks in the first round. Clearly, Astral Entity's abilities were working well in the background. The miss against Venari Bonesmith was particularly beneficial because it bought more time to gain its HP via Life Leech.

Round 2: This round Harklaw absorbed another miss and my opponent had missed 3 attacks so far. Theirs misses have started to become costly as their tank went down and Riftwing started work with Scavenge.


Round 3: 3 more misses by my opponent this time against Harklaw and Cursed Windeku as they probably wondered what was happening. But of course, it was obvious Astral Entity was behind all this. Harklaw held firm while my opponent's secondary tank was almost down.


Round 4: 1 more miss recorded this time and my opponent had missed 7 times in total after 4 rounds. With their secondary tank down, their team fell apart. The Sneak attacks began to prove detrimental as their backline started to fall off as well. Just as Riftwing was happily gaining HP via Scavenge, Cursed Windeku finally succumbed to those Sneak attacks...but it was Resurrected by who else but Astral Entity!


Round 5: Finally my tank went down and the battle ended with Riftwing at 14 HP!

If you are interested to watch the battle, you can find it here.
---
Post Battle
Did my strategy work? Definitely, there were many traps and defences laid in my Death lineup. Harklaw had Shield which reduced Melee damage received. Riftwing had Scavenge which gained HP when cards were down. Revealer had Stun which further reduced damage from my opponent. Venari Bonesmith had Life Leech which increased its HP throughout the battle. Disintegrator came with Demoralise which further reduced Melee damage received. Finally, Cursed Windeku had Thorns which inflicted further damage to opponents. Even though my damage output isn't spectacular, these defences and traps made it very difficult for my opponent to take down my cards.
Do I like Astral Entity? A BIG YES! Astral Entity works very well with the current set of Death cards if you realised. Resurrect ability is very useful with Melee cards like Harklaw (you get 3 more armor) and Cursed Windeku (you get another chance to inflict Thorns, i.e. more damage dealt). Cards like Riftwing also benefit greatly because there is an extra card to die which means an extra 1 HP to be gained. When paired with Revealer, Dodge and Stun also make it very hard for the opponents to hit.
Final thoughts? Astral Entity is one of the more underrated Legendary summoners and I think players will realise how good it is sooner or later. For me, it's the best Death summoner because it's the final jigsaw puzzle piece to bind all these Death cards together to win battles collectively as a team.
---
So that's all I have! What are your takeaways from this battle? Feel free to comment below, as I am always keen to learn and improve!
As always, thanks for reading and have a pleasant day ahead!
---
If you are interested to sign up to play Splinterlands, my referral link is here.
---
---