Share Your Battle - Ignore Rulesets At Your Own Risk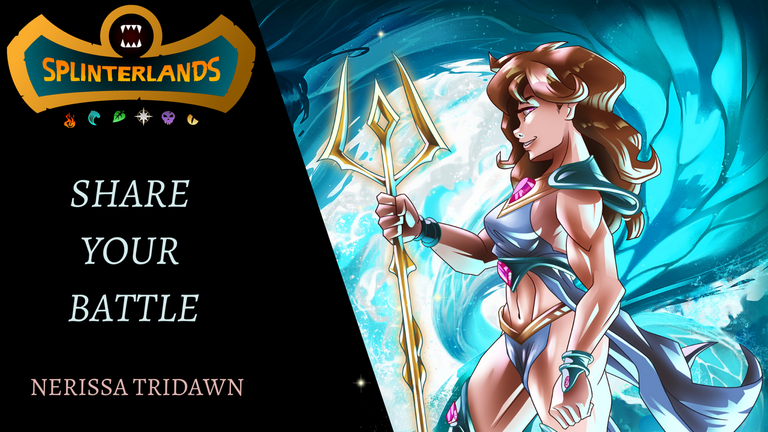 The theme for the current "Share Your Battle" challenge is Nerissa Tridawn and you can definitely count on me to do a review because it's a Water card! As you would know, I am a fan of Water cards and Nerissa Tridawn is definitely a Epic feature in my Water lineups!
Looking at the stats, Nerissa Tridawn has no abilities at all which means she is extremely easy to use as her main role is to deal Magic damage. With 9 HP, her survivability is strong and even more so when paired with a healer.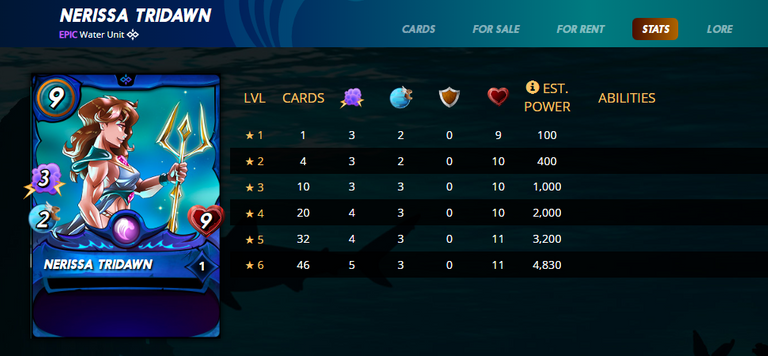 As usual, here's the lore for Nerissa Tridawn for your reading interest:
Nerissa is a proud warrior of the water. Armed with her enchanted trident, she defends the seas, the rivers, and the lakes. She is well known across coastal villages, and they often call on her for help. She has slain great sea beasts that would otherwise kill everyone in their path. She has rescued sailors from hurricanes, and even warned villages of incoming tsunamis to save lives. Her bravery and brilliance in battle have led to her being called Nerissa the Hurricane.
Nerissa was born and raised by the ocean, and could swim before she could walk. She always felt the sea called to her. And within her it stirred a deep magic. An ancient mana of tides and waves. Nerissa answered the call, and travels between the continents of the Splinterlands.
When settlers and explorers made their way to Praetoria, Nerissa was there to help with every step of the journey. But the blight that gripped the land worried her deeply. Its corruption spread into the waters that she loved so dearly. She often caught herself crossing paths with Igor the Finback and his tribe of Trench Dwellers. Each time she had to pull back or risk all of them attacking her at once.
When Nerissa learned of the deeper plot of the Chaos Legion, she vowed to defend Praetoria and its inhabitants with her life.
---
Battle Type & Team Lineup


Following the suggestion by @lenonmc21, I have restructured my description of my lineup to explain the placing of my cards!
| Position | Card/Level | Mana |
| --- | --- | --- |
| Summoner | Kelya Frendul | 4 |
Kelya Frendul is my choice because I play Water lineups mostly and have the strongest cards within Water. Even though the Return Fire and Fury rulesets mean that I can't find my Ranged cards like Axemaster and Wave Brood, I am sure I would be able to find other suitable cards.
| Position | Card/Level | Mana |
| --- | --- | --- |
| 1 | Sea Monster | 8 |
Sea Monster is my favourite Water tank currently and I find it much stronger than Diemonshark in most cases. The self healing ability is extremely underrated but important in buying more time for the backline to deal damage. My win rate increased significantly ever since I switched to Sea Monster as tank.
| Position | Card/Level | Mana |
| --- | --- | --- |
| 2 | Djinn Oshannus | 8 |
Djinn Oshannus is my default secondary tank behind Sea Monster for mid to high level mana battles. With a high speed of 5 and a Void ability, it's a tough card for opponents to get through even after they managed to overcome Sea Monster.
| Position | Card/Level | Mana |
| --- | --- | --- |
| 3 | Nerissa Tridawn | 9 |
At 60 mana, mana is a luxury. Nerissa Tridawn slots in behind her Magic partner Djinn Oshannus. Her survivability is without question but her strength is actually her 3 Magic damage per turn and the damage become very apparent in long battles.
| Position | Card/Level | Mana |
| --- | --- | --- |
| 4 | Deeplurker | 6 |
Deeplurker is definitely a must have for all Water lineups when mana permits. Opportunity has the ability to change matches because that's usually the only way to take down healers in opposing backlines. Putting it in the middle positions ensures that the Opportunity ability is maximised because attacks usually come from the front and back (Sneak). At 3 Melee damage and just 6 mana, there is a reason why Deeplurker is one of the top Common cards for the Chaos Legion edition.
| Position | Card/Level | Mana |
| --- | --- | --- |
| 5 | Magi of Chaos | 6 |
This is usually where Axemaster comes in but because I couldn't use him for this ruleset, Magi of Chaos was picked. Magi of Chaos is another easy card to use (like Nerissa Tridawn) because he only has one job and that is to deal Magic damage. His strongest ability is actual his Neutral element, which means he can be used in another lineups whenever you want a card that deals good damage.
| Position | Card/Level | Mana |
| --- | --- | --- |
| 6 | Sand Worm | 9 |
Sand Worm is usually a gamble card. Except for Reverse Speed, it is very disadvantaged when it comes to speed difference. This means that you can be missing a lot of those 5 Melee damage hits if you are unlucky. Being the most dispensable card in the lineup, I slotted it as the last card, hoping that my opponent chose not to fill Sneak cards.
---
Pre Battle: When I saw the lineups I knew my win was almost certain. Clearly, my opponent was either a bot that ran on an outdated code, or someone who didn't follow the rulesets. With Ranged and Taunt cards, my opponent was not going to do well for sure.

Round 1: As expected, their Taunt card went down within 2 hits. My gamble card Sand Worm struck out their healer. After 1 round, my opponent was down to 4 cards and it could be worse if not for their strong tank.

Round 2: My Sea Monster continued to absorb all the damage and still survived! This bought a lot of time for the 5 cards in the backline to rain damage on my opponent and it's now 6 cards vs 3.

Round 3: My Sea Monster finally went down and it was my secondary tank Djinn Oshannus' turn to take over to secure the victory.

Round 4: And we completed an easy win against a careless opponent!

If you are interested to watch the battle, you can find it here.
---
Post Battle
Did my strategy work? My lineup was not exceptionally powerful but I followed the rulesets and that was the main strategy. With some battles having 3 rulesets now, it's not just about fielding strong lineups because not following rulesets can be very costly now.
Do I like Nerissa Tridawn? Yes, because she is easy to use. She is also a great "team player" because you can always count on her to deliver her Magic damage. The only occasions where she cannot be used is during Magic Reflect battles, or low mana fights.
Final thoughts? Read, understand and research on the rulesets! Take note which cards you should avoid using and take note which cards are strong for these rulesets! With that, you will have a good chance of winning battles, even against higher levelled summoners/cards.
---
So that's all I have! What are your takeaways from this battle? Feel free to comment below, as I am always keen to learn and improve!
As always, thanks for reading and have a pleasant day ahead!
---
If you are interested to sign up to play Splinterlands, my referral link is here.
---
---