Share Your Battle - Is Merdhampir Underrated?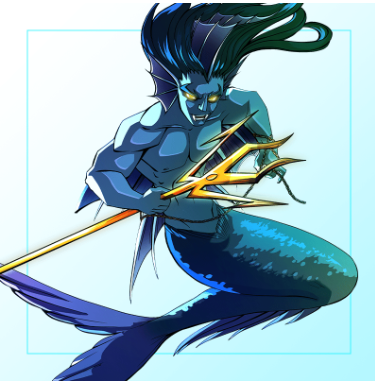 The theme for the current "Share Your Battle" challenge is Life Sapper and everyone would be familiar with its Life Leech ability. However, in this post, I wanted to share another underrated card that has Life Leech and I seldom see it being used in battles. It's none other Merdhampir! Don't underestimate a Common card because it is one of the better cards for Little League battles!
Here's the Lore section for Merdhampir for reading interest:
No one would have thought that a mermaid could seduce a vampire, but on that fateful day, the seas became an even deadlier place to be. The Sea Drinker shares all of the merfolk's gifts beneath the water, along with an insatiable appetite for blood. They also have bat-like wings that are useless in the air but are crucial beneath the waves.
The Sea Drinker carries a great trident that it uses to catch its prey. The barbed prongs hold fast whilst the Sea Drinker drags its quarry back into the water using a long, thin chain attached to the weapon. Struggle as it may, the poor victim is pulled to an inevitable death. Few can escape this amphibious blood drinker.
---
Battle Type & Team Lineup


| Position | Card | Notes |
| --- | --- | --- |
| Summoner | Kelya Frendul | It's an Enrage and Little League battle and I have a personal preference and comfort level to go for Water because they have decent Melee cards within 4 mana. |
| 1 | Cruel Sethropod | For a 3 mana card, Cruel Sethropod has very tanky stats of 3 Armor and 4 HP, even at Level 1. I only started to use this card lately and I am amazed how powerful it can be. |
| 2 | Tide Biter | An awesome Epic Reward card and he is the best Reach card for Water in my view. At Level 2, the Melee damage gets a boost and his speed is just awesome. |
| 3 | Pelacor Bandit | At Level 3, he is less squishy but the attack power is slightly disappointing. Still he gets the pick since he can get Enraged. Having the Sneak ability means he can attack from the backline. |
| 4 | Uraeus | Another awesome Epic Reward card and similar to Tide Biter, its Melee damage gets a boost at Level 2 and definitely gets the pick. Having the Sneak ability means he can attack from the backline. |
| 5 | Scavo Hireling | He gets the pick because of Cruel Sethropod and hopefully buys more time for the backline. |
| 6 | Merdhampir | Coming it at 5 HP at Level 3, or 4 HP at Level 1, it is a decent tank and I found him very useful to be the protector of the backline from cards with Sneak. With Life Leech, his survivability is actually quite impressive. |
---
Pre Battle: In a rare scenario, I faced an opponent with all Level 1 cards. So I definitely had the advantage but with Enrage in play, it will be tricky nonetheless.

Round 1: They didn't have any Sneak cards, which meant my Merdhampir would be very safe. Nothing much happened this round as both teams had to get rid the extra Armor boost from both Summoners.

Round 2: Scavo Hireling got hunted down by Opportunity hits but his Repair kept Cruel Sethropod alive till now. The opponent's tank got struck out and we were down to 5 vs 5.

Round 3: Cruel Sethropod still stood at 1 HP after 3 rounds. My attack power showed as my opponent was quickly shaved to 2 cards once their tank was gone.

Round 4: And it's all over in 4 rounds! Cruel Sethropod was still around and Merdhampir accumulated a whooping 8 HP.

If you are interested to watch the battle, you can find it here.
---
Post Battle
Did my strategy work? I had to admit that the level of cards made a difference and fortunately I wasn't threatened throughout the battle. My lineup was strong definitely and this team could continue on and on, as long as they don't meet Mylor Crowling.
Do I like Merdhampir? For Little League yes, but not for other battles because Water has better Ranged cards for 5 mana or higher. But being 4 mana, it becomes one of the stronger cards for Little League.
Final thoughts? To answer my title question, I do think some of the Reward cards are actually pretty good, when used at the right occasions. Merdhampir is definitely one of the underrated cards.
---
So that's all I have! What are your takeaways from this battle? Feel free to comment below, as I am always keen to learn and improve!
As always, thanks for reading and have a pleasant day ahead!
---
If you are interested to sign up to play Splinterlands, my referral link is here.
---
---