Share Your Battle - The Corrupted Water Elemental Taunts And Wins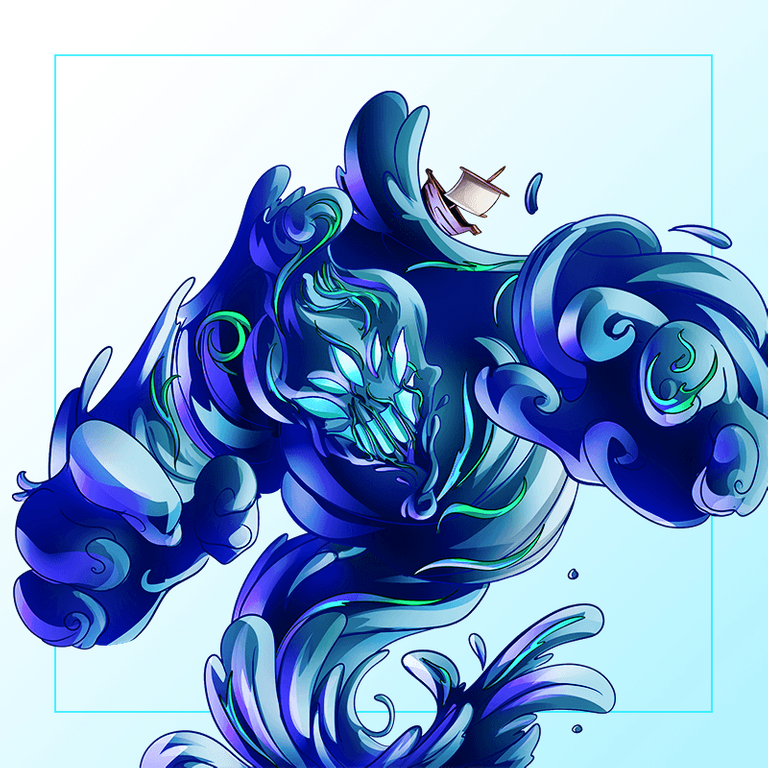 The theme for the current "Share Your Battle" challenge is Angelic Mandarin and I realise I seldom use this card because Water just has too many good Ranged cards for my selection, e.g. Axemaster, Water Elemental or even Sniping Narwhal. In this post, I would be introducing another Water Ranged card which has a very unique ability called Taunt, and that would be the corrupted Water Elemental! If you have read the Lore, you know that it's the Wave Brood!
If you haven't, here's the Lore section for Wave Brood for reading interest:
A Wave Brood is a corrupted water elemental twisted by the Chaos Legion. Summoners distort the magic used to create the elemental, making it a chaotic and fearsome creature. Wave Broods are completely devoted to their summoner and are often used in naval warfare, sinking ships and guarding the Legion's fleets and forces.
---
Battle Type & Team Lineup


| Position | Card | Notes |
| --- | --- | --- |
| Summoner | Kelya Frendul | A very reliable Water Summoner that adds Speed and Armor. |
| 1 | Xenith Monk | Due to the lack of mana, have opted a self healing Level 2 Xenith Monk over the usual Diemonshark. Its survivability heavily depends on the damage output of the team. |
| 2 | Djinn Oshannus | Djinn Oshannus slots in second as an all rounder, functioning well as a secondary tank as well. |
| 3 | Deeplurker | Deeplurker is one of the best Common cards (as you can tell from the price of the card!) and definitely is a staple in any Water lineup. |
| 4 | Axemaster | Axemaster is very strong with his double attacks and its attack ability will be heavily boosted by the Opportunity modifier in this battle. |
| 5 | Water Elemental | Water Elemental has self healing ability so it is a very good card to protect the backline, as long as there are not too many Sneak attacks. |
| 6 | Wave Brood | Given the Opportunity modifier, a card with Taunt would be very important to protect the rest of the team. Wave Brood comes in handy and its 12 HP will buy the rest of the team a lot of time to deal damage. |
---
Pre Battle: My opponent put out a strong Earth lineup with Melee and Magic and Queen Mycelia always caused a lot of problems for me. So let's see how Wave Brood performed with Taunt!

Round 1: With the Opportunity modifier, my team was able to strike effectively and my opponent lost 2 cards in the first round while my Wave Brood soaked up all the damage.

Round 2: By the time Wave Brood was taken out, my opponent was down to 3 cards. The opposing Grund was causing a lot of problems with its double attacks as well, which was also boosted in this Opportunity battle. Having a slight advantage after two rounds but getting past the opposing Unicorn Mustang would be quite a challenge as well.

Round 3: The rest of the team continued to pound more damage and Water Elemental's self healing came to the rescue and survived to fight on. Grund and Unicorn Mustang were definitely holding up very well.

Round 4: By sheer damage output, my Water lineup made the advantage count and Djinn Oshannus proved to be tricky tank to handle as well.


Round 5: And it's all over!

If you are interested to watch the battle, you can find it here.
---
Post Battle
Did my strategy work? I think the main strategy here was to use a card with Taunt to neutralise the Opportunity modifier so that the rest of the team can survive longer to deal more damage.
Do I like Wave Brood? Yes definitely! Wave Brood has an incredible 12 HP (never mind the 1 Speed and 1 Ranged attack, which in my view is not important as well) and does its job of soaking up damage very well.
Final thoughts? Ignore Angelic Mandarin hehe! There are many better Ranged Water cards like Wave Brood that you need to get your hands on and try them out!
---
So that's all I have! What are your takeaways from this battle? Feel free to comment below, as I am always keen to learn and improve!
As always, thanks for reading and have a pleasant day ahead!
---
If you are interested to sign up to play Splinterlands, my referral link is here.
---
---