Free Delegation For New Splinterlands Sign Ups
Splinterlands is a digital card game created by @aggroed and @yabapmatt. Game Play in which give prizes that have monetary value are being played daily. You can start playing or investing in Splinterlands today by clicking here.

Splinterlands can be played for free but if you want to earn while playing you will need to first purchase the Spellbook. The cost of the Spellbook is just $10 USD. This can be recouped in a timely manner by playing the game. Rewards won while playing can vary. You might get lucky and win a reward on your first day of play that far outweighs the $10 purchase for the Spellbook. You might have to grind the game for a few weeks. In either case if you play the game to some level of consistency I can almost gaurantee that you will earn your $10 USD back.
The Spellbook contains a set amount of cards in which can't be sold or transferred. Any cards (and other rewards) won after purchasing the Spellbook can be sold or transfered. Not all cards in the game will be available for play with your Spellbook purchase. This is where signing up under my affiliate link will benefit you. I have been collecting Splinterland cards since the game was first introduced *three years ago. As a result I have an abundance of cards I don't get to play with. I believe monsters are meant to be played with so here today I have decided to start offering FREE seasonal delegations to new players who sign up to Splinterlands using my affiliate link.

These free delegations are of the BETA and REWARDS edition. BETA boosters are long sold out and contain all the cards the ALPHA edition introduced to us plus some new ones as well. How this works is if you are interested in this deal you will first need to sign up to Splinterlands using my affiliate link (https://splinterlands.com?ref=rentmoney). Second you will need to purchase the Spellbook.
Once you have done that you can look through my collection and pick any FIVE Level One Beta monsters in which you would like to have delegated to you. The delegations will be FREE and will stay for one full Splinterlands season. This offer is first come/first serve and is only available while supply lasts. I have about 20,000 BCX of BETA/REWARD cards so there's lots to choose from. All Level One Beta Monster cards in which I have three or more of are included in this offer. You can see my beta/rewards collection by clicking here.
My affiliate Link
https://splinterlands.com?ref=rentmoney
If this offer interest you simply click the above link and sign up to Splinterlands. After you make the Spellbook purchase look through my collection and then come back here and let me know in the comment section below what cards you would like delegated to your account. If your Splinterlands name doesn't appear in my list of sign ups under my affiliate link you will be excluded from this offer. The Five Free delegations are limited to one legendary card and Summoners are excluded. We look forward to hearing from you in the comment section. Too many choices, can't choose which five? No problem I can pick five for you. Just request that I do so after you have signed up using my link and have purchased the Spellbook. Offer valid for new sign ups only.
Watch My Latest Battle Below
https://splinterlands.com?p=battle&id=d357a771c40fe8d5d7e3fe18b8c6ecd0c6b337b8&ref=rentmoney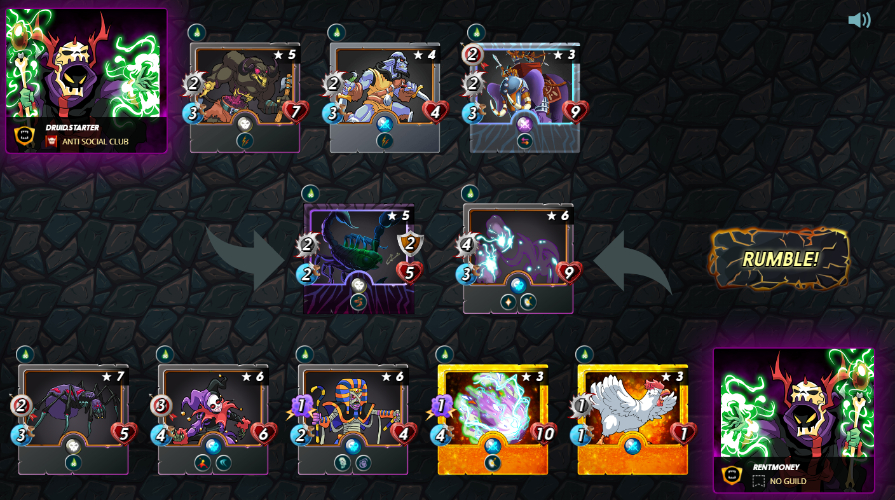 ---
---