Is The Waka Flocka Card Worth Its Price?

Just days ago Splinterlands announced they have partnered with Waka Flocka (Rapper, Recording Artist, and Reality TV Star). This partnership will introduce the Splinterlands community to a new Legendary Death Summoner. The card itself looks amazing and will be equipped with the Poison ability. The Waka card will cost just three MANA to play in battle (this card is going to be a beast). I know exciting stuff but don't get too excited as there is a limit on how many of these cards will be in circulation. No biggie, scarcity is one of the main ingredients to Splinterlands success at creating NFT's that maintain and grow in USD value. On the flip side its that same scarcity that puts a dent in our pocketbook as we all rush to get these limited in supply assets. The amount of these Waka Flocka cards to be available will be 1000 with 50% of them being sold on the official Splinterlands marketplace and the other 50% to be sold for WAX. The Waka Spiritblade NFT will be released for sale at 12pm EST / 17:00 UTC on Thursday, February 24th, 2022 in the Splinterlands store. Lets take a look at the card.
---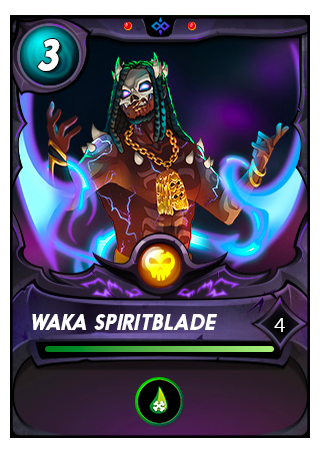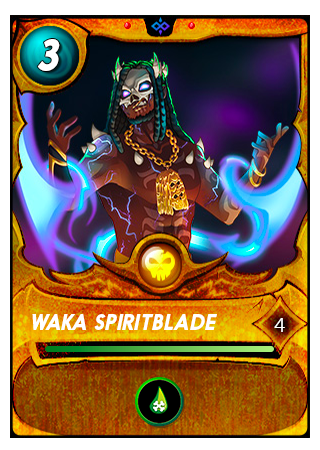 ---
Readers:
"How Much will this card cost?"
---
Good question, The Waka card will only be available at MAX Level and like all Splinterland cards Can Not be uncombined. Such a card with a 1000 Limit isn't going to be on the cost efficiency side of things but if you are lucky enough you can get your hands on one of these bad boys for the low price of 5000 SPS + 500 Vouchers. Currently SPS trades near $0.14 USD so 5000 SPS would be equal to $700 USD. Vouchers are currently trading for $2.20 USD each bringing the value of 500 Vouchers to $1100 USD. This brings us to a grand total of the Waka Spiritblade Death Summoner being valued at $1800 USD (Note: SPS/Voucher prices are rounded to the nearest cent).
---
---
Is This A Reasonable Cost?
This is a hard one to calculate but one way of predicting the future value of the Waka Spliritblade card is by looking at other Legendary Summoner cards that have similar print rates. Lets take a look at what the numbers say for the lowest priced Legendary cards in each set.
---
Regular Foil
| Set | Price Range | *Circulating Supply |
| --- | --- | --- |
| Alpha | $489 | 499 |
| Beta | $319-$749 | 578-940 |
| Untamed | $68-$614 | 1439-2209 |
| Chaos Legion | $29 | 7219 |
| Promo | $12,000- $25,000 (Maxed) | 83-87 |
---
Gold Foil
| Set | Price Range | Circulating Supply |
| --- | --- | --- |
| Alpha | ------------- | ------------- |
| Beta | $4850-$25,000 | 43-65 |
| Untamed | $1500-$16,000 | 82-139 |
| Chaos Legion | $390 | 481 |
| Rewards | ------------- | ------------- |
| Promo | ------------- | ------------- |
| Dice | ------------- | ------------- |
---
Notes:
I excluded the Legendary cards that were not Summoners. I excluded the circulating supply of Summoners that currently are not listed for sale on the official Splinterlands marketplace. The Alpha set had just one Legendary Summoner (Selenia Sky) and at the time of this posts publication there was no Gold Version listed for sale on the official Splinterlands marketplace. Chaos Legion Booster sales is still ongoing. All other sets booster packs have sold out. No Promo gold foils are currently listed for sale but on 11/3/2021 a MAX level Prince Julian sold for $50,000 USD (Source].
---
---
Looking at the numbers supplied above I think it makes the most sense to compare (USD Price Wise) the upcoming 1000 MAX Waka Flocka card to the Beta set of Legendary Summoners. The Beta Legendary Summoners have a current circulation rate of 578-940 bringing us very close to the 1000 circulating supply rate the Waka Spiritblade will have. The high end of a regular foil Beta Legendary Summoner is $749 (Single BCX). The Waka card will be maxed and have a collectability no other Splinterlands card has (The first ever and currently the only celebrity card to be introduced to the game). The lowest cost Beta Gold Foil has a circulation supply of 65 and is going to cost you near $5000 USD at today's (Feb/18/2022) asking prices (Not Maxed). A Maxed Gold Foil Promo Celeb card will very likely be worth more than a base level Gold Foil Card regardless of edition. So does RentMoney think (USD wise) the price tag for the Waka Spiritblade card is worth the current $1800 USD asking price? To be honest, I'm not sure (I'm leaning towards yes). If you hit a gold foil version of this card I have a feeling that you will be very very happy with the ROI you receive but if you end up with a regular foil (in the short term) the card might not have a resale value of the current $1800 USD cost. There is a chance that a flock of Waka Flocka fans come running to splinterlands thus driving up the price but I personally don't see that to be likely. With all that in mind there is still one other thing to take into account before deciding if we will purchase the Waka card.
---
SPS Current Worth vs. Future Value
SPS main usecase still has not been implemented yet (governance voting) and the Splinterlands community is predicting an uptick in USD worth for the SPS token once its main usecase (and others) are fully implemented. The current $0.14 USD is a USD worth much smaller than the Value I think SPS has or could have in the future. This means Personally I don't think Spending 5000 SPS on this card is very appealing. If I was to purchase this Waka Flocka legendary what I would do is use either Fiat or other Cryptocurrencies I have readily available to purchase SPS with the intent of using that SPS to purchase the Splinterblade card. I would not use any current SPS I already own. Going from Fiat-SPS-Card means I spent my Fiat. Going from RandomCrypto-SPS-Card means I spent my RandomCrypto. Going from SPS-Card means I spend my SPS and at $0.14 USD per SPS I'm not selling a single one.
---
Waka Flocka: The Man
Waka Flocka came to fame with his breakthrough single "O Lets Do It" which peaked at number 62 on the us Billboard Hot 100. Waka Flocka is a member of 1017 Brick Squad with Gucci Mane, OJ Da Juiceman and Wooh Da Kid (Source).
---

---
Filmography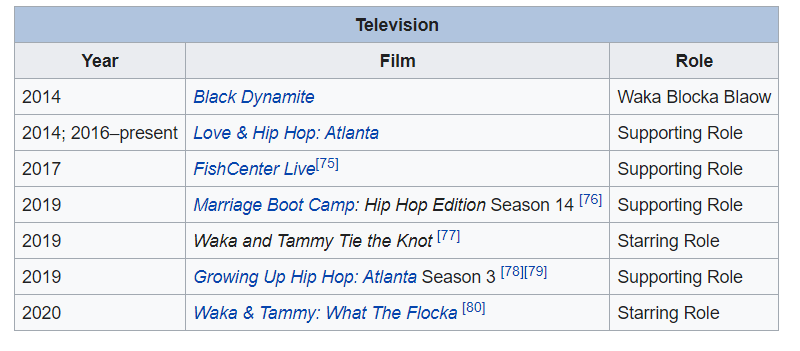 ---
Awards and nominations

---
What Is Splinterlands?
Splinterlands is blockchain game built on the Hive Network. The game itself utilizes NFT's for game play. These NFT's can be won in battle and/or purchased from the official Splinterlands marketplace or many other secondary markets. Game play rewards players with cryptocurrency and in game assets. Click here to get started with Splinterlands today.
---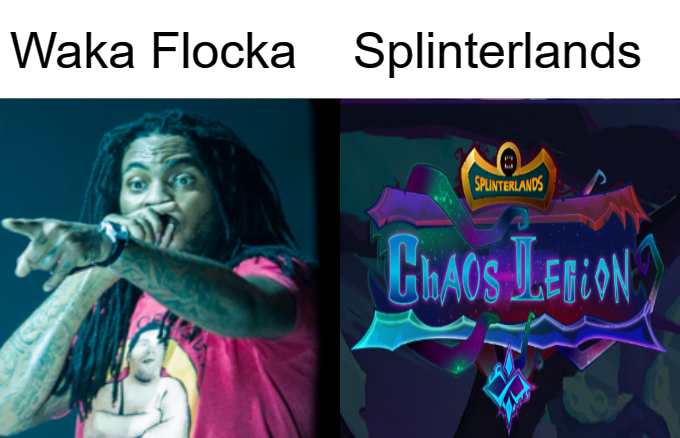 ---
---

---
---
---