Purchasing And Opening Chaos Legion Packs + Splinterlands Lore Showcased!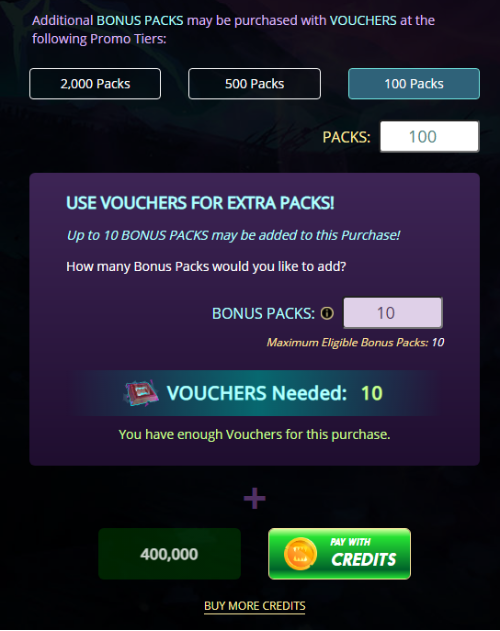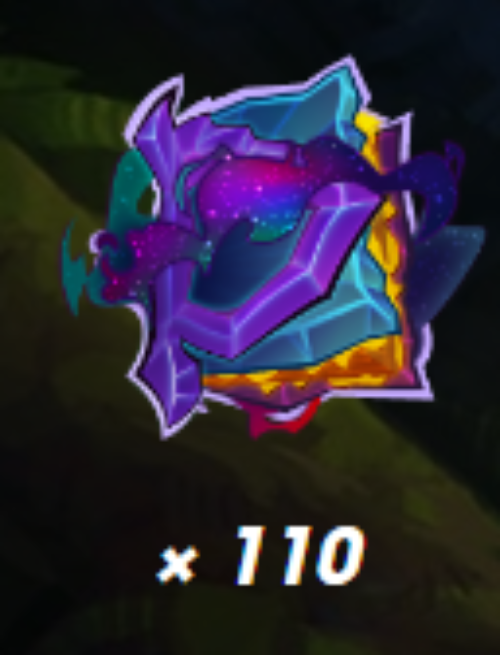 ---
As many know Splinterlands general sale for their newest edition of NFT's named Chaos Legion is in full swing. Within the first 24hrs of general sale being available a staggering 2.34 Million Booster Packs sold. While sales slowed down slightly make no mistake about it Chaos Legion Boosters are still selling in bunches. Today (01/19/2022) a total of 8.44 million Chaos Legion Boosters remain on the Splinterlands market for sale. How long will these last is anyone's guess but I can tell you from past experience when the supply dwindles down to the last "few" boosters left FOMO kicks in hard and the last days of sale usually is a mad rush to get as many packs as one possibly can. With past editions the max supply of booster packs has been much smaller than with the current edition (Chaos League). In the past the mad rush to purchase the last of the booster packs for sale usually started somewhere around the 100,000 remaining booster mark. Its very likely FOMO kicks in allot sooner than that with Chaos Legion. The UNTAMED edition had just 1.5 million boosters for sale. That means at roughly the 7% mark (7% of total boosters remaining) FOMO kicked in. If we use that same metric for Chaos Legion (7% of 15 Million) that will leave us with FOMO kicking in at the One Million mark.
Lets Purchase Some Packs
Before doing so I need to figure out how many packs I want to purchase. For this batch of purchases I have settled on 100 Packs and this allows me to have 10 Bonus Packs for the price of 10 Vouchers. I can opt out of receiving these bonus packs if I want but I won't be doing that. This means I have to check to see if I have enough Vouchers for the purchase (Check: 10 Vouchers ready to go). I feel as they should change the name of the "bonus" packs to something else. They are no longer a bonus as we are paying for them with Vouchers but that is a topic for another time. Currently Vouchers are selling for roughly $2.22 USD so trading a Voucher for a Chaos Legion Pack that would usually cost $4.00 USD is a steal of a deal.
Voucher Trade Market
Hive-Engine Link:https://hive-engine.com/?p=market&t=VOUCHER
LeoDex Link: https://leodex.io/market/VOUCHER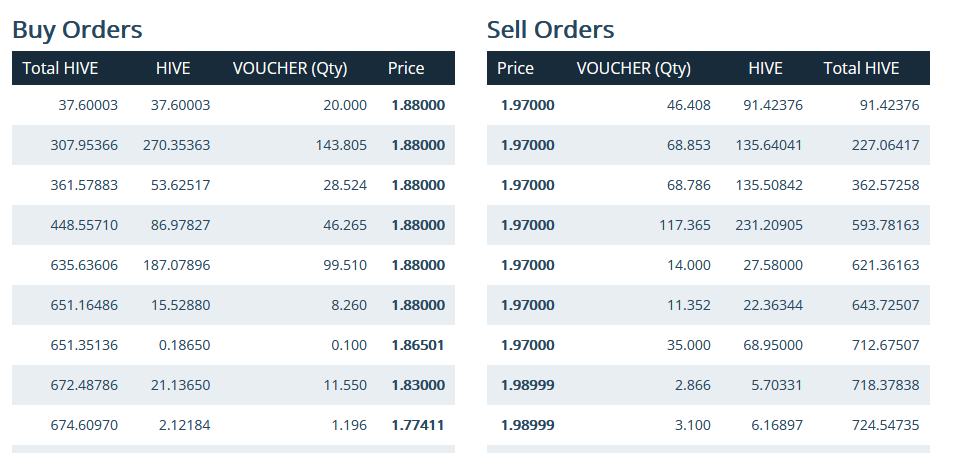 Lets Open Some Packs
The Splinterland site very cleverly brings us to the MANA WELL which temps us to open our packs as soon as we buy them. Of course I can't resist that temptation and open some packs I will. At the time of typing this I haven't opened them yet so I will be revealing what is in each pack as I open them. I almost forgot, I need to check my potions to make sure I have enough to open a handful of packs (Check and Check). Now Lets see if lady luck is on our side.
Pack One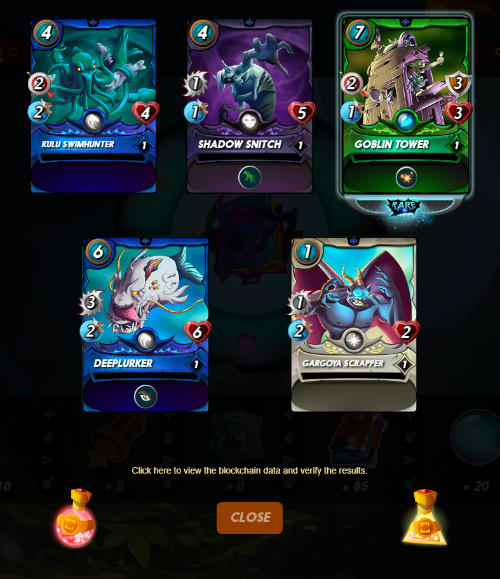 Pack Two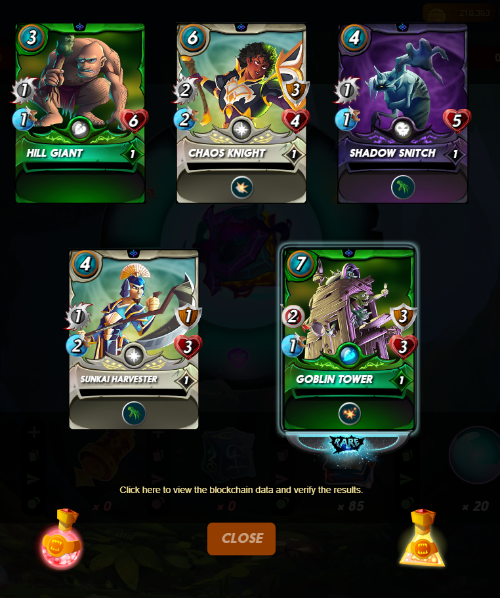 Pack Three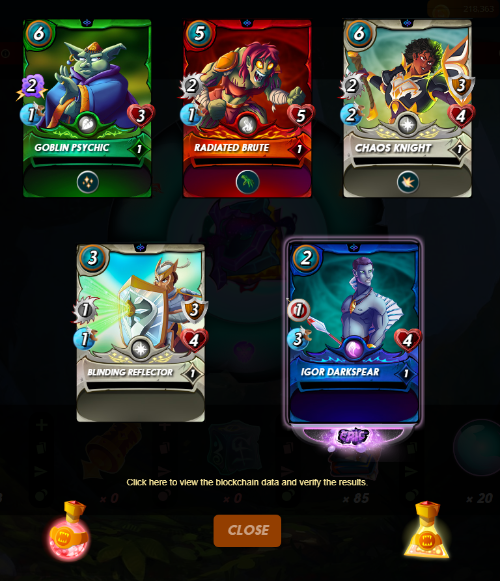 Pack Four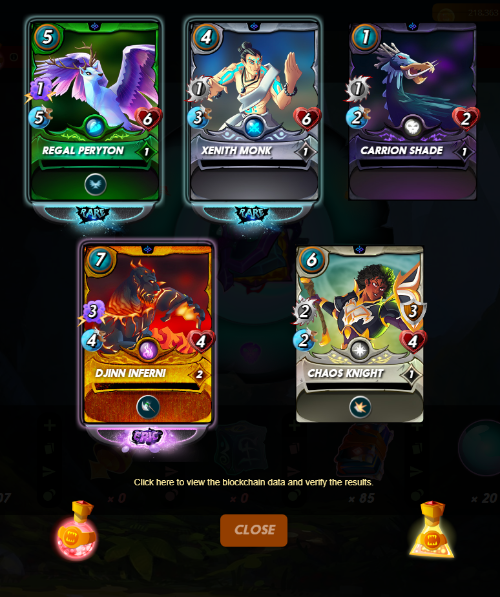 My first two pack openings gave me some decent cards but were the standard four common and one rare openings. I was debating on packing it in but that MANA WELL kept tempting me so I opened another and this time I managed to flip the Epic Monster known as IGOR DARKSPEAR which so happens to be a low mana card (2) and those are some of my favorite monsters. With an epic appearing in my third opened pack I decided to press my luck and open a forth. In our Fourth opened pack the first two cards ended up being rares and then the fourth card flipped BOOM a Gold Foil Epic known as DJINN INFERNI. It cost seven mana to play but comes with three magic attack, four speed and four health. It is also equipped with the ability known as Giant Killer (Does double damage against Monsters that cost 10 mana or more). Currently this card is worth about $45 on the Splinterlands market. With opening four packs at $4 USD each for a total of $16 USD spent that leaves us with $30+ in USD profit.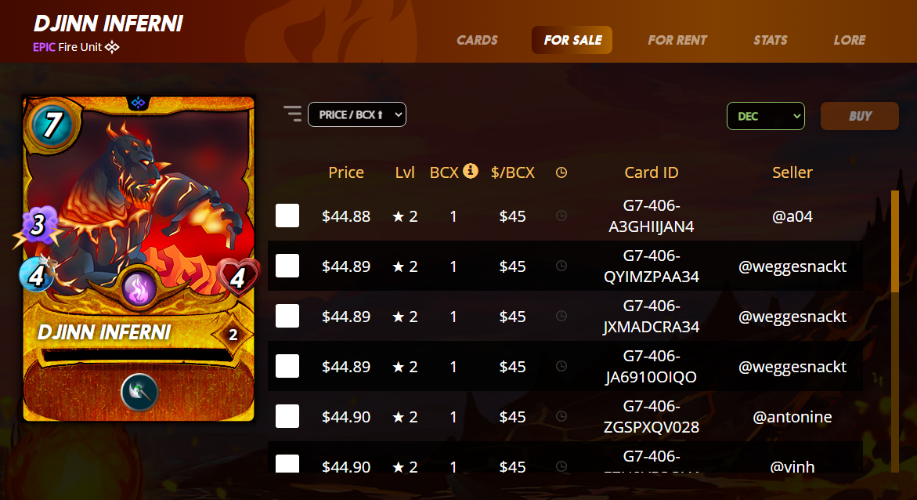 DJINN INFERNI LORE:
Lore taken from official Splinterlands site. Djinn Inferni is the eldest of the ancient wardens of fire, spirits of flame that dwell in the deepest rivers of stone. Second only to Lord Janai himself, he is prideful and cunning, but fiercely loyal to his master. With the opening of the rift and the betrayal of Djinn Muriat he has taken up a blood oath of vengeance against the chaos exercitus, rising to the surface to lay waste to the enemies of stone and fire.
The singing stones had whispered at their coming, the Great Legion, agents of chaos from beyond the void but Lord Jannah had not listened. When the rift finally tore open the world the veins of the mother called to me, her vermarine song of quartz and ash a lament to the war above. I rise to the surface now, enduring the stink of water and flesh for a chance to turn the odds in our favor. With fire and death we will restore these lands and end her lament. On the mother's heart I swear it.
--- Binding The Void, Djinn Inferni Umun Sira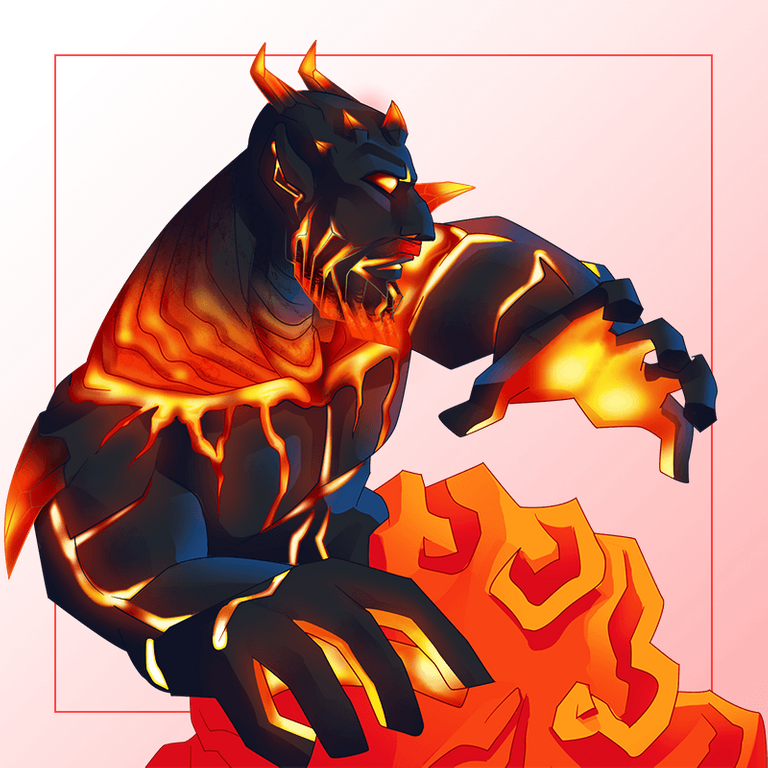 Posted Using LeoFinance Beta
---
---