Rental & Season End Rewards Breakdown
Splinterlands is a digital card game that utilizes NFT's for game play. These NFT's have real monetary value and can be traded/sold within the in game marketplace and on many other secondary markets. Invest in or start playing Splinterlands today by clicking here.
Seasonal Rental Income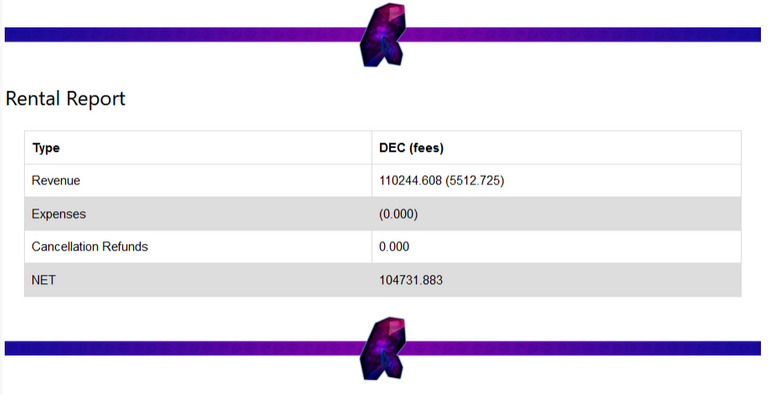 Season End Rewards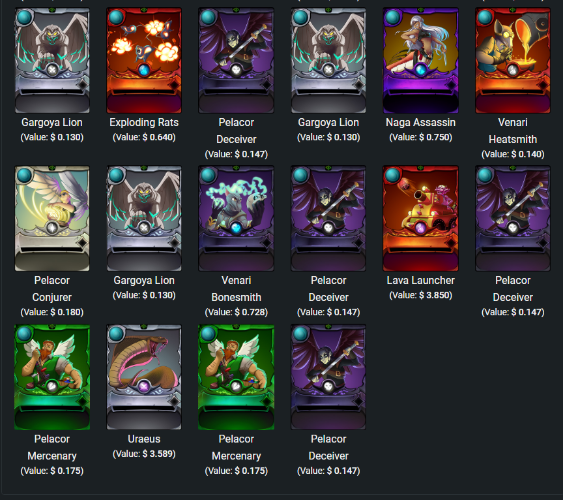 Season End Notes
Only a portion of my season end rewards are displayed in the screenshot above. I finished in Diamond league and managed to secure $12.54 USD worth of cards. I opened nine chest that contained small amounts of DEC (largest contained 11 DEC) and opened nine chest that had potions in them. With Chaos Legion looming around the corner those potions will come in handy for opening CL Packs.
Rental Notes
I'm starting to get more serious about maintaining my Splinterland Rentals. This season I managed to earn a total of 110,244 DEC. The 5% fee Splinterlands/PeakMonsters charges meant that my Net DEC earnings from rentals was roughly 105,000 DEC. At the current market price of $0.01117 that is a total of $1,231 USD of earnings in a 14 day period (One Splinterlands Season) for renting out my unused Splinterland cards.
I still have a large portion of cards that I don't have listed/haven't rented out. I hope to one day reach 100,000 DEC in rentals within a 24 hour period. I'll likely have to rent out the bulk of my collection to reach that goal. Renting is allot of work but well worth it. If you have extra cards you are not playing with, I highly suggest you put them up for rental.
Splinterlands Card
Market Cap: $277,800,121 USD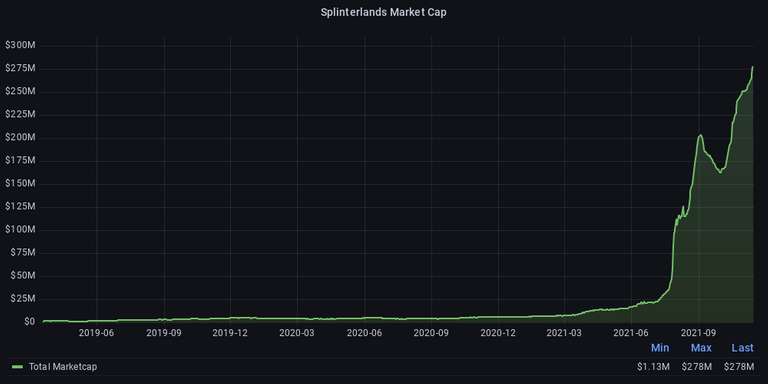 Note
The seasonal rental income screenshot was taken from the site SplinterStats which shows all shorts of cool information in regards to your seasonal earnings with Splinterlands. The screenshot displaying season end rewards was taken from the awesome site known as PeakMonsters.
What Is PeakMonsters
Come on bro you call yourself a Monster Maniac and you don't know about PeakMonsters. Ok, ok here we go; I'll give a brief description. PeakMonsters is a secondary market for everything Splinterlands. Some of their features include but are not limited to selling Splinterland Boosters (currently sold out), Splinterlands card market, bid features for Splinterland cards (first to have a Rental Market for Splinterland cards).
PeakMonsters has introduced us to many awesome features that makes our Splinterlands life much easier. So if you call yourself a SplinterManiac you will need to give their site a PEEK (Pun Intended). I guarantee you won't be disappointed that you did. Did I mention their very cool explore feature... Anyways I can type all day about the features on PeakMonsters. To save me from getting carpal tunnel it would be best if you simply visit the site yourself and explore away. To do so click the following link: https://peakmonsters.com/. You need to log in to enjoy all PeakMonsters have to offer. Your Hive Posting Key is all that is needed for viewing.

Posted Using LeoFinance Beta
---
---