RentMoney's Not So Random Post About Not So Random Things
Introduction:
I haven't been keeping up to date with HIVE, Cryptocurrency, My Blog or just about any other online activity the last few weeks. This is in part because I been busy at home and in part because of general laziness with my online activities (I could be doing more online activity but haven't been). This means I have allot of catching up to do with things such as Splinterlands, PSYBERX, My Personal Blog and with rewards I need to hand out to those who play on my delegated Splinterland accounts (I haven't forgotten about yous). I hope to get some of these things (starting with the reward payments for those who play my delegated Splinterland accounts) started within the next day or two. For now I decided to create a post about this and that.
Splinterlands
I haven't played since the new reward system was put in place but I hope to do so soon. I got some house maintenance to complete such as some tap replacements and yard work and once I do I'll try my hand at the new reward system which I see has been getting great reviews. I checked the prices of PLOTS and they like most things cryptocurrency related has nose dived in USD value. Luckily for me I count my currency in cryptocurrency dollars and not USD and the amount each Plot is currently fetching is between 450-520 and that is an appealing number to me. I tried to list a Plot for just north of the 500 HIVE mark but bots have infiltrated the PLOT market and I kept getting undercut (darn those bots). For now I removed my sell order but I'll be keeping an eye on the trade numbers and volume over the next week or two. If HIVE USD price dips further it shouldn't be a problem to get 500* HIVE for each plot.
PSYBERX & CRYPTOSHOTS
A game I'm excited for (PSYBERX) had some recent updates. My favorite being that it teamed up with another great game named CryptoShots. I could tell you all about this awesome team up but instead of doing that I will screenshot the official announcement and post it below. Alternatively to learn more about this team up you can visit the following link: https://hive.blog/hive-168109/@psyberx/ganging-up-with-cryptoshots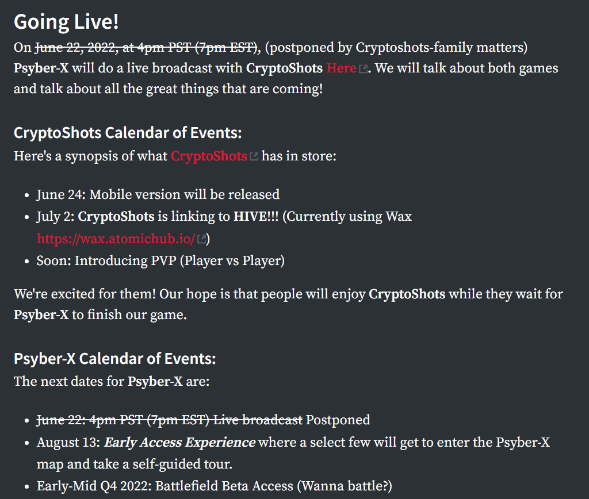 Upcoming Posts
In roughly 24 hours I will be announcing the winners of our 1250 DEC giveaway. The post is past its seven day payout but its still open for entries until the winners post is announced so feel free to enter for your chance to win a share of 1250 DEC. In that same post we will announce the winners of our 250,000 MEME Delegation Contest. The MEME delegation contest will also stay open until the winners announcement post is created. So if you are interested in a FREE MEME delegation hurry up and enter as the winners will be announced soon. Sit tight as we also have a Splinterlands MEME tournament to announce. This will be the third Splinterlands MEME tournament we have hosted. The plan is to have the tournament on the last Sunday of this month but we haven't set it up yet. Hopefully we can get that set up and showing in the Splinterlands tournament lobby within the next 2-3 days.
Conclusion
I suppose this wasn't a very random post after-all as Splinterlands, PSYBERX, CryptoShots + Sharing my Upcoming Posts ideas are all my regular blog topics. To be fair I had no clue what I was going to post about before I started typing. Most of this post was completed in a free write style format with a little bit of editing once completed. Have yous played CyrptoShots yet? If so let me know what you think of the game. How about PSYBERX, have you dipped your investment toe into buying some Land, Crates or some of the games secondary HIVE token known as Level (Purchasable on Hive Dex(s) such as LeoDex, TribaleDex and Hive-Engine)? Maybe you don't have time for that yet as you are smashing your enemies on the Splinterlands battlefield and earning yourself some of those Juicy Splinterland Rewards? If so let me know all about it in the comment section below.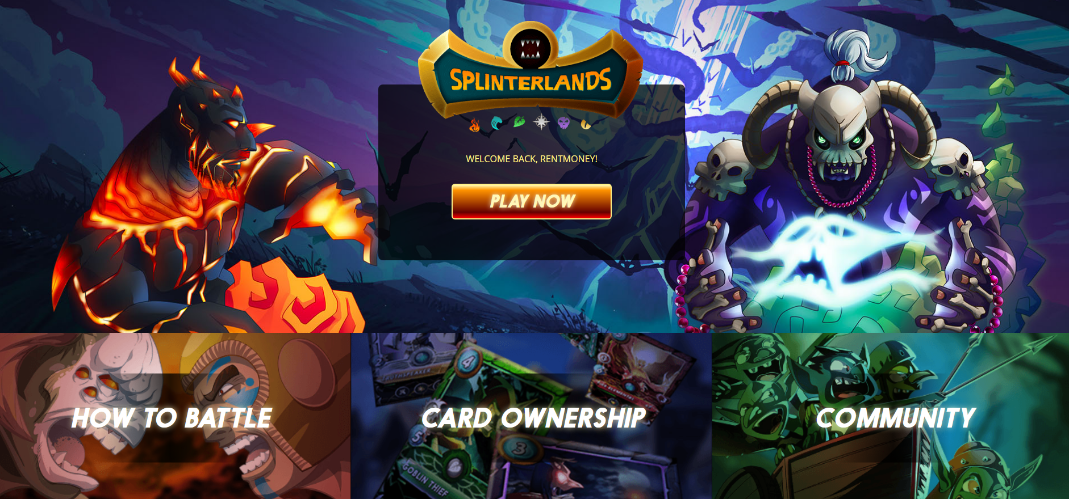 Posted Using LeoFinance Beta
---
---