My Splinterlands Story of 2021
I was/am/will be a gamer
I've been playing games since I was young. From handheld to console to PC,I was really spending a lot of my time gaming. At first, it was just playing for fun until I landed to an MMORPG which has in-game transactions where you can spend money to have an edge on the game. This is where I started spending money for in-game items/currencies. It was fun that you are able to compete with the rankers and able to bully other players but the fun ends when people leave the game for another game and you have to leave the game as well as it is dying. And all those assets are wasted. Yeah, it was fun, it gave me joy but how I wished I could sell my character or my equipment instead of just abandoning it there.
How I met splinterlands
At first I was skeptical with the play to earn games. I was thinking it like a scam or a ponzi scheme. I've been seeing them a lot but did not pay interest in it. But because it boomed this year thanks to Axie Infinity making it's way to the news, I tried to research about it. I got interested in it and got to know blockchain, smart contracts and other stuff working in the background on how it works and how secure it is before I join the game. I found that it's really secured and there was no way to tamper it thus making it legit. But the initial investment required for Axie is a lot and I don't have that much to spend so I tried to google play to earn games and I came across Alien Worlds and Splinterlands. Since I was new to crypto and unaware how to have a wallet, how to add funds and stuff, it was really hard to get into any play to earn games. But Splinterlands was different, it supports Paypal! It's like my ticket to enter the world of crypto! For 10$, I was able to enter the world of crypto currency.
Splinterlands Journey
So I joined splinterlands on July 2021, it wasn't the best time to enter the game as there were no more untamed packs, no more land plots, and only dice packs are for sale which can only be bought with DEC and I don't have that much and I don't know how to buy it. But splinterlands gives a few starter cards which I started to get the grasp of the gameplay. The gameplay is like an autobattler which I have been playing like TFT, Hearthstone BG, Dota Underlords etc. and this type of game is my liking. At first, it was just repetitive where fire splinter was so powerful in the novice to bronze league but once you keep climbing, different strategies are there and from there I learned what cards to rent. Although some cards are just very powerful and unbeatable in the lower league with just enough mana (yes I am mentioning you llama combinations). From there I am starting to get hang of the game and grind myself through rentals and buying cards that I know I will need daily.
And now I just want to share what I have accumulated for the past 5 months I've been playing this game. Wished I've found this game earlier but hey it's never too late to invest here if you love the gameplay.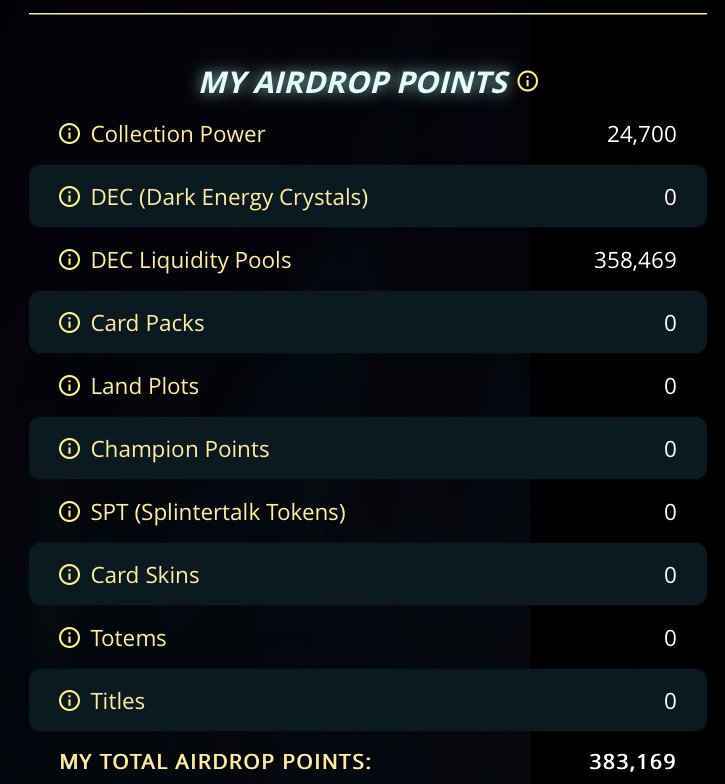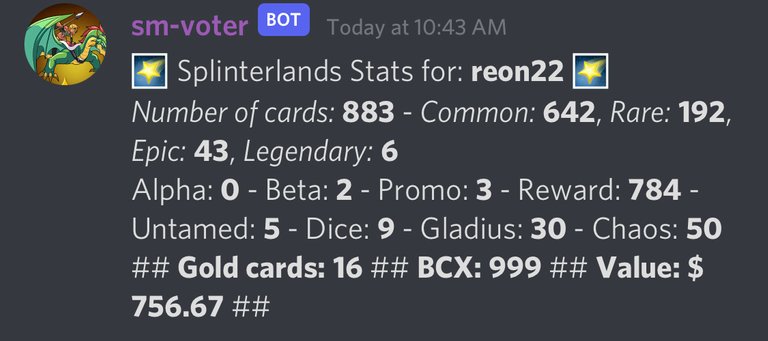 This is my first blog and hopefully many more to come! Happy New Year to everyone and thank you very much @splinterlands !
---
---