Battle Challenge - Bronze Tournament

Hello community, I share a new battle from a Splinterlands, Bronze League tournament without being able to use Legendary Summoners.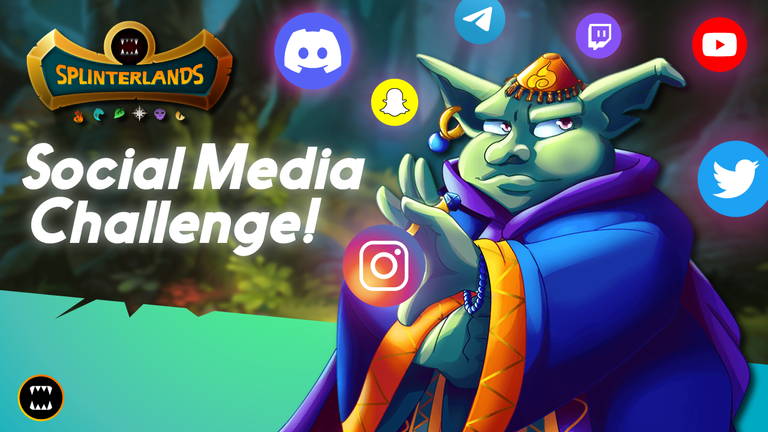 The tournament battles are very interesting because we can compete against strong and experienced players with various deck types.
My collection is still too small to compete in tournaments, but since I rent cards daily for the ranked battles, I use the same cards to be able to participate in the tournaments.

Usually the tournaments I participate in are the ones launched by the Splinterlands team, where to participate you have to have some SPS in Stake and a minimum amount of card power.
In this case the entry fee is 2 SPS, where you must have at least 1,185 SPS in Stake and 7,233 card power.
However, the battles are very balanced, and just a simple victory drastically implies in the ranking you get in the tournament, so it is important to manage to win as many battles as possible, choosing well the battle formation for each rule set, because the slightest distraction dooms the outcome of the tournament.



For this battle we had an Equal Opportunity ruleset, where cards would attack the card with the lowest Health points. With the maximum Mana available it was difficult to choose the best formation.
Having Fire, Water and Death Splinters available was not an easy choice.
My Water deck is interesting, but with maximum Mana it would require some Magic attack cards, which I was afraid of due to Death Splinter being active.
I also like my Death deck, but for maximum Mana I don't think it would be very competitive because it has some cards with weak health points.
So, I understood that it would be better to use the Fire deck, even being fragile because it has low speed, it allowed me to have strength and protect from any type of opponent's attacks.
With this, I chose for this battle the Tarsa Summoner.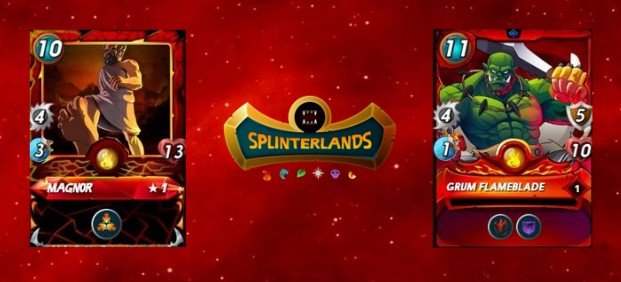 To lead my formation I chose Magnor because of his Taunt skill where he would be the target of the opponent's attacks, having plenty of health points, he could handle some attacks and perhaps even manage to attack the opponent with his excellent attack.
To replace him I chose Grum Flameblade despite his low speed, Bloodlust skill could make the difference in this battle, moreover, the opponent's attacks would have to pass through his armor first, where it gave some security in battle.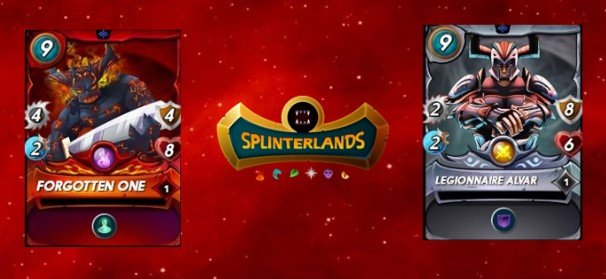 In third position Forgotten One, a card also with excellent attack and armor, although it has no protection against Magic attacks, it has good health points.
Not forgetting that it is a battle of Opportunity, the cards would attack the card that has fewer health points, in this case, after Magnor, my card with fewer health points would be, Legionnaire Alvar, where it would have protection against Magic attacks, thus having any type of attack pass through its armor.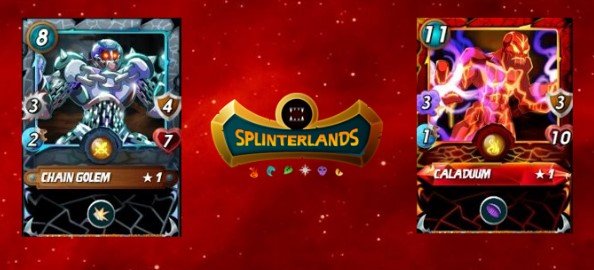 Next Chain Golem, with its Shield skill would give protection against Melee and Ranged attacks, and to finish Caladium where it has good Magic attack and Void skill, where it had protection against Magic attacks.
Overall all my cards have armor, with the exception of Magnor, and mostly some protection against Magic attacks with their skills, and all have strong attack strength, and good health points as protection to survive this battle.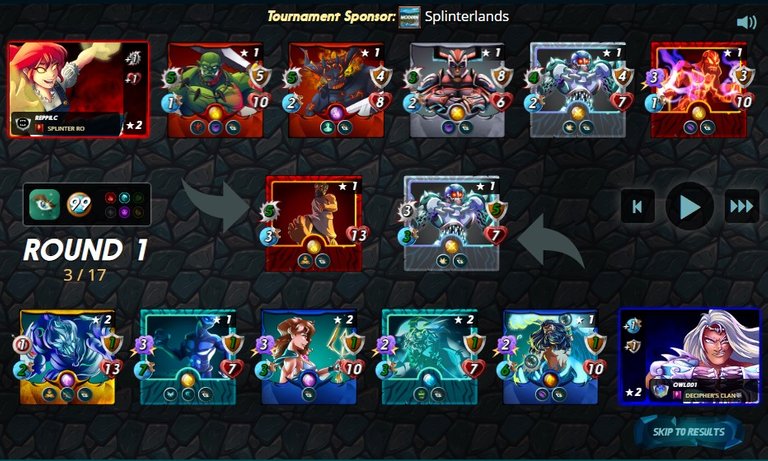 The opponent has chosen a team strong in speed and Magic attacks to directly hit the health of my cards, but some of my cards have protection against Magic attacks, so it is expected to be a fairly even battle, and it is important that my cards do not miss with their attacks.
There is a clear difference in the speed of the cards with my cards being the last to attack each round, however my cards have greater attack strength.
Starting the battle, the opponent's cards attack first and manage to eliminate my tank Magnor in the first round, but before he is eliminated, Magnor still manages to attack Chain Golem.
When it's my cards turn to attack, they attack Wave Brood because it has Taunt ability where they can't eliminate in the first round.
Starting the second round the opponent's attacks focus on Legionnaire Alvar where having skill Void Armor, the Magical attacks have to eliminate armor first where they can't eliminate in the second round.
My cards manage to eliminate Wave Brood and consequently attack the opponent's Chain Golem, which they also manage to eliminate.
When it's my Grum Flameblade card's turn to attack, it misses its attack on Djinn Oshannus, it would have been important to remove his armor, but nothing is lost yet, and the battle is very balanced.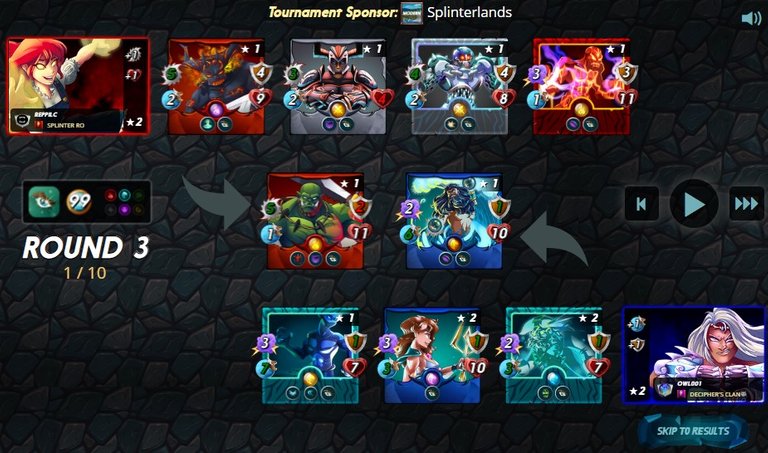 In the third round my Legionnaire Alvar card is eventually eliminated, and the target of the attacks becomes Chain Golem.
My cards concentrate their attacks on Captain's Ghost where they can easily eliminate it due to its attack strength.
Starting the fourth round, I have a numerical advantage of cards, but inferiority in card speed, Phantom of the Abyss has excellent speed where it is difficult for Forgotten One to hit with its attack, but on the other hand, Caladium can't miss.
Arriving at the seventh round on the opponent's team only Nerissa Tridawn remains, while on my team I still have Forgotten One that doesn't have much resistance against Magic attacks and Caladium with protection against Magic attacks.
Quite balanced battle but Caladium eventually manages to eliminate before being eliminated and thus allow to win this very complicated battle.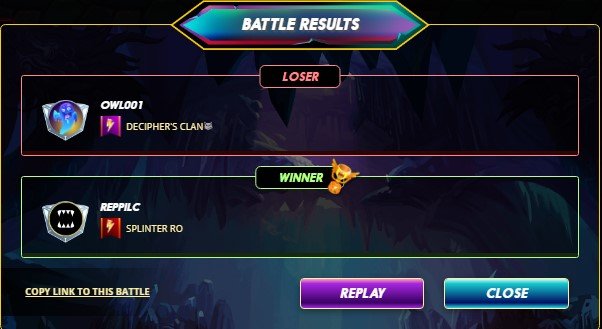 It was not an easy battle at all against cards that were very difficult to eliminate, due to the great difference in speed.
However I managed to win because of the strategy of combining strong cards with Void or Void Armor abilities to protect against possible Magic attacks.
In the end Caladium saved me the battle, allowing me to win this battle.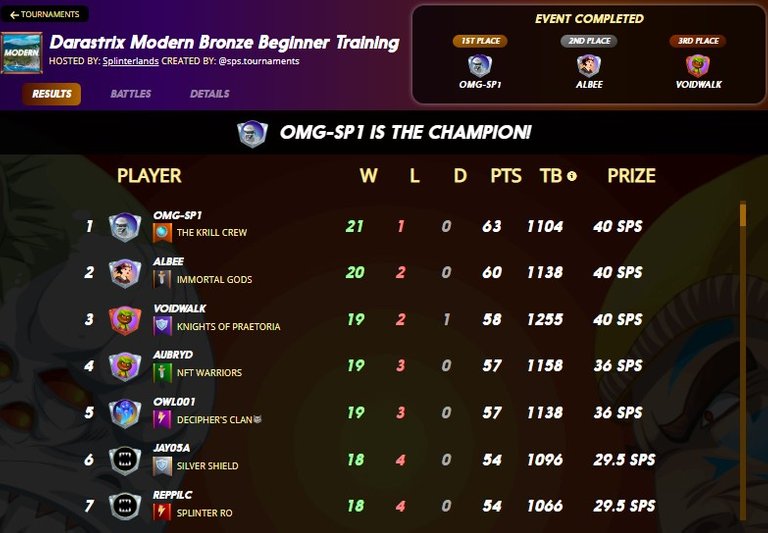 At the end of the tournament I managed to finish in 7th place with 18 wins and 4 losses, where I ended up winning 29.5 SPS.
My opponent in this battle finished in 5th position, and having managed to win the battle against me, he could have finished in the top 3 of the tournament.
I am very satisfied with my result because I am not a top player nor do I have the deck to win a tournament, but I can compete against the strong players and that is very satisfying.

---
Thanks for reading until the end, i hope you liked my post.
If you are interested in playing Splinterlands, follow my affiliate link:
https://splinterlands.com?ref=reppilc
For comments on post content, use comments. Advice on how to improve, or make the posts more enjoyable, is welcome.
Until next time!
---

---
---