Splinterlands Review
A year ago I entered the Splinterlands world by chance, searching for Play to Earn games, and Splinterlands caught my attention for its card battle system.
I am just a simple player, playing for fun, not an investor, and I regret that I didn't get to know the game a little earlier in time, allowing it to be on another level today.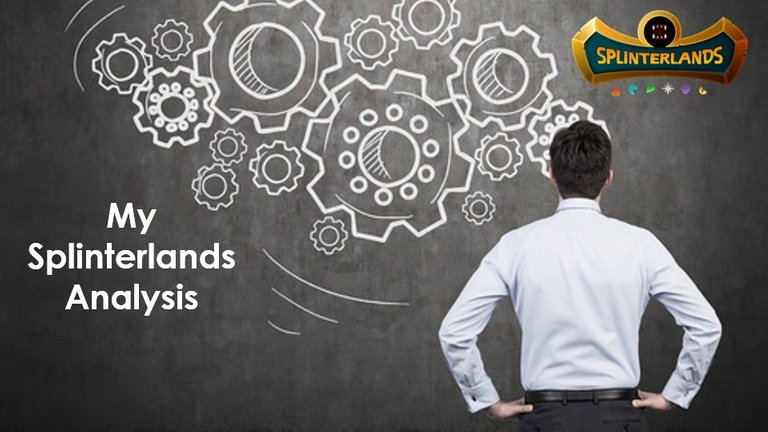 When I started in Splinterlands, the Untamed packs had just been sold and there was an Airdrop of SPS based on the assets players had (Dec, cards, packs, lands), which was a good incentive for older players, and bad for new players because they had no assets. At that time, 1 SPS was worth $0.229 and 1K Dec was worth $5.43.
The interesting part of the game is that it is not limited to just playing in battles against other players, because there are countless possibilities to enjoy Splinterlands, from acquiring cards, or renting them, buying packs, Nodes, Lands, tokens, putting them in Pools, leaving tokens in stake, making Peak posts about the game, there is actually a world inside Splinterlands, and new updates are coming, such as the Tower Defense game and the new Riftwatchers Edition cards.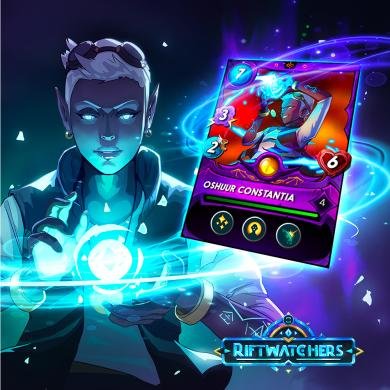 Oshuur Constantia is the promotional card of the Riftwatchers Edition where it was available in the pre-sale of the first 500 thousand packs, which sold out in less than 2 minutes last Thursday, there was huge demand because anyone who bought at least 50 packs, was guaranteed to receive a card Oshuur Constantia, I had the chance and luck to participate in the pre-sale and have guaranteed the promotional card, Interestingly, in less than 2 minutes the 500 thousand packs were sold, and since then, only 163 thousand packs have been sold so far, which is not understandable, but is due to the fact that during the pre-sale there was a large number of sales of the Tranche of Licenses which was spent a lot of SPS that day.
More information about the cards is already circulating in the Discord, and they are very strong cards that will make a big difference in battles and have a more complete deck.


Regarding battles, the rewards system has been changing recently, where you no longer receive rewards using the Start cards provided by the game, and two battle formats have been created, Modern and Wild, allowing new players who do not have old cards, to be competitive in higher leagues with modern cards.
Despite these changes I still choose to play in the Wild format, just because there is more variety of cards I can use, and at this time the Beta Edition card rentals are cheaper than the Untamed Edition, where my strategy is to rent my repeated cards that have a better return on Dec, and with what I receive from the rental of my cards, rent strong cards that allow me to play in the Silver League, and reach the Gold League.
Possibly, with the new Riftwatchers Edition cards it will make sense to move to the Modern format in battles, and try to be effective in Gold League.
The big difference in playing Silver and Gold League is due to the SPS multiplier on the chests, where it increases from x2 to x8, allowing you to have better rewards.
This is in theory, because in practice I can't say that I have kind of good rewards in chests either in Silver or Gold League, where the maximum I received in a chest was only 3 SPS, however per battle I can receive on average between 0.5 - 1 SPS which is interesting.

Although I really like the game system, I don't agree with how the rewards system is done in the game, and in my opinion the team should think about reformulating the rewards, because I think that the older players are being valued too much, in relation to new players, who have no benefits, at least they could have X power of cards to choose from for a certain period of time to encourage them to evolve their accounts.
Let's face it, the way the game is structured, the old players eat the bread and the new players the crumbs, because the old players have a larger collection of cards and assets, which allowed them to participate in the SPS Aidrop for a year, and receive good rewards, where the old cards were over valued that allows them to rent and even sell, without harming their game.
Also, in Champion League their rewards per battle are better, they have the SPS x48 multiplier, and they get better daily as well as seasonal chests.
I think there is a big difference in rewards, which makes it almost impossible for new players to be competitive, and so in the long run the game becomes only with elite players, having numerous active players but no demand for active players because there is no interest for new players to play the game.
It's just my opinion, because to be able to buy 50 packs Riftwatchers Edition, I spent around 3000 SPS which took too many months and too much effort to get it, while I have seen a player in the Champion League receive 3000 SPS and 7500 SPS in the opening of daily chests, while as I said before, in the Gold League the maximum I received was 3 SPS in a chest, and the maximum of the total chests 35 SPS, since the SPS rewards are in force.
It is a huge difference, no comparison, it is true that opening chests is a matter of luck, can come SPS common or Legendary to Gold however the team is always updating the game system, and may make the percentages balanced so there is not such a gap between rewards of Leagues.

---
Thanks for reading until the end, i hope you liked my post.
If you are interested in playing Splinterlands, follow my affiliate link:
https://splinterlands.com?ref=reppilc
For comments on post content, use comments. Advice on how to improve, or make the posts more enjoyable, is welcome.
Until next time!
---

---
---