Tournament Battle - Byzantine Kitty
Hello community, in the game Splinterlands there are several types of tournaments that players can participate in, I didn't used to enter tournaments due to the time zone but then I noticed that there are some "Anytime" tournaments where we have 24 hours to submit our formations for each battle.
And those tournaments are very interesting for those who can't participate live, and with that I started to participate in some tournaments.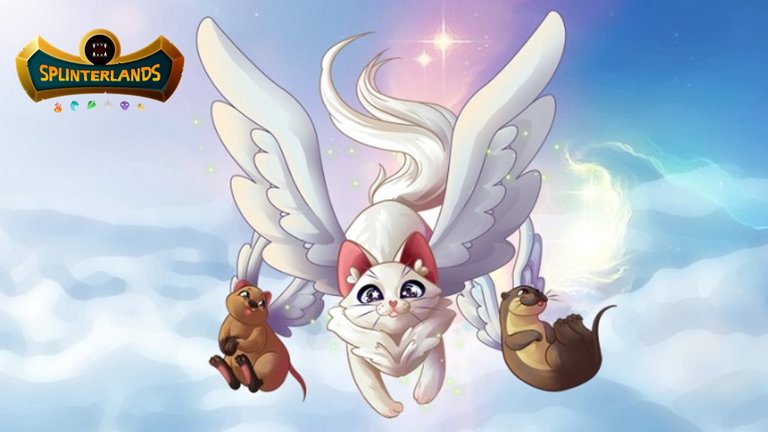 Usually I have participated in sps.tournaments where you have to have SPS in Stake to participate, but with that you can receive SPS.
I am still inexperienced in tournaments and just rented some cards to be able to compete, not thinking of high podiums, but to participate and cover the Dec spent in renting cards, in the SPS earned by the tournament.
So in this battle that I will share, I rented some cards to participate in the tournament, which was Silver League, despite not having cards to be able to compete in a demanding tournament, I rented some cards for Bronze League and understood that if I could win a battle, I could already earn SPS and cover the Dec spent.
I rented mainly Legendary Summoners, among which Byzantine Kitty because of its Buff that I understood to be important for some battles.



For this battle we had the maximum Mana available and the cards gained Opportunity ability, therefore, it was an opportunity to put the strongest cards I had available in my deck, and choose the best Summoner for this type of battle.
The cards could attack from any position, so speed was important to be the first to attack, and it was also important to have some healing advantage, so Byzantine Kitty could be an important Summoner for this battle.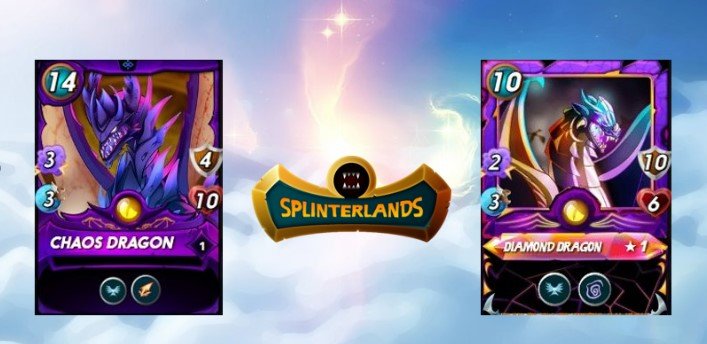 To lead my team I chose Chaos Dragon because it has a lot of health points and armor, allowing it to be healed, and with Flying skill it gave the chance for Melee and Ranged attacks to miss with their attacks, plus combining with Byzantine Kitty it had a very good attack speed.
In the second position, Diamond Dragon, a card similar to Chaos Dragon but with even greater armor, plus it had Slow ability, where it slowed the opponent's cards, increasing even more the difference in the speed of the cards in battle.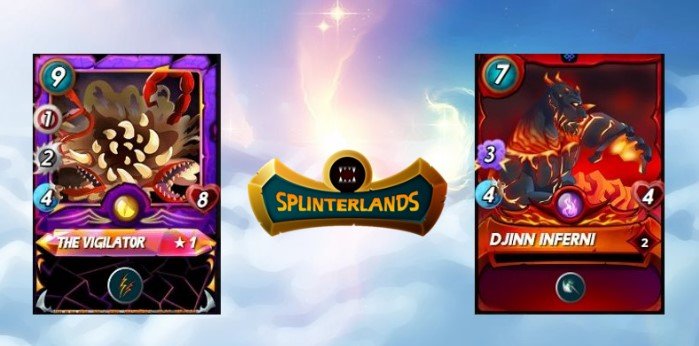 In third position, The Vigilator, very interesting card with Double Strike ability and having two types of attacks can attack four times each round.
In the fourth position, Djinn Inferni, it would be my target card for attacks because it has few health points, but having Giant Killer ability it could cause double the damage of the chance that the opponent chooses cards with more than 10 Mana, for this reason I chose it for this battle.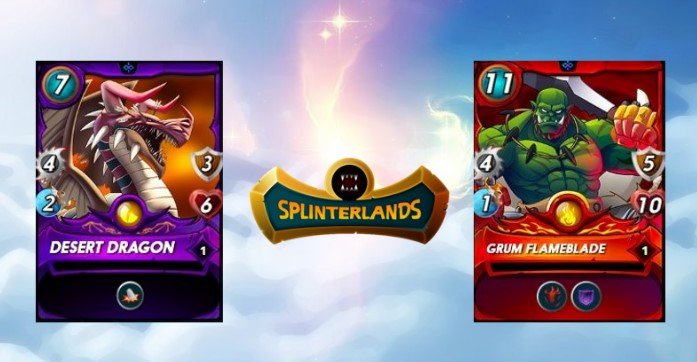 In fifth place Desert Dragon, with excellent attack strength and Trample ability, where it could attack again if it eliminated a card with its first attack.
I could have chosen cards with more health points to be able to survive the battle, but I also chose the abilities to be able to create some advantage in the battle.
And finally, I could not miss the fearsome Grum Flameblade with its increased speed and ability Bloodlust was a crucial card for this battle, because it would be the last to be attacked, in direct attacks, can suffer Blast damage, but being the last remaining in the battle, had the support of Byzantine Kitty with ability Tank Heal, made Grum a real machine of destruction.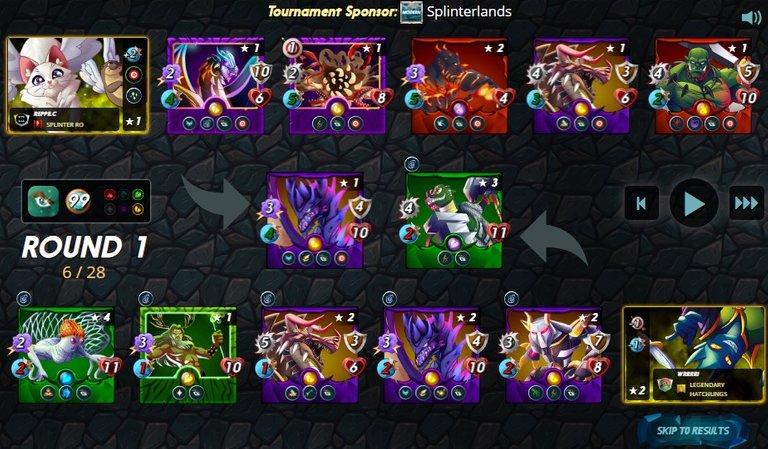 In tournaments there are no easy battles, and only a bad choice of a card can compromise the whole battle, because they are very balanced battles.
In this battle the opponent has cards that are much more evolved than mine, some of them identical, but with greater attack strength and health points in the sum of all the cards in battle. The difference is in the speed of the cards, and that I have Byzantine Kitty.
Starting the battle, my cards attack first, and manage to eliminate Mycelic Slipspawn by having Taunt ability was the target of the attacks.
It is the opponent's turn to attack, and he does a lot of damage to my cards because Chaos Dragon with Blast ability damages the adjacent monsters of Djinn Inferni complicating the battle a lot.
In addition Desert Dragon at level 2 gains Piercing ability and has its attack increased, so it can eliminate my Desert Dragon card and consequently use Trample a Grum Flameblade.
And so, at the end of the first round I lost two cards, while the opponent only lost one, and has cards with Double Strike, Trample and Blast that give him a huge advantage for the battle.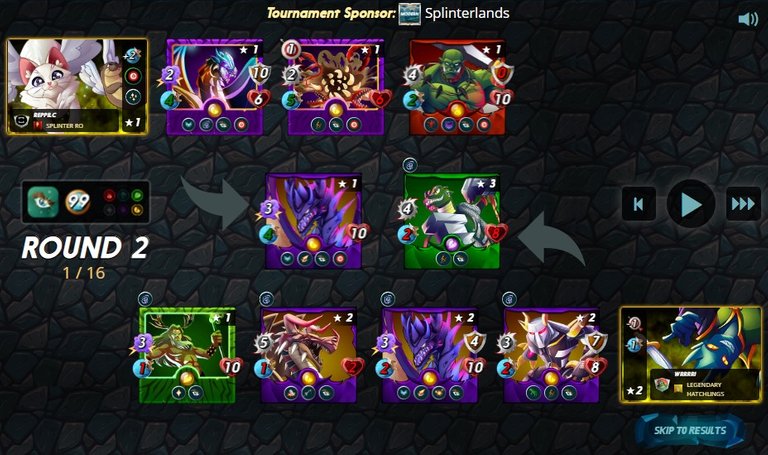 Starting the second round, due to my cards attacking first, they manage to eliminate Desert Dragon and Grund, in which balances the battle quite a bit at the moment.
Carnage Titan even having reduced speed, manages to damage my tank even having Flying skill and increased speed, in which Kron ends up eliminating Chaos Dragon.
Starting the third round, we are in numerical equality of cards, and Grum manages to apply Bloodlust eliminating Carnage Titan.
Kron does his damage again and eliminates Diamond Dragon, making it a two vs two battle.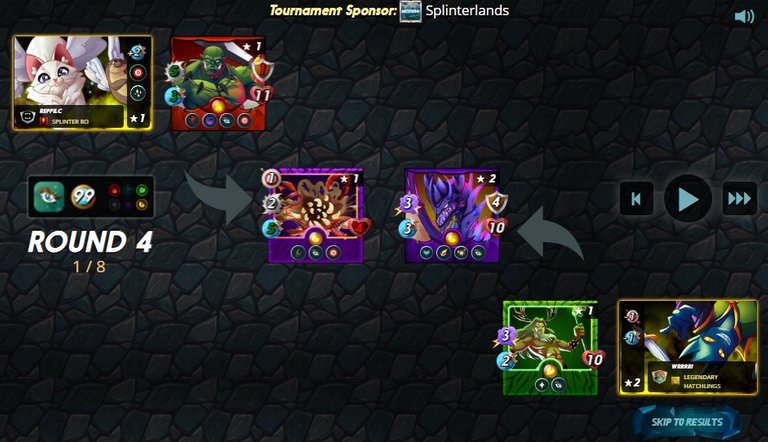 I have no protection from the force of Magic attacks, where I eventually lose my tank and am left with only Grum Flameblade with Byzantine Kitty's protection.
With that Grum manages to eliminate Chaos Dragon and applies Bloodlust again, making the battle Grum vs Kron.
In the end the warriors are left, Kron theoretically has the advantage because he has Heal ability, but in this battle Grum manages to compete against Kron by having Byzantine Kitty with Tank Heal Buff, and with that Kron can't compete against Grum's strength and thus ends up eliminated.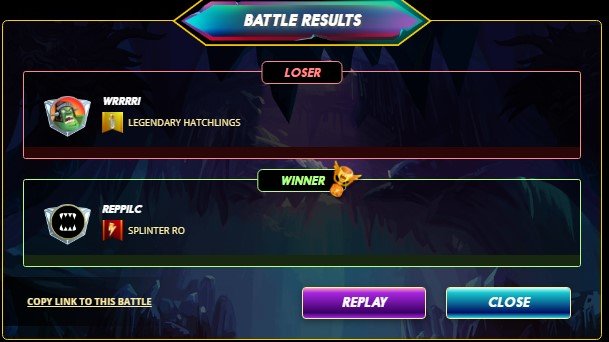 I managed to win this rather complicated battle, due to Byzantine Kitty who allowed Grum to fight Kron, otherwise I had no chance of winning.
However, what I take from this battle is that to participate in tournaments it is not enough to have the will, although for me it was an experience, it is necessary to have cards that can compete at the level of evolution that the tournament allows.
In this case, participating in a Silver League tournament with Bronze League cards is a huge difference, because the same cards have other abilities at a higher level.
In this practical case, Chaos Dragon gains the Blast skill, and Desert Dragon gains the Piercing skill. The same cards, but quite different at a higher level.
I am satisfied with the victory and the experience of a Silver tournament, but going forward, I understand that it is important to be competitive in tournaments, it is better to spend an extra 100 or 200 Dec in renting cards and compete to win, than spend little Dec and not be able to win for not having competitive cards.

---
Thanks for reading until the end, i hope you liked my post.
If you are interested in playing Splinterlands, follow my affiliate link:
https://splinterlands.com?ref=reppilc
For comments on post content, use comments. Advice on how to improve, or make the posts more enjoyable, is welcome.
Until next time!
---

---
---