Crypto Overview February 2023... Too much Hive...?
What with the Hive price looking positive I thought it would be interesting to do a quick overview of my crypto holdings ATM, haven't done one for a while.....
This isn't the complete list, just the major holdings.
Main holdings overview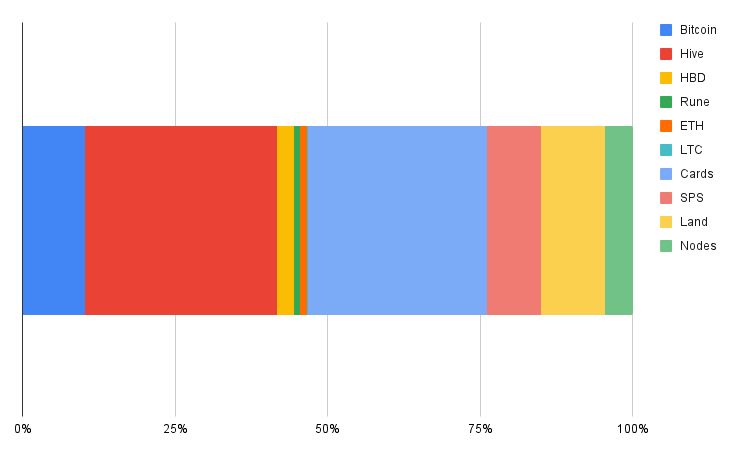 The headline news is that I've got a near 50-50 split between Splinterlands assets and other assets, but most of the other is Hive, so that's a whacking great 80% near enough on the Hive blockchain!
Now that's faith for you, but I do think Hive is underrated and undervalued and Splinterlands is the main Dapp built on Hive, and with LAND yet to go live I'm not selling out now!
My approach to Splinterlands recently has been to stack cards with my various rewards, but also to sell some out for Hive, but only about 20%.
BTC makes up around 10% of my overall holdings, I've added some recently and I'm happy with that, you've got to stack the daddy so to speak, and I would like this to be nearer 15%, so there's a way to go here!
I find it easier on my brain thing if i separate out Splinterlands and non SL assets..
Non SL assets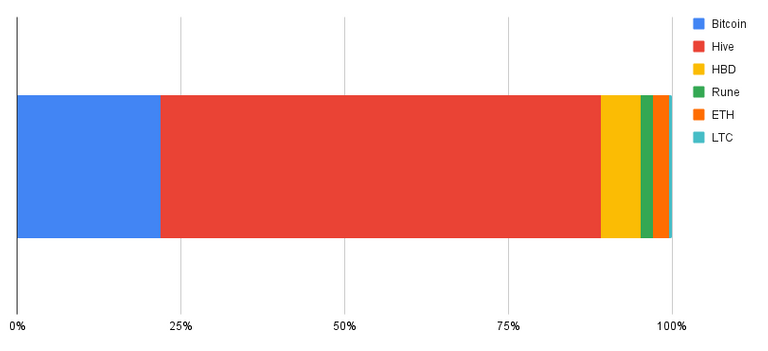 This really puts how much HIVE I've got in relation to other cryptos - a whopping 70% in Hive.
BTC comes second - 20%
And then around 10% split between ETH, HBD, Rune and a TINY bit of Litecoin.
I'm thinking I might stack a bit more RUNE and I'm going to buy more LTC too, it's basically BTC but psychologically easier to buy!
NB last time I analysed this Hive was only around 35% of my assets, it's grown as a percentage because the price has held up well since!
Splinterlands assets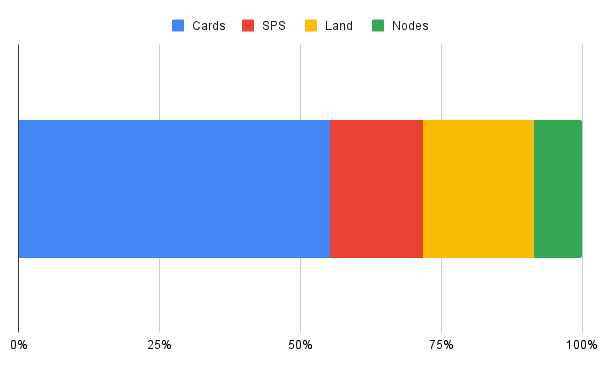 Splinterlands has been a bad hold since the SPS airdrop was at its peak, everything is DOWN.
Cards have faired better than most, and I think it's fair to stack and hold these mainly as they are the backbone.
SPS has been a disaster, the price just tumbling, but it is what it is.
Land is still valued at 10* more than what I paid for it so that's OK.
Node Licences are an odd one, they've held up in value compared to what I bought them for - around $1200 on Hive-Engine currently, but nominally they have a $5k valuation in the shop.
Personally I'm happy with the SL balance!
Crypto holdings next steps..
The rational move would be to sell some Hive into BTC and Rune, but NO - I'm closing in on the 100K HP mark and that's the goal for 2023 so until then it's just stack, stack, stack.
I'm happy to hold HBDs for now - it's the only stable I now hold, but that 20% interest rate is silly and can't last forever, so I'm watching when to sell.
A bit more BTC, and a bit more Rune are my other targets!
---
---