How much of a DEC sink will land be...??
So when land 2.0 goes live sometime in 2023, we'll be needing 10 000 DEC per MAX level card for staking purposes.
If all plots are staked with the five max level cards that's 10K (DEC) * 150K (plots) * 5 (cards per plot) = 7.5 M DEC potentially sucked out of circulation.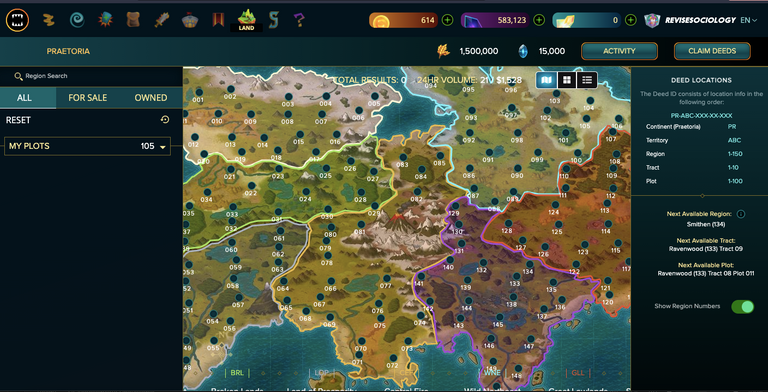 And that's with a current total circulating supply of around 4.5BN once the current DEC burn is done.
So IF the max staking potential were to be realised, there's not enough DEC in circulation ATM to cover this, and no more DEC is being minted so this should bode well, eventually for the SPS price as SPS can be converted to DEC, which is worth doing when DEC is at its $1/ 1000 peg, and at just over $0.80 ATM it's not far off that.
HOWEVER....
I don't think there's enough cards in circulation to stake max cards to every plot. i did a rough back of the fag packet calculation on the CHAOS LEGION cards and got the following potential numbers of max cards in the order common, epic, rare, legendary...
First column = number BCX printed (courtesy of Splintercards) * number of monster cards and / BCX to max....
Common - 1 100 000 * 29/ 400 = 79 000

Epic - 415 000 *23/ 115 = 80 000

Rare - 17*113 000 / 46 = 41 000

Legendary - 22*34000/ 11 = 68 000
= 268 000 max chaos cards total
And there's 150K plots times 5 = 750 000 plots.
So if every single CHAOS card is going to be staked at max, then that fills around 40% of the plots.
Now I haven't done the calculations for the other editions, but I know all of them are a lot rarer, so I think we might just about have enough maxed cards to fill out every single plot at max level.
And given some cards are gonna remain being played that almost certainly means we're not going to get 750K cards staked at max level on land, so we are not gonna get demand for 7.5M DEC to be staked.
My own personal situation looks something like this....
Potentially with one tract =
500*10000 = 5M DEC I could stake
But once I've factored in the cards I'll probably keep rented, like my legendary summoners for example, I only have the following cards....
70 maxed = 700K DEC
120 halved (so L3 for legendary for example)= 600K DEC
200 at 0.25 = 500K DEC
100s bits and pieces = 200K DEC
= Around 2M DEC I'll need for staking purposes.
So I personally as a tract owner only have the potential to max 40% of my land, at least initially.
And I don't imagine I'm untypical. I know at least one region holder that has 'nowhere near' enough cards to max stake his 1000 plots.
There is also the fact that I'm personally only motivated to max stake my GOOD land plots, and by good I mean read everything that isn't just common, which is around 25% of them.
Hence why I'm not rushing to buy more max cards.
Conclusions....
Possibly by the time land staking goes live DEC will reach its $1 PEG and we'll start to see some SPS converting going on, but given the intense SPS inflation, and add to that VOUCHER inflation, I think this will be more a case of stopping SPS slide further rather than pumping the price.
However if we see another card set release in 2024 (PLEASE NOT SOONER THAN THIS!) and this coincides with an uptick in crypto more generally, there is potential for A LOT of DEC to be sucked off the market and this could turn into a nice sink for SPS.
But I'm not expecting miracles to happen to SL asset prices once land staking goes live!
---
---