Rationalising the Splinterlands Card Collection, and a brief interlude to play once more!
I sifted through my manual card collection a couple of weeks back and unlocked any of the odds and sods lower levelled cards in order to sell them and buy others to level up some other mid-level cards.
Since bots have been banned from modern many of the lower level untamed and chaos cards just aren't renting so this makes total sense.
I'm opting for a policy of buying like-ish for like-ish.
So if I sell a couple of level 1 or 2 untamed summoners I'll buy back other level 1 and 2 summoners, and I'll buy back a slightly more expensive one too, price being the indication of how playable that card is.
I am mainly levelling up for LAND - my thinking is I've got 500 slots to sell, and it's relatively cheap to buy up the cheapest Rare common reward cards for 2K PP per slot, so it won't take me that long the get 2K PP for every slot, so in the meantime I'm not about to sell these more valuable older cards for cheap shit I can pick up over the next few months anyway.
In other words I'm sure the old SL game rentals market will be as viable as LAND for yielding, so I'm chasing in anything for PP that rents reasonably well, just rationalising up with an eye on keeping the rentals option open a few months down the line when LAND settles down.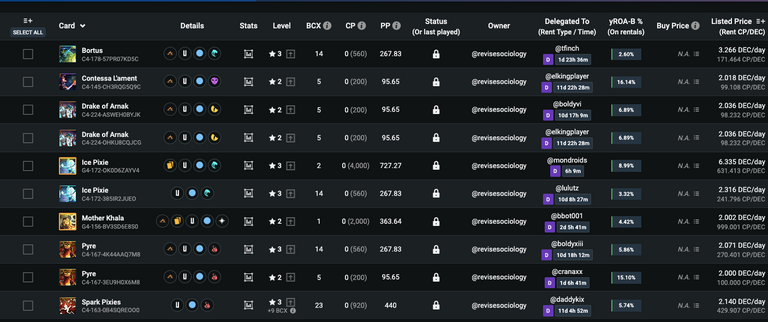 Sorting the card collection!
Similarly I'm not even looking to max any of the better cards or summoners, I'm happy to keep these at L4/L6 (for rares) or L2/L3 for legendaries because this tends to be were you get the best return on rentals.
But for anything cheaper I'll just max it out for PP.
Makes sense to play again for a while...
I deactivated Splinterrents today because I've got too many cards I want to sell which keep getting rented!
Also the SPS delegations are down in return, so....
It makes sense to just play the rest of this season.... in a couple days time I'll have my entire collection ready for battle, then I can manually rent the odds and sods and repeats, and most of my SPS available, I've stopped renewing the delegations for a couple of days now!


Slim pickings on SPS rentals, may as well play!
I'm actually quite looking forward to getting stuck back in, I've heard through the grape vine that rewards are pretty good.
I also want to keep a playing deck rented or for me playing once land goes live... I'll probably just keep the very best and niche cards for playing, anything lower down is for LAND.
And the best way to figure this out is to actually play.
I may even transfer to a secondary account, that's the easiest long term strategy - the playing deck that is!
---
---