Splinterlands Challenge of the Week: Dragons...
This week's Splinterlands Challenge of the Week was to showcase... Dragons!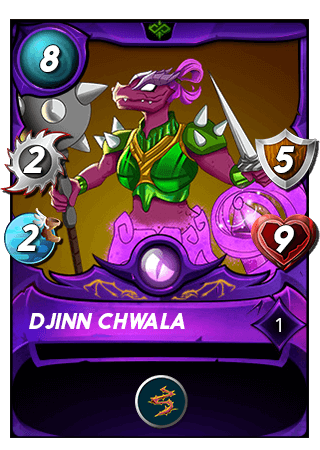 I opted for only one Dragon card in my line up.... Djinn Chwala - because she is one of the cheapest Epic rewards cards out there so I wanted to test her out.
IF you can ignore the high mana, it's not a bad card... nice health and shields with thorns, which makes it an OK tank, but slow.
The battle below features a Level 1 Chwala holding her own with her thorns coming in useful!
The Rule Set and Line Up
Mana cap 22
Standard Rules apply (Bronze League!)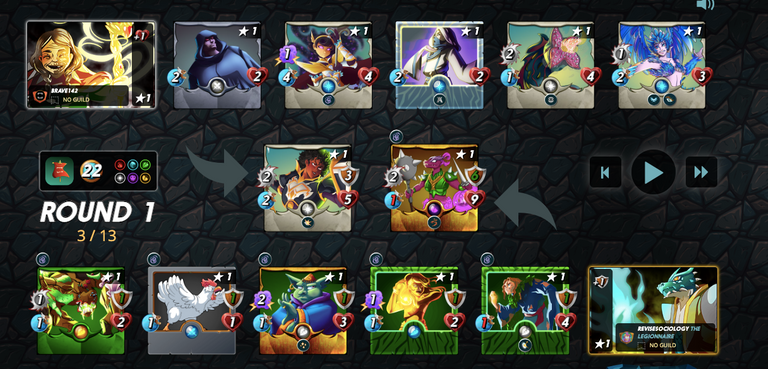 Summoner - Drake for the plus shields!
Failed Summoner - Djinn Chwala - an OK tank if expensive on the mana!
Failed summoner - tank2
Khmer Princess, low mana magic attack
The Goblin - it's the law to play him with Earth, such a useful card!
Chicken - soak 1
Fungus Fiend - Soak 2.
Did my strategy work?
Beautifully, to see it in action click here!
Round 1 - We trade blows, for no losses!
Round 2 - I take out his tank, but lose my two soak cards, which is a trade I'll take!
Round 3 - I take out his Chaos Agent, my shields soak up his opportunity and sneak!
Round 4 - I take out his Time Mage
Round 5 - I lose my princess but take out his TruthSpeaker and Snitch! Nice !
Round 6 - it's all over - The Djinn hardly took a scratch!
How important was The Djinn Chwala?
Well her thorns certainly came in useful, and just as well given that she was slowed for half the match.
But probably more important, given that I somehow managed to field a team with universal speed one (that's bronze for you)! is the fact that I played mainly magic attacks.
And my fodder was necessary too.
But I'm not going to hold it against her, she stood up pretty well and did her bit, and those thorns defo helped as did plentiful shields!
I also made the right move playing the plus one shields with the summoner, opportunity and sneak are common down here - and not always effective when your opponent splits them, as was the case here!
Final Thoughts: Djinn Chwala - worth buying?
To play with probably not - For 8 Mana you can get much better tanks which are probably better value to Vest in - Legionnaire Alva for example!
However I am stackin these for land, this is one of the cheapest CP cards there is, and a Dragon card, my feeling is that by this time next year this could be yielding VERY well on a plot somewhere in Splinterlandia!
If you don't yet play Splinterlands, why not give it a go?
Anyone using my referral link will receive a free rare card!
---
---