Splinterlands Challenge of the Week: Grunding to Victory!
This week's Splinterlands Challenge of the Week was to showcase the awesome Grund from the Earth Splinter.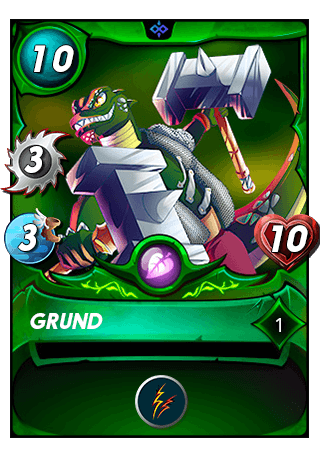 At Level one this is an awesome card even for the high mana. You have decent speed (for an L1 card), massive health and 6 overall damage with double strike, which can cause carnage lower down in Bronze league!
Mylor and Grunge a Winning Combo....
I played a total of seven battles with Grund, and unlike most cards in these challenges, I won 6/7...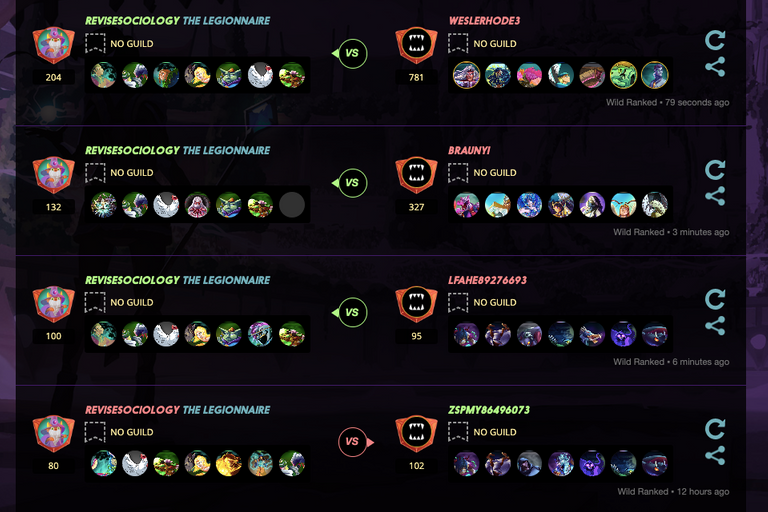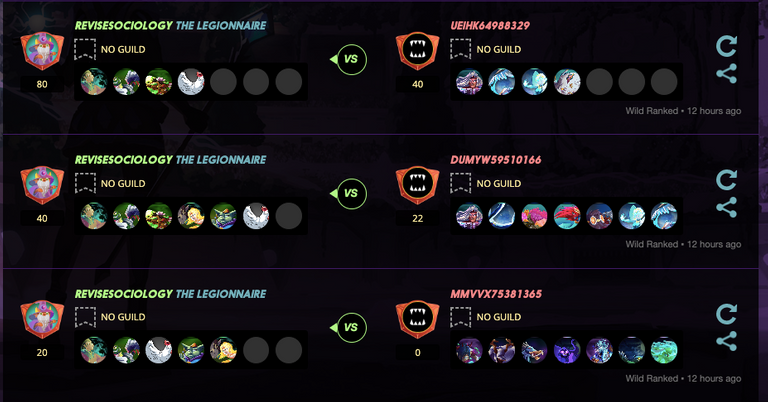 The only one I didn't win I was playing the with Scared Lama Mage and put Grund at the back trying to cheek a Last Stand, so I wasn't actually using him for most of the battle, so that doesn't really count as a loss as it was more of an experiment!
The battle below showcases how awesome the combination of Mylor and Grund can be....
The Rule Set and Line Up
Mana cap 22
Standard Rules apply (Bronze League!)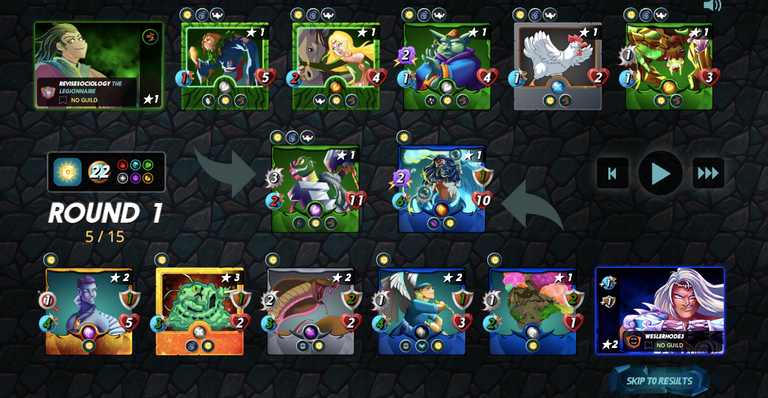 Summoner - Mylor
Grund - the main damage and attack card
Failed Summoner - snipe soak
Epona - strengthen
Goblin Psychic - healer and decent magic damage
Chicken - sneak soak
Fungus Fiend - sneak soak
Did my strategy work?
Beautifully, to see it in action click here!
Round 1 - We trade blows for no losses!
Round 2 - I lose my Fungus Fiend, but that's the idea of a Sneak soak!
Round 3 - I lose my Chicken but thorns take out Ureus
Round 4 - Now we're moving, thorns take out the pelacor and I take out Osheanus.
Round 5 - A combination of Grund and Thorns takes out The Sontefish.
Round 6 - Grund takes out Creeping Ooze.
Round 7 - it's all over Igor goes down!
How important was Grund?
Absolutely essential given that he was the main damage dealer against the high health tank, and then after that it was plain sailing for him.
In fact Grund was the only real damage dealer in the first half of the game!
His double strike proved especially useful against the extra shields from Kayla.
The only downside was he did miss a lot against the fast tank, but there really aren't that many fast cards in Bronze, so this is quite rare!
However he did need healing, and his high health works well with a healer of course.
And then of course there is Mylor, I can't discount how useful this summoner is, and a great combo with Grund!
Final Thoughts: Grund - worth buying?
It is absolutely no surprise that Grund is one of the more expensive EPIC cards as this is simply a must have lower down the orders, it's a devastating card and valuable even in relatively low mana battles, especially when paired with Mylor and the Goblin Healer.
Higher up the orders he's maybe not so good as he doesn't upgrade too well in terms of stats and his abilities aren't great however...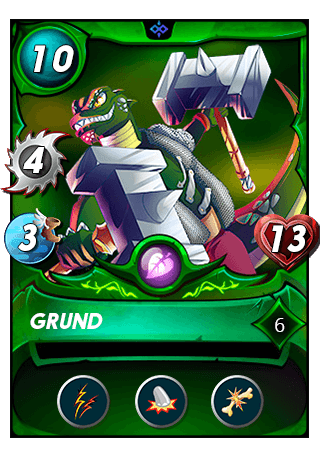 So Grund is a yes for Bronze, a MUST HAVE, but I'm not so sure he is worth levelling?!?
If you don't yet play Splinterlands, why not give it a go?
Anyone using my referral link will receive a free rare card!
---
---