Splinterlands Challenge of the Week: Silent Shavi...
This week's Splinterlands Challenge of the Week was to showcase the Silent Sha-Vi from the Death splinter...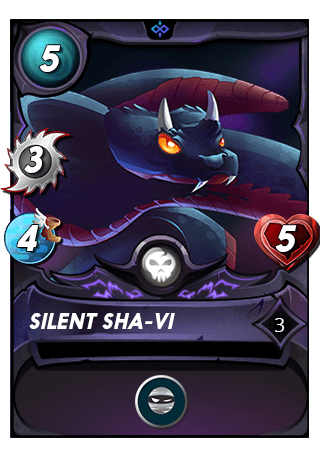 This is an extremely useful mid mana card at lower levels, even as early as L3 you get 3 damage with decent health and speed, and SNEAK. Very nice!
The [battle below](https://splinterlands.com/?p=battle&id=sl_6b4ee5bbcdb9f76a8eae0649e3e38941 features a Level 1 Sha-vi playing a pretty major role in a fairly easy victory!
The Rule Set and Line Up
Mana cap 22 - OK for 5 mana cards...
Standard Rules apply (Bronze League!)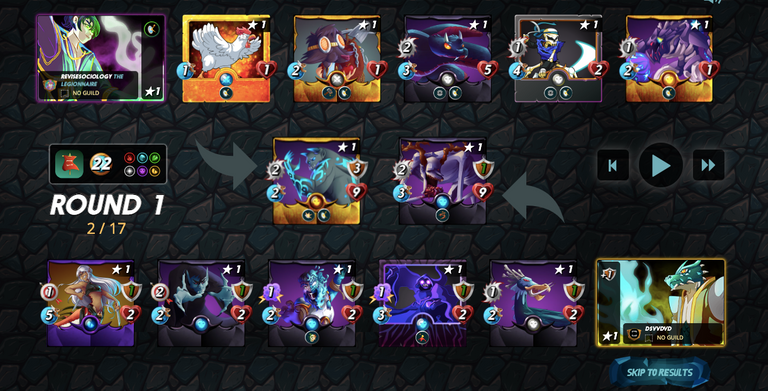 Summoner - Rotwell
Harklaw - high mana but a great tank with Shield!
Chicken - snipe and opportunity soak
Scavo Hireling - to repair Harklaw's shields
Silen Sha-vi - sneak attack 1
Skeleton - sneak attack 2
Corpse Fiend - 0 mana filler 2.
Did my strategy work?
Beautifully, to see it in action click here!
Round 1 - I lose the Chicken to snipe, but that's what he's there for (sorry Chicken!) but I score twice - my double sneak takes out Naga Assassin while reflect takes out Death Elemental (two decent cards down in the first round!)
Round 2 - I lose my Scavo (I ALWAYS lost my Scavo!) but double sneak works again to take out another back row monster!
Round 3 - A combination of reflect and Sha-vi takes down my opponent's last remaining magic monster.
Round 4 - sneak takes out Carrion Shade.
Round 5 - I lose my Skeleton to Thorns but it's all over the Windeku dies!
How important was The Silent Sha-vi?
He certainly worked well as part of a double sneak strategy combined with the skeleton: shields and then damage - NICE! And it's also nice to know he could stand up to a couple of rounds against thorns if needed too.
However I also needed Harklaw's shield and decent health as a tank and REFLECT is what finished off the two magic attacks mostly.
So he played his part in a team effort I think!
So happy days!
Final Thoughts: Silent Sha-vi - worth buying?
I'd certainly say he's essential if you're playing a double or triple sneak strategy - just for the mana he's about the best death sneak card you can get, with enough health to be at least resistant to thorns for a couple of rounds, unlike so many other death cards.
But for a common card, and that's how me must judge the Worm, he's pretty awesome!
If you don't yet play Splinterlands, why not give it a go?
Anyone using my referral link will receive a free rare card!
---
---