Splinterlands: Comparing Silver League Levelled Rental ROIs to Gold League (The former wins!)
I've had most of my Splinterlands cards out for rent for the last couple of months, and for the most part I am pretty pleased with the returns.
My deck is (or at least was two months ago) capable of Champions Three, so most of my card weight is in maxed or nearly-maxed cards across five of the six splinters (I sacrificed Fire to improve the others, although I did manage to snap up 11 Yodins back when they were cheap, recognising this as a card to own early, nice to get that one right!)
I'm pretty pleased with the returns overall, but there is an enormous spread of ROI across the cards, and it isn't necessarily the maxed cards that do the best in terms of rental returns.
Far from it, in fact, I have to settle for a <20% return on some of the better maxed legendaries. The Spirit of the Forest for example is a real struggle to rent for a decent return.
And I've noticed that many of the best returns are down with the Silver League Rental level, rather than Gold or Maxed.
Below I compare the returns for the maxed neutral cards you can play in the Sliver Leagues and Gold leagues respectively.
TLDR: I find there are slightly better returns on average for silver levelled cards compared to gold levelled cards, but there are some exceptions, largely dependent on the level at which cards pick up their most significant buffs!
Leagues and Summoner Levels for Cards
It's pretty easy to work out what the max level cards you can play in each league are, you can find it out on the league info on the Splinterlands main website.
To compare just two leagues: Silver and Gold, the max level summoner you can play respectively is 4 and 6, for a rare summoner like Tyrus below....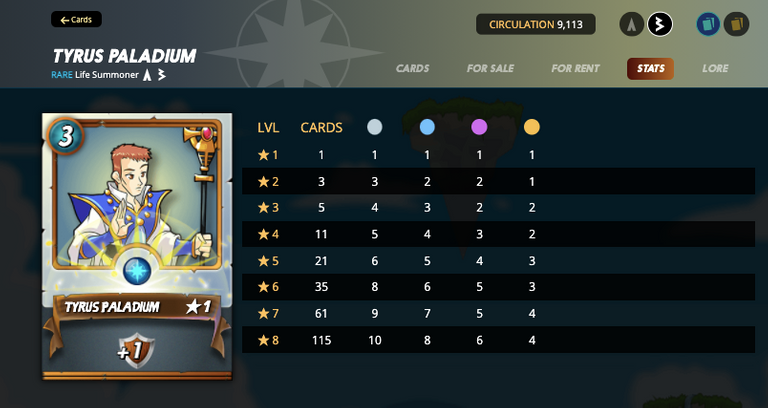 For common/ rare/ epic/ legendary the max levels are:
For silver - an L4 summoner allows you to play 5/4/3/2
For gold - an L6 summoner allows you to play 8/6/5/3
To compare the returns on rentals one can get from each type of neutral card (common/ rare/ epic/ legendary) at each max playable level for the two leagues I've simply browsed the current rental data from Peakmonsters.
Keep in mind that these are live data and so could change radically in the space of an hour, and also that these are early season prices which means the lowest returns, they tend to be much higher at the end of season.
Below, I only compare neutral cards to keep this more manageable and because, all other things being equal, neutral cards have the most utility so these are the ones I would prioritise investing in.
Common Card Rentals - Level 5 (Silver max level)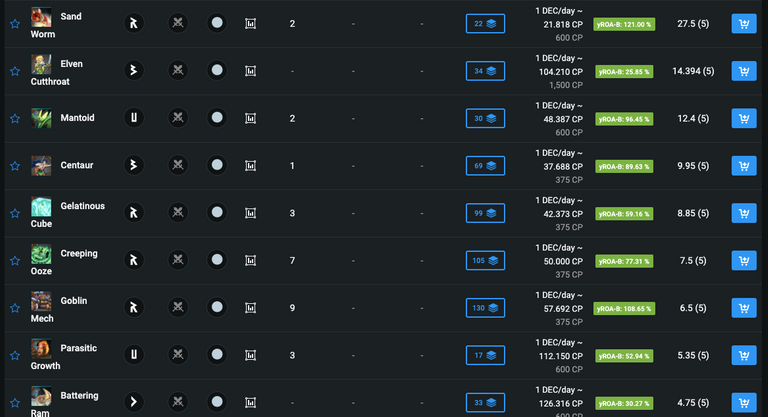 Common Card Rentals - Level 8 (Gold max level)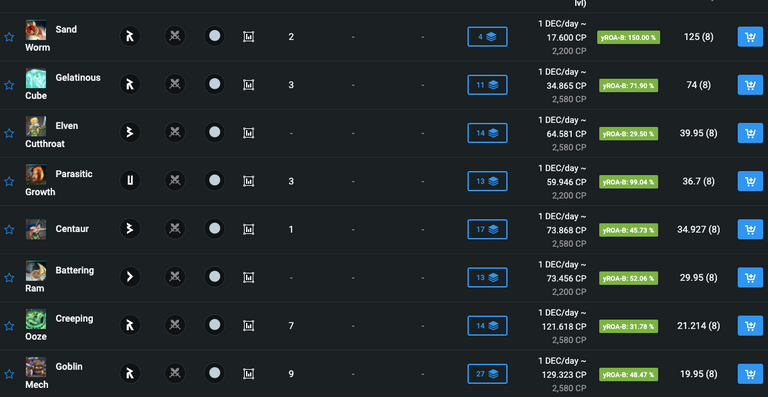 Overall there seem to be slightly better returns for the L5 lower levelled cards compared to L8, but there isn't much in it.
And the returns vary from card to card - some are better at L8 compared to L6, and that will depend mainly (I think) on where each card picks up their next level-up boost. The Cube, for example, doesn't get it's max-price utility until Level 6 when it gets heal, so I wouldn't expect it to get a higher return at level 5 without that compared to level 8.
While the Goblin Mech is almost as useful at Level 5 compared to Level 8, and the same with the Mantoid and Creeping Ooze, or basically any other card you see with a higher ROI at L5 compared to L8.
Rare Level 4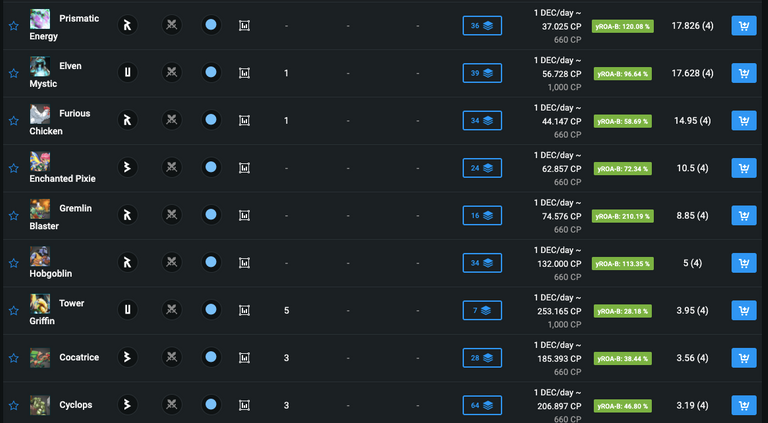 Rare Level 6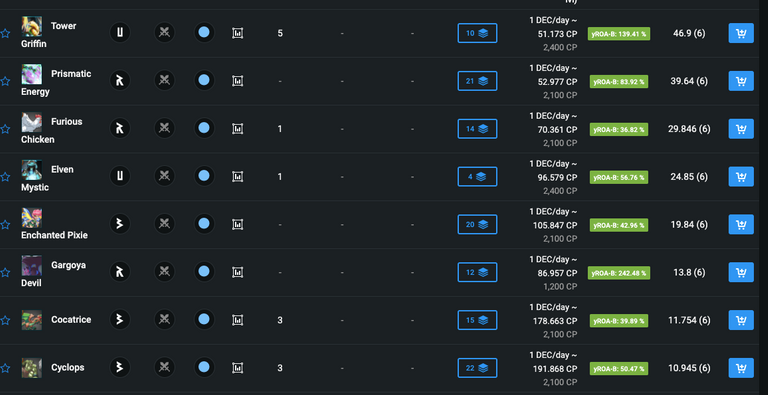 Epic Level 3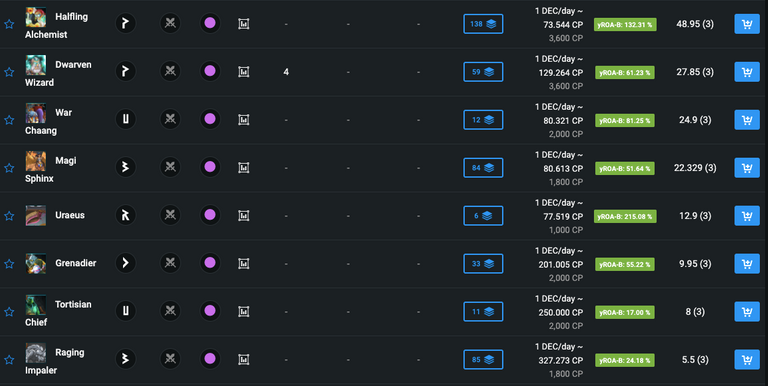 Epic level 5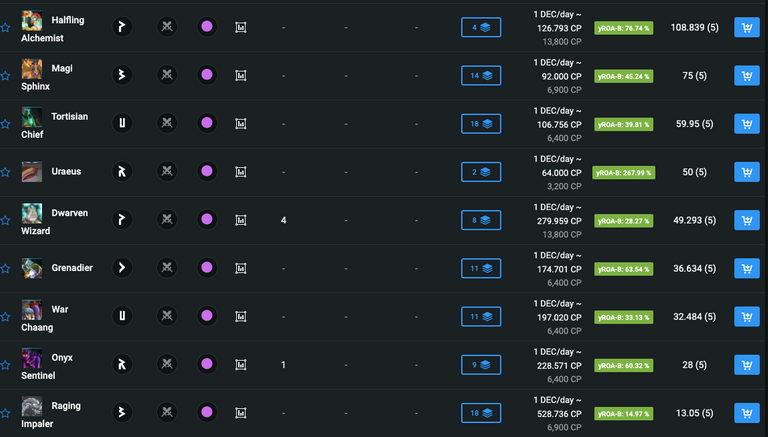 For both rare and epic cards, there is a significantly better return for the silver maxed cards - levels 4 and 3 respectively compared to the gold maxed cards - levels 6 and 5 respectively.
There is only one real notable exception and that is the RARE Tower Griffen, who picks up protect at L5, although strangely the L5 card goes for 20% ROI when the L6 goes for 5 times that even though it only has one more health point between those two levels.
Legendary Level 2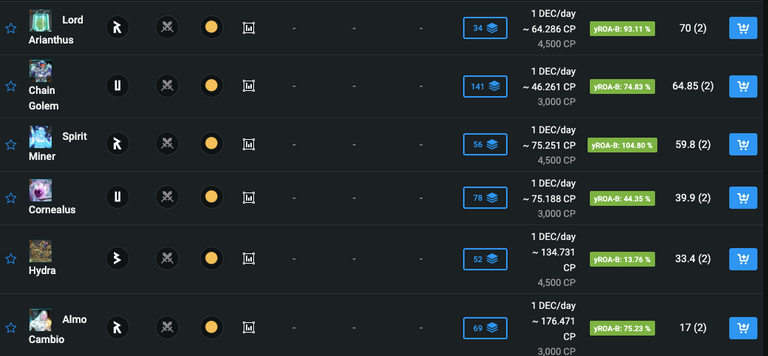 Legendary level 3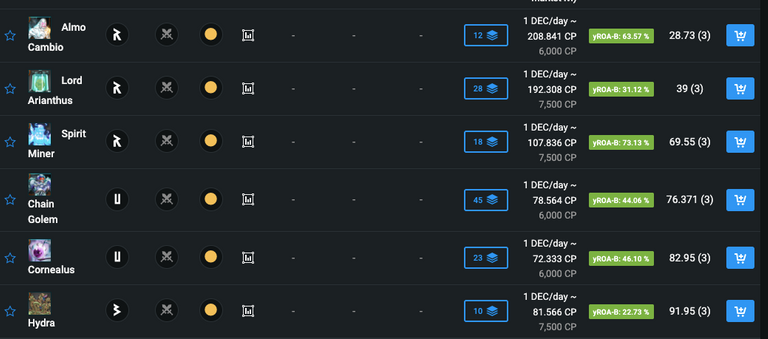 We see the same pattern with Legendaries.... Almo Cambio, Lord A, Chain Golem L2s are all renting for a premium ROI compared to the L3s.
Cornealus and the Hydra are about equal, note the very low return on the later, I guess that's because this is such a valuable card, everyone wants to own it, no one wants to sell it!
Card consolidation strategy going forwards: Aim to build silver level decks...
I'm currently looking to consolidate my card holdings so they have more utility.
This means selling some of the lower levelled cards which aren't yielding very well on the rentals market at the moment and then buying cards which offer a higher return.
The easiest strategy would be to buy several of a limited range of cards just to maximise my rental returns - lots of Lobstramuses for example, which are reasonably priced and have a very high return at level 1.
Rather, I'm going to try and build a couple of decent Silver level decks for a couple of Splinters, because then I'll also have cards I can play with while my higher level cards are still rented out.
I think this has few advantages over buying several copies of a limited range of high rental-yield cards:
Buying a wider range of cards protects me against the possibility of future releases rendering certain cards less valuable. For example I could pile in on the Chickens, but it only takes one other 0 mana card to be introduced later and this would probably send the Chicken prices plummetting.
If I can manage to build even three decent Silver decks then this gives me a decent chance of cracking at least Silver 3 and qualifying for higher tier rewards if I ever want to play again.
My intuition tells me that there are going to be A LOT of people 'stuck' down in sliver league simply because they don't want to spend more than a few hundred pounds (actually it might even be a few thousand for silver) on cards, so for rental purposes having a range of decent silver league levelled cards could offer me a decent yield given the competition for card rentals down here.
I also think building two or three silver level decks will be a useful exercise for newer players. I know most of the card attributes pretty well, I know what works after a couple of years of playing.
Doing it this way is simply more fun than buying a more limited range of cards, it is part of the game, after all!
Once I've got my Silver League decks together, I can always choose to upgrade them to gold later on!
What could POSSIBLY go wrong?
Well once the SPS proposal system comes online, ANYTHING is up for change, such as changing the levelling for leagues, but that's probably months away.
New cards coming onto the market WILL (it's not a matter of could) render some of the above cards less useful, hence why it might be an idea to aim for Betas as these can be used in the old-school leagues where I'm guessing there's going to be more DEC for wins as there are fewer people playing compared to 'modern formant'.
Besides this, I think levelling to silver is relatively 'safe' compared to maxing out cards, which tend to reduce the future sales value.
---
---