There's never been a better time to write about Gaming on Hive!
I'm more of a blogger than a gamer, in fact I like writing about games more than I do playing them, and there's never been a better time to write about gaming on Hive!
Writing about Gaming isn't my main thing, but....
I've done pretty well out of blogging on Hive - TBH I'm continually amazed at regularly being in the T20 earners on Hive and also earning a decent secondary income through LEO.
What's especially nice is that I'm rewarded for writing about topics that I'm genuinely interested in, topics such as the defi-wonderland, crypto and development, early-retirement, permaculture and off-gridding, philosophy, my life in general, and, of course, the Hive ecosystem itself.
And because these are broad ranging topics, each with MANY sub-topics which I enjoy reading and researching about, I am never short of writing material, it has (honestly) been pretty easy to find enough for a post or two a day without it being a struggle.
But the past couple of months have been bizarre for me - thanks mainly to the fact that Splinterlands gaming is now rewarding me way more than my writing on Hive, and it is, well, bizarre, bewildering even, that between renting out my good but not amazing (C3 level) Splinterlands deck and just holding Splinterlands assets I'm receiving something like 5 times what I get from my rewards for writing on Hive and the Tribes.
I'm not about to stop the weekly writing routine I've got into, it works for me, and I enjoy it, but just the simple fact that gaming is now working so well for me, I'm inclined to, well, write more about gaming.
Apologies in Advance, there may be A LOT gaming content on this blog for the next week or two....
Call me a Whoar if you will, go ahead, but why the hell wouldn't I adapt what I write to fit what rewards me? i mean the very fact that gaming IS so lucrative is itself worthy of comment.
And when it comes to Splinterlands, it's quite a complex ecosystem, with hundreds of NFTs and several tokens, meaning the economics is something worthy of analysis in its own right.
And I am finding myself spending more and more time tweaking my Splinterlands holdings to try and optimise returns - the main aspect of which is consolidating what NFT cards I hold - there are several different factors to consider here including base price, collection power, rental yield on different levels of cards, and all of this in relation to the relative benefits of just selling them and holding DEC for the SPS airdrop.
AND I've just hit on the idea of rebalancing my cards to build a secondary silver level deck, that's going to take a bit of analysis to select the best cards for each Splinter, it's a natural 'six-seven post series' worth writing rapid fire, and I just feel like they belong on this account, it kind of reflects the intensity of Splinterlands in my life right now!
There's also the added incentive of the freshly minted '1UpZone' where you can get rewarded in ONEUP tokens for writing about gaming content - writing and earning ONEUP is currently the only way of realistically getting hold of these tokens, and getting even a minimal stake early for curation is going to be extremely lucrative.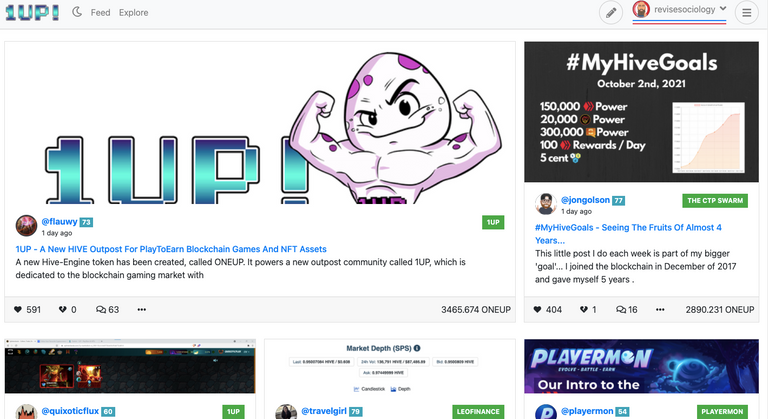 TBH, I've been deliberately holding off writing more about Splinterlands, not wanting to 'pollute' the main feel of this, my main blog, limiting myself to the weekly challenge post and maybe one other Splinterlands post once every couple of months.
But normal service will resume shortly....
I've also got a couple of busy IRL weeks coming up, lots to do, so it makes sense for me to churn out some relatively easy gaming related content for a while.
In the long term I'll probably write most of my extra Splinterlands and gaming content on my already existing alt account @revise.spt which should save me from this, I kind of want to keep the main account for 'blogging as usual'.
But just a heads up warning, there may well be a splurge of posts about 'building a Silver level deck' coming on this account in the next week as that's what I'm into ATM, but that'll only last a week or so! My experience with Splinterlands has got me A LOT more interested in the gaming aspect of crypto, and you know what they say: money talks, or maybe in this case, money writes!?!
---
---